As a catalyst that plays an important part in revolutionizing internet-based marketing strategies, email marketing has been an essential tool for over a decade. 
Apart from being one of the most effective techniques on the block, email marketing helps you achieve your targets faster and cost-effectively. It is also direct and gives you instant metrics to know how successful your campaigns have been.
If that pumped you up and you're ready to find out more about this economic marketing approach, then let's start with the essentials!
What Makes Email Marketing Cost- and Time-Efficient?
Email marketing helps you understand the gaps between your marketing strategies by telling you exactly what kind of content resonates with your audience. 
This helps you direct your marketing efforts toward the right audiences, thereby slashing your revenue and cutting down on time spent devising strategies.
However, that's only one of the many benefits associated with email marketing. Let's unravel more.
1. Cost-effectiveness
Marketers across the globe are constantly competing in the race to reach maximum digital visibility at the lowest possible costs.
With thorough market research by your side, email marketing does this job for you in a jiffy. It helps you nurture your leads without being heavy on your pockets. 
A few more ways in which email marketing helps you save on costs include:
Better Strategies
Email marketing helps you understand your clients on a personal level. It offers a convenient way of getting in touch with your clients, which helps you communicate better.
Better communication means the client will be more open in sharing feedback and helping you understand where you can redirect your marketing efforts. This, in turn, adds essential revenue.
For instance, you can use follow-up emails — such as thank-yous, reviews, and more — to build rapport with the client.
Sometimes customers add products to a cart and never checkout.
Use abandoned cart emails to encourage customers to complete their purchases, then follow those up with thank-you emails.   
New Targeted Markets
The data you collect from your email strategies helps you understand your current and potential customers. 
Leverage this information to create better strategies for your consumers that are more targeted in their approach, thereby helping you gain a better market position.
Easy Operation
Digital marketing has consistently gained momentum; however, each platform comes with its own set of challenging algorithms.
Email marketing saves on the essential costs you would otherwise incur training your staff in these newer technologies. 
Instead, you need to come up with more optimized email marketing strategies that will do the same job at a much lower cost.
2. Time-effectiveness
Email marketing connects you to your customers on a more one-on-one level, which helps you save a lot of time consumed in the back-and-forth of messages. 
With technology in your favor, you now have the choice of automating most of your responses to save on the essential time you could devote to other tasks. 
Let's have a look at some of the other ways in which email marketing establishes itself as a time-efficient tool.
Practical Approach to Leads 
One of the many benefits associated with email marketing is the in-depth customer analysis that helps you identify consumers who are genuinely interested in receiving your emails.
With that information in hand, you can redirect your marketing efforts to convert these leads, instead of spending precious time on clients who may or may not convert.
Stronger Customer Base
Automating frequently used emails goes a long way, not only in establishing and building strong relationships; it also reduces the time spent drafting these messages.
When you regularly send certain emails — such as feedback requests, thank-yous, and newsletters — you iron out the creases in your communication and become more transparent, so your clients approach you with more feedback and fewer queries.
Better Subscription Rate
With the right market knowledge and marketing tools, you'll know exactly what the customer is looking for. Equipped with data, you can create better content; in turn, your subscription rate will grow (which is followed by quicker conversions).
Personalizing your emails will make them more engaging, and customers will receive the information better. They will also look forward to receiving more insights from you, thereby establishing trust and aiding value creation.
The Hustle is a great example to follow here. They know exactly what their readers want and create content that delivers good value. This makes theirs one of the most highly subscribed-to newsletters in today's age. 
When customers come forward to renew a contract, or when someone proactively gives you constructive feedback, it means your strategies are responsive and effective.
Now let's look at some effective email strategies.
How to Make Email Marketing Cost- and Time-Effective
More often than not, marketers overlook a few factors that can make or break your email marketing strategies. 
On the surface, these things might look unresponsive and immaterial. However, they can have a huge impact on helping you gain leads or pulling you out of the race to achieve maximum ROI at the lowest cost.
Check out a few tips that can help you sail smoothly.
1. Subject Line
An email's subject line has a vital role to play. It will determine whether or not a customer will open your email and interact with it.
A catchy subject line will help you improve your clickthrough rate and increase your chance of converting the client, making this strategy both time- and cost-effective.

Here are a few points to keep in mind while drafting an email subject line:
Keep it brief and relevant, preferably less than 50 characters.
Make it interesting so it speaks to your customers.
Make it convincing enough for the customers to click on the email, and be sure to offer value. For example, if you're announcing a sale, your subject line could be: Flat 50% discount on all your favorites! Shop now! 
Try not to use the clickbait technique; rather, generate trust through your subject lines. 
Be extremely critical about the grammar. The subject line should be error-free.
It takes only a fraction of a second to establish an impression on the customer, and if written well, the subject line can help you win half the battle.
2. Flow of Information
Content should always flow in a coherent way so the reader spends less time reading and more time taking action. 
We'll look at an example to understand this better. 
This newsletter is designed by the team at Cloudventure, which deals with running shoes.
The entire newsletter is focused on a single audience: runners. From the language to the images, everything talks directly to a set audience.
This is a picture-heavy newsletter with content that is to-the-point, clean, and crisp.
The flow is unidirectional with clickable elements that take the consumer directly to the product or website, making navigation easier.
Multiple CTAs are strategically placed under the products, so customers can get everything in one single click.
This kind of email helps you approach your audience in a better way by keeping them in the loop while making your products more desirable. 
Your customers get all the information they need through one single email, which saves you the time of laying the same information out again and again in different emails. The information flows well, and the message is clear because of a defined audience. 
3. Copy
Copy is the king of your email. You want your audience to reap value from your emails, which is why you go the extra mile to ensure everything is in order.
When it comes to copy, there are a few basic yet important points to keep in mind.
Keep the language simple and easy to read. Pay close attention to using terms that are fluid and less prone to misinterpretation. Keep in mind the following: 

You are acting as an online publication or magazine. 
You need to put forth an opinion without sounding biased.
Use language that is easy yet strong and free of jargon.
Keep your target audience in mind while drafting.
The copy should be relevant to the subject line, or it will leave a dishonest impression on the client. While clickbait is a popular way to get attention, it might backfire in email marketing.
Email copy should be directed toward the audience. If possible, always use first-person reference and start with a salutation with the client's name.
If the information you convey holds value for your customers, they will look forward to receiving more, thereby boosting your revenue and making your strategy cost-effective. 
4. Design
A distinct design language for your emails goes a long way in accelerating your brand recall value. Some newsletters are known for their out-of-the-box designs, and people love receiving them.
Let's have a look at one of these emails to understand this better.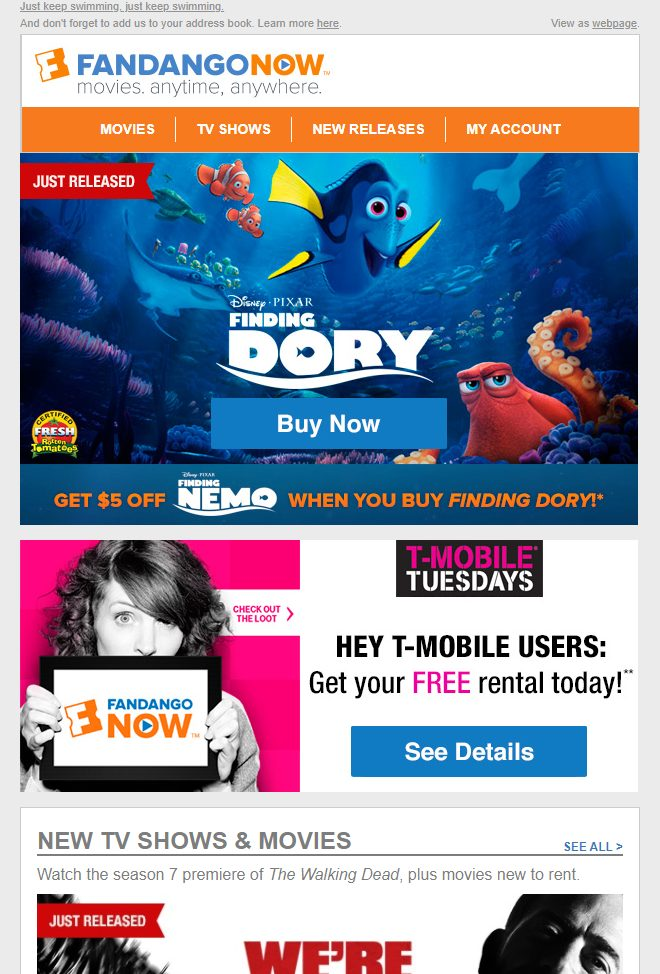 FandangoNow (Vudu) is an application that allows you to stream any movie of your choice. 
Their email newsletter only uses a single header with pictures from different movies available on the platform.
The design is simple yet effective because it is unique, colorful, and direct.
While there is nothing extraordinary about this newsletter, the fact that the design is seamless and provides users with all the information they need does the job well.
Notice how the different plug-ins employed make it easier for customers to make a purchase by clicking on the section tabs on each picture. 
You can use the same design template for all of your emails, and you don't have to send additional messages, thereby reducing the drafting time and effort from your content team. 
Pro tip: If you want to learn how much time you save thanks to these facilitations, ask your team to use a timer app while working on an email and share their results with you.
5. Automation
We stay in a world dominated by technology, so use it to your advantage. For every recurring email, have an automated template that saves time and resources.
For instance, you can automate your thank-you emails every time a customer makes a purchase. To do that, consider using apps such as BuzzStream, Mixmax, Saleshandy, or Mailchimp. A similar approach can be taken for your feedback emails as well. 
Automating responses is a great way to reduce time and effort on drafting the same email over and over again while keeping track of responses and encouraging engagement. 
A tip that can come in handy here is to operate from a single inbox that has all your emails in one place. To do so, you can use an email client like Outlook or an alternative to Outlook.
Pro tip: To improve your email marketing campaign, you should understand the best time to send an email for more traction. Start with email segmentation and divide your subscriber list to create content aimed directly at your target audience. 
In a Nutshell
Good businesses thrive on understanding their customers in a better way, and email marketing does that for you without the added burden of cost. 
A powerful email marketing strategy, in essence, is one made after a lot of hits and trials. Keep tracking your customer feedback, try to add as many plug-ins as possible to make the navigation seamless, add links to your product page or website to accommodate the client, and work towards enhancing your content. 
Once you understand the mix and know what works for your business, you'll crack the gold mine to make impactful strategies without burning a hole in your pocket. 
Author's Bio: Kasia Slonawska is a content specialist at Mailbird, a Windows messaging app. With broad professional experience and educational background in writing, she creates unique, engaging texts that win the Google ranks.