Looking for Icegram alternatives?
For a long time now, there has been this controversy over whether pop-ups annoy people who appear on your website or, on the contrary, they represent a very important part of the website content.
In fact, pop-ups themselves are not a nuisance, but it depends on how you use them.
About Pop Ups
Some of the main problems, when talking about pop-ups that don't help you achieve the desired result, are:
Bad design

Copy that doesn't intrigue

Insufficiently interesting offer

They don't appear at the right time

Targeting options are not used enough
As you can see, this is not a small number of issues.
However, there are certain pop-up tools with which all this can be solved really quickly.
Engaging pop-ups can also achieve and collect visitor data and increase sales.
One of the tools that enable you to achieve all of this is Icegram. If it still doesn't meet your expectations, we offer you 3 great Icegram alternatives, some of which may be exactly the solution you are looking for.
Keep reading, and see which one offers exactly what your business needs.
Icegram: Overview
Icegram is a WordPress plugin intended for capturing leads and running e-mail marketing campaigns.
It helps you to recover abandoning visitors, take customers' feedback, run giveaways, and more.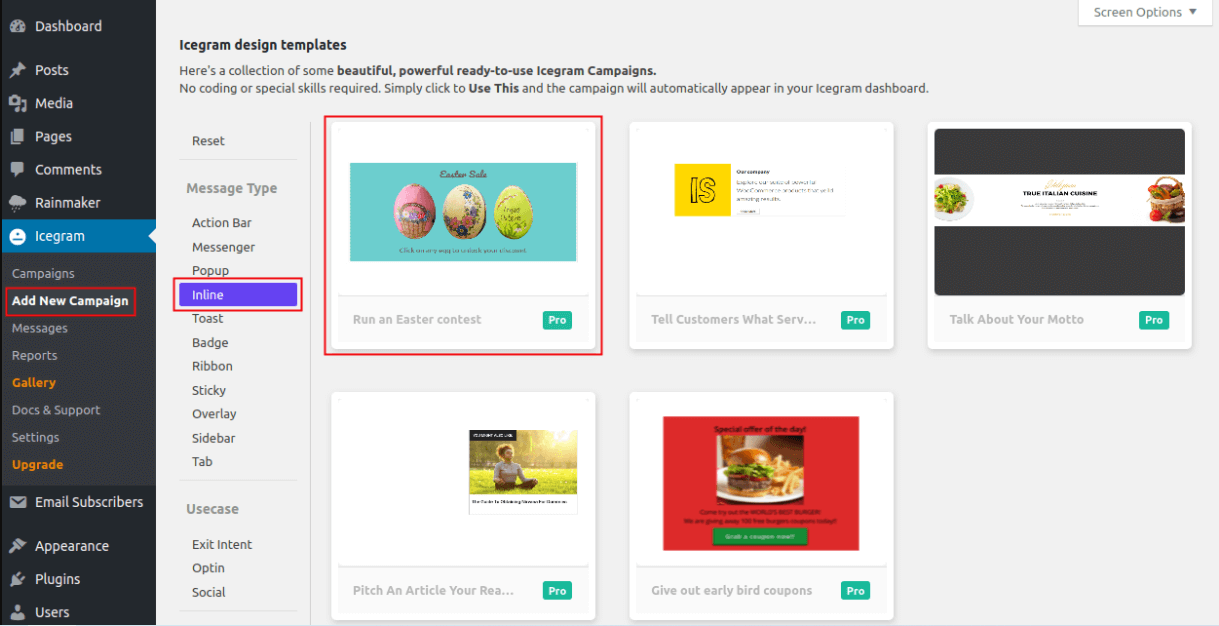 Icegram offers 12 different form types including pop-ups, full-screen overlay, sticky, tabs, sidebars, and more.
Offered features:
Dashboard

Behaviour triggers

Retargeting

Geo-targeting

Split testing

Analytics
What are the pros of using Icegram?
Icegram allows you to show your visitors the right message at the right time. You can connect them with your landing pages and promotional offers.
Also, you can use split testing to compare your pop-ups and see which one shows the best results.
If you don't want everyone to be able to see certain parts of your content, you can easily restrict access.
What are the cons of using Icegram?
Icegram has a lack of features for this type of tool.
More customization options would be a huge plus.
Here are 3 of the best Icegram Alternatives:
Poptin is an all-in-one solution for creating pop-up windows.
It has everything that you need to provide the highest potential of your pop ups.
With pop ups, you can achieve better results for your lead generation and email marketing campaigns.
Besides pop-ups, it includes embedded e-mail forms and automatic e-mails.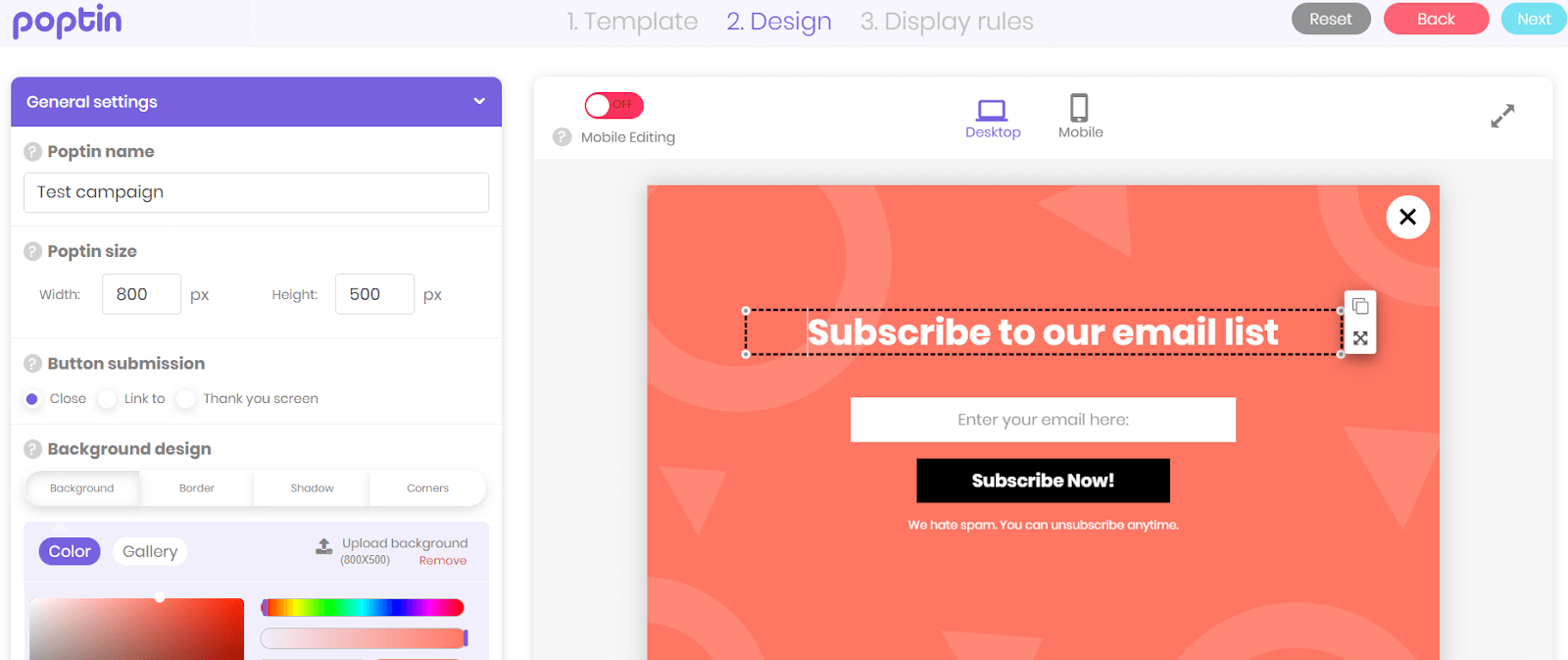 Poptin has an innovative drag and drop editor. In a couple of clicks, you can easily add or remove fields, choose different customization options, and create your own pop-up window.
If you're not a fan of creating everything from scratch, worry no more!
Poptin offers 40+ beautiful and highly responsive templates. In just a few minutes, you can implement your pop ups and forms without any hassle, and you can start collecting contacts, gathering leads, and converting visitors into customers.
Numerous offered templates make this whole process even easier.
Poptin's main features are:
Advanced drag and drop editor

Customization

Library templates

A/B testing

Advanced triggering rules

Advanced targeting options

Automated e-mails

Embedded forms

Analytics

Integrations
Advantages of Poptin
Various options for customization allow you to make engaging pop-ups in just a couple of minutes and implement them on your website.
Here are just some of the examples that you can create with Poptin.
Advanced triggering options allow you to show a pop-up based on the amount of time your visitor spends on your website, clicks, exit-intent, and more.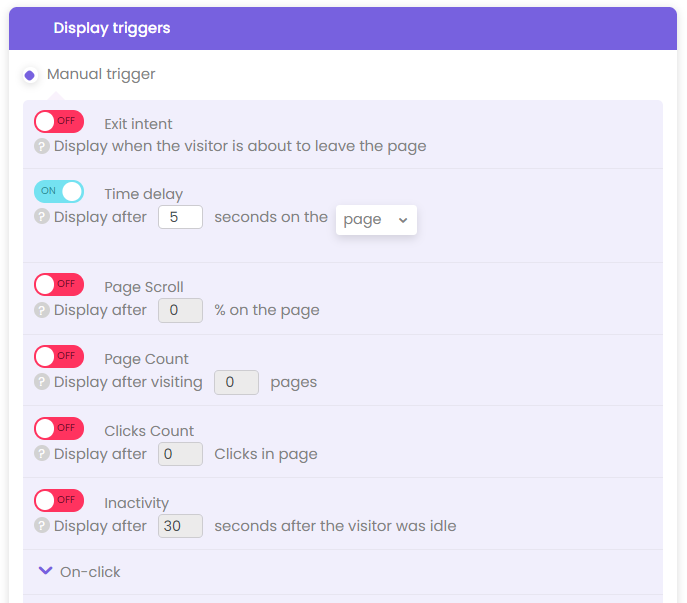 With the right usage, you can supercharge your pop ups and engage with customers at the right time.
Moreover, Poptin's targeting options are what make your pop ups speak to the right audience.
Such options include targeting based on country, OS, browsers, pages, frequency, and a lot more.
For instance, there's an option that would allow you to only target those first-time visitors and eliminate in the list those who have already converted or have visited your website before.
Poptin also has more than 50 native integrations with popular tools and platforms. This gives you the ability to create a seamless email marketing integration.
As an example, when visitors leave their email addresses and contact details through your pop ups and forms, their credentials will automatically go to your CRM's leads or subscribers database.
Another advantage of Poptin among its competitors is its fast and reliable customer support. When you encounter a problem and you need support, you'll be surprised to be chatting with a real person in no time. In this way, your concerns will be addressed instantly.
Cons of Poptin
Poptin's free account has a limitation of 1000 views per month.
Poptin's pricing
Poptin has a free package, so you can try it out to see if it works for you. Paid plans offer even more features and benefits starting from $19 per month.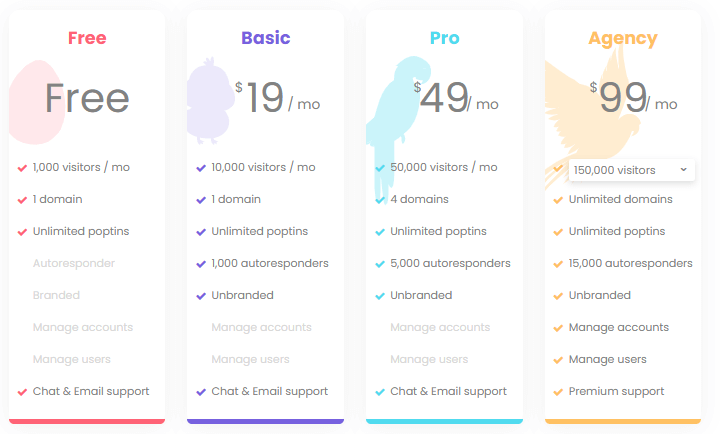 Why is Poptin one of the best Icegram alternatives you have to try?
With Poptin, you can promote special offers, create surveys, collect feedback, send reminder e-mails, and more.
All Poptin pop-ups are mobile and desktop device optimized.
There are different forms to choose from:
Lightbox

Floating bar

Top and bottom bars

Fullscreen

Slide-in

Big sidebar

Social widgets
Besides native integrations, Poptin has more than 1500 integrations via Zapier and Intergomat.
Chat support is available to respond to your questions and help with any potential misunderstandings.
Poptin's ratings as the Icegram alternative
Here are the Poptin's ratings.
Ease of use: 4
Customization level: 5
Visual appeal: 5
Features: 5
Integrations: 5
Customer support: 5
Pricing: 5
Total: 4.9/5
Wishpond
Wishpond is actually a marketing platform that serves as a tool for creating pop-ups, too. You can use it to share promos, coupons, subscriptions, and more with your leads.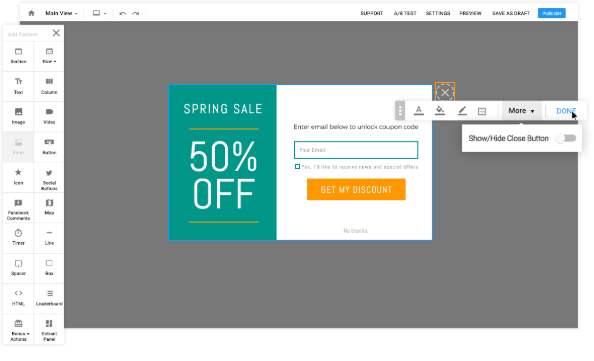 On the left side, drag and drop editor contains all the most important options, leaving a clear area for designing your pop-up.
Offered features:
Drag and drop editor

Customization

Triggering options

Analytics

Integrations
Advantages of Wishpond
With Wishpond, you can create personalized e-mail messages thanks to analytics.
These insights will show you data about your visitors and help you to better understand them.
Through e-mails or via your Slack account you can receive information about new leads.
If you want to disable pop-ups on mobile devices, Wishpond allows you to do so and thus improve SEO rankings of your website.
Disadvantages of Wishpond
While working with Wishpond you can run into some bugs, but they can be improved.
Wishpond's pricing
Here is the Wishpond pricing table.
There is also an option if you want to hire a marketing team from this platform and let them run everything instead of you.
Why is Wishpond another important Icegram alternative?
Wishpond is easy to use even if you are a beginner and don't possess any designing skills.
Besides pop-ups, you can run e-mail campaigns and social contests. If you need landing pages, Wishpond is intended for creating them, too.
It has very well designed templates to work with.
Wishpond's ratings as the Icegram alternative
Here are the ratings of this Icegram alternative:
Ease of use: 5
Customization level: 5
Visual appeal: 5
Features: 5
Integrations: 4
Customer support: 3
Pricing: 5
Total: 4.6/5


Privy
Privy is another Icegram alternative for creating pop-up windows.
It can help you with reducing cart abandonment rates and nurturing leads through e-mails and text messages.
Just some of the forms you can create with Privy are:
Pop-ups

Banners

Flyouts

Landing pages

Spin-to-win forms
All of these forms have a purpose to make your website more user-friendly and interesting to your visitors and to help you achieve your goals.
Offered features:
Drag and drop editor

Different types of forms

Customization options

Targeting options

A/B testing

Integrations
Advantages of using Privy
This alternative allows you to change and customize multiple pop-up windows. They each can look completely different and make your website content more engaging for your visitors.
Ready-made templates are available and you can change them according to your needs or you can create totally new windows from scratch.
Disadvantages of using Privy
Templates that Privy offers are very basic ones, which you should have in mind.
If you want your pop-ups to look really professional, you will have to change them a lot or to make new ones.

Privy's pricing
Privy's pricing is a little bit different than it's the case with other tools of this type.
You need to decide the optimal views number that your website could reach, and the price for that amount will be calculated for you.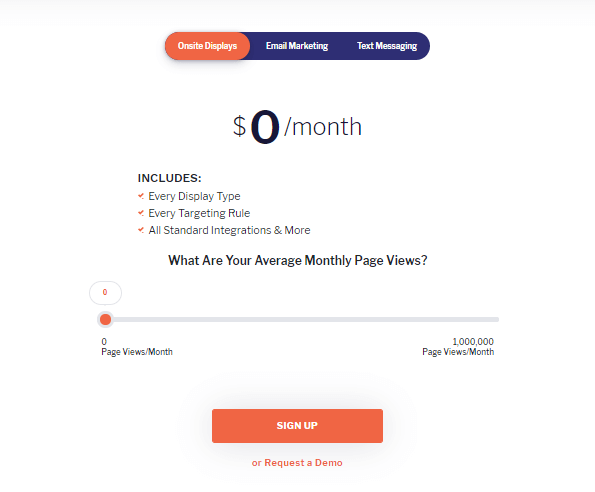 Why is Privy a good Icegram alternative?
Privy is also very easy to use, and you will not need a lot of time before you understand how it functions.
It offers various types of forms, even ones for gamification of your website.
Privy is focused on reducing cart abandonment rates which can help you to encourage visitors to finish their purchase.
It integrates with Shopify, Klaviyo, Magento, and other platforms.

Privy's ratings
Here are Privy's marks based on certain criteria:
Ease of use: 5
Customization level: 4
Visual appeal: 3
Features: 5
Integrations: 5
Customer support: 5
Pricing: 3
Total: 4.3/5
The bottom line
If you thought you needed designers' or developers' skills to make perfect pop-ups, you were wrong.
Above mentioned tools are created for anyone who needs help from the pop-ups no matter the level of coding or designing skills.
All of these Icegram alternatives offer a different kind of features and benefits, but if you are searching for a complete pop-up solution, then try out Poptin.
Not only will Poptin help you to quickly create visually appealing pop-ups, but it will also allow you to better understand the behavior of your visitors, get powerful insights, and find out which windows perform the best.
You can finally achieve your goals, and faster than ever!