Any business worth it's salt will invest significantly in increasing its website traffic and turning that traffic into leads. This job, while usually the primary responsibility of most marketing teams, is one that all departments in a company or organization will contribute to. Why? It involves a crucial aspect of the business's concern – generating leads.
Most businesses scale this process by using lead optimization tools that automate time-consuming parts of the process and optimize the team's efforts and efficiency of those efforts. Tools such as Wisepops, are popular for moving prospects through the sales funnel process when considering their buyer's journey. 
They help businesses such as yours, focus on what really matters – turning your prospects into leads and ultimately, paying, happy customers – usually with the help of popups. 
While this may be a great value proposition that attracts all kinds of businesses, it doesn't instantly drive them to click on the 'sign up' button of these tools. Why? – Pricing.
Most businesses don't have unlimited budgets for generating leads and it remains important to invest the most resources where you have the highest chances of getting great results. 
Wisepops has been an option for most businesses that are looking to optimize their leads, but in today's cutthroat market, is its pricing still worth the benefits you get?
Breakdown of Wisepops Pricing Plan
Wisepops handles pricing plans differently than other lead generation tools. You don't have different pricing plans that offer predetermined benefits, as you pay a price according to the pageviews your website gets.
Basically, you pay a different price depending on the monthly pageviews your website gets. The more pageviews you get, the more you pay – an unsustainable and expensive practice for small businesses with tight and limited budgets.
The cheapest option available on Wisepops starts at 49 euros/per 50K pageviews monthly which is feasible when compared to what's obtainable in the industry but not very cost-efficient when compared to counterparts like Poptin, Optinmonster, Optinmonk & Popupsmsart.
Is the pricing really worth it?
The answer to this question is largely dependent on your needs, the size of your company and your business goals.
Wisepop's pricing strategy makes it really clear that it was created with bigger companies and organizations in mind. Businesses that sufficiently pull in up to 50,000 website views in a month.
This leaves smaller businesses and startups out in the cold because they're growing to reach that number of web visits per month and simply do not have the resources – monetary or otherwise – to pay for expensive marketing tools and still achieve product-market fit or keep growing.
If you were to use Wisepops, we'd tell you to try the 50K-pageviews pricing plan, as it's the most affordable. That is if you are working on a budget, of course.
As the market for lead optimization tools is very competitive, Wisepops' pricing strategy has excluded a larger portion of new businesses, agencies, and startups that are contributing to the growth of the world's GDP.
According to the World Bank, SMEs represent about 90% of businesses and more than 50% of employment worldwide. Formal SMEs contribute up to 40% of national income (GDP) in emerging economies. 
These smaller-sized businesses aren't interested in spending hundreds of dollars monthly which won't translate into short-term benefits, as they require a majority of their funds to scale or grow their business.
Thus, Wisepops is only worth trying if you have a big enterprise or a lot of money to spend on a lead optimization tool. Nonetheless, other platforms allow you to send contact forms, popups, and proposals for fewer funds. 
Regardless of that, there are more convenient Wisepops alternatives like Poptin to explore in order to meet your business needs. 
What's in its Pricing Plan?
Wisepops offers a single pricing plan that only increases in amount as the number of pageviews of a website increases.
When you pay for Wisepops pricing plans, you get access to all the benefits the software offers. That includes unlimited popups campaigns, unlimited notification campaigns, unlimited users, and more than 140 ready-to-use templates for your marketing campaign.
Those benefits are excellent if you are looking forward to starting a marketing campaign based on converting prospects into leads using popups, as you can pick a template that matches your brand's style and track its process throughout your different websites.
Since all pricing plans offer the same benefits, the only thing that changes between them is the limit of page views you get.
Regardless of that, upgrading your content to a larger plan gives you unlimited pageviews, websites, and custom integrations only enterprises get. Apart from that, you get access to personal onboarding and custom training for your marketing team.
Among all the features Wisepops offers, it focuses the most on popups. When you pay for it, you get:
Shopify integration
Standard popups
Bars and embeds
A/B testing
Different targeting options
Popup personalization
Five websites
Over 60 CRM and ESP integrations
However, this pricing plan may not be suitable for most companies that fall outside of Wisepop's pricing strategy. Let's take a look at a great alternative.
Poptin's Pricing Plans
Poptin is also a lead optimization tool that offers popups, contact and inline forms for promoting lead conversion. It's a great alternative to Wisepops for both small and bigger companies.
It offers one of the most competitive yet affordable pricing plans for very similar features to Wisepops.
Unlike Wisepops, Poptin offers a free plan that is capped at 1000 monthly visitors/per month. This is a very friendly deal for SMEs, new businesses, startups, agencies and even larger companies as it gives you a chance to try out the lead optimization tool before making a commitment that can be billed monthly or annually.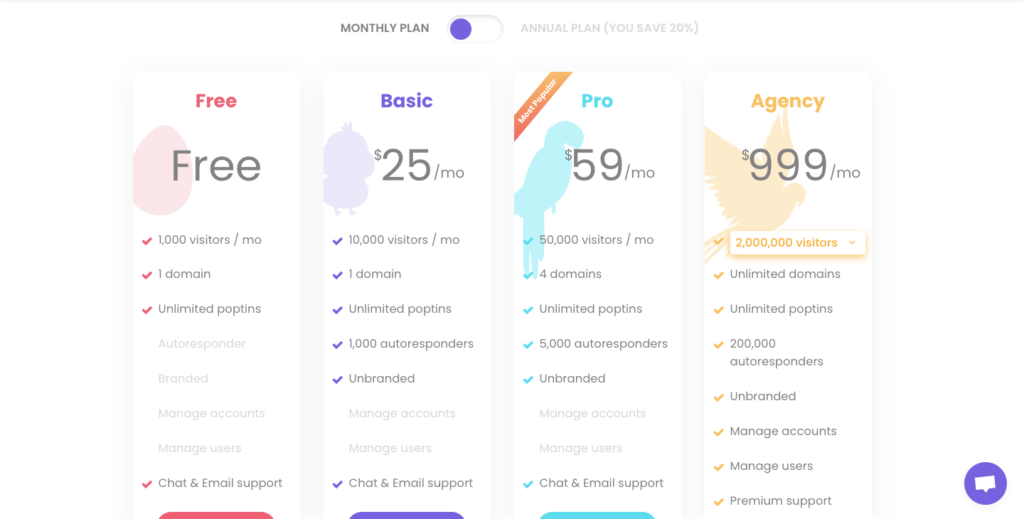 Breakdown of Poptin's Pricing Plans
Here's what you get out of Poptin's plans
Unlimited poptins to create exit intent popups, slide-ins, lightbox popups, etc
Plans that begin from 1K visitors/per month to 2M visitors /per month
Access to single or unlimited domains depending on your plan selection
A/B Testing for Popups
Autoresponders
50+ Integrations (Shopify, Webflow, Thinkific, etc)
Branded and unbranded popups
Manage multiple user-account access
Chat and email support
Comparison between Poptin's Pricing Plans and Wisepops'
Similar to Wisepops, Poptin focuses on optimizing leads with popups. However, it offers a more flexible pricing plan that is inclusive to companies of all sizes.  
Free Plan
The first payment plan Poptin offers gives the user one domain, unlimited poptins, and access to chat and email support for free.

That means marketing teams don't have to pay anything to enjoy a few of the benefits and run lead conversion tests – an option that'll cost you more than $40 with Wisepops.
This plan does not support robust features such as A/B testing, and refined targeting options which are offered with paid plans. 
Paid Plans
Getting to Poptin's basic plan, you should know it offers one domain, unlimited poptins, 1,000 autoresponders, and email and chat support. While this plan is similar to the previous one, it gives you the basic things you need to start a marketing campaign properly at just $25/per 1K monthly visitors.
Wisepops doesn't offer any plan that caters to website needs below 50,000 website visits.
The most popular pricing plan Poptin offers is the Pro one, which is $47/mo. As you can see, its price is almost the same as the Wisepops one. Which option would you rather choose?
If you ask us, we'd go for the former.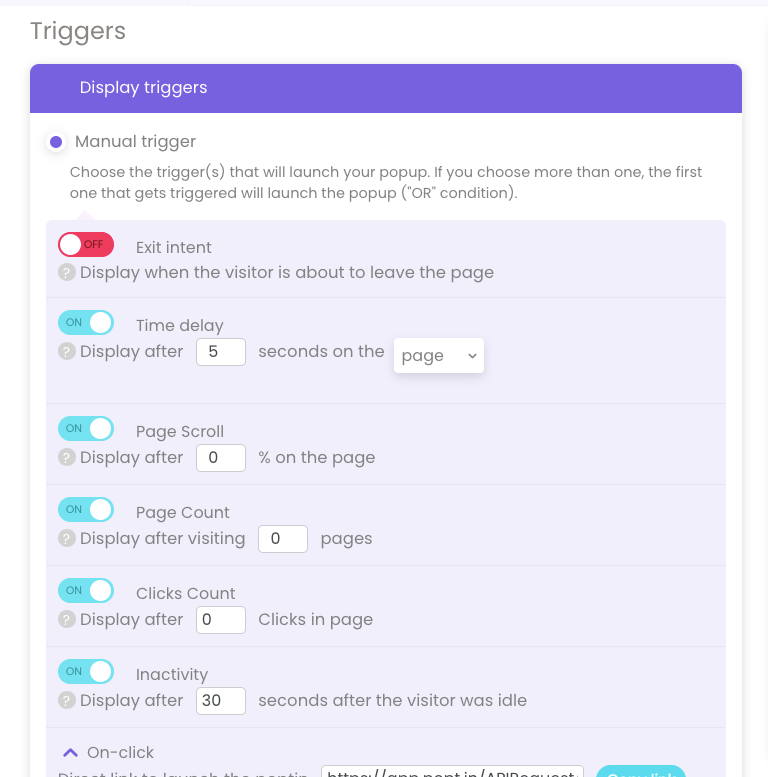 The way in which Wisepops works is by creating the need to switch to a higher plan in the near future. While that happens with most subscription-based tools, the price gap between the Wisepops pricing plans is wide. Thus, it's more difficult for companies that still are still focused on growth to pay for it.
Poptin, on the other hand, is a much more sustainable lead optimization tool. You can still benefit from its pro plan if you run a big enterprise, which helps you save money.
Even if you want to switch to the agency plan, you wouldn't have to pay as much money as you'd have to for the most expensive Wisepops plan.
In a nutshell, Poptin pricing plan is friendlier to small businesses and startups.  
Why You Should Switch to Poptin
You may wonder if you should switch to Poptin after reading everything, but the answer is more complex than a yes or a no.
The first thing you need to do to answer that question is analyze the progress and benefits you've got from using Wisepops. How profitable has that investment been for you?
If Wisepops has been a profitable lead optimization tool that didn't cost you much money in the long run, you could think about keeping it. However, switching to Poptin could lead to excellent benefits.
The popup templates Poptin offers are modern and visually appealing. Apart from that, you can use its drag-and-drop editor to make them look how you want in minutes.
Overall, with Poptin, you get more value for your money when investing in your lead optimization efforts.
Poptin may not have time tracking or management tools like other platforms, but it excels when it comes to helping businesses optimize their lead conversion efforts.
Final Thoughts
Poptin and Wisepops are excellent lead optimization tools used for boosting sales and growing businesses. However, pricing is one of the most important things to consider when choosing one, and it's worth considering making the switch to Poptin in order to get the best value for your money.
Small businesses and startups should always go for Poptin instead of Wisepops if they want to make a profitable investment. It's easier to upgrade a Poptin pricing plan than a Wisepops', which makes developing bigger marketing campaigns more affordable.
Investing money in marketing tools is one of the best things business owners can do, as it helps them get more leads and increase their sales. However, making the wrong investment can make them lose a lot of money.
Our final recommendation – Sign up for Poptin if you want to enhance your lead conversion efforts at the best value.