We are all aware that the field of online shopping is constantly growing before our eyes. Some numbers to put things in perspective:
–  In the US, online sales currently account for (only) 8% of total retail sales;
–  in Europe, this number stands at 14%.
–  53% of all Internet users made at least one purchase in 2016 (about 1 billion users);
–  An average user in the US spends $1800 on purchases during one year on average, in Europe this stands at $1600.
– The main sources of traffic to eCommerce sites: organic, e-mail and PPC.
This infographic shows additional interesting data you may want to see.
ECommerce store owners are engaged non-stop in finding ways to improve their site and increase sales. It is, of course, possible to continue to bring in more traffic, but first of all one should figure out how to increase the conversion to sales out of the existing traffic.
The following chart shows the main reasons for shopping cart abandonment according to the site Statista: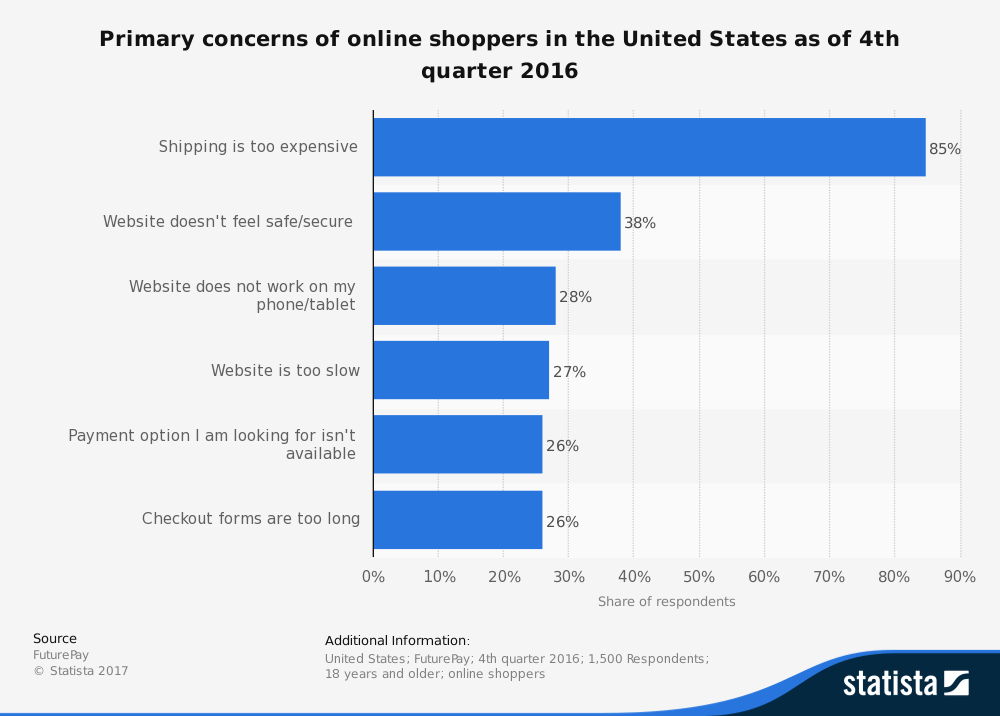 Nel complesso, direi che la maggior parte dei corsi che ho frequentato nell'ambito della mia laurea in economia all'Università di Tel Aviv erano superflui o fuori dal contatto con la realtà, ad eccezione di un corso che mi è sembrato davvero a portata di mano e che mi è piaciuto molto - un corso di Economia Comportamentale. Sì, Dan Ariely e tutto ciò che si agita intorno alle decisioni razionali, e così via. Questo mi ha aperto a un mondo di comprensione degli utenti e a cercare di capire cosa scatena le "correnti elettriche" che passano attraverso il loro cervello quando compiono un'azione o una decisione di un tipo o di un altro.
Recommended: Apart from Dan Ariely's book, I also recommend reading the book Hooked by Nir Eyal, about how to form a habit out of the use of your product, and what drives people to get fixated on one product rather than another.
In this article, I talk about five proven psychological principles that influence the decisions of surfers when buying online:
L'effetto della scarsità
Know the story about the jars with the cookies? This is one of the more familiar stories that illustrate this principle, and it goes like this:
Stephen Worchel and colleagues of his conducted an experiment in 1975 in which they offered people two jars of cookies. One jar contained 10 cookies and the other contained only 2 cookies. The results of the experiment showed that most people preferred the cookies in the emptier jar (the one which contained 2 cookies) even though the cookies in the two jars were completely identical.
Quando qualcosa è scarso o difficile da ottenere, tendiamo a volerlo di più. Potreste anche averne sentito parlare come FOMO - FearOf Missing Out or Loss Aversion. Passiamo, o forse sprechiamo, la metà del nostro tempo su Facebook e sui social media perché abbiamo paura di perderci qualche aggiornamento o notizia interessante (anche se sappiamo che non succede ogni minuto). Un altro principio che va di pari passo con la paura di perdersi qualcosa è l'Urgenza.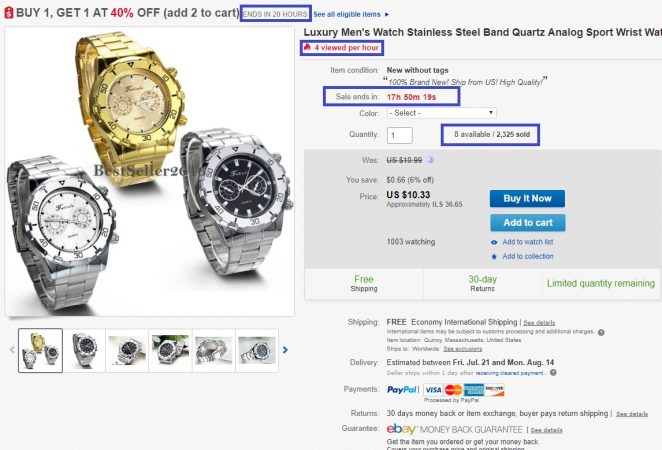 In questa categoria, è abbastanza comune vedere frasi o frasi come: più popolare, più venduto, 12 persone stanno ora visualizzando questo prodotto, questo prodotto è stato acquistato 22 volte durante l'ultima ora, le ultime 5 unità in magazzino, 3 ore prima della fine dell'offerta, ordina entro i prossimi 27 minuti e riceverai il prodotto domani, ecc.
Reciprocità
Sono sicuro che vi è capitato abbastanza spesso - vi viene offerto qualcosa gratuitamente, come una guida / un eBook nel mondo digitale, o forse un nuovo tipo di formaggio al supermercato nel mondo fisico. In cambio, vi viene chiesto di lasciare il vostro indirizzo e-mail (riferendosi al primo tipo di offerta) o vi sentite obbligati a provare un pacchetto più grande di formaggio (riferendosi al secondo tipo di offerta).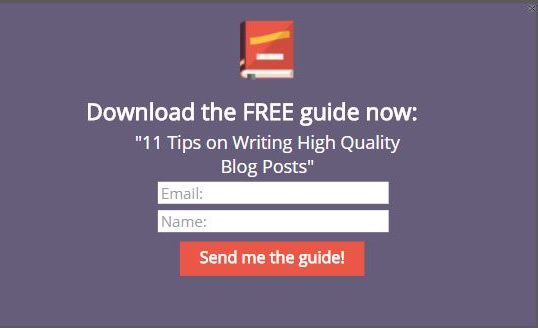 Altri esempi: Un calcolatore online per calcolare qualcosa (per esempio un mutuo), un'applicazione per articoli di abbigliamento su misura dopo aver caricato un'immagine, contenuti di qualità in un blog, ecc.
L'effetto di inquadratura
In a word – Context. If Jimi Hendrix were alive today, and you had the opportunity to go see his show, you would probably be willing to pay quite a bit for a ticket. But if he was performing on the side of the street, you would probably have gone on walking, not noticing him at all. In other words, it all depends on context and the specific situation.
What would you prefer? Low-fat ice cream containing 90% less sugar than the average ice cream? Or an ice cream containing 10% of the average sugar content? Most people asked would choose the first option. The same thing goes for a question like: A plastic surgery with a 90% chance of success, or a plastic surgery with a 10% chance of failure. When we phrase something of this sort, it is important to give thought to the outcome (positive or negative) and the qualities that we want to highlight.
L'Effetto Ancoraggio
The anchoring principle says that people's decisions are influenced by the first information they are exposed to regarding a particular subject. In fact, they rely too much on this information and it becomes like an anchor that is hard to move.
In our daily lives, we encounter it a lot when a question is asked like how much a specific product would cost, or how long it would take to get to a specific place. We get a certain initial answer that we would probably stick to later on. If we go back to eCommerce stores, you may see this principle implemented where as soon as you enter a home page, you see a particular item with a discount price next to it, and an original price crossed out.
Se cercate un po' più a fondo su quel sito, probabilmente troverete un prodotto simile (magari identico) allo stesso prezzo o anche a un prezzo più economico. Per chiunque voglia saperne di più su questo principio, questo articolo è altamente raccomandato.
Assicurazione
This section is about promises, risks and the creation of trust and confidence among potential buyers.
If you look back at the first chart shown in this article, you'll see that the second reason users do not complete their purchase online is because they do not trust it enough or do not think it is secure enough. Another illustration: you go out for lunch in the middle of a working day and see a long line outside one of the restaurants. What would you think? Probably that this restaurant is good and that is why it has a long queue and why people are willing to wait outside. You may call it herd behavior in this case, but also a "herd" of verified reviews and responses could convince a customer the same way a long queue outside a restaurant could.
Although Amazon and eBay are huge sites everyone knows, they still continue adopting ways to increase assurance with buyers. How do you do that?
As you can see in the chart above – reviews, testimonials and comments, seller credibility (in the case of Amazon and eBay for example), social proofs, verified testimonials with real faces, etc.
E, alcuni esempi, naturalmente:

Un esempio dal nostro sito:
Mi piacerebbe sentire come implementate questi e altri principi sui vostri negozi virtuali nei commenti qui sotto 😃