Every business should have a website; that's just a given. However, what you do with it is also essential. Most people have specific website forms and tools like JotForm that they use for conversions and to grab information from visitors. That way, you can try to sell them more.
It's better to get free forms to use whenever the need arises. With so many options, it's hard to know which service to use.
What is JotForm?
JotForm is a great form builder focusing on collaboration and ease of use. It lets multiple people edit forms at the same time. Plus, there's a flexible design process to customize surveys with templates to get you started.
You can use Jotform to create various website forms. This includes HIPAA-compliant ones and more. It's also possible to make email, contact, and order forms for your site.
While there are many features to enjoy, it is quite expensive compared to JotForm alternatives. Therefore, before you commit to this software, it might be wise to check out other options like the ones below:
Top JotForm Alternatives
Poptin is a lead-generation plugin for WordPress, Shopify, and many other websites. It focuses on helping the user create pop-ups and forms. The company claims that you can make them in about two minutes.

There are many things to enjoy about Poptin. For example, it offers advanced targeting options to help you convert more people. With that, its exit-intent technology enables you to recover from abandoning visitors and upsell them.
You can use Poptin to:
Get more leads
Grow your email list
Increase sales
Increase visitor engagement
Recover cart abandonment
There are plenty of features you could enjoy:
Ability to create email forms, contact forms, order forms
Intuitive interface
Well-designed dashboard
Create pop-ups effortlessly
Various templates for your form or pop-up needs
Display rules
Targeting options (exit intent, page scroll, time delay, clicks count, etc.)
Easy to install forms and pop-ups on your page
Integrates well with various solutions (CRMs, marketing automation, email marketing)
Great support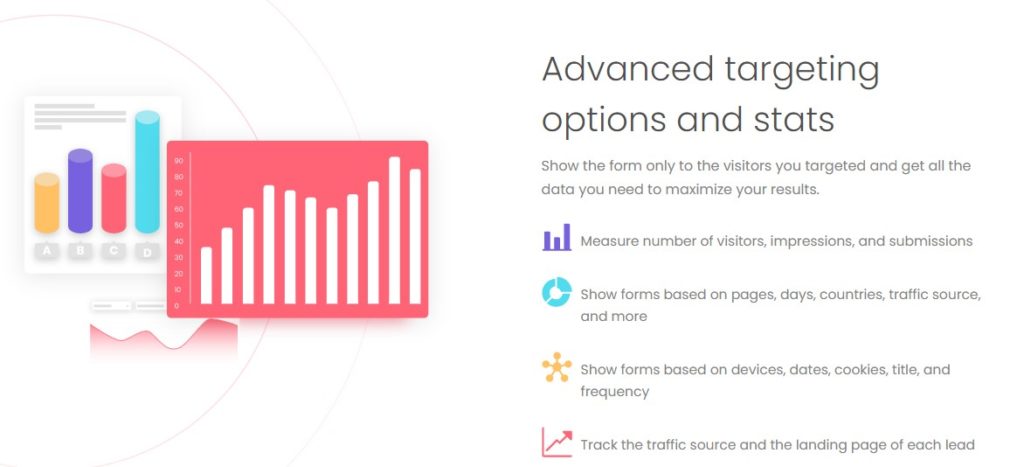 To know more about Poptin features, click here.
Pricing
With all that, you probably expect to pay a ton of money. However, you get free forms included because it's a full package.
Prices are as follows:
Free
Basic – $19/month
Pro – $49/month
Agency – $99/month
The prices scale as you gain visitors and domains. Therefore, you can use the free account as long as you only have 1,000 visitors a month. This is a great way to test the software and see how it can grow your business.
Pros:
A full array of integration options
Excellent live chat support
Easy to customize and build your pop-ups and forms
Good value for money when compared to other JotForm alternatives
Cons:
It could take some time to learn about all the features
Limited templates/designs
Many people on Shopify have used Poptin with excellent results. One person said that it was a good-looking app. They got quick support when things didn't go right. Plus, there were various customization options, and it featured a well-made editor.
Most of the complaints were caused by people not understanding the terms listed on the pricing page. For example, Poptin branding is included on the Free version but not on paid plans.
PandaDoc
PandaDoc is a document management solution found on the web. Users can deliver, create, and share their documents online. With that, it's possible to put signatures on the pages for paperless transactions.

There are a variety of features available with PandaDoc, and here are the top ones:
Create documents quickly
Collect eSignatures
Simplify negotiations and approvals
Lightning-fast responses
Easy to use customization
Full access to every document from a centralized hub
Personalize each document
Ability to add the pricing information, links, videos, and comments
Real-time alerts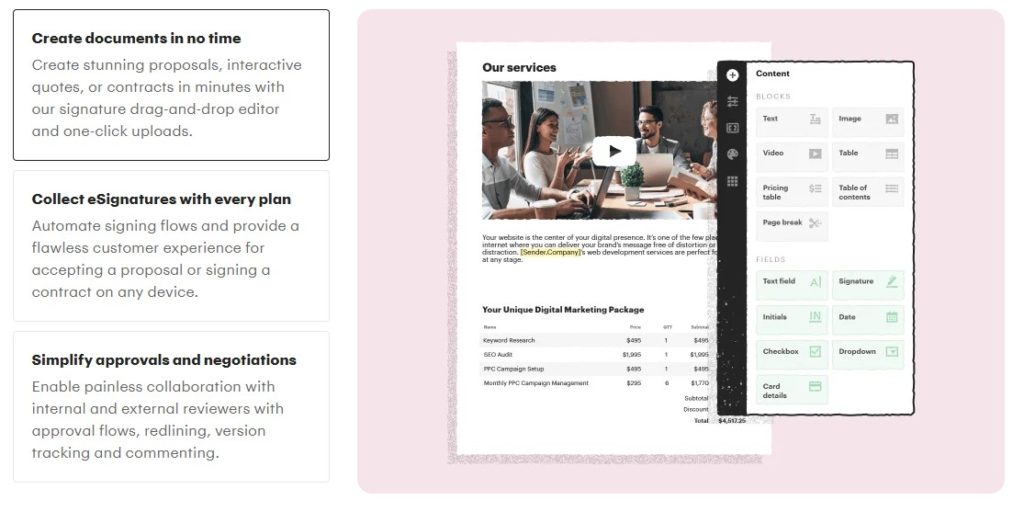 Pricing
The prices for PandaDoc rise based on the features you want and need:
Free eSign – Free
Essentials – $29/month/user
Business – $59/month/user
Enterprise – Custom
Pros:
Intuitive UI with a clean dashboard
Great tracking/analytics features
Drag-and-drop editor
Cons:
Must pay for form usage separately
Each user must pay; not cost-efficient
Many positive reviews remark about the integration options to work with other programs.
However, most people complained about the software speed, saying it was too slow. Others commented that the design wasn't as user-friendly as promised.
Asana Forms
Asana offers many solutions, but its Asana Forms help you assign tasks to everyone, develop content, and plan your campaigns efficiently. This is an internal form builder and doesn't offer website forms.
Here are the features to consider for Asana Forms:
Automate tasks
Create custom workflows
Manage incoming work quickly
Submit requests and manage everything from a central hub
Tag options
Attach comments/data
Task tracking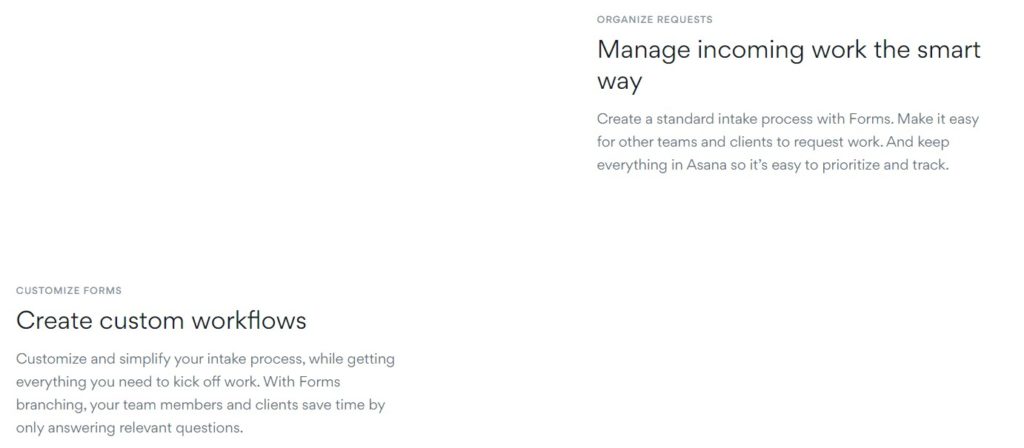 Pricing
In a sense, you get free forms because Asana Forms is part of the entire package. Prices are as follows:
Basic – Free
Premium – $10.99/mo./member
Business – $24.99/mo./member
Enterprise – Custom
Pros:
Can create standard processes
Various templates to use
Cons:
It doesn't offer website forms (contact, order, email forms)
It doesn't handle graphics well
Asana users tend to like the brand well and so offer positive ratings. Many have claimed that it has excellent collaboration tools and is easy to use.
There weren't too many negative things about the software. However, if you want to create website forms, this isn't the software for you.
Wufoo
Though the name sounds odd, Wufoo offers a simple-to-use and powerful form builder. Businesses are sure to appreciate the templates available. Plus, it creates all sorts of website forms, including those form email signups, contact-us pages, and orders.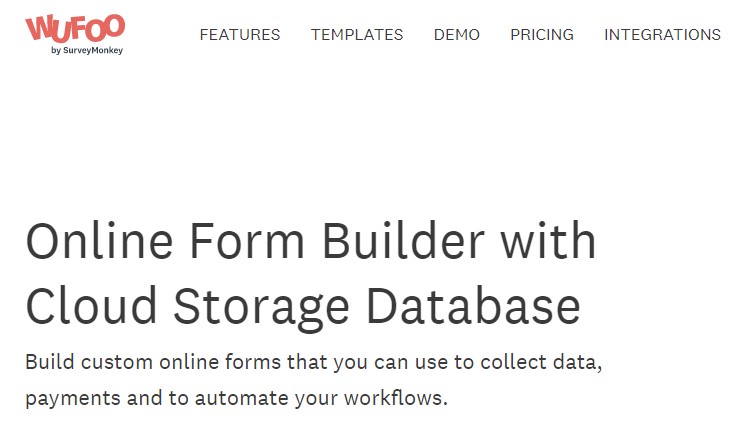 There are plenty of features to consider for Wufoo:
Many integrations
Custom branding
Drag-and-drop editor
Mobile-responsive forms
Customizable in all ways
More than 400 templates available
Supports 40 different languages
Various triggers/rules to apply

Pricing
A free trial will help you see if this is the right choice for you. Afterward, you pay:
Starter – $14.08/mo.
Professional – $29.08/mo.
Advanced – $74.08/mo.
Ultimate – $183.25/mo.
Pros:
Email notifications
Clean design
Very user-friendly
Great user interface
Cons:
Appears dated
Doesn't scale well with very high prices at higher levels
Many users have great things to say about Wufoo. One person claimed that they created entry forms for different systems with ease.
However, most of the complaints focused on the website being dated or feeling clunky.
Zoho Forms
Zoho Forms is an online form builder to help people create and collect forms from different platforms, systems, and mobile apps. It's pretty powerful and can help teams attach links to the forms and email them for external means. With that, data is stored, secured, and organized.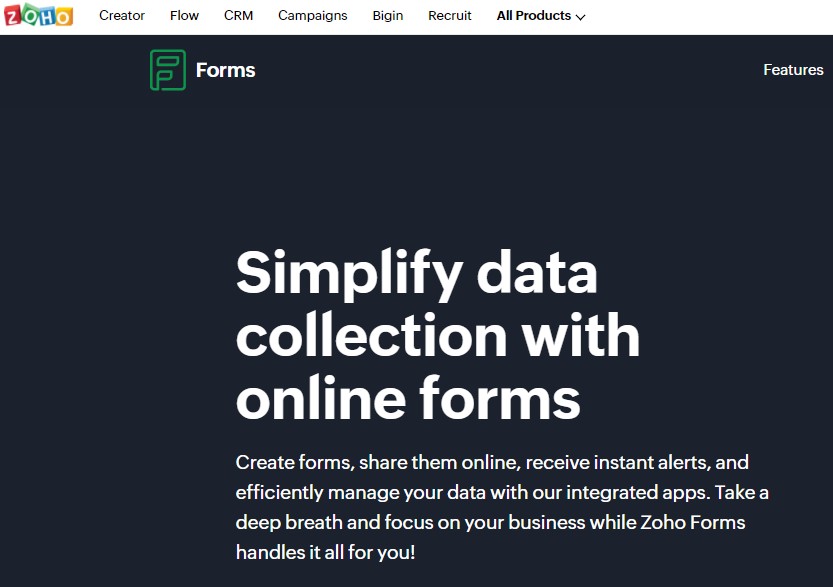 Learn about the many features to see if this is right for you:
Drag-and-drop editor
Responsive forms
Team decisions
Record summaries
Sharing available
Approvals
Offline sharing (QR codes)
Email campaigns
Customization
Analytics
Integrations
Multi-page forms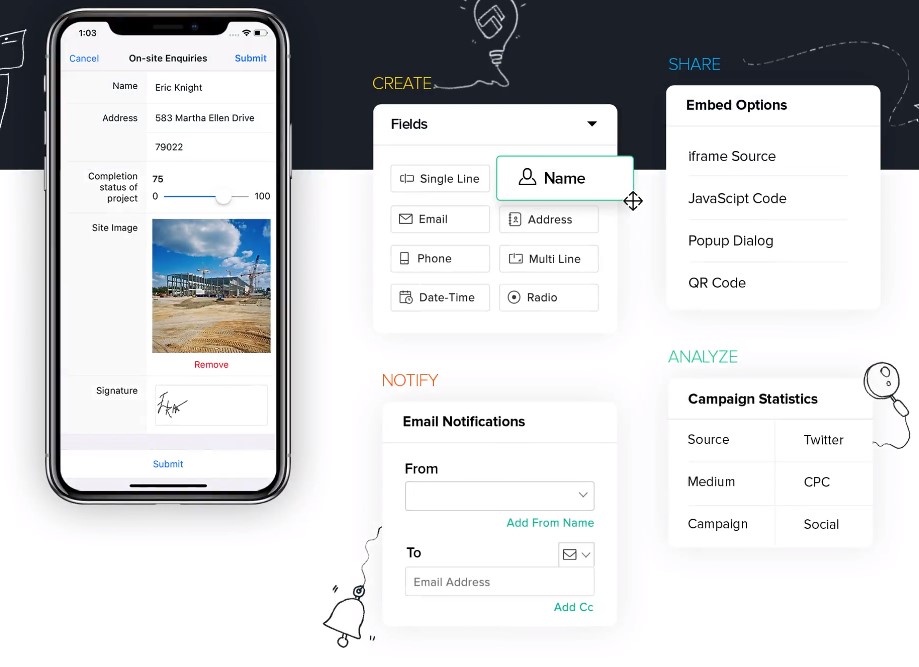 Pricing
Pricing for just the Forms includes:
Basic – $12
Standard – $30
Professional – $60
Premium – $110
Pros:
Great sharing option
Recalls back data
Decent pricing
Cons:
You can't easily delete users
Most people like that they can use the software if they're offline or online. It notifies you when there are new entries to the form.
However, others complain that there are few template options, and it isn't easy to customize the form.
Gravity Forms
Those who want a feature-rich WordPress plugin for contact forms and others are sure to appreciate Gravity Forms. It offers advanced calculations, payment gateways, and a spam filter, allowing you to build a form easily.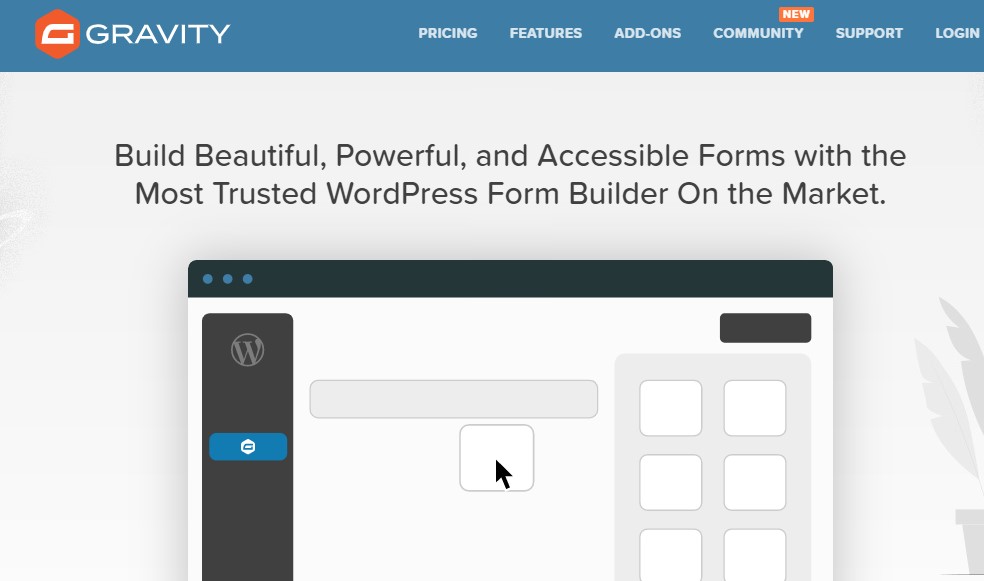 Here are a few of the excellent features to consider:
Over 30 form fields
Conditional logic
Responsive forms
Spam filter
Email notifications
Save/continue buttons
File uploads
Integrations
Limit/schedule forms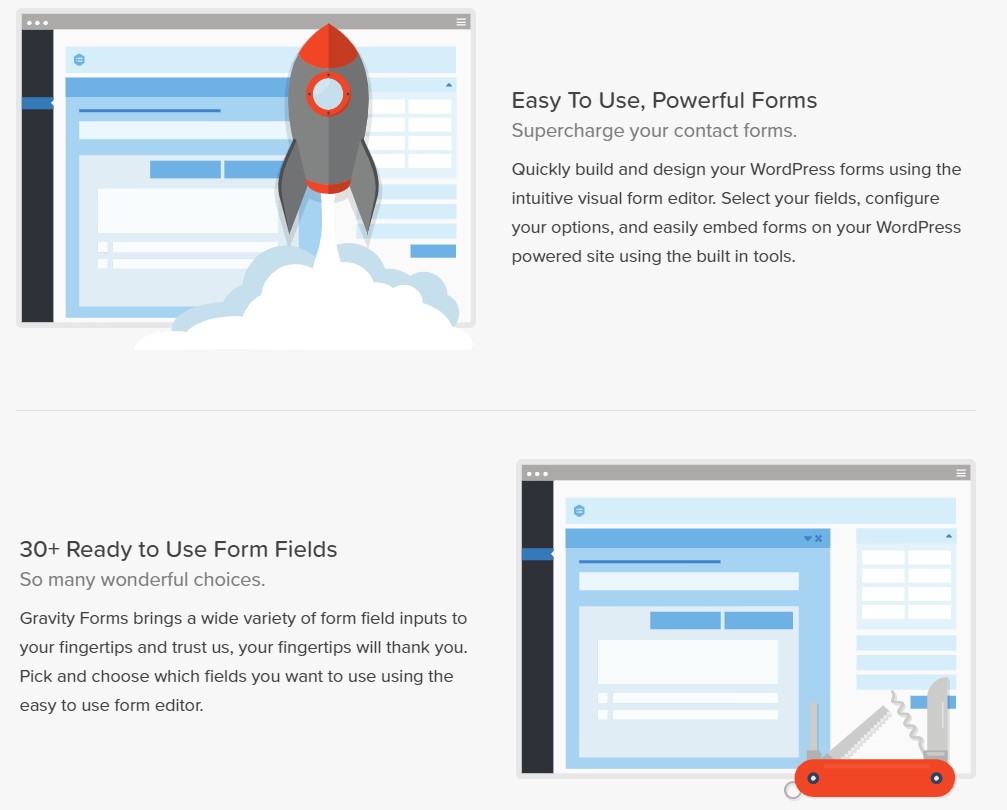 Pricing
The pricing structure is for the software license is as follows:
Basic license – $59/year (one site)
Pro license – $159/year (three sites)
Elite License – $259/year (unlimited sites)
Pros:
Drag-and-drop editor
Easy to use
Options for order forms, email forms, contact forms, and more
Cons:
Dull colors possible
Unfriendly styling
Many positive reviews talk about versatility. You can create any form you want, even for eCommerce platforms or blogs.
Others complain that there are frequent bugs. While they're fixed, it does put a time delay on creation.
Conclusion
Website forms are something you can use to benefit your company and brand. Order forms help you sell more, while contact forms allow others to ask questions or get more information. Plus, email forms are crucial for getting more signups for your newsletter.
With so much riding on your website forms, it's important to consider all the JotForm alternatives. However, Poptin could be the best because of its low cost and feature-rich system.
Sign up for free to use Poptin today!