5.No matter what kind of business you have, you definitely need good tools to make everything work smoothly and efficiently.
Kita ngerti manawa sampeyan bisa uga wis maca macem-macem informasi babagan marketing lan SEO sing penting banget lan kepiye prioritas utama sampeyan.
Lan iku bener, mesthi.
Nanging, sampeyan bakal entuk perspektif nyata yen sampeyan terus nambah kanthi terus-terusan.
Yes, we understand that consistency may seem challenging and may consume a lot of energy, but with the right tools, nothing will be such a huge obligation.
Dheweke bakal dadi pangirit wektu nyata lan mbantu sampeyan entuk target penting sing wis ditemtokake kanggo bisnis.
Saiki, ayo menehi sampeyan alat pemasaran lan SEO konkrit sing bisa diwiwiti kanthi cepet!
SEMrush minangka solusi pemasaran lan SEO sing nyakup luwih saka 20 alat sing beda. Dheweke bisa mbantu sampeyan:
SEO

Pemasaran konten

Panliten sing kompetitif

Pariwara

Media sosial
Iki ditujukan kanggo para pemasar lan bisnis sing pengin entuk lalu lintas situs web lan adol ing level sabanjure.
The SEO SEMrush toolkit includes a technical SEO audit that will help you to analyze your web presence and see what you should improve. It also includes position tracking, backlinks audit, and analytics. SEO toolkit can help you to see which tactics will provide you with better organic traffic.
Kanthi toolkit media sosial, sampeyan bisa mbukak strategi para pesaing sing paling gedhe. Nggunakake post booster, sampeyan bisa nggawe konten ing Facebook luwih katon. SEMrush bakal ngirit wektu sampeyan lan ngidini sampeyan gawe jadwal kiriman nganti limang saluran media sosial sing beda.
Yen sampeyan nggawe konten, gunakake toolkit pemasaran konten kanggo nemokake topik sing paling apik kanggo target pamirsa lan langsung nggunakake. Temokake lan analisa kepiye konten sampeyan wis ditrapake miturut tumindak para pengunjung lan deleng apa sing kudu ditambah.
Penting, manawa SEMrush duwe basis tembung kunci paling gedhe ing pasar, lan yen sampeyan pengin entuk rangking SEO luwih dhuwur, iki mesthine kudu diwenehi perhatian.
Fitur SEMrush sing paling penting:
Panaliten organik

Riset pariwara

Riset tembung kunci

Analisis lalu lintas

Iklan dhaptar produk

Panjelajah pasar

Link balik

Asisten nulis SEO

Grafik

Pelacak media sosial

Poster media sosial

Penganalisa konten

Alat kata kunci PPC
Rega: SEMrush nawakake telung rencana lan rencana Perusahaan uga kanggo solusi khusus. Rencana PRO lan GURU, sampeyan bisa nyoba kanthi gratis lan bisa nemokake apa sejatine kanggo bisnis sampeyan.
Ing gambar ing ngisor iki, sampeyan bisa ndeleng rencana sing dituju utamane kanggo sapa.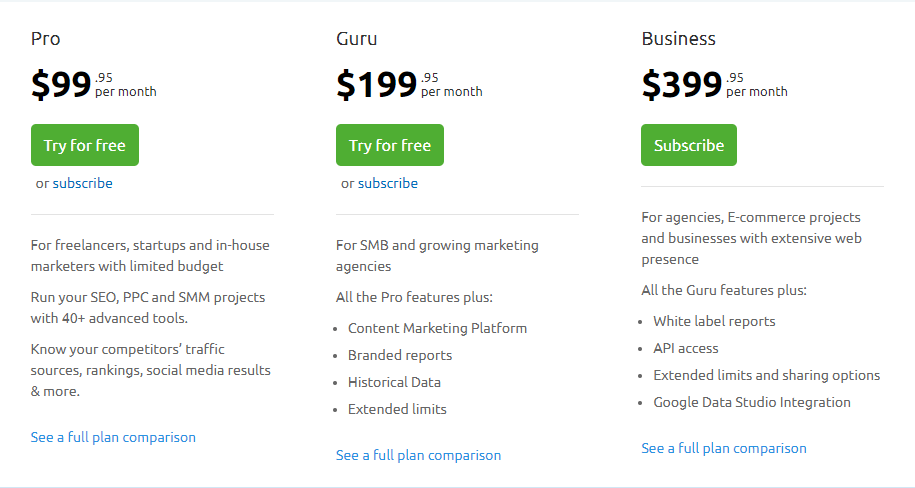 Ahrefs minangka alat sing apik kanggo prospek backlink, sing minangka salah sawijining faktor sing paling penting kanggo SEO.
Lan sing paling apik yaiku sampeyan bisa nggunakake alat iki manawa sampeyan wis ahli utawa mung pamula.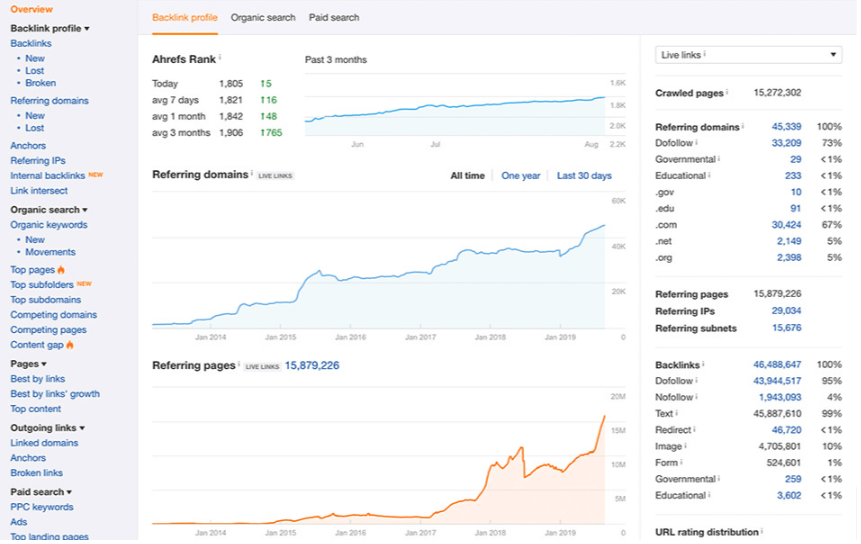 Yen sampeyan pengin ndeleng profil backlink , contone, para pesaing, sampeyan mung kudu ngetik URL lan sampeyan bakal bisa ndeleng link lan kualitas profil backlink kasebut. Ahrefs duwe crawler backlink sing cepet banget.
Yen sampeyan nggunakake riset backlink, sampeyan bakal entuk dhaptar lan wawasan babagan:
Link balik

Referensi domain

Backlink rusak

Jangkar

Referensi IP

Backlink internal
Kaya sing sampeyan ngerteni, kanthi nggunakake Ahrefs, sampeyan bisa nggawe strategi backlink sing kuat kanthi wektu luwih sithik. Kabeh wis diatur lan ditampilake kanthi wujud laporan sing jelas.
Kanthi alat iki, sampeyan uga bakal nemokake tembung kunci sing digunakake kompetisi.
Yen sampeyan milih nggunakake Ahrefs kanggo bisnis, sampeyan bisa entuk akses menyang Ahrefs Insider ing Facebook, yaiku klompok tertutup kanthi luwih saka 10.000 pemasar.
Tim dhukungan kasedhiya kanggo mangsuli pitakon lan ngatasi masalah sing bisa ditindakake.
Fitur Ahrefs sing paling penting:
Riset lalu lintas organik

Pelacak backlink

Riset lalu lintas mbayar

Penjelajah kata kunci

Metrik SEO canggih

Analisis situs web

Pilihan SERP

Pelacak pangkat

Penjelajah konten
Rega: Ahrefs nawakake papat rencana mbayar sing beda kanggo milih. Kanggo loro sing pertama, sampeyan bisa nyoba jangka masa uji coba 7 dina kanthi rega $ 7.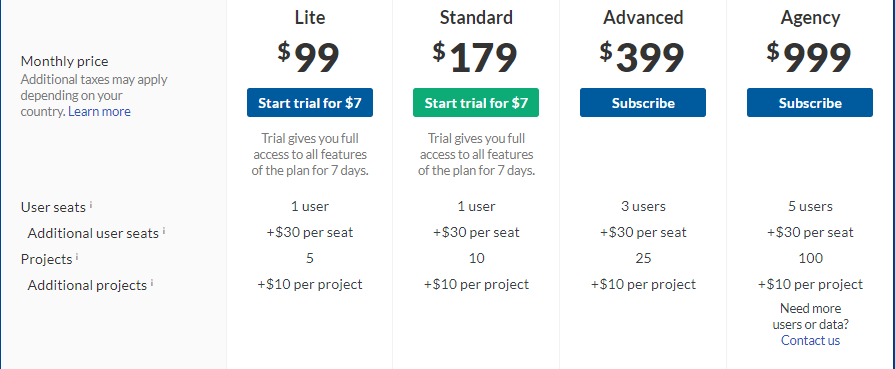 Moz is another marketing and SEO tool, and it is great when it comes to on-site SEO. You probably already know how important it is to optimize every element on your website for everything to work flawlessly.
SEO ing situs utawa ing kaca iku penting banget kanggo pengalaman sing ramah pangguna.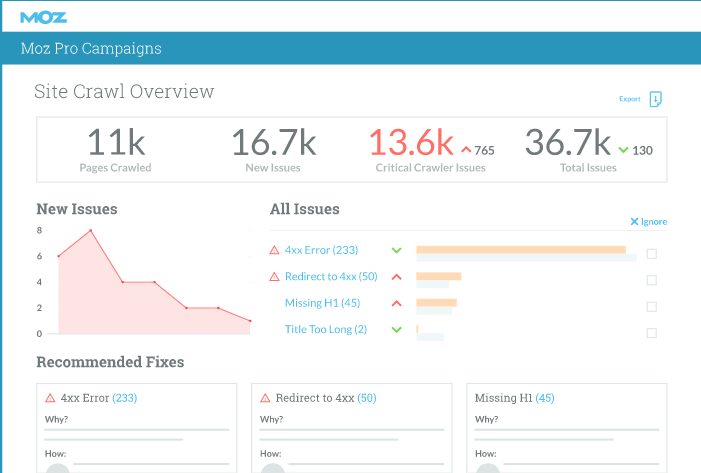 Moz has a clear and organized dashboard. It detects different issues, such as broken redirects and missing title tags. You will also be able to see how these issues affect your SEO.
After detecting specific issues, this tool sorts them by importance, so you know which one you should fix first.
No matter how big your website is, Moz can crawl it fast, thus saving you a lot of time.
Sampeyan nyusup situs web saben minggu lan nglaporake kabeh supaya sampeyan bisa ngatasi kanthi cepet.
You can use Moz for your website or if you manage the websites of your clients.
Fitur Moz sing paling penting:
Crawler situs web

Riset tembung kunci

Pitakon Backlinks

Laporan siswa kelas ing kaca

Laporan sing dijadwalake
Pricing: Moz offers four different paid plans to choose which one suits your needs best.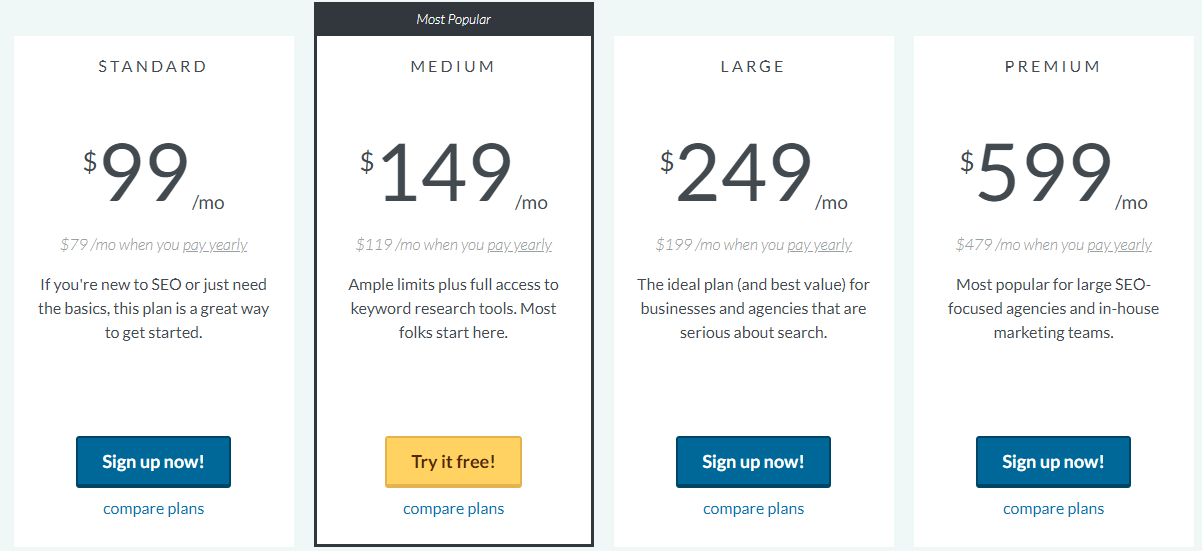 Poptin minangka alat CRO, sing tegese Optimisasi Tarif Konversi.
Alat iki kalebu:
Formulir situs web semat

Email otomatis
Kanthi pop-up lan formulir sing efektif lan efektif, sampeyan bisa ngasilake luwih akeh sing mengko bisa dadi pembeli asli.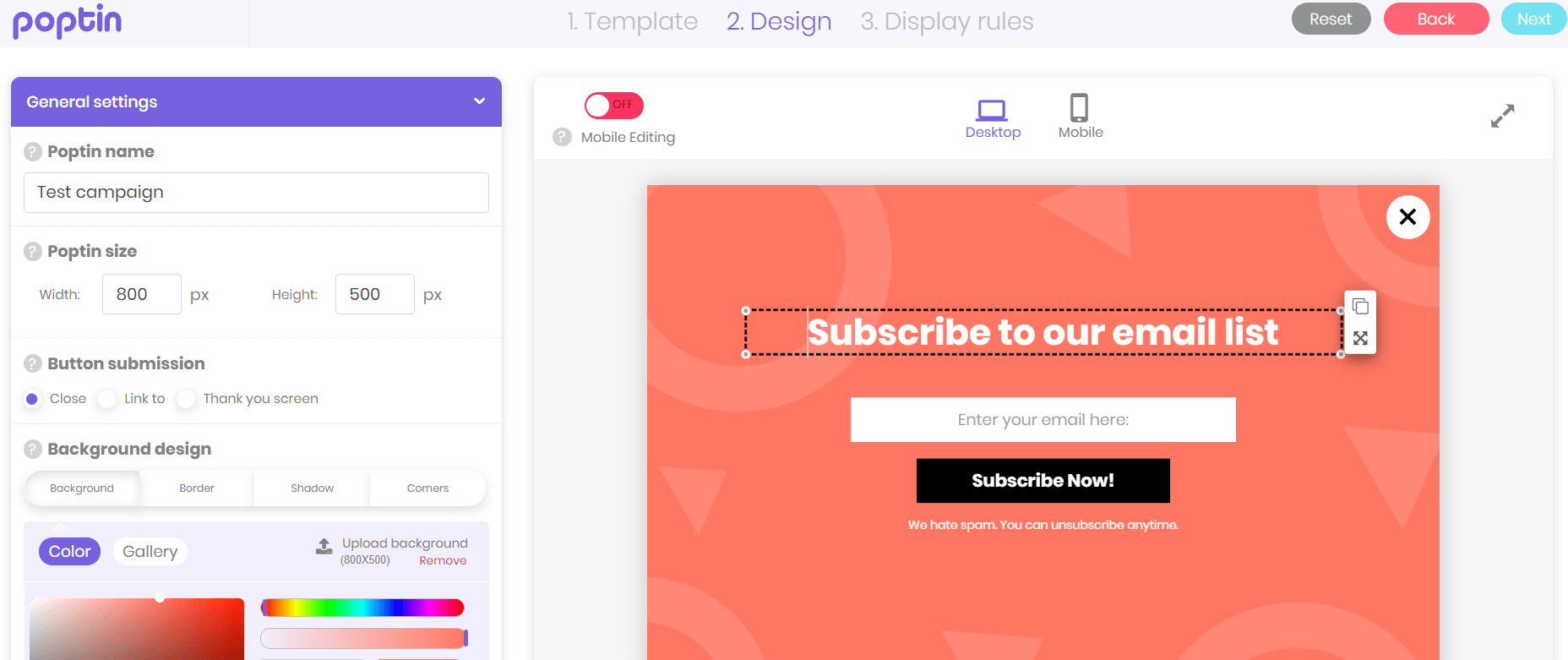 No matter which one you choose (or if you choose both), you will get access to a simple editor with tons of options for customization.

You can change background and text colors, add or remove different fields, change the size, add images, and more.
You have to pay attention to the fact that people access the Internet through mobile and desktop devices both, so it is essential to mention that every form and pop-up window you make through Poptin will be optimized for mobile and desktop.
The primary purpose of these forms is that you can add a CTA (click-to-action) button and encourage visitors to take action.
By using pop-up windows, you can show them some excellent and irresistible offers so that they would leave their contact without hesitation.
You can offer them webinars, courses, e-books, or access to your weekly newsletter to stay in contact with your future buyers.
When you start communicating with them through email campaigns, you are building brand awareness and gaining their trust. Valuable content keeps them interested and builds your credibility regarding your target audience.
Of course, you can use these windows to offer them a discount or free shipping or remind them to pay attention to some current sales, also.
You don't need designer or developer experience to use and make pop-ups and other forms for your website.
You can create your first pop-up in just a couple of minutes. This marketing tool has an easy-to-use drag-and-drop editor.
And, if you want to make different types of pop-ups, you can choose between slide-in pop-ups, countdown boxes, screen overlays, and more formats.
You can rapidly increase your conversion rates using effective windows that engage with your visitors.
Fitur Poptin sing paling penting:
Seret banjur selehake editor

Kustomisasi tingkat dhuwur

Pilihan penargetan lanjutan

Pilihan pemicu lanjutan

Teknologi tujuan metu sing cerdas

Tes A / B

Analytics

Integrasi
Rega: Poptin nawakake rencana gratis lan uga telung rencana mbayar. Adhedhasar macem-macem ciri sing kalebu, sampeyan bisa milih solusi sing paling apik kanggo sampeyan lan bisnis.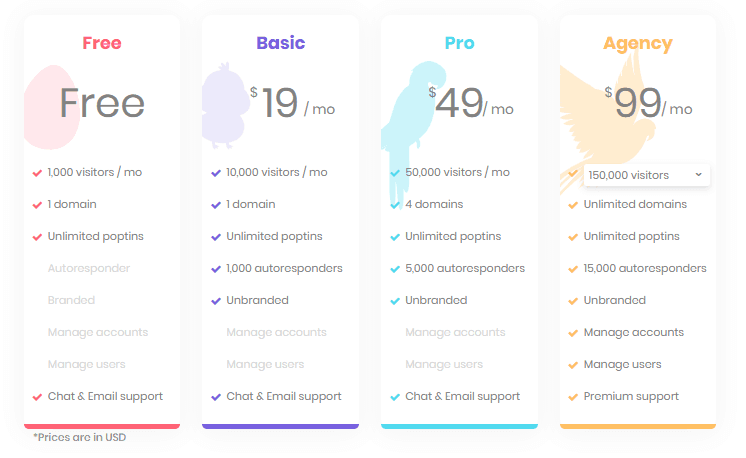 JetOctopus is a visual SEO toolkit about making technical SEO for large websites easy and data-driven. Whether you're new to SEO or a seasoned specialist, JetOctopus is intuitive enough to help you track and improve your enterprise website's SEO health (crawling, indexation, logs analysis, etc.).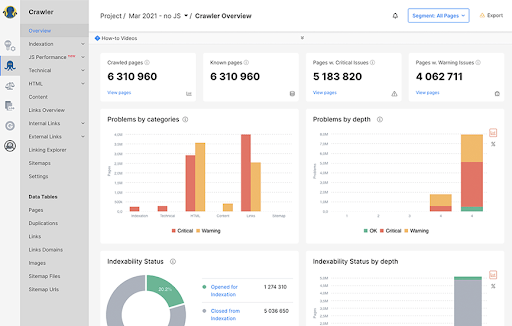 It gives you a big picture of your website's SEO issues — duplicate content, 404 errors, keyword cannibalization, wasted crawl budget, etc. — with actionable visuals so you can prioritize and tackle the best optimization opportunities first.
You can create segments, compare crawls, monitor live logs, identify fake bots, optimize your crawl budget, improve your site's indexation, and so much more with the JetOctopus toolkit.
Most important JetOctopus features:
Crawler (with speeds at up to 250 pages per second)

Log Analyzer

GSC Keywords

Content analysis

Google Search Console integration
Pricing: The Crawler tool starts at $30 per month to crawl 100K pages monthly, while the Log Analyzer tool starts at $60 monthly to log up to 100K pages monthly. The GSC Keywords tool starts at $60 per month, too.
You can buy each SEO module individually or opt for the All-Inclusive bundle (at $120 per month) which includes all these tools plus training calls, onboarding, and support.
So JetOctopus is one of the fastest and most affordable site crawlers and logs analyzer toolkits that you can try with their 7-day free trial.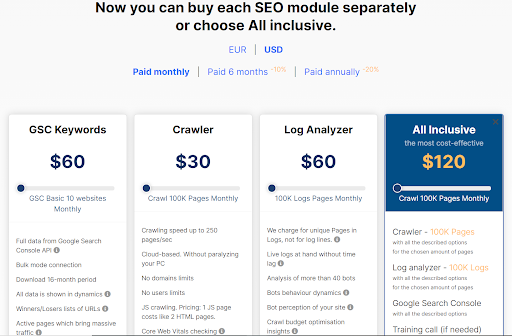 Intine
Marketing and SEO are very challenging parts of running any type of business. But when you become aware of how useful they can be, you know there is no substitution for them.
No matter if you decide to run them on your own or hire teams that would be responsible for marketing and SEO, it is always important to find the easiest but equally effective ways to use their full potential.
Fortunately, as you can see, unique tools like SEO in Glasgow are more available than ever anywhere you are, and they have proven to be very powerful when it comes to dealing with everyday problems, but also time-efficient.
Moreover, as an alternative,  check out Style Factory's in-depth review of Growthbar, which has a bit of a different approach to SEO.
With the right SEO tools, you can build great backlinking strategies, reveal your competitors' techniques, find out every error on your own website or your clients' websites, and improve conversion rates rapidly.
Apa sampeyan bisa mbayangno apa sing bisa sampeyan lakoni nalika nggawe windows pop-up lan formulir situs web?
People need incentives to make a decision, and if you use Poptin, you can show them the privileges that you offer and encourage them to take action right away.
Don't allow yourself to miss out on something so important. Try using these tools, and watch how your conversion rates rise!
P.S. If you're looking for link tracking for digital marketing, you can always try Rebrandly URL Shortener to see its effectiveness.