Email marketing is essential for every business, and you probably hear of new options always becoming available. How do you choose the right one for your needs? Many people turn to Mailjet, but there are some alternatives. Consider what Mailjet offers and why you might switch.
What Does Mailjet Provide?
Mailjet offers plenty of things, especially if you want affordable software. We also like the collaboration feature that most other providers don't include.
You've got many integrations, transactional emails, and automation. With it offering so much, why do you need anything else?
Why People Switch from Mailjet
Most people switch to an alternative to Mailjet for many reasons. Yes, it offers collaboration, but most content creators don't require that. Segmentations are highly limited, as well. You can use primary conditions, but you can only choose between non-opened and opened emails within a specific time frame. You don't get to see which email they opened.
There are also limited automation conditions and a hard-to-use list management feature.
1.
GetResponse
GetResponse offers various professional features and is quite easy to use. The company is Polish-based, with over 1 billion clients in over 180 countries. We're going to discuss the features to help you understand them.

Fitur
You're going to find that GetResponse offers many features that other marketing tools can't compare with. You've got video email marketing, A/B testing, custom landing pages, and comprehensive design choices.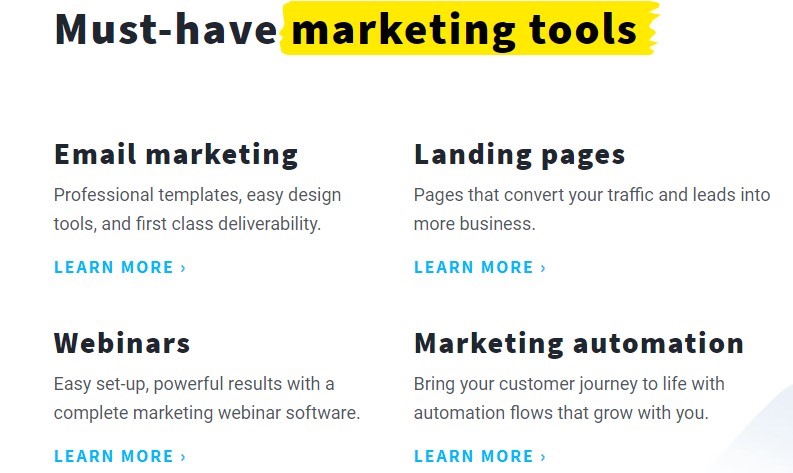 We're quite impressed with the landing pages you can create. With the Conversion Funnel feature, you can get better online store options and have improved traffic generation.
Primarily, you turn to an email marketing service to help with automation, and this one doesn't disappoint. You're allowed to create bigger and better campaigns based on the triggers and conditions that you require. The most popular include sales and location triggers, but the choice is yours.
On the higher-priced plans, CRM options and webinars are also available. Typically, you don't see these with email marketing tools.
Pro:
Design and spam tests
Intelligent list automation
Conversion funnels and landing pages
Cons:
Ora ana rencana tanpa selawase
Issues with deliverability
Rega
You have access to four different plans with a 30-day trial. With Basic, you are offered a single sales funnel, unlimited landing pages and templates, autoresponders, and can sell your e-products. It costs $15 per month after the trial period ends.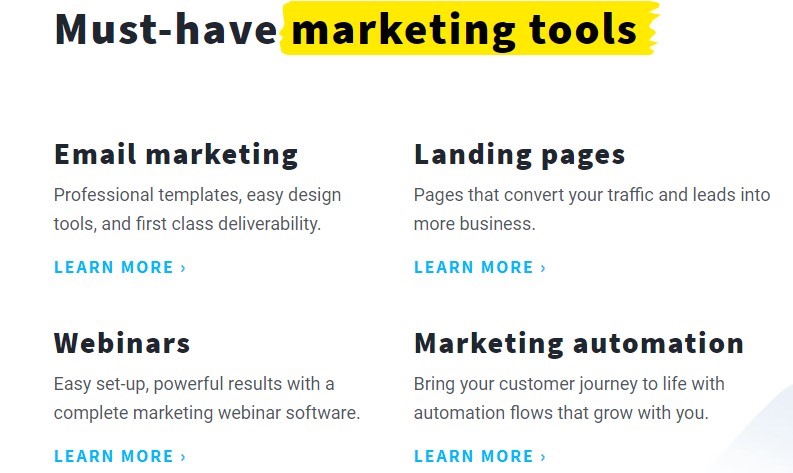 Plus costs $49 per month and gives you everything from the Basic plan. You also get a few more sales funnels, automation builders, and webinars to help you learn about the provider.
At the Professional tier, you get everything from Plus, but also have on-demand webinars and unlimited funnels. The price is just $99 per month for 1,000 contacts.
The Max plan is available for a custom price and is personalized to meet your needs. You get everything the company offers, including SSO, consulting, and deliverability assistance.
Kanggo Sapa?
GetResponse works well for e-commerce website owners who want more customer leads and need automation. However, it might not be ideal if deliverability is a major issue for you.
2.
iContact
Two college students created iContact back in 2003. They wanted an email marketing service to help companies with deliverability across all inbox types. This excellent ESP offers many features, and we'll talk about them now. 
Fitur
There are tons of exciting features, but it primarily depends on your chosen plan. The top options include responsive layouts, a drag-and-drop editor, A/B split testing and automation.
You also have access to analytics and various report options. Some of them are highly detailed. Subscription management, integrations, segmentation, and multi-user access are also available, depending on the plan you choose.
We can't forget about other noteworthy features, such as in-line photo editing. This allows you to make changes to the images without using another product. Smart sending is also available, which ensures that the email is sent at the best time based on when the customer usually opens their electronic mail.
Pro:
Comprehensive features
Intuitive platform
Gampang digunakake
Cons:
No automation with the Base plan
Gmail deliverability issues
Ora ana versi gratis
Rega
There are two iContact plans called Base and Pro. With the Base plan, you can have 2,500 subscribers and pay $59 a month. This provides welcome automation options, the stock image library, and a drag-and-drop editor. It's pretty limited.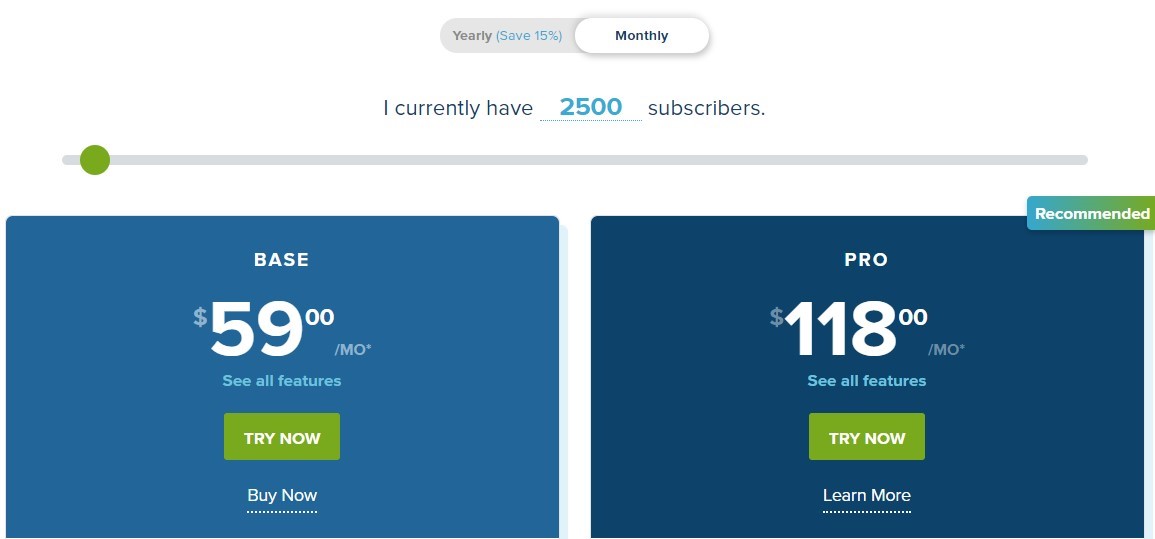 Then, you have Pro, which allows you to have 2,500 subscribers and costs $118 each month. With it, you have access to all of the Base plan features, as well as more automation, landing pages, and non-opener segmentation.
Kanggo Sapa?
We believe that iContact is suitable for medium-sized companies and e-commerce websites. It focuses on e-commerce needs, though it's not cheap. Small businesses with a bigger budget might be able to use it effectively, and it grows with you.
3.
SendLoop
If you want email marketing software that provides customizable automation, Sendloop has you covered. With this ESP, you can access plugins, integrations, and other advanced tools to help you automate the campaign. Though it's still new on the market, it's quite popular for various reasons.
Fitur
When you choose Sendloop, you have various channels available to target the right audience. Many tools are included, such as 80 free templates, an email slicer, and the drag-and-drop editor.
Facebook ads and mobile apps are accessible, too. Plus, social media sharing and transactional emails are top features, as well.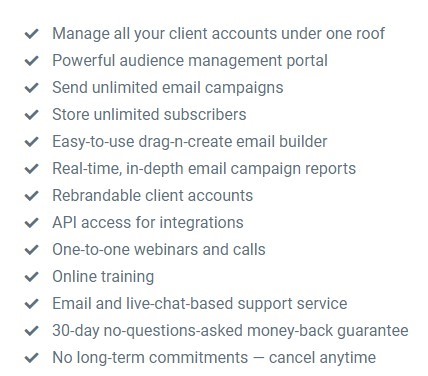 Most people aren't tech-savvy, and you don't have to be to use this platform. The HTML editor allows you to customize any template, which is responsive.
Automation is essential; you can get the message to the right person at the best time. Segmentation helps here, and you can have as many customers or subscribers as you need. Pre-made templates are also included, so you type in what you want to say and hit 'send.'
Pro:
Reliable
Target the right audience
Antarmuka sing sederhana
Cost flexibility
Cons:
Many bugs
Better integrations required
Still new, so it adds features periodically
Basic reporting/automation 
Rega
Sendloop offers two plans. People who only send emails occasionally pay roughly $10 for 1,000 emails. Frequent email senders can send unlimited emails to 500 subscribers for about $9.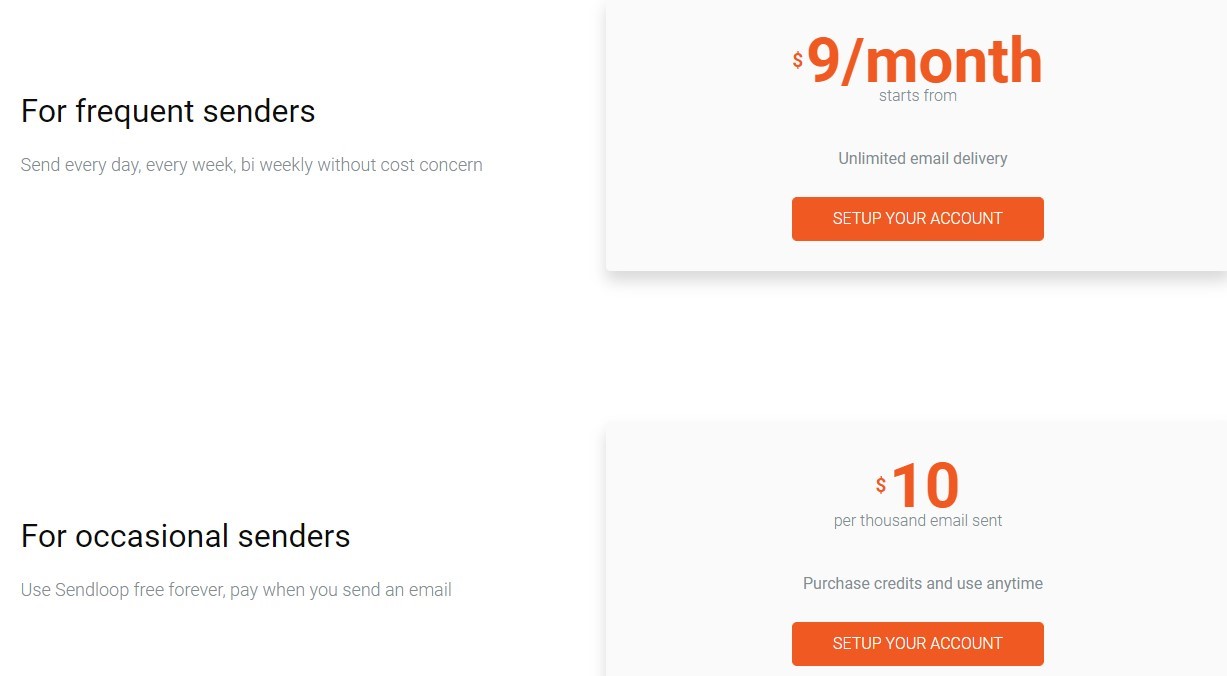 You get every feature available, regardless of the plan you select. These can include email templates, third-party integrations, and multiple campaigns.
Kanggo Sapa?
Digital companies, e-commerce businesses, and SMBs primarily use Sendloop. It costs less and still gives you personalization and customization at every turn.
Moosend is an excellent email marketing and automation tool. You can sync data and use automated workflows to save time and money. Plus, we like that it's easy to use and configure. Even though it was just founded in 2011, it's quite popular.
Fitur
Marketers are sure to enjoy the personalized designs and various templates available. Still, you can use the drag-and-drop editor to add text, social media buttons, and images.

Message scheduling is essential, and you can do that with Moosend. Plus, there's automation and segmentation, so you can choose what events will trigger when an email is sent. Create your segmentations or use the pre-built ones.
If that weren't enough, you could track the campaign, generate leads, and so much more!
Pro:
Customer support available
Gampang digunakake
Advanced automation and workflows
Cons:
Lacks native integrations
Not a lot of customization options
Formulir dhaptar dhasar
Rega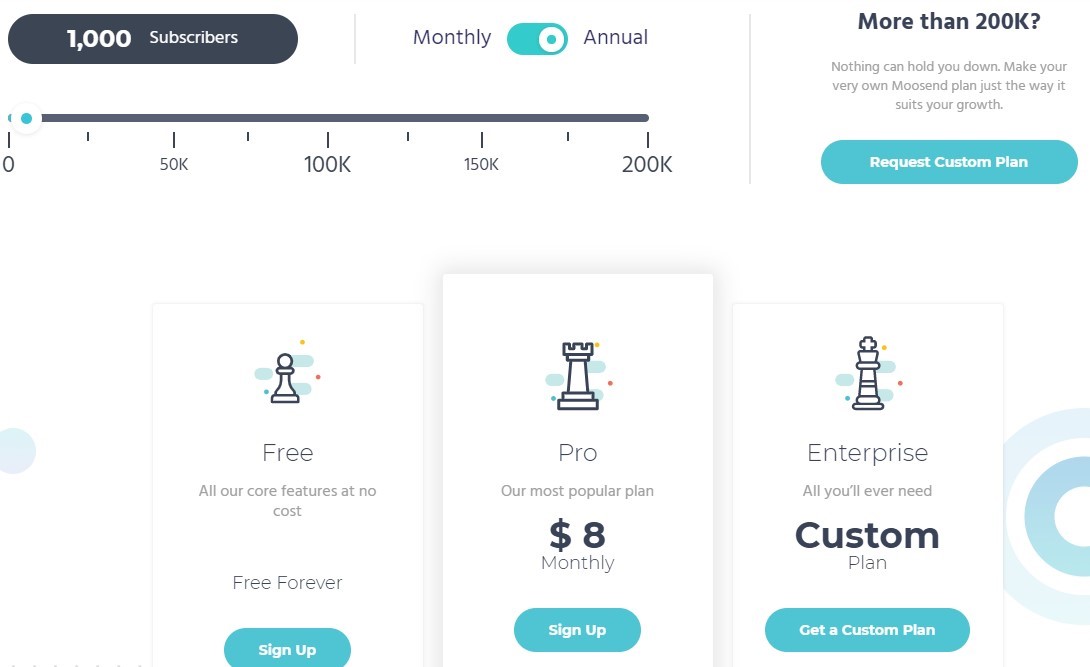 There is a forever-free plan with Moosend. You get the core features, such as analytics, reporting, unlimited emails, and subscription/sign-up forms.
Next, you have Pro, which costs $10 each month and allows you to have 1,000 subscribers. You get the Free plan's features, phone support, an SMTP server, landing pages, and transactional emails.
If you need more than that, Enterprize is customized to meet every need. Perks can include custom reports, an account manager, SAML, migration services, and others.
Kanggo Sapa?
SMBs that are new to email marketing is going to like Moosend. It works well for companies of all sizes and is suitable for e-commerce websites, though there aren't any integrations.
5.
Email Octopus
Email Octopus is an innovative and new email marketing platform. You can send emails through Amazon SES. This powerful low-cost solution doesn't sacrifice deliverability and is easy to use. Let's learn more.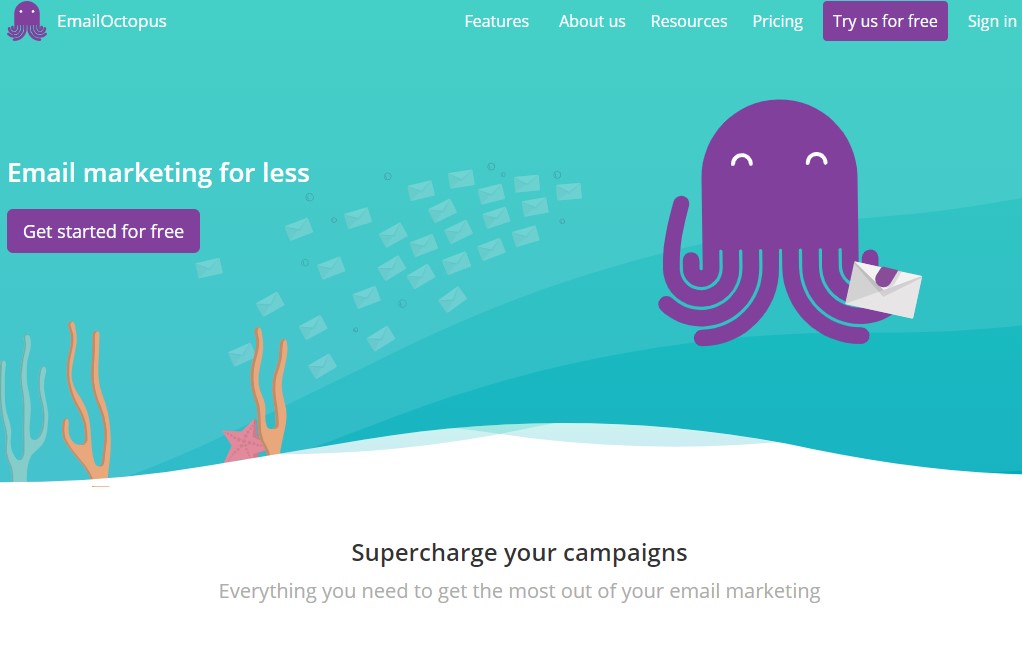 Fitur
You get plenty of features with Email Octopus. Some of the top options are integrations with various apps. These include Shopify, Salesforce, Zapier, and Eventbrite.
Automation is easier with this option. Create drip sequences and time-based onboarding options. Keep your subscribers returning when you send out exclusive offers or provide engaging content.
Human support is available, so you have someone to help when things don't go right. You've got segmentation, real-time analytics, and a developer API.
Pro:
Gampang digunakake
Antarmuka sing sederhana
Affordability
Cons:
Few list segmentation options
Takes a while to set-up
Targeted more for Amazon SES
Rega
The Starter plan is the forever-free plan. With it, you can send 10,000 emails monthly and have 2,500 subscribers. All your statistics are stored for a month, but you have to deal with email branding.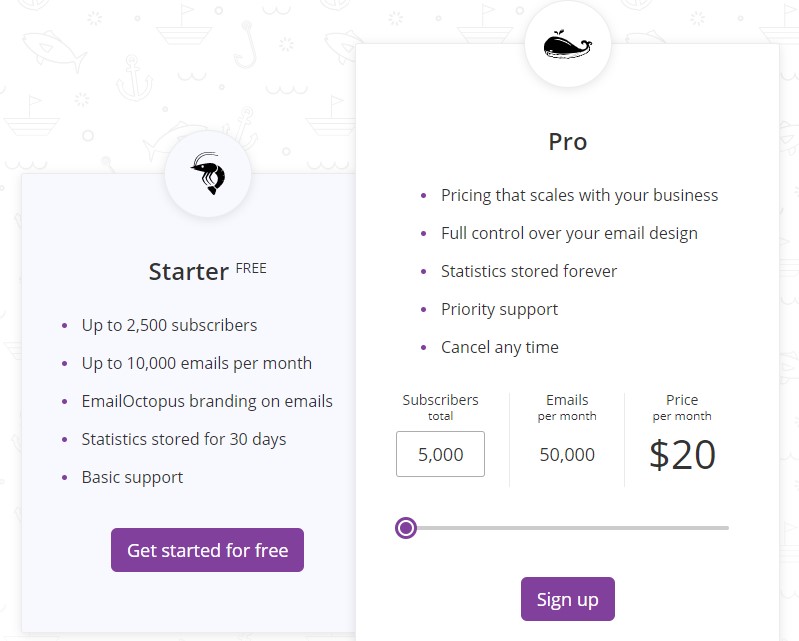 The Pro plan starts at $20 for 50,000 emails and 5,000 subscribers. You get priority support, and your stats are stored forever. Plus, you have more control when it comes to email design.
Kanggo Sapa?
Email Octopus puts a lot of focus on Amazon SES. If you're part of this service, it integrates well and offers a unique approach to email marketing. Though it works for other companies, you might find it best to use WordPress or similar plugins.
6.
Sendfox
Are you a content creator in need of an ESP? Sendfox might be right for you. It's simple to use and affordable. Email campaigns can promote videos, articles, and other content, which helps get the customer through the sales funnel.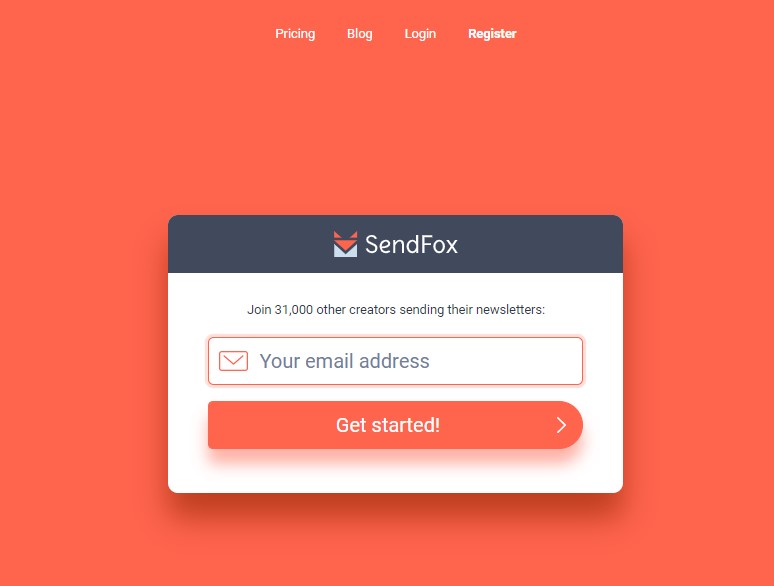 Fitur
This email marketing platform is easy to use and light. We like that you can schedule, create, and automate endless customized emails for your contact list. While every ESP should do that, Sendfox makes it easy to do, so you're spending less time emailing and more time making engaging content.
Editing is quite easy, too. You can change the links, formatting, colors, and font within the editor. Brand the emails to meet your needs. We do hear that image editing is going to be available, but it isn't yet.
If you've been using Mailjet or another ESP, you can easily upload the contact list there to Sendfox. This saves a lot of time while you're trying to get used to a new system.
Plus, there is plenty of automation. You can send welcome emails, create campaigns based on the user's behavior, and much more.
Pro:
Ideal for simple newsletters
Straightforward analytics
Antarmuka sing resik
Cons:
No templates
Basic email collection form
No HTML editor
Rega
A forever-free plan allows you to send a small number of emails a month. You don't get an HTML editor, and there is Sendfox branding on each one.
From there, you move to the Lifetime Plan, which gives you 50,000 sends a month and a better server. You are required to do the double opt-in. There is some branding here, but not as much as on the Free plan.
With the Empire Add-on plan, you can send 70,000 emails monthly on the best service. You don't have to choose double opt-in and have access to the HTML editor. Plus, there's no branding!
Kanggo Sapa?
Sendfox is primarily designed for content creators. They can send and compose unlimited customized emails to meet their particular needs.
Conclusion: Mailjet Alternatives
We aren't saying that Mailjet isn't an excellent email service provider. If you only require basic automation and segmentation, it's a great tool to use. However, we feel that there are better alternatives, such as the ones we listed.
Whether you're a content creator, own a small business, or have a large corporation, you can find something that meets all of your needs and scales with you as you grow.