Companies send out a lot of emails. Even if you own a startup, you're sure to be sending plenty of electronic mail to others.
Whether it's a receipt for a purchase or a reminder about an empty cart, you want them to know you're thinking about them. Also, when you send emails like this, it reminds potential clients that you're there and available.
Generally, it's challenging to create engaging and beautifully-designed emails yourself. You either have to know to code or use a 'cookie-cutter' solution.
This makes everything look the same. Instead, it's best to use an email service provider, and Brevo is a popular choice. Let's learn about it now:
What Does Brevo Provide?
Brevo is a newcomer in the world of ESPs because it was launched only in 2012. It's not a bad option to pick because it has a decent forever-free plan. If you pay for it, you get more advanced automation, and many startups and medium-sized businesses want that.
It charges a bit differently than other ESPs. You pay based on how many emails you send each month instead of the number of contacts you have.
Why People Switch from Brevo
With the uniqueness Brevo offers, why are people switching to another email marketing platform? For one, the free plan doesn't allow you to send very many emails with its limit of 300 a day. That's not much. As you grow, you're invariably going to need a paid-tier plan.
If you've got multiple contacts in different email lists, you're paying double to send them two emails.
Another issue is that you have to have a paid plan to use advanced automation and tracking metrics. There are also a few integrations available. Take a look at some of Brevo alternatives to see if one of those might be better for you.
1. MailChimp
MailChimp is typically the first email marketing tool that pops up in searches because it features the cute monkey mascot and has a great marketing aspect. It claims to send about 11,000 emails each second through the platform.
This ESP is an all-in-one marketing solution for SMBs. Many people enjoy the built-in CRM and all of the features available.
Fitur
MailChimp offers various features, but the ones that stand out most are the contact management and reporting options. It also has a very strong email editor and different automation templates to help you make email responders with ease.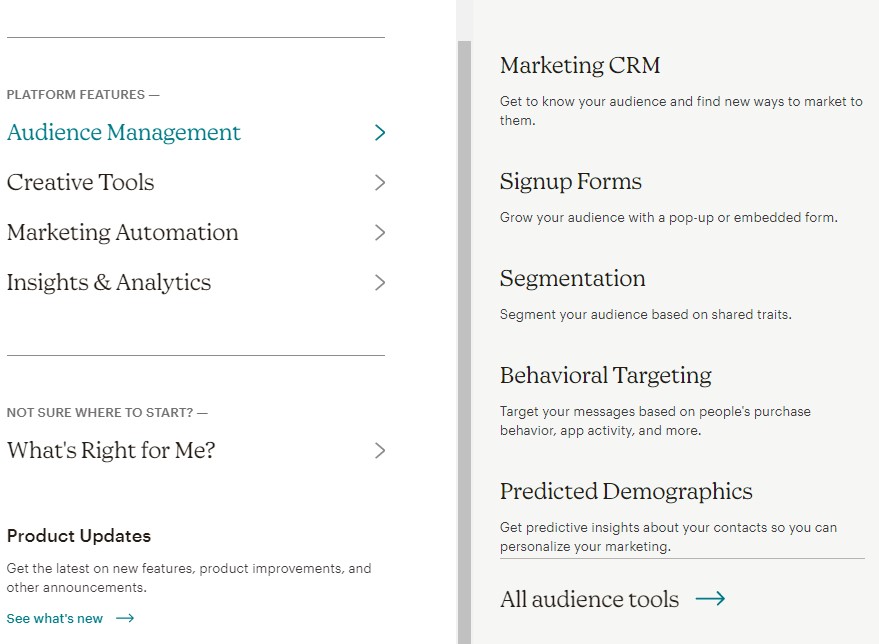 Recently, it introduced the Customer Journey Builder. This helps you design a path for your customers to convert them into sales.
Pro:
Thorough reporting features
Simple and excellent template editor
Rencana gratis tanpa wates sing murah
Cons:
Limited automations
High costs for subscription plans
Rega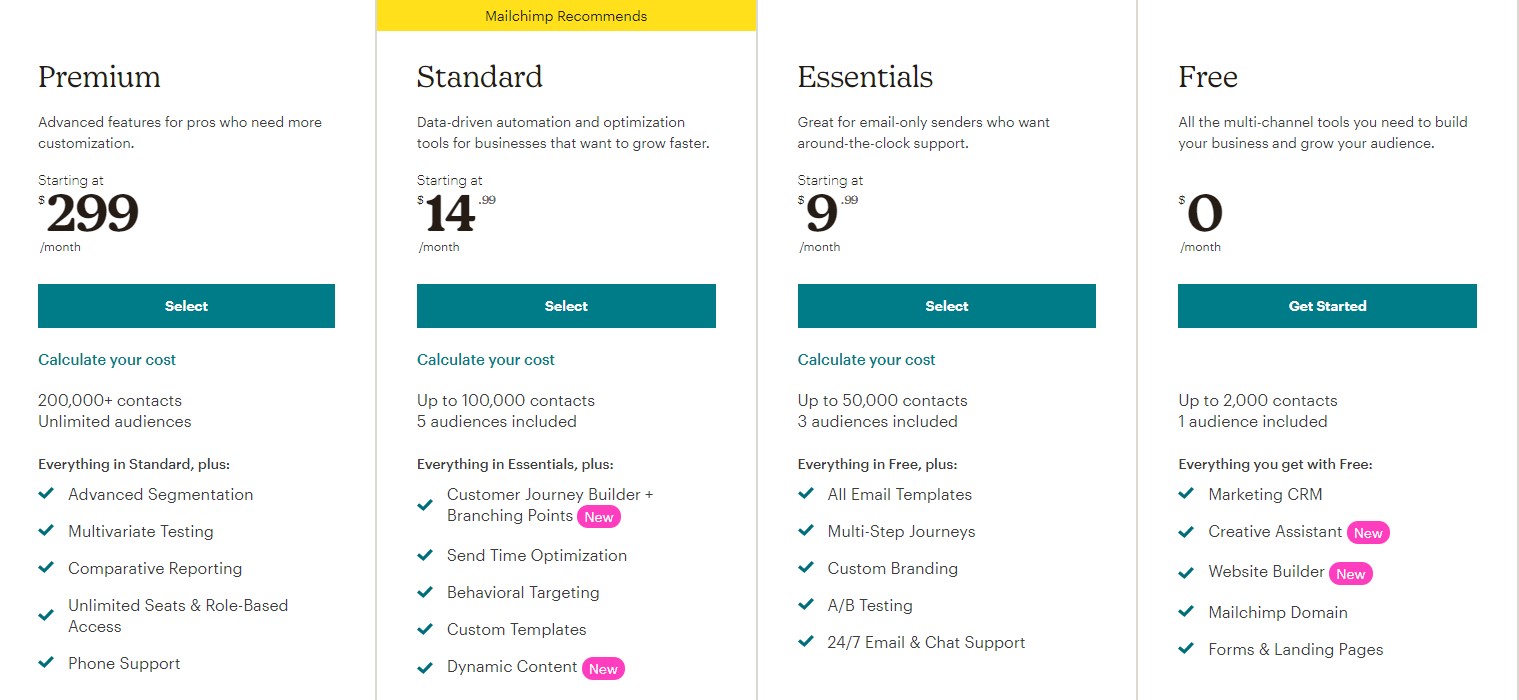 The forever-free plan gives you one audience and 2,000 contacts. You get the website builder, creative assistant, and marketing CRM with it. Landing pages and forms are also available.
At $9.99, the Essentials plan is available and comes with three audiences and 50,000 contacts. You get the perks from the Free option and A/B testing, custom branding, mail-step journeys, and all the available email templates.
Standard is next at $14.99 and includes five audiences, 100,000 contacts, and everything from Essentials. You also have access to custom templates, send-time optimization, dynamic content, and custom templates.
Lastly, you've got Premium, which is $299 a month and comes with unlimited audiences, more than 200,000 contacts, and every feature available.
Kanggo Sapa?
MailChimp is ideal for those who require a CRM and want tons of integrations. Typically, this is going to work well for e-commerce companies and creatives, but the high price tag can be daunting. Though it's geared toward small businesses, we think it might be better for medium or large companies that don't require advanced automation.
2. iContact
If you like a jargon-free approach to email marketing, iContact might be for you. It has a range of features that are good but not great. Those who want to start sending fast without having to create or manage the campaigns are sure to like it.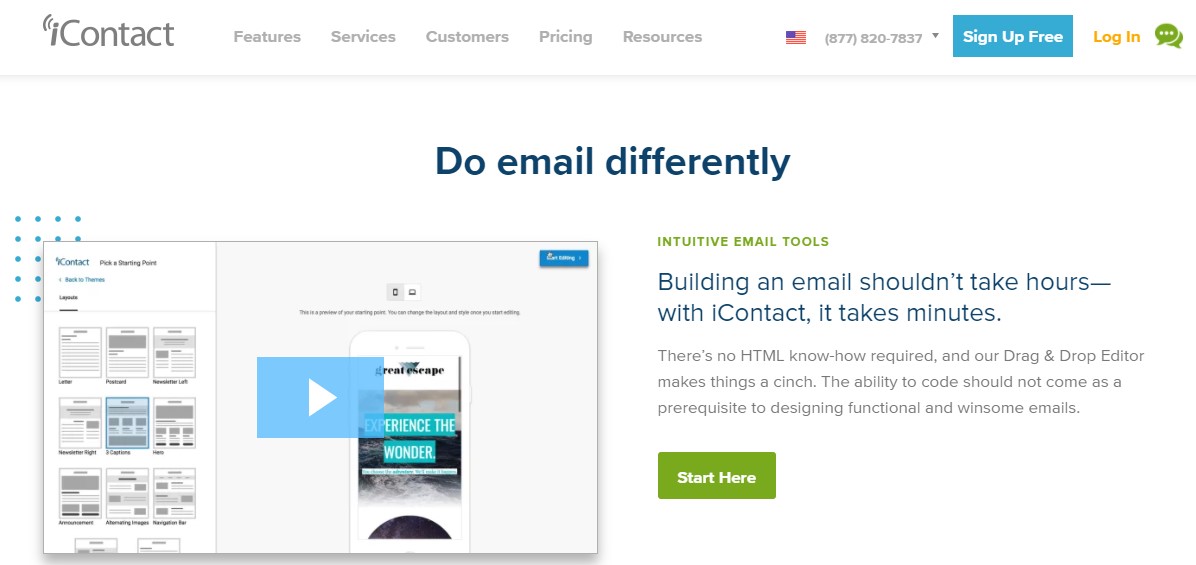 Fitur
You're going to find that iContact has a solid list of features. There's a reliable email editor, and you can create autoresponder messages, but they're basic.
With basic segmentation, landing pages, and contact management, you're on your way to making life easier where sending email is concerned.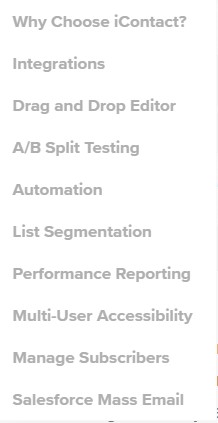 Pro:
Antarmuka pribadi
Straightforward navigation
Support options
Cons:
Alon kanggo mbukak kaca
Ora ana pilihan jadwal email
Basic segmentation only
Rega
There are quite a few plans available, so let's start with the Base:
With base plans, you get customer service, welcome series automation, customizable templates, and a stock image library. You spend $15 per month for 1,500, $25 a month for 2,500, and $45 a month for 5,000 subscribers.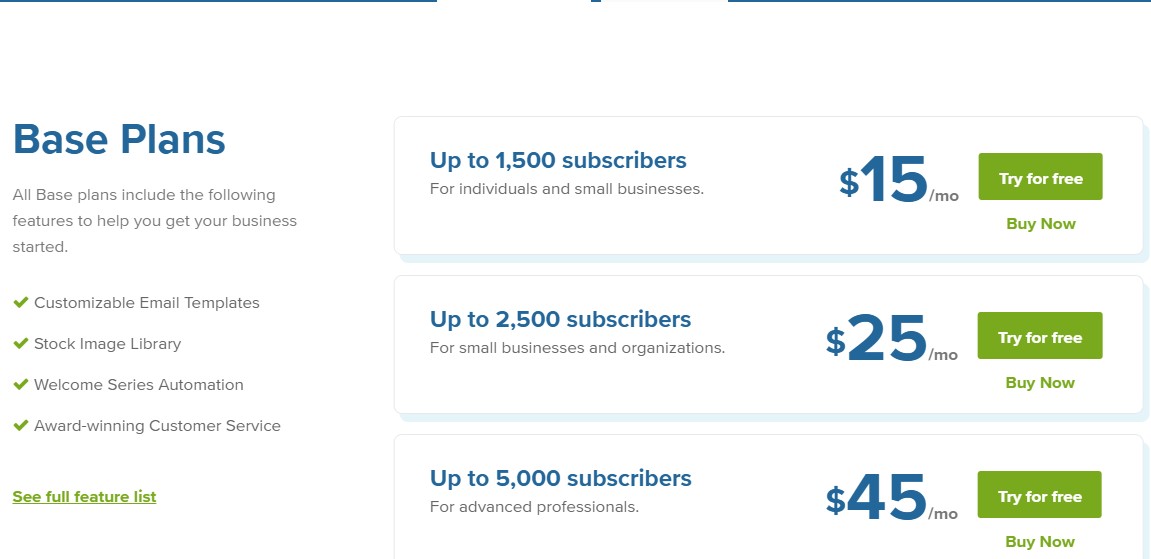 The Pro plans include the same features as the Base, but you also get win-back series automation, event promotion series automation, and landing page creation options. For all of that, you pay $30 a month for 1,500, $50 a month for 2,500, and $90 a month for 5,000 subscribers.
You've also got the option of having a customized plan for more contacts.
Kanggo Sapa?
iContact is primarily for people who don't need a complex email marketing solution and don't want to learn it all. The features are relatively good and give you the basics you require to manage and create email campaigns.
3. Zoho CRM
Zoho is a newer option on the market, and it has significant power, various substantial features, an intuitive design, and third-party integrations. When compared to other CRM software options, this is suitable for many types of businesses and allows for growth.

Fitur
Many CRMs focus on specific niche areas, such as reporting or tracking. However, Zoho is more up-to-date with mobile options and social media integrations. Primarily, it's a centralized hub for all of your business needs.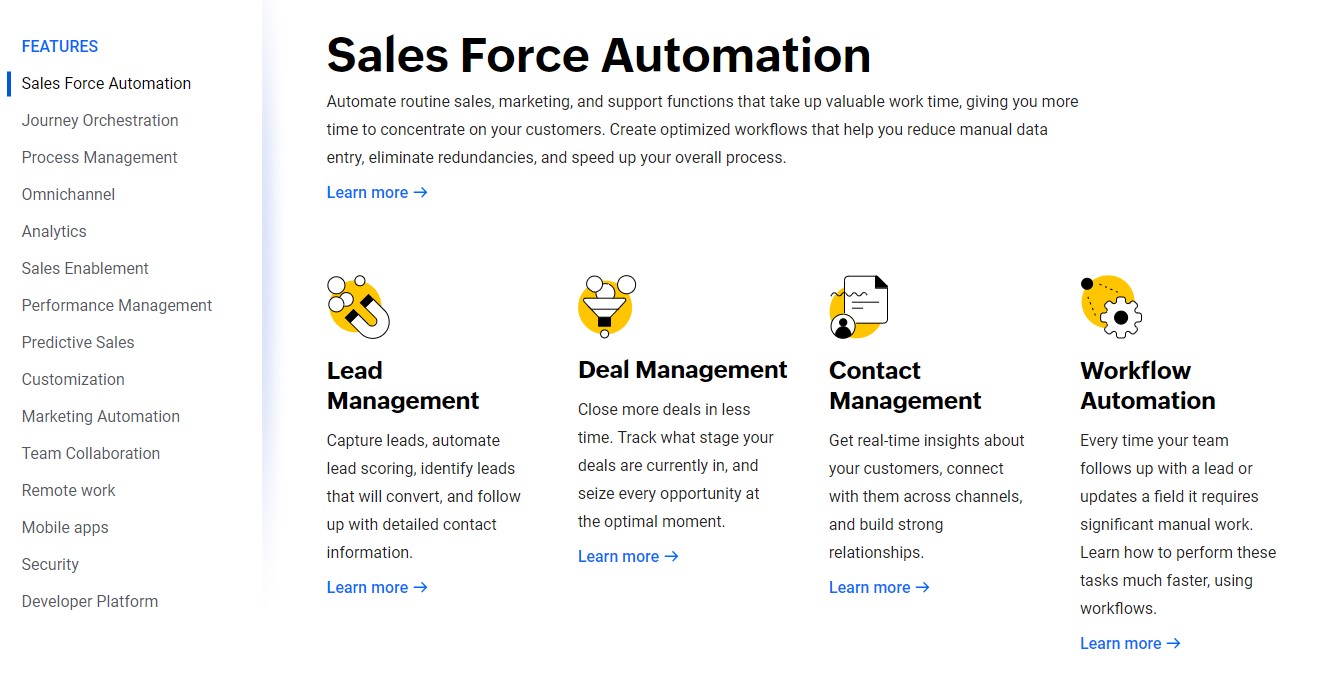 You've got access to forms, surveys, and various email campaign options. We like that the page is user-friendly and uncluttered, and it has a mobile app, so you can create emails on the go.
Integrations are the key here, so you can use Soho with QuickBooks and many others.
Pro:
Integrates with Zoho and Google software
Analyzes social media information
Comprehensive reports and targeting capabilities
Cons:
Takes a lot of time to set up
Limited custom fields
All forms aren't designed to convert
Rega
There isn't a forever-free plan, but you do get a free trial for any of the ones you select. Standard is $18 a month per user and includes multiple pipelines, scoring rules, custom dashboards, mass emails, and workflows.
Professional is next at $30 a month per user and includes everything from Standard. You also receive Blueprint, SalesSignals, inventory management, validation rules, and web-to-case forms.
From there, you move to Enterprise at $45 per month per user and get access to everything from Professional. There's also multi-user portals, canvas, the CommandCenter, and Zia AI, as well as advanced customizations.
Last is the Ultimate plan at $55 a month per user. You get every feature available, including enhanced feature limits and a 30-day trial.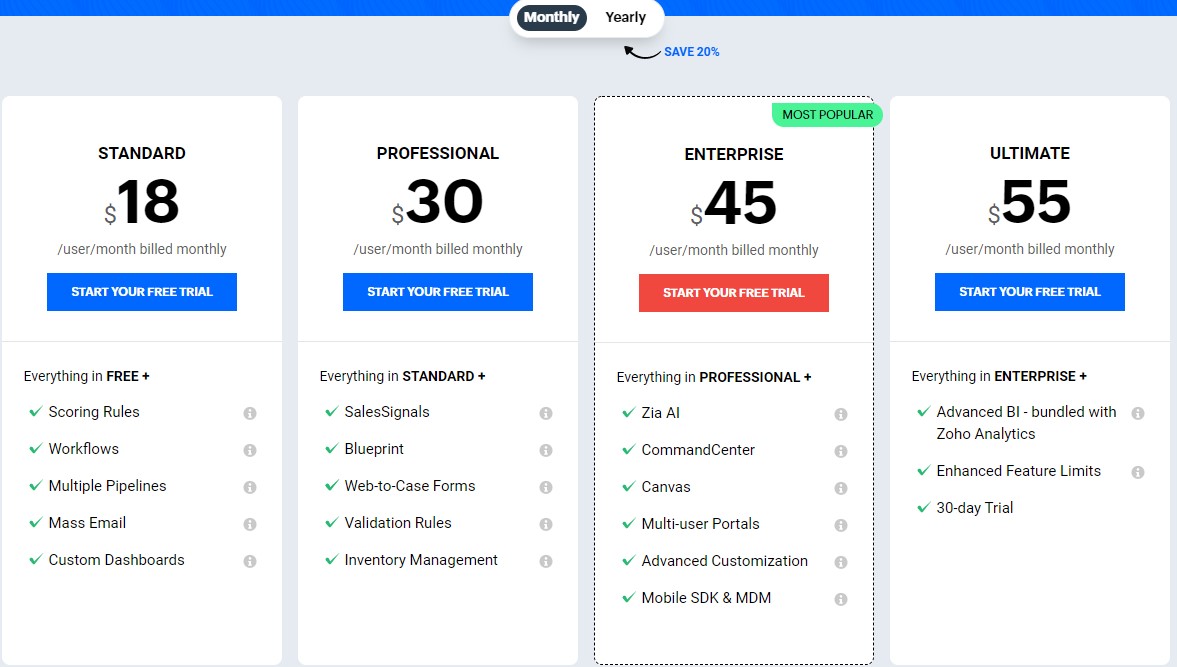 Kanggo Sapa?
Zoho CRM is for almost every type of business. It offers competitive pricing, so it's robust enough for large companies. Still, we think it could be great for SMBs, though there are many features. Because of that, it can be confusing at first, but you've got plenty of room to grow.
4. Ngonversi
ConvertKit is a top email marketing solution for e-commerce sites and bloggers. It primarily focuses on basic emails that are relatively plain and simple. This is intentional for the brand because it believes that simple is better. We think it's unusual, but it can work for many people.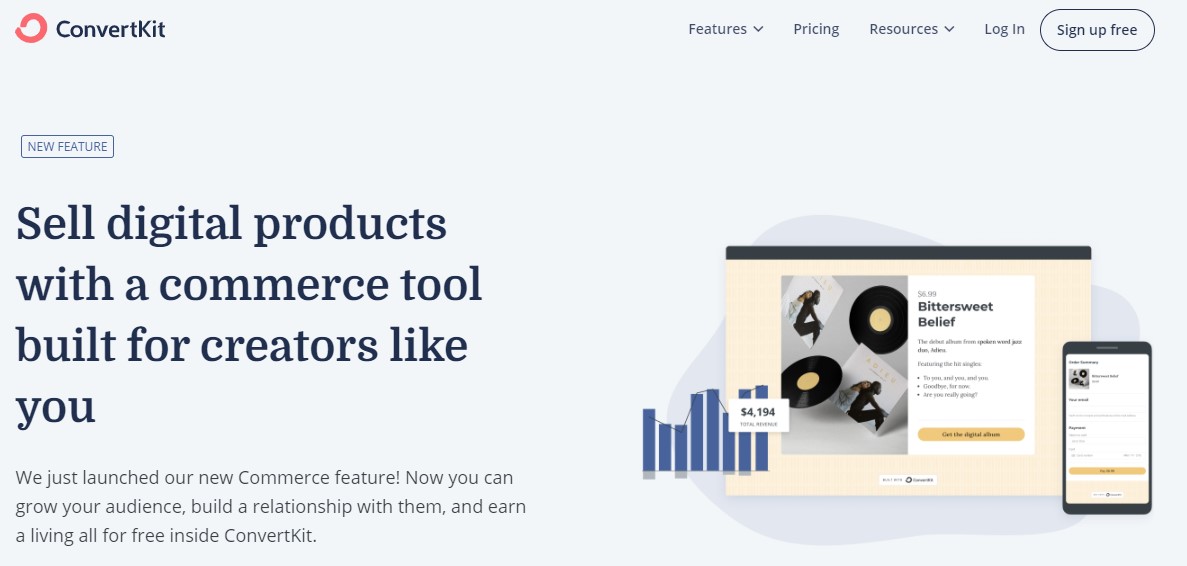 Fitur
There are countless features available, including form building capabilities, subscriber management, and autoresponders. Though there are a few templates, editing options are simple and basic.

Pro:
Dhukungan obrolan langsung
Pencipta otomatisasi sing gampang
Landing page building reports
Cons:
Very basic email editor
No email templates
High Prices
Rega
The forever-free plan is one thing to like about ConvertKit. You have unlimited traffic and can create endless forms and landing pages. It's also possible to customize the domain, tag subscribers, and send broadcast emails with 1,000 subscribers.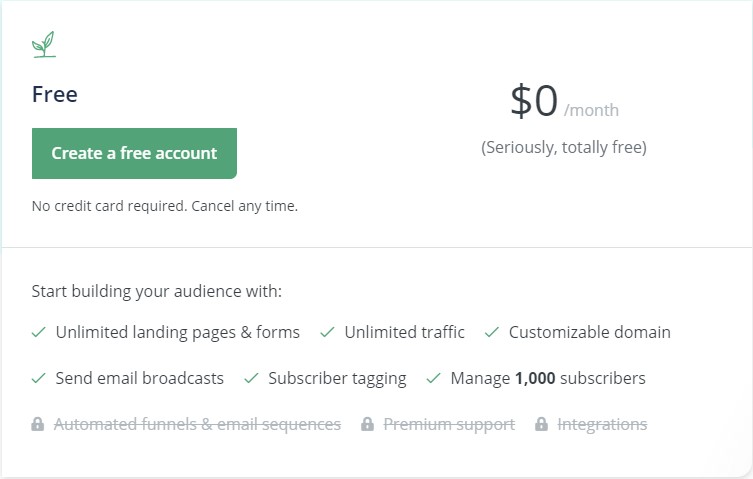 Creator is next at $29 per month for 1,000 contacts and raises $20 for every 2,000 more subscribers. With it, you get all the perks of the free plan with integrations, premium support, and automated email sequences and funnels. It even helps you switch to it from a different tool.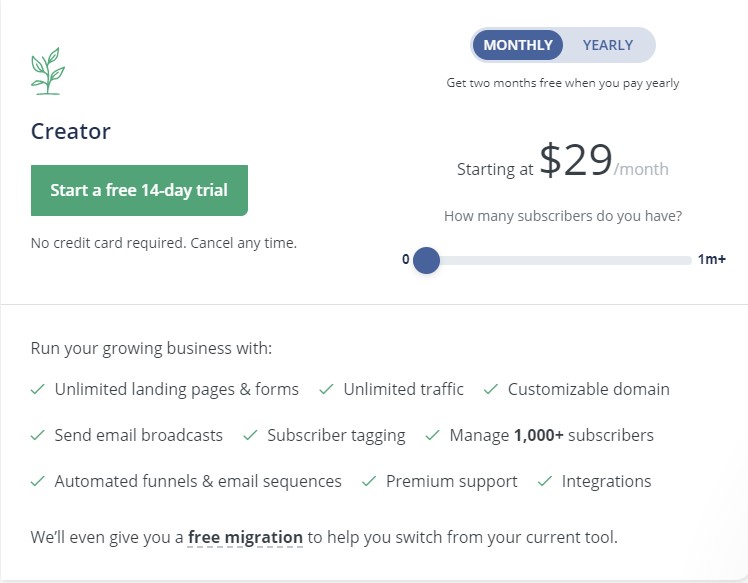 Last is Creator Pro at $59 for 1,000 subscribers. Again, it raises $20 for every 2,000 subscribers. You get everything from Creator and some advanced features. These include priority support, deliverability reports, redirect links, and much more.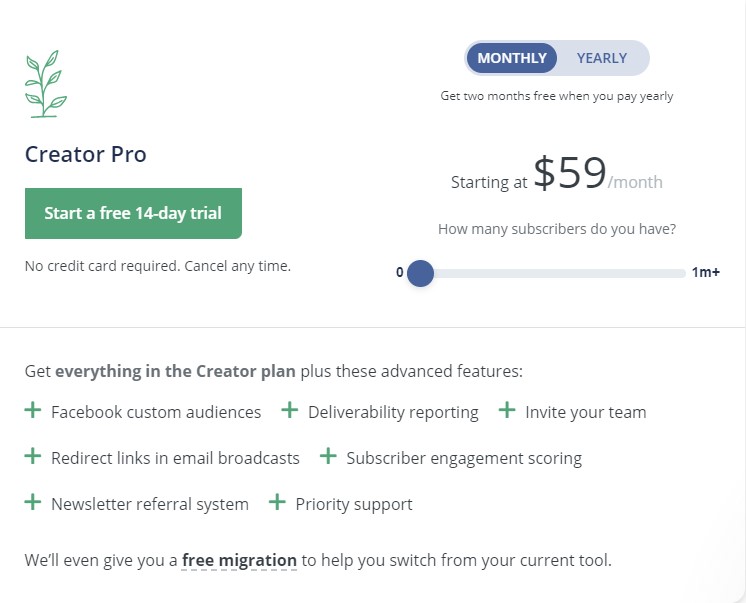 Kanggo Sapa?
ConvertKit is primarily designed for e-commerce marketers and bloggers. If you don't want to target more than one audience, it should work for you.
5. Omnisend
Omnisend is considered an omnichannel marketing solution for e-commerce and other businesses. It combines various channels into one platform for a centralized hub.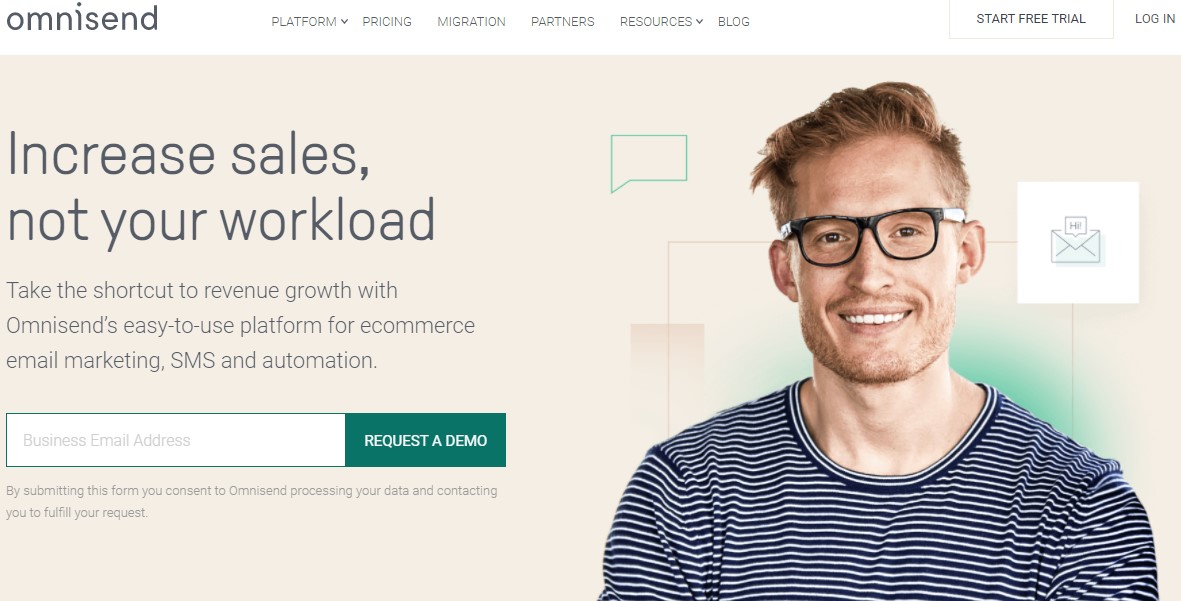 Fitur
You get many features with Omnisend, and they're designed to optimize and streamline the marketing efforts. There are built-in templates so that you can create personalized emails.
With that, you get segmentation and automation features, as well as Facebook Messenger and SMS marketing options.
Pro:
Simple and easy to set up
Omnichannel campaigns available
Great automation
Cons:
Not great for migrations
Not as intuitive as others
Rega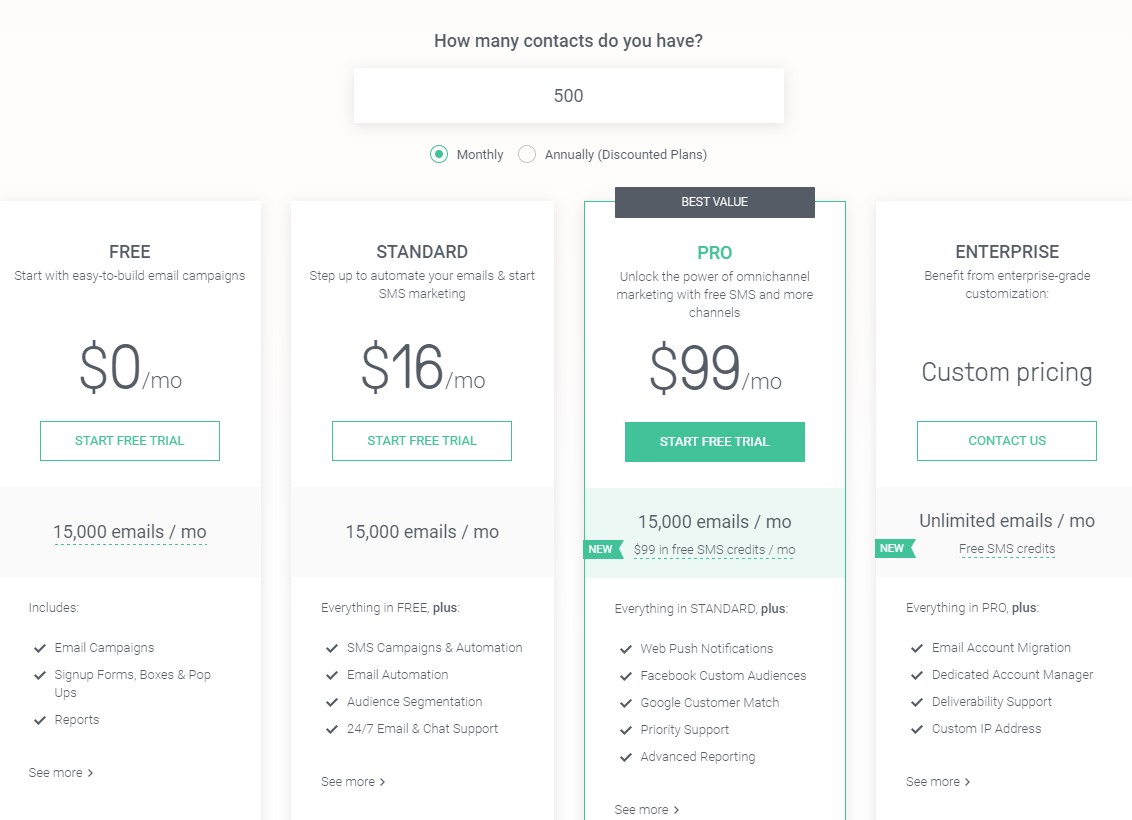 There is a forever-free plan with Omnisend. You get 15,000 emails a month for 500 contacts with email campaigns, reports, signup forms, and more.
The Standard plan is $16 a month for 15,000 emails a month for 500 contacts. You can use everything from the Free plan, as well as audience segmentation, email automation, and SMS campaigns.
Pro is next at $99 per month for 15,000 emails a month and 500 contacts. You get the standard features, as well as advanced reporting, Google Customer Match, web push notifications, and a few others.
Last is Enterprise, and it features custom pricing with unlimited emails a month. With it, you get free account migration, deliverability support, and a custom IP address.
Kanggo Sapa?
Those who want a multi-channel platform are sure to like Omnisend. It works well for e-commerce brands and other digital marketers.
6. AWeber
AWeber is a well-known ESP because it's affordable and solid and works well for companies of all types and sizes. Even if you've got a limited amount of time and resources, you can choose the straightforward ESP solution and get going fast.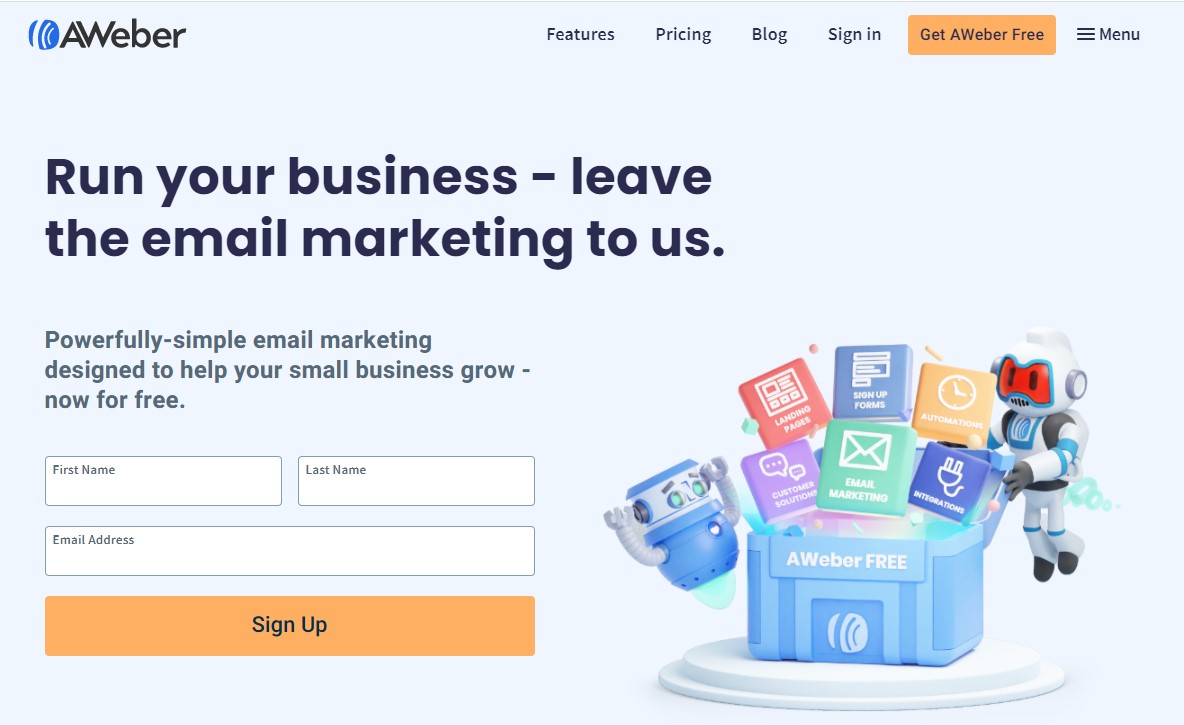 Fitur
Where features are concerned, AWeber doesn't really stand apart from the crowd. However, you do get dynamic content, A/B testing, segmentation, and landing pages. It may also be much harder to find the features you want to use, meaning you could miss out on something great and helpful.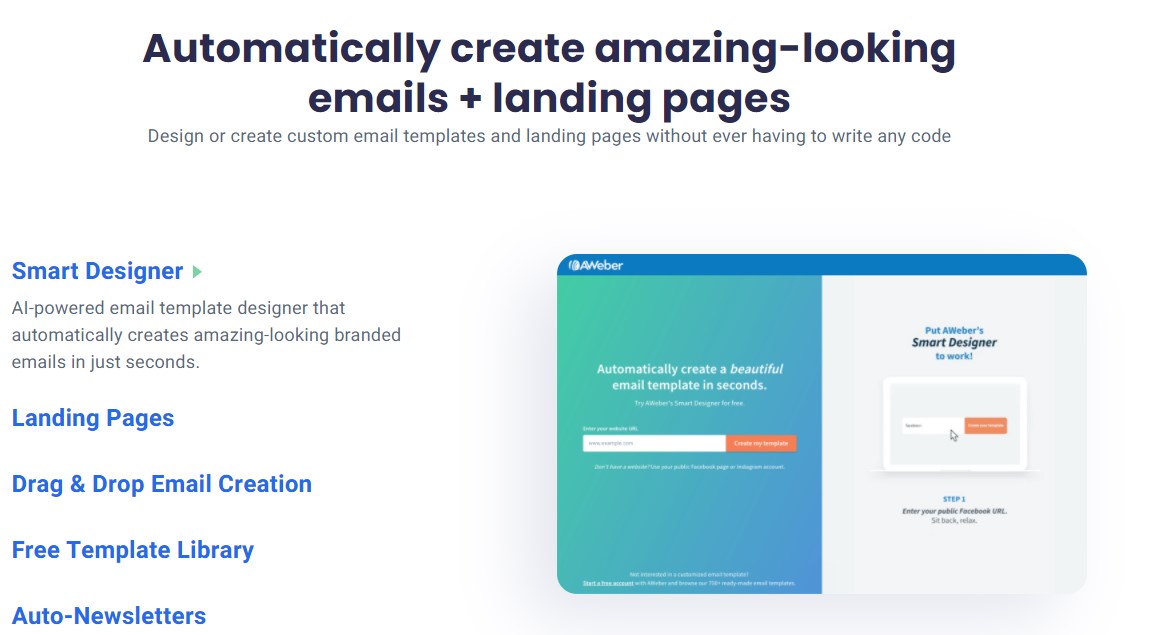 Pro:
Analisis majeng
Easy-to-use automation builder
Contact management solutions
Cons:
Basic email editing
Ora ana pratinjau email
Needs easier navigation
Rega
With AWeber, there is a forever-free plan for up to 500 subscribers. You can send 3,000 emails a month and have one list profile. There are countless features included, such as email automation, email templates, AMP emails, and various professional images.
The Pro plan is $16.15 a month but billed annually, and you get 500 subscribers, unlimited list profiles, and unlimited email sends. You get everything from its Free plan, as well as no AWeber branding, behavioral automation, and A/B testing, among others.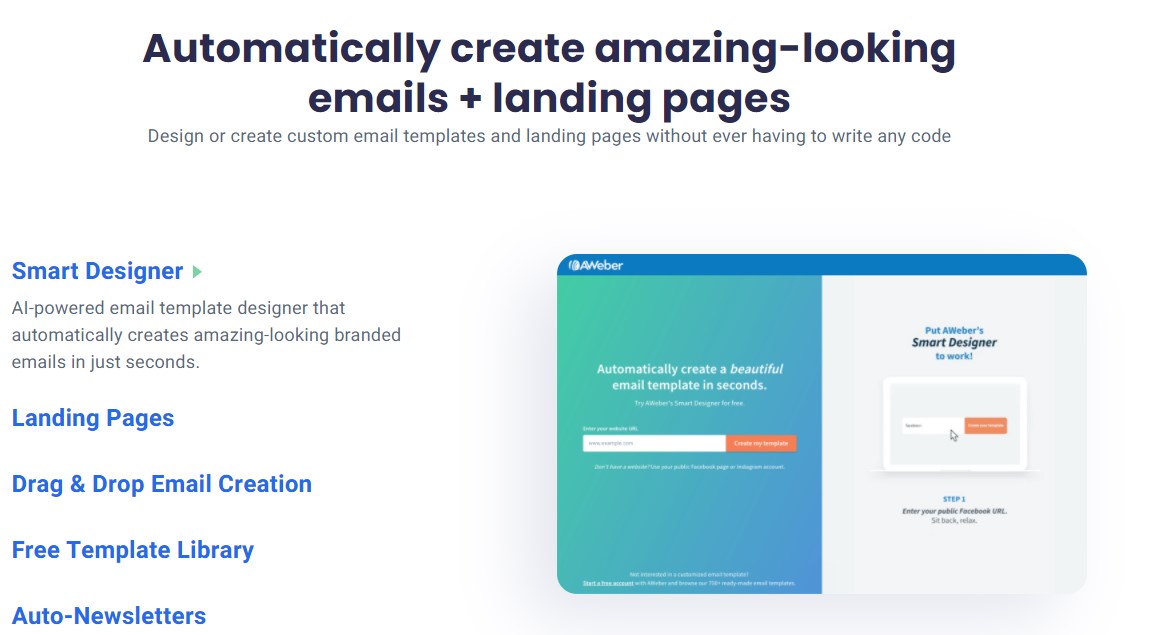 Kanggo Sapa?
AWeber is suitable for almost everyone. It's easy to use, though navigation is slightly confusing. Still, it works well for inexperienced marketers who need an ESP and haven't used one before. Plus, there are various advanced features for experienced marketing professionals.
Kesimpulan
Though Brevo isn't horrible for what it is, it could definitely be better. We've talked about seven top alternatives for email service providers. If you're thinking of joining one to make life easier, consider all of these choices before starting your campaigns off right.
Brevo alternatives offer similar features, so it's a great idea to know about them all. We can't really tell you which one is best because it depends on various factors. These include your budget and your needs now and in the future. All seven of these ESPs can grow with you, and now you know more about them and can decide what you require.