Customer opinion is crucial when it comes to online marketing and marketing in general. After all, the overall success of a business is based solely on their decision to identify with your product and buy it or not.
So, the basic rule is to respect your customers' desires, follow their moods, and meet their needs as much as possible.
There are various ways to accomplish all this, but you'll almost certainly need constant monitoring and useful tools.
Interestingly enough, 92% of people said that they read testimonials when considering a purchase.
Customer testimonials are some of those tools as they allow you to build credibility and increase trust, which is essential for increasing sales.
In this article we'll cover:
What are customer testimonial tools?

Why do you need them?

What makes a great Customer Testimonial Tool?

Is there a difference between B2B Customer Testimonial Tools and B2C ones?

Some of the best B2B Customer Testimonial Tools on the market
Let's dive deeper. 
What are Customer Testimonial Tools?
A customer testimonial tool is any tool that collects opinions and experiences that your customers have had with your product or service through a variety of forms.
But arguably, the most important aspect is the ability to share it with your potential customers which creates social proof and ultimately builds trust and increases sales.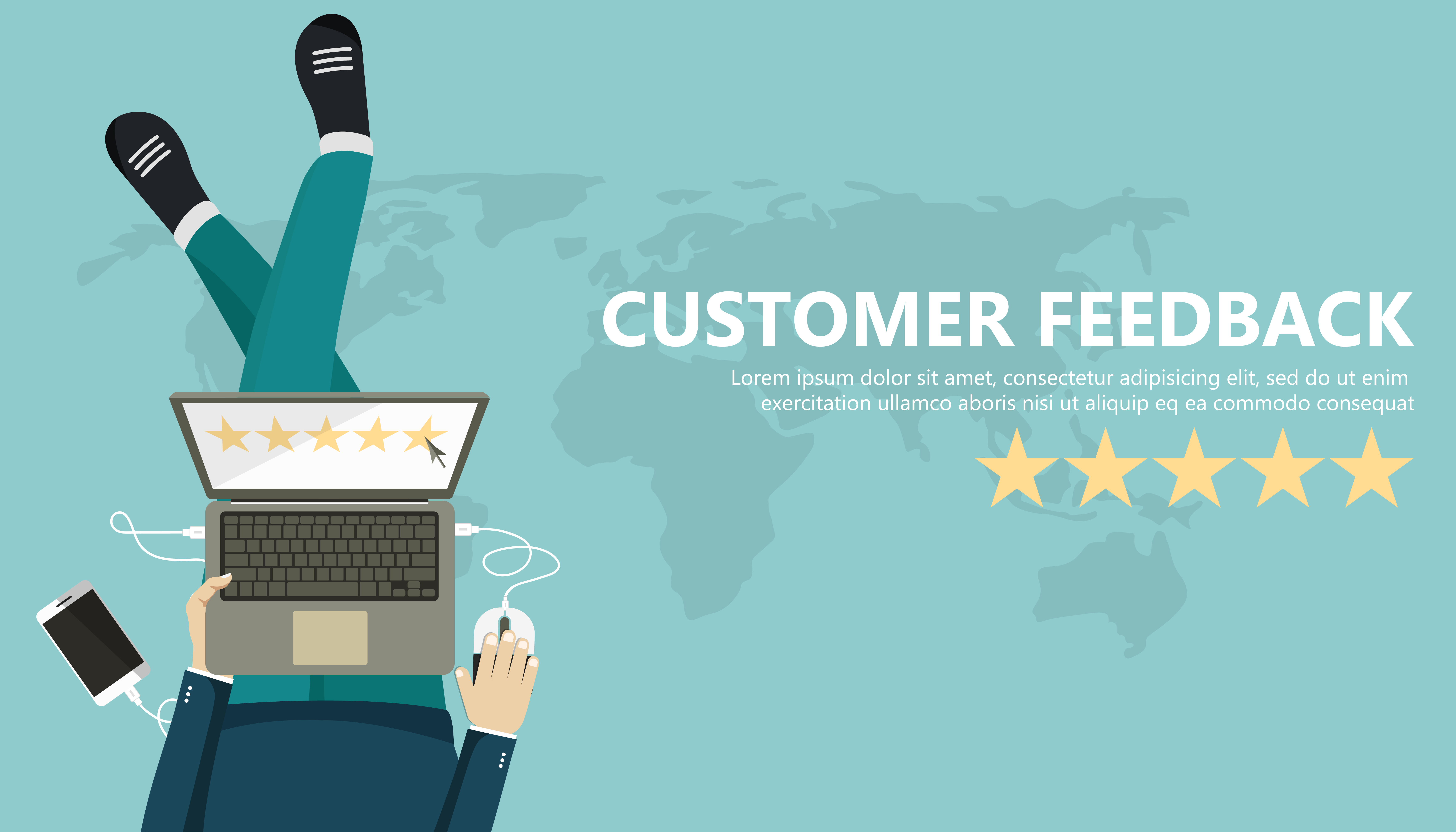 What your customers think about your product can be found out through several ways using:
Survei

Ulasan

Recommendations

Ratings
With testimonials, you control what you will show on the website, and you can even create a special page for it. 
One of the reasons why testimonials are crucial is that they help create a deeper, more emotional appeal for your overall branding.
Part of this solution is promotional since customers want to not only know your product can help solve their problem but also that it does a better job than any other alternative. 
Kind of obvious when you think about it, right?
Incredible customer testimonials help paint the picture that your product is not only valuable but also better in the eyes of other people than any other option on the market.
Why do you need them?
As we already mentioned, opinions are a mighty weapon in the business world.
As long as positive rumors circulate on account of your products, you have a better chance of increasing your sales.
A customer testimonial tool can help you build credibility, improve your website's quality, and attract more potential clients.
According to statistics, more than 70% of consumers say positive testimonials and reviews have increased their trust in a particular product or business.
A good testimonial tool allows you to connect with your customers in a special way and show all the good sides of what you offer.
What makes a great Customer Testimonial Tool? 
The easiest way to determine which customer testimonial tool you need is to decide what you want to display on your website, how cost-effective the tool is, and whether it fits your needs.
There are several types of testimonials that you can try out, and some of them are:
Quote testimonials

– these are presented in the form of quotes and can be shown on the homepage.

Social testimonials

– you can pick them up from social networks and post them on the product pages.

Influencer testimonials

– the perfect opportunity to grab some more positive endorsement is to include testimonials from increasingly popular influencers.

Video testimonials – if recorded professionally, video can be an excellent tactic for testimonials. It is immediately apparent that someone has taken the time and effort to convince people of your product's quality. To achieve this, it's imperative that you provide the best video testimonial software that's swift, easy to use, and convenient for your clients.
Case studies

– these are brief but very effective descriptions of entire customer journeys.

Interview testimonials

– this is an engaging way to collect words of praise from the customers by asking a set of questions regarding your product/service.
Based on your preferences and what type of testimonials you want to collect and create, you can choose the right tool.
Also, pay attention to your budget and choose carefully and strategically.
Is there a difference between B2B Customer Testimonial Tools and B2C ones?
B2B sales, also known as business-to-business sales, is when a business primarily sells its products and services to other businesses as opposed to consumers.
While B2C presents direct selling of products/services to consumers for personal use, B2B is more focused on convincing companies that your offer stands out compared to the competitors.
To find out if there is a difference between these two methods at all when it comes to tools for collecting testimonials, we must single out a few crucial differences between the methods themselves.
When it comes to the B2B sales method: 
Your job is to appeal to decision-makers, company owners, an executive branch, etc.
It usually takes longer for decision-makers to close a deal as they need to pay attention to specific details much more closely.
Their goal is to improve their business with your help, so they need to see all the benefits they get by using your products/services. They value statistics, facts, factual data.
When it comes to the B2C sales method:
You can reach any individual, and you will have a fair chance to make a sale. The

sales process

is generally way shorter (compared to B2B sales) as the purchase doesn't need to be as reasonable and is more based on emotion.
They want to make a quick decision and don't want to waste time, so testimonials must be able to leave an immediate, strong impression for this type of selling method. When you don't have a company depending on your purchase decision, the overall purchasing process is significantly shorter.
Their goal is to improve any segment of their or someone else's life in a certain way. They value emotional connection and relatability.
Although the ultimate goal is to make sales, there are certain differences between the strategies and the tools used to fulfill them.
People that deal with B2B sales have to intrigue their target audience in a slightly different way.
By delivering a comprehensive story backed by statistics and facts, incorporating some visual elements, and offering certain incentives such as discounts, a successful business transaction will become increasingly promising.
If you're looking for inspiration for your next customer testimonial page, we've created an interesting article to get your goosebumps going. 
Let's jump into our tool recommendations.
Some of the best B2B Customer Testimonial Tools on the market
Choosing the right tool is difficult but important for long-term business success. We've tailored down some of the best tools on the market for B2B businesses to save you time and help you make a better choice. Read carefully and see which best fits your needs.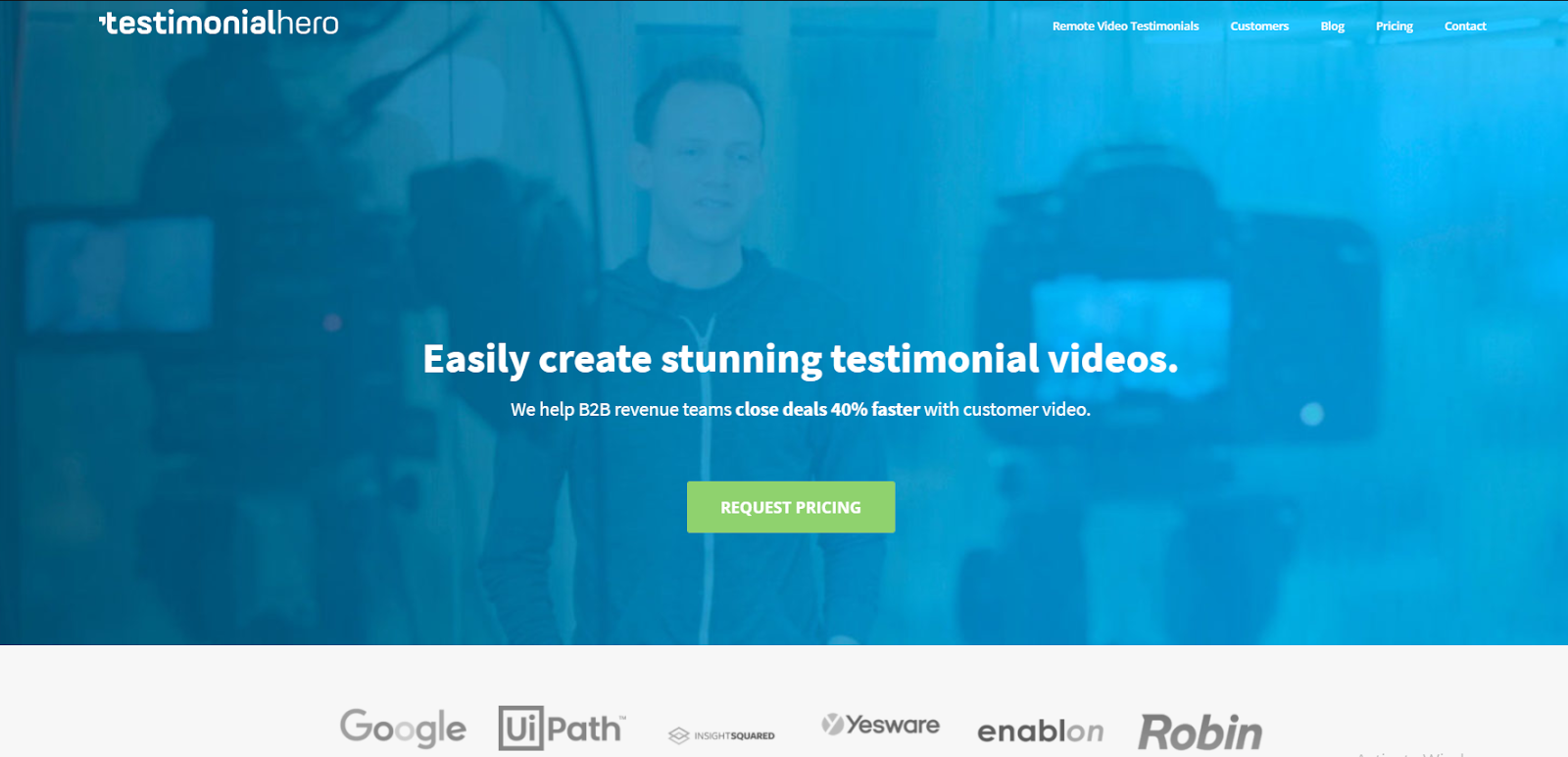 Testimonial Hero is a tool focused on creating fantastic video testimonials useful for B2B online marketers.
By now, you should already know the importance of B2B video marketing. This tool enables you to increase your chances of getting more sales by incorporating useful and engaging video testimonials on your business website.
To attract prospects and intrigue them with creativity, useful ideas, and a promising story backed by facts, it is advised to incorporate videos of professionals in their niches who have been satisfied with your product or service.
Testimonial Hero is a service, so everything is being handled by the team behind this tool and, to start a journey, you only need to request pricing.
Testimonial Hero will make your job easier and provide you with a completely remote solution to your problem.
What Testimonial Hero offers:
Perfect interview questions based on your customers' needs and preferences

There is no need to install any type of software because their team takes care of the whole process.

After 30 days, you get a ready-to-use video testimonial. 
It provides high-quality video content and editing. 
Testimonial Hero's pricing
There are no specific pricing plans for this service. To find out the prices, you need to fill in their form and receive an email from them immediately. 
To sum up
If you deal with B2B sales, one of the best ways to make a good impression on your potential customers is to present your products' benefits through videos.
Testimonial Hero is an excellent choice for presenting customer testimonials as their team gathers the right answers and gives you the final version of the perfect video testimonial for your website in a pretty short period of time.
If you need a remote solution for your B2B marketing strategy, it's hard to go wrong with Testimonial Hero and its amazing video testimonials.
2. Shoutout
Shoutout is a testimonial software that helps online marketers collect authentic customer testimonials quickly and efficiently.
With it, you can create a wall of love, select testimonials that you want to show on your website, and customize it to your liking in less than 3 minutes.
Word-of-mouth is crucial in the online marketing world, and Shoutout allows you to use its full potential.
Shoutout's pricing: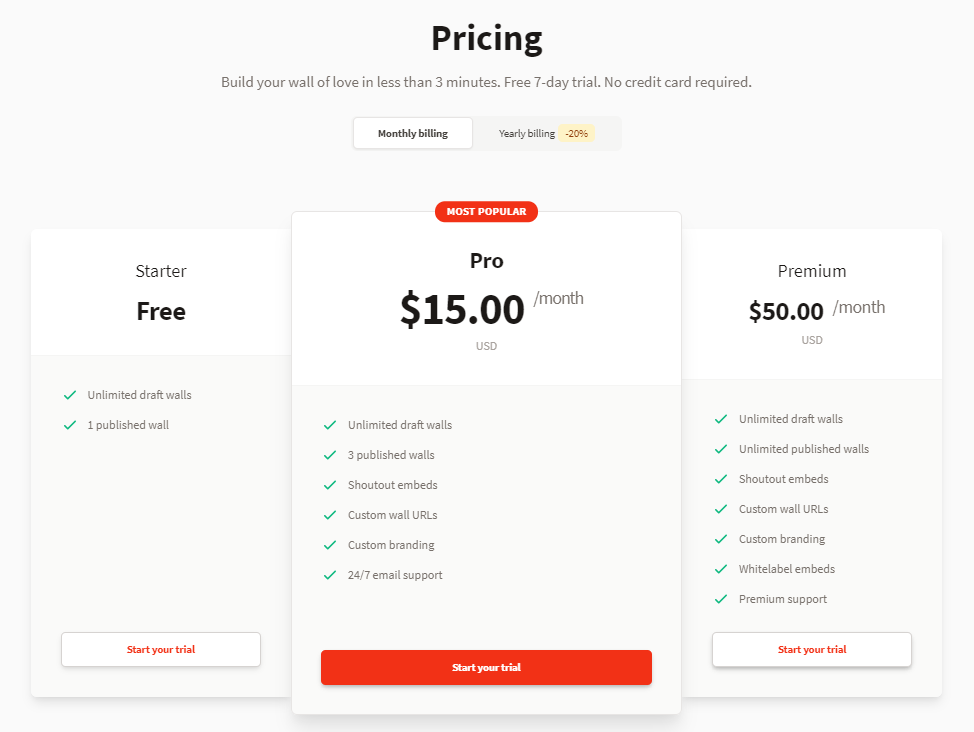 Shoutout is great because you can get a lot for very little money. Their most popular pro plan allows you to create unlimited drafts, have three published walls, and nonstop customer support.
To sum up
This tool doesn't have as many features as other tools we mention here. They focus solely on walls of love and shoutout embeds. 
Their price is fair and if this is the type of social proof that resonates with your branding and target audience then you should give it a try for free.
3. Endorsal
Endorsal is a tool that can be used for both B2B and B2C businesses. It is a simple but powerful tool that helps you collect customer reviews by using customizable review forms.
With its signature feature called SuperLinks, it automatically adds familiar customers' data to your forms which saves you time and increases chances of getting even more testimonials.
Another good feature is AutoRequest which helps you send automated request forms to collect valuable reviews easily. You can also share the best reviews on social networks and attract even more potential customers to increase sales.
Its widget is really easy to set up and to use, and you can customize your testimonials according to your needs by changing themes, adding pop-ups, and more.
You can integrate with other platforms and sync everything to share important reviews across the web. By using powerful analytics, you can track and compare the performances of your request forms and increase open rates.  
What Endorsal offers:
It helps you collect customers' reviews with EndoForms.

It allows you to send review requests automatically via email/SMS.

With its feature, SuperLinks, it helps you send pre-filled customer review forms to save time.

Its testimonial widget is easy to use, and you can customize your forms by using different templates, adding your brand's logo, etc.

You can also embed the widget on your website by using a simple embed code.
It enables you to integrate with other relevant platforms and share testimonials across social media.
Endorsal's pricing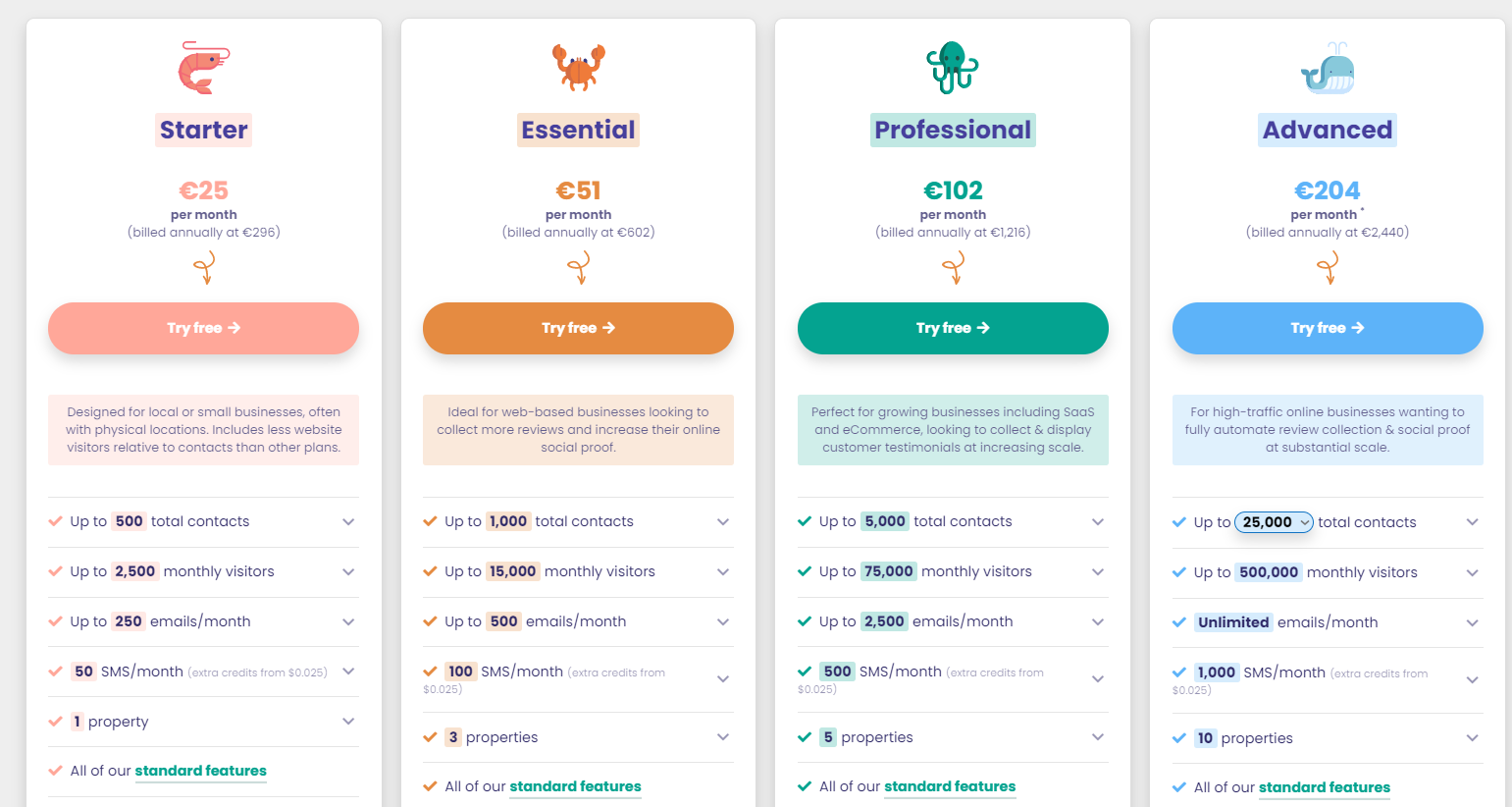 To understand what package is the best, it's important to first know how many reviews you'll need or, specifically, how many customers will be willing to leave them on your website. If you're just starting out and have close to none, there's little point in going with anything other than the Starter package. 
As you start scaling up, you might need additional properties, API integrations, SMS messages, and increased limits on various limitations such as total contacts, monthly visitors, or emails per month. For emails, they utilize the AutoRequest Platform, which is not a bad choice. 
They offer a 14-day free trial to try this tool out and see if it fulfills your expectations. There are several paid packages starting from $29 per month. 
To sum up
Endorsal offers many useful features to help you increase sales and ultimately get your business on a higher level by building credibility.
Try their 14-day free trial and decide for yourself if it's the right fit for you.
4. TechValidate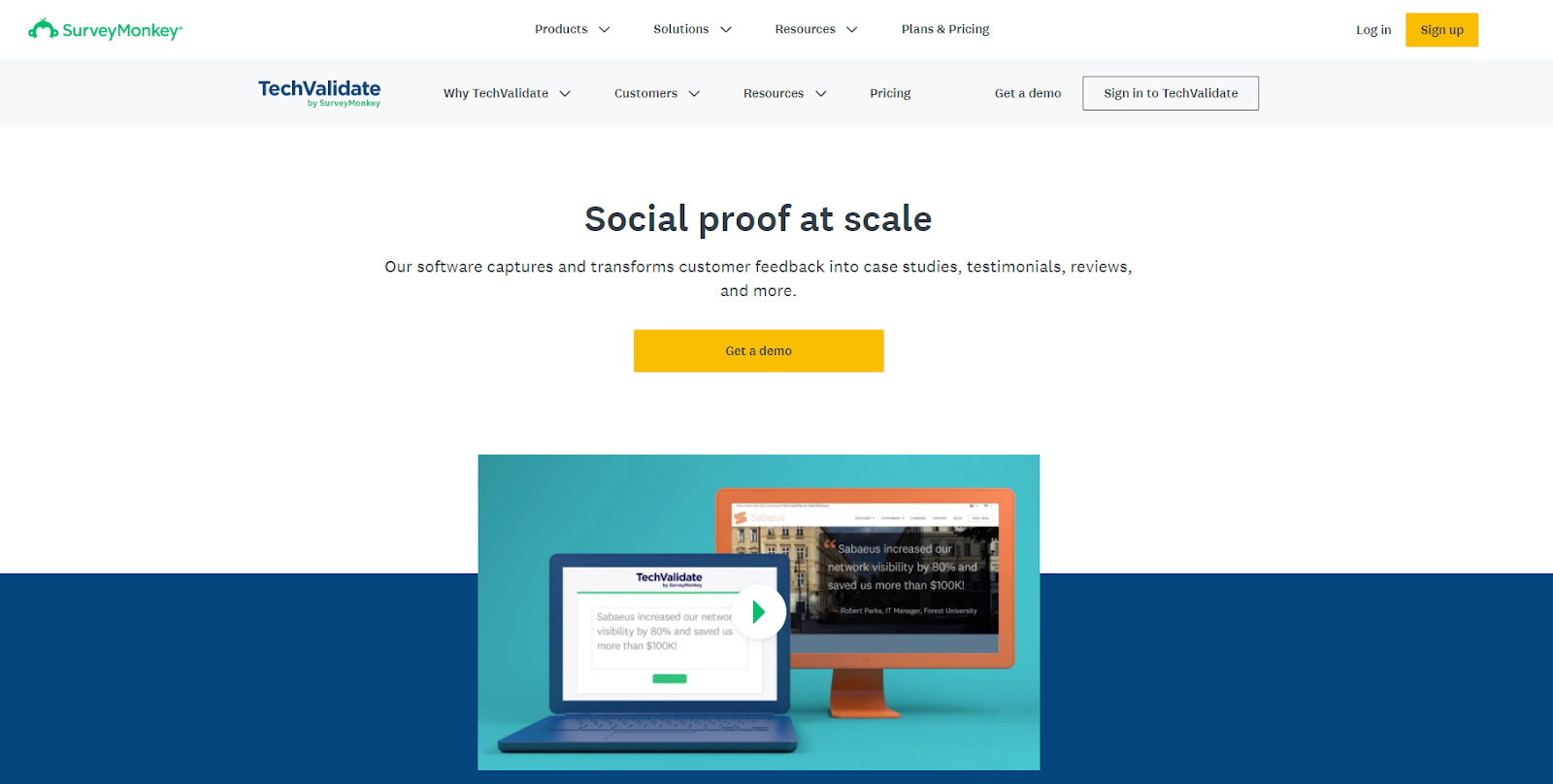 TechValidate is an easy-to-use tool for gathering customer data and turning it into case studies, testimonials, reviews, graphs, and research portals. It is suitable for businesses of all sizes and across all industries.
TechValidate basically creates and collects fresh content from the web. It is packed with a variety of lead generation, market research, and review tools, microsites, metrics, and customer insights. At the same time, it is integrated with social media and third-party systems and apps.
This allows companies to create content for each step of the sales funnel and have a higher conversion rate. 
Because of its simplicity and effectiveness, SurveyMonkey acquired it and added it to their productivity set.
What TechValidate offers:
Highlighting star ratings and positive reviews from your customers

Auto-generating case studies based on the customer insight

Collecting quotes from delighted customers and featuring them across marketing channels

Creating captivating visuals based on statistical data

Showcasing curated selections of social proof through microsites
TechValidate's pricing

To get the right pricing plan for your business you will have to get in touch with TechValidate's team.
To sum up
This tool offers numerous solutions when it comes to collecting positive opinions from your customers that will help in your sales increase.
They offer a huge variety of features overall sets of devices. Plus you can get live support and training from them.
By using automated processes such as content creation, you get to save up some time and use it for some other tasks.
Kesimpulan 
Customer opinions are extremely important, and whoever hasn't figured it out so far will have trouble getting used to it and keeping up.
They can help you both improve your business and create even better products to drive more sales.
When it comes to B2B sales, it is essential to try your best to build credibility and trust regarding your business because it is a key factor in making purchasing decisions.
To collect customer testimonials, create surveys, track analytics and your users' behavior it is best to use certain customer testimonial tools.
One of the tools that you can use to create amazing testimonial videos is Testimonial Hero. 
These remote video testimonials will help you close more deals, for sure, and you do not even have to deal with software installation as their team takes care of everything.
Build strong relationships with your customers and use every opportunity to improve your business, and your B2B sales will increase shortly.  
Bio Panganggit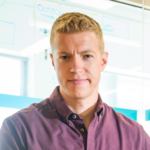 Sam Shepler is the founder and CEO of Testimonial Hero. 150+ B2B revenue teams at Google, UiPath, Medallia, InsightSquared, and many others use Testimonial Hero to easily create customer videos that engage prospects, reduce friction in the sales cycle, and drive more revenue faster. Connect with her on Linkedin.