Biyen, kita urip ing jagad iki sing duwe situs web mbanjiri para pengunjung kanthi iklan nyembul.
It ruined the online experience and forced millions to integrate ad blockers into their browsers. Fast forward to today, and you have brands using more innovative marketing tactics that cater to their target audience. Out went the excessive popups and in came more strategic popup ads.
Nanging, ana sawetara merek sing isih berjuang karo metode kasebut.
In the US, 18% of desktop and mobile users use ad blockers. While this number isn't staggering, it does show that there are still some issues with sites dealing with pesky popups.
So why should marketers use them if their visitors don't want them? The simple answer – is it's not about the medium; it's the delivery.
This is why some e-commerce brands see a 35% decrease in lost visitors just by implementing exit-intent popups. That says a lot when 72.8% of visitors abandon their shopping carts, and another 60% bounce away from your site.
How else will you get their attention before they click the "X" on your tab? If you can craft the ideal popup for visitors who are about to click away, you can capture 10-35% of those leads.
What sets these apart from typical popups is that they only appear when the user shows the intent to exit (hence their name).
Iki digawe kanthi cerdas lan mung digunakake kanggo pengunjung sing paling mumpuni. Sabanjure, tegese luwih akeh konversi kanggo sampeyan.
There's no one-size-fits-all method, so you'll have to judge better to determine which popups will work for your target customer.
Let's look at how several brands successfully use exit-intent popups.
Belk: Target Shopper Savvy
Sapa sing ora seneng ngirit dhuwit? Peluang online manawa bisa ngirit nganggo merek favorit, dheweke wis kasedhiya.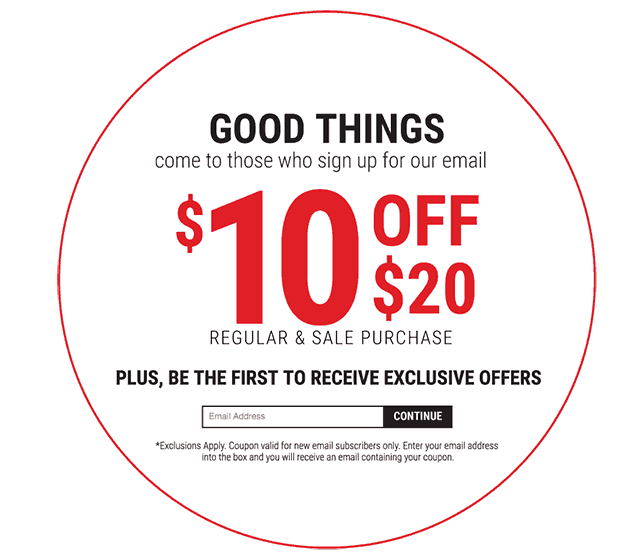 Lan iku sing nggawe tujuan metu popup iki saka Belk sukses. Sampeyan bakal nemokake iki sing umum digunakake ing industri e-commerce.
It asks for the visitor's email address in exchange for not one but two coupons – one for $10 and the other for $20 off. Then they put in big bold letters that the visitor will receive free exclusive offers via email.
This is something that you can quickly implement into your strategy. Play around with different coupon offers to see what converts the best.
Skullcandy: Menehi Perang Psikologis
Hacking the shoppers' instinct to buy at bargain prices is one way to wage psychological warfare. But there's another, yet clever way to do it.
Priksa iklan iki saka Skullcandy.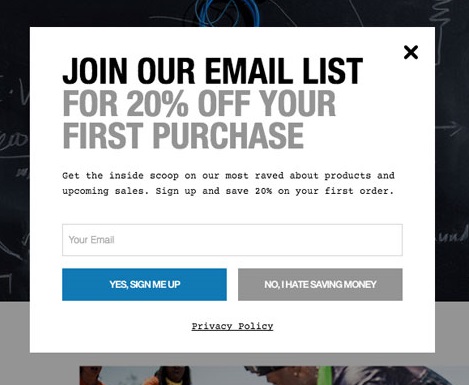 Duwe diskon 20% kanggo tuku kapisan, sing apik banget. Nanging kicker (lan cukup efektif) yaiku pilihan "Ya" utawa "Ora".
You can select "Yes, sign me up" or "No, I hate saving money." What makes the negative call to action (CTA) a clever tactic is that a lot of people don't like to lose, miss out, or admit something they're not so proud to admit.
Lan yen sampeyan wis ngubengi web akhir-akhir iki, sampeyan bakal nemokake CTA negatif sing aneh banget. Priksa manawa sampeyan pancen nyengkuyung, ora gampang ngatasi.
BeHappy: Ngurangi Tingkat Kréta sing Ditinggalake
We've already mentioned the astonishing rate of abandoned carts witnessed by e-commerce shops. But what can you do to change the tide?
Mangkene sing ditindakake BeHappy lan akeh merek liyane kanggo target pembeli sing nyoba metu sadurunge mriksa.
When asked at the appropriate time, a simple question can go very far: "Save cart to email?"
For instance, say you have a visitor using her tablet to shop for items in your store. She's on the road and gets a message on social media that'll eventually distract her from returning to your store.
Dadi, sampeyan nggunakake popup niat metu kanggo menehi solusi sing apik - kanggo nyimpen kabeh blanja sing wis rampung lan supaya gampang dikirim menyang kothak mlebu. Banjur bisa uga nalika mulih, dheweke bakal terus mriksa ing desktop.
Abad 21: Nggunakake Tembung "Bebas"
You won't find many brands that offer free shipping for orders under $50. But Century 21 did just that and had a great campaign.
Penawaran sing ora bisa ditolak, kayata gratis, cenderung apik kanggo pengecer online. Deleng popup metu iki kanggo ndeleng manawa ora mbutuhake tembung sing cerdas utawa desain mewah kanggo ngonversi: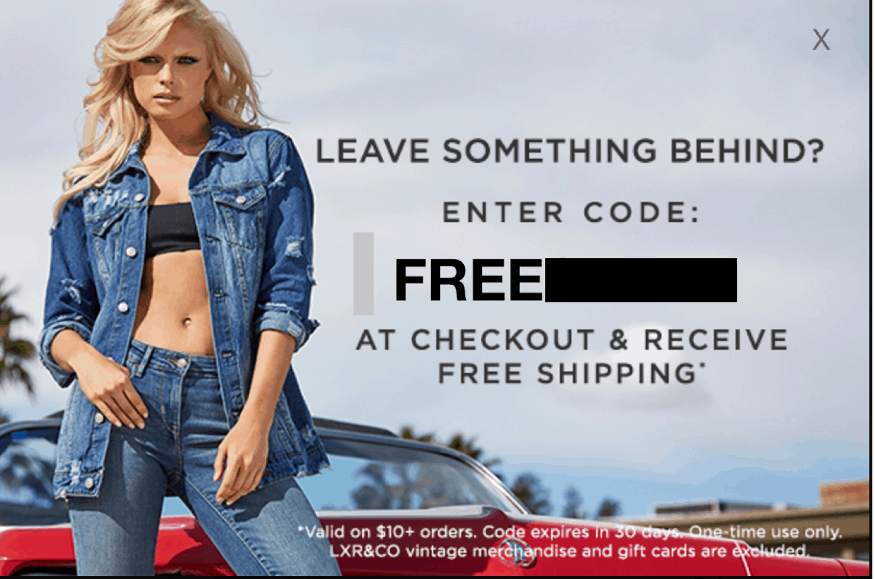 Ana sawetara sebab kenapa iklan popup iki bisa digunakake. Siji-sijine, nggunakake tembung gratis, sing amba lan kandel. Banjur tawaran pengiriman gratis kanggo pesenan sing regane $ 10 (nangkep para pembeli gedhe lan para pembeli entheng).
And last, it puts a 30-day expiration date on it, which gives shoppers enough time to shop and still get the deal. But since it's only for one-time use, shoppers will be inclined to buy as much as possible.
Minangka imbalan, kampanye iki nampa tingkat konversi 8,4%. Yaiku 664 wong sing ngonversi saka 11.818 pengunjung sing weruh. Ora ala!
Dadi, Apa Sampeyan Bisa Nggawe Konversi?
As you can see from these four examples, there are various ways and moments to use these popups to capture qualified leads. The key is to keep your customer personas and buyer's journey in mind.
Here are some ideas to target visitors with the right message at the right time.
Gawe Rasa Urgensi sing Kuwat
There are several ways you can create a sense of urgency in your visitors. The two most popular tactics include implying scarcity or offering a limited-time deal.
Let's say you have a visitor who shows interest in several products and explores several pages on your site. You can trigger an exit-intent popup to appear once they try to leave that says something like:
"Diskon 30% Pesen Sabanjure!" Banjur wenehi wektu otomatis kanggo ngetung saka 1 jam. Mangkene conto sing apik: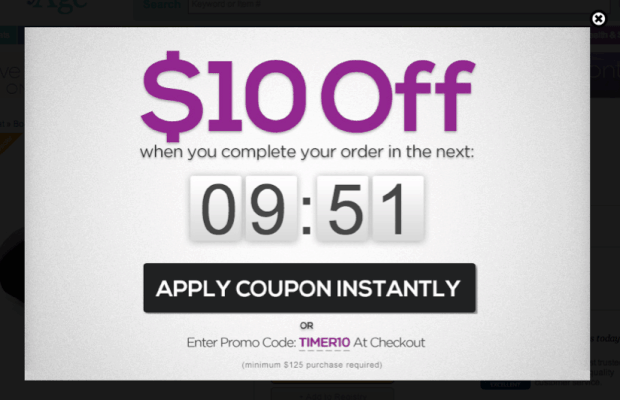 The discount, timer, and purchase buttons are the most noticeable on the popup. The viewer will quickly understand the offer and the countdown ticker will create a healthy sense of anxiety to act quickly.
Nanging, yen sampeyan pengin target reaksi nggunakake kekurangan, sampeyan bisa nindakake kaya iki:

As your visitor is about to leave, a popup distracts them. They see one of the items they viewed is almost sold out and may decide to buy immediately. It sure beats shopping around and missing out on a potentially great deal.
Nawakake Pilihan Pengunjung Sampeyan
If there's anything online shoppers like, it's a choice. So in your popup ad, why not give them several options?
Contone, yen sampeyan njaluk dheweke ndhaptar buletin gratis, coba pilih kapentingane. Kanthi cara iki, dheweke mung nampa konten sing pengin diwaca. Lan iki uga bakal mbantu nambah tarif mbukak email.
Try asking your visitors what they want deals on women's clothes, kids' clothes, shoes, and so on. This way, you can segment your campaigns in a hyper-targeted manner.
Just make sure you don't have too many options. A good 3-5 should suffice. Remember that they're receiving separate emails for each interest, and you don't want them bombarded with emails.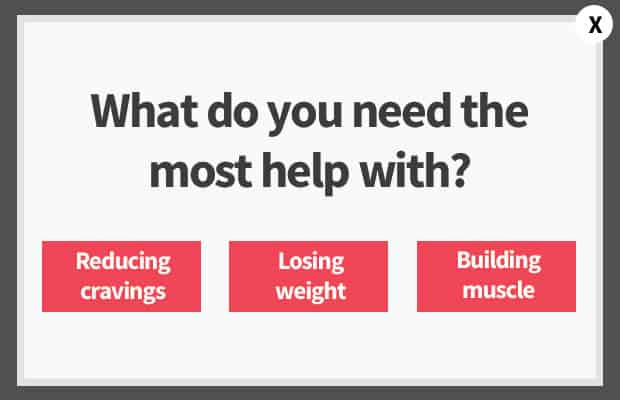 Yen sampeyan menehi pilihan kanggo pengunjung, sampeyan bakal luwih apik mikirake tawaran sampeyan. Mung menehi pilihan ya utawa ora bisa uga nyebabake dheweke nolak tawaran kanthi cepet.
Nyipta Popup-Intent Intim sing Ngonversi
Okay, you're all for using exit-intent popups to convert – but how do you create them? It takes a mix of design and coding skills to set them up (which you may lack) properly.
Utawa paling ora sampeyan mikir. Mangkene layanan kaya Poptin mlebu. Platform iki gampang digunakake kanggo pamula - cukup pilih warna, tata letak, lan desain sampeyan. Banjur sampeyan nyeret lan nyelehake menyang situs sampeyan.
It's compatible with any website, allowing you to get up and running quickly. If you're ready to start your exit-intent popups, start making Poptins today!