Companies everywhere know that email marketing is a top choice to help get more business. You work so hard to have quality products, great customer service, and advertise wherever you can. 
Almost everyone has an email address, even if it is a free one. They often check them to stay close to family and friends, and you can harness that power by sending emails to prospective customers.
What Does SendX Provide?
SendX is an email marketing tool that helps automate most of the work of sending emails. It has various templates available, which you can customize to meet your company's needs and goals. 
The powerful features allow you to build rules and segment lists. Plus, you're sure to appreciate the built-in automation triggers for smooth operation and optimization.
Why People Switch from SendX
Since SendX is so powerful and does a lot for you, many people are satisfied. However, there are SendX alternatives out there, and it pays to know what they are. 
Though you may be satisfied right now, many customers of SendX find that the automation isn't flexible enough for the complex sequences you may need. Also, it only lets you import your contacts with a CSV file.
On top of that, it only allows for 15,000 subscribers. When you hit that mark, you can't expand the business anymore. This is why you should focus on the SendX alternatives we've listed below. They may be better for your company and needs now and in the future.
1. 센드그리드
SendGrid offers personalization for all of your emails. We like the advanced editor feature because you can easily create what you want. You're going to appreciate that it's easy to use, though we do feel that the navigation lacks somewhat.

기능
When you choose SendGrid, you know that email deliverability is one of its strong suits. Therefore, the email you create gets to the inbox instead of going to the spam folder.

We like the API service, which helps you integrate with other apps. Plus, you can focus on customer engagement with email marketing automation features.
프로:
자세한 분석

Can personalize individual emails

고급 전달 성 기능
죄수:
기본 자동 응답기

Lack of segmentation
가격
SendGrid offers four plans, and one of them is forever-free. You can send 100 emails per day. Plus, you get ticket support, insightful analytics, and a template editor. With that, you also get various optimization tools.
Then, there is the Essentials 40K. You can send 40,000 emails per month for $14.95 before overages are charged. With it, you get everything from Free plan, but you also get chat support.
Pro is next, and you can send 100,000 emails per month for just $89.95. With it, you get everything from Essentials. However, you also get phone support, sub-user management, a dedicated IP, and 2,500 email validations.
Last, you have Premier, which allows for custom pricing based on the number of emails sent each month. You get everything from Pro, but you also have testing features, priority support, and 5,000 email validations a month.
누구를 위한 것인가?
We have no doubt that almost anyone can use SendGrid to create better emails, send them efficiently, and focus on deliverability. However, it does lack in automation and segmentation, so it's best for people who don't need to create tailored or complex messages.
2. SendinBlue
SendinBlue is a serious contender in the world of email marketing. That's part of why it's on our list of SendX alternatives. You get comprehensive features, including SMS, Facebook ads, and a CRM. Right now, it has over 80,000 users, and it sends 100 million emails each day. Since it was founded in 2012, that's saying something!
기능
With SendinBlue, you can create forms and email campaigns. There's a rich-text editor, newsletter templates, and the HTML builder. However, it also maps out the steps to take to complete the job.
Segmentation is also available. This helps you generate lists based on page views, email opens, and so much more.
프로:
A/B testing (on higher tier plans)

사용자 정의 가능하고 직관적인 인터페이스

Attribution functionality
죄수:
트랜잭션 메트릭 없음

No live chat support
가격
With SendinBlue, you get a forever-free plan where you can send 300 emails a day. You get unlimited contacts and basic email marketing tools.
Next, you have Lite, which costs $25 a month for 10,000 emails. You get everything from Free, as well as 100,000 emails, no daily limit, and email support. With that, you can add A/B testing, advanced statistics, and remove the SendinBlue logo.
Premium is the third plan, and it's $65 a month for 25,000 emails. You get everything from Lite, but you can also send up to one million emails. There's also multi-user access, landing pages, and telephone support. Plus, you get retargeting and Facebook ads, as well as marketing automation.
Lastly, you have Enterprise, which is customized based on your needs. A few of the top features include priority support, custom volume for emails, over 20 landing pages, and access for more than 10 users.
누구를 위한 것인가?
SendinBlue is easy to use and straightforward as far as email marketing is concerned. Therefore, it's suitable for those who don't have a large budget or experienced marketers. 
3. 옴니센드
When it comes to SendX alternatives, Omnisend takes the cake. It's an omnichannel email marketing solution that helps you create and share your campaigns on various channels. However, it's all done on one dashboard.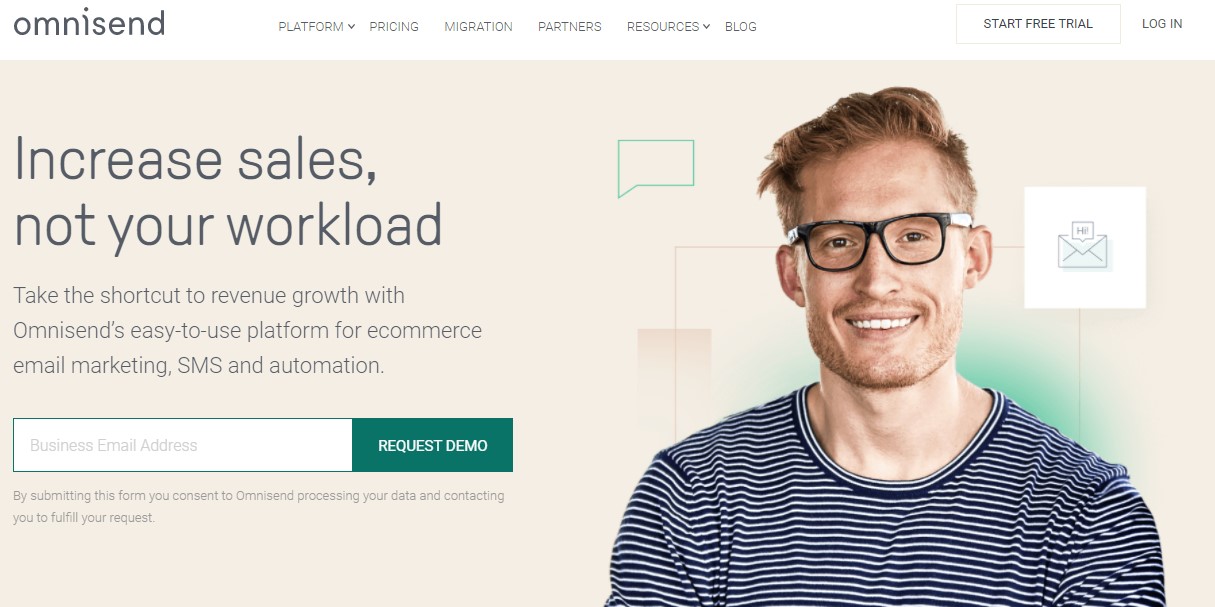 기능
With this platform, you can have highly customized communications and segment them based on behaviors and so much more. You can also include promo codes, birthday discounts, and other features, which boost conversion rates. 
It's possible to create journeys for the user. Email messages are triggered based on specific events, so you can easily keep track of the potential customer's whereabouts on their 'journey.'
프로:
Various customizable templates available

Easy integration with multiple e-Commerce platforms

Ability to incorporate coupons, gift vouchers, etc.
죄수:
No custom themes

Must input information from scratch into social media campaigns
가격
With Omnisend, you get a forever-free plan. It allows you to send 15,000 emails per month and create email campaigns. With it, you get signup forms, popups, reports, and a few other perks.
Next, you have Standard, which is $16 a month for 15,000 emails. You get all the features from Free, as well as 24/7 chat/email support and audience segmentation. Email automation and SMS campaigns are also included, among others.
Pro is the third option, and it costs $99 a month for 15,000 emails. With it, you get the Standard features, as well as advanced reporting, priority support, and web push notifications, among others.
Enterprise is the last option, and you get free SMS credits, unlimited emails, and a customized price based on your needs. You get all the features available, including free migration and a customized IP address.
누구를 위한 것인가?
Omnisend works well for e-commerce businesses, but it's also ideal for creatives and other digital marketers.
4. SendFox
SendFox is an email marketing platform that focuses primarily on content creators. You can easily automate the process of sending and customizing emails to followers and subscribers.
It's part of the Sumo Group suite, which was created by Noah Kagan and is used by millions. The ESP has only been around for a few years, but it's taking the world by storm.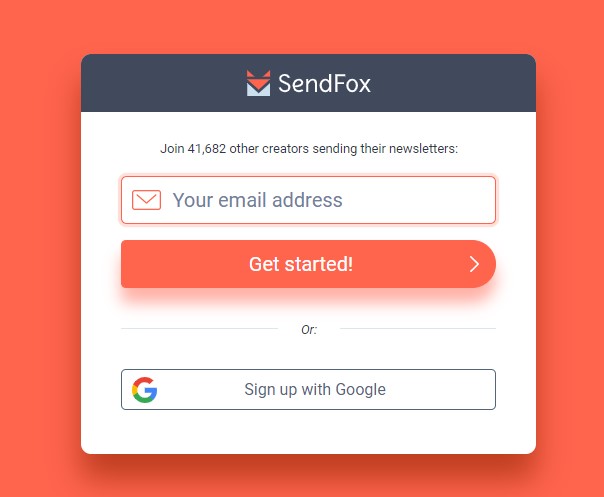 기능
SendFox focuses on providing a quick and light email marketing platform. Therefore, you can create and schedule your emails for your contacts. Plus, you can automate the process and personalize things before sending them.
프로:
Personalization features

Testing available

Schedule emails to send at the best time
죄수:
Lack of templates

No direct send button
가격
Pricing for SendFox is quite simple. The Forever-Free plan allows for 1,000 contacts and a throttled amount of sends. We're not sure how many that is. There is some SendFox branding, you don't get the HTML editor, and you have to do the double opt-in.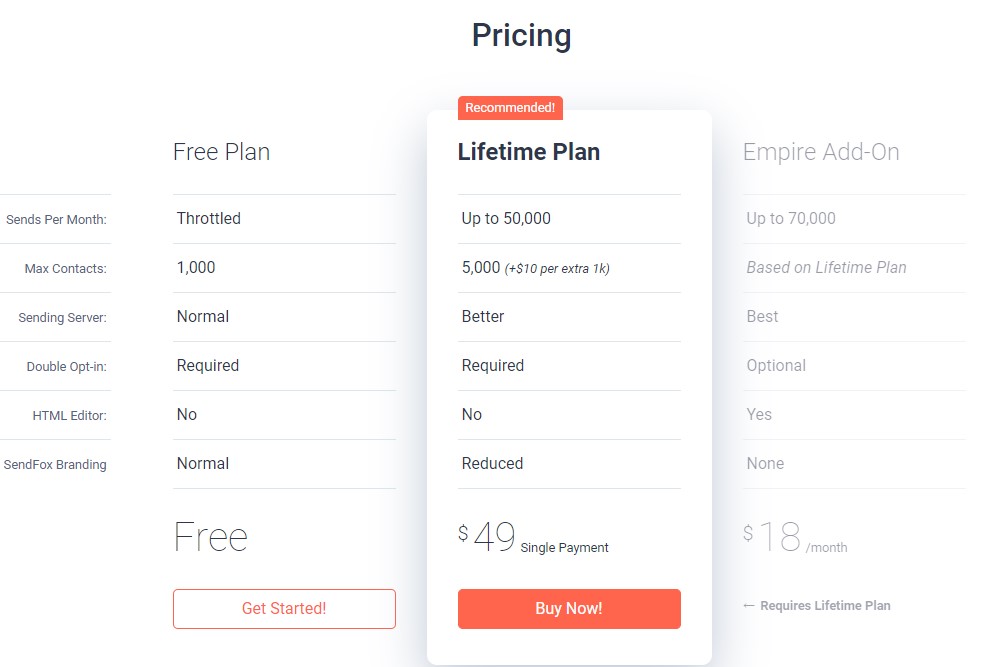 With the Lifetime Plan, you can send 50,000 emails a month and have 5,000 contacts. There's a one-time fee of $49, and the SendFox branding is 'reduced.' Again, you're required to do the double opt-in and get a better server on which to send your emails.
The Empire Add-on is available, which boosts sends to 70,000 a month. You have no branding and access to the HTML editor. It costs $18 a month on top of the Lifetime Plan price.
누구를 위한 것인가?
SendFox is ideal for content creators, such as vloggers and bloggers, because you can create new sales funnels. It can also work for SMBs and e-commerce companies that want to keep things simple.
5. 드립
Drip is a great ESP that allows you to build campaigns and automate the process. With this cloud-based solution, you get various triggers and actions, helping you customize workflows that work for you.
기능
There is plenty to like about Drip. We think you're going to enjoy the visual application process. It's fun to create a new campaign with an interactive tool. Plus, the workflow builder allows you to choose the customer's journey and fill in the right triggers/actions.

With the trigger feature, you can choose assorted responses, saving you time. Plus, it's possible to target your audience, so the message is sent to the right people.
프로:
죄수:
Has bugs (new on the market)

Automation issues
가격
The prices for Drip are easy to understand. You pay $19 a month for 500 contacts and get unlimited emails. Every feature available is included, such as the flexible API, segmentation, and tracking options.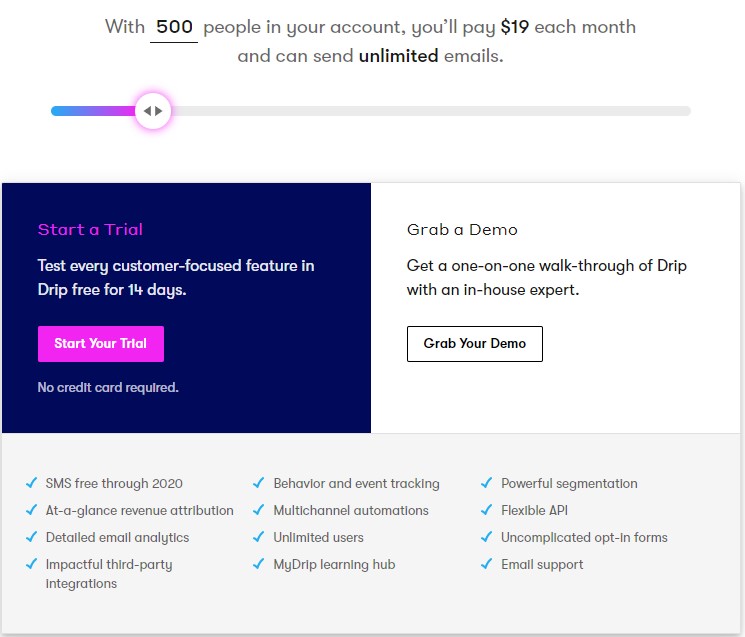 Prices rise from there, so you can expect to pay $29 per month for up to 2,000 contacts. Then, the price goes to $39 for 2,500 contacts, and so on.
누구를 위한 것인가?
As with many of the other SendX alternatives, Drip offers email marketing management and the CRM functionality in one. We feel it's suitable for SMBs, startups, and large companies.
결론
All of these SendX alternatives can help with your email marketing campaign. It's impossible for us to give you a 'best winner' here, though. Each one offers slightly different features, services, or pricing. 
This is so that you can choose what works best for you. Typically, you want to consider your budget and make sure that you can afford the email marketing tool. However, you also need to think about value and what the product does for you.
Any of these six SendX alternatives can be beneficial and helpful. They have low-cost or forever-free plans. Plus, they offer scalability to grow and expand your company.