As an entrepreneur, you're sure to know how important email marketing is. Sending electronic messages is the easiest way to tell people what's going on. You can even use it to get leads when people sign up for newsletters or otherwise provide their email addresses.
Lead generation is what LeadFeeder is all about. This website visitor tracking site helps companies generate leads using web analytics. However, it's not the best for email marketing, even though it claims it does both.
Therefore, you may want to consider some LeadFeeder alternatives. Your ultimate goal might be on email marketing and automating the process of sending electronic mail. Ultimately, the options listed below might be a better choice for you.
1. Robly
Robly features a cloud-based email marketing platform for various marketers. It's designed to improve your campaign rates by up to 50 percent. We like that it's user-friendly and powerful, so you don't need extensive experience to use it.
Features
You're going to appreciate the OpenGen technology from Robly. This ensures that the emails are read by the recipients. Such functionality has been proven to increase the open rates. Initially, it starts with your typical content being sent by email. Those who don't open the first email get another one up to 10 days later, featuring a different subject line.
However, it's not just about sending repeat campaigns. There is even artificial intelligence with a patent-pending to help you analyze the details for the emails. This includes subscriber interactions, history, and others. There's even A/B testing to optimize various elements of the email.
Pros:
OpenGen technology

Responsive templates

Great integrations
Cons:
Repetitive navigation

Can't access images from templates
Pricing
Robly offers a great pricing structure, and it's inexpensive for the lower plans. With 500 contacts, you only pay $19 a month and have access to all the features but phone support.
If you've got 2,500 contacts, you're going to pay $25, and it's $58 a month for 5,000 contacts. Those who have over 5,000 contacts pay $92 a month. Every feature is unlocked for these plans, including phone support.
Who Is This For?
Robly is one of the LeadFeeder alternatives designed for companies of all sizes. However, if you are on a tight budget and have more than 5,000 contacts, it can get quite expensive.
2. Omnisend
Omnisend has only been around since 2014 and began in Lithuania. Now, this email marketing service offers everything you could possibly want. Plus, it is designed for social media, SMS, and emails.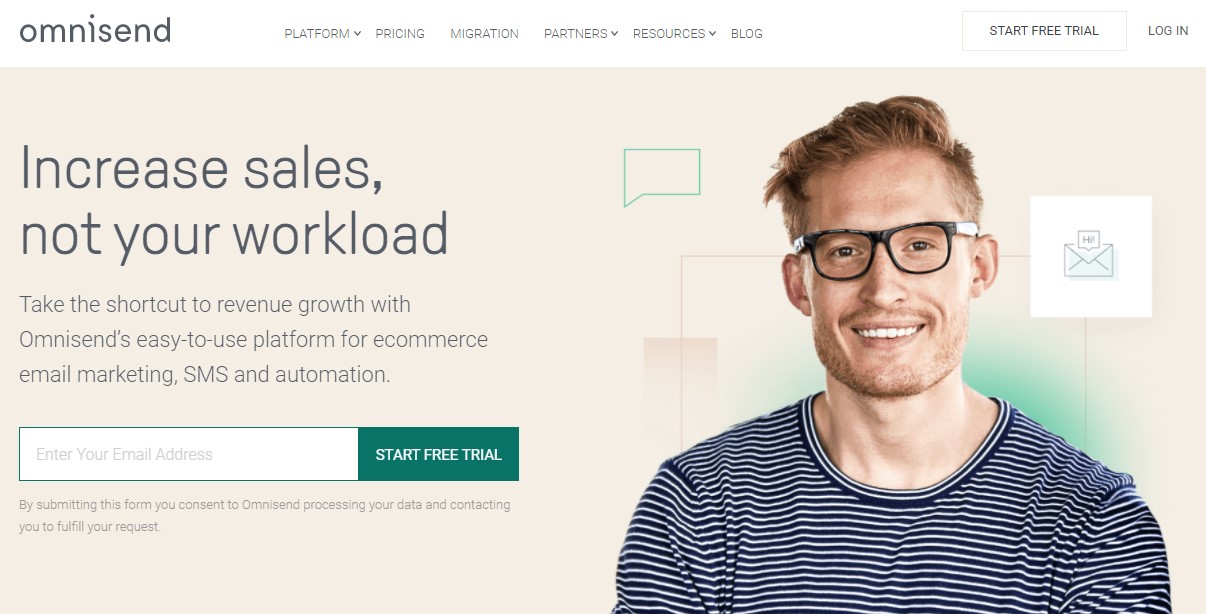 Features
You are going to like the omnichannel marketing platform available from Omnisend. It is growth-focused and suitable for e-commerce companies. Plus, you can add multiple channels to the automations to get seamless communication with web push notifications, SMS, and email.
There's a great drag-and-drop editor, and it's user-friendly. You can use it for email capture features (landing pages and popups) and traditional email marketing.
Automations aren't advanced at times, but you can still create various workflows and personalize the message based on shopping behaviors, campaign engagement, and demographics.
Pros:
Focused on e-commerce store owners

Great automations

Sales tracking available
Cons:
Limited integrations

No advanced tracking options
Pricing
You're going to like the Forever Free plan from Omnisend. With it, you have basic reports, email campaigns, popups, and signup forms. Plus, you can send 15,000 emails per month.
Standard costs $16 a month for 15,000 emails a month. You get the same perks as the Forever Free plan, but there's audience segmentation, email automation, SMS automation, and email/chat support.
Pro is considered the best value at $99 a month. With it, you get 15,000 emails a month and free SMS credits. Everything from Standard is included, but you also have advanced reporting, web push notifications, a customer success manager, and Google Customer Match.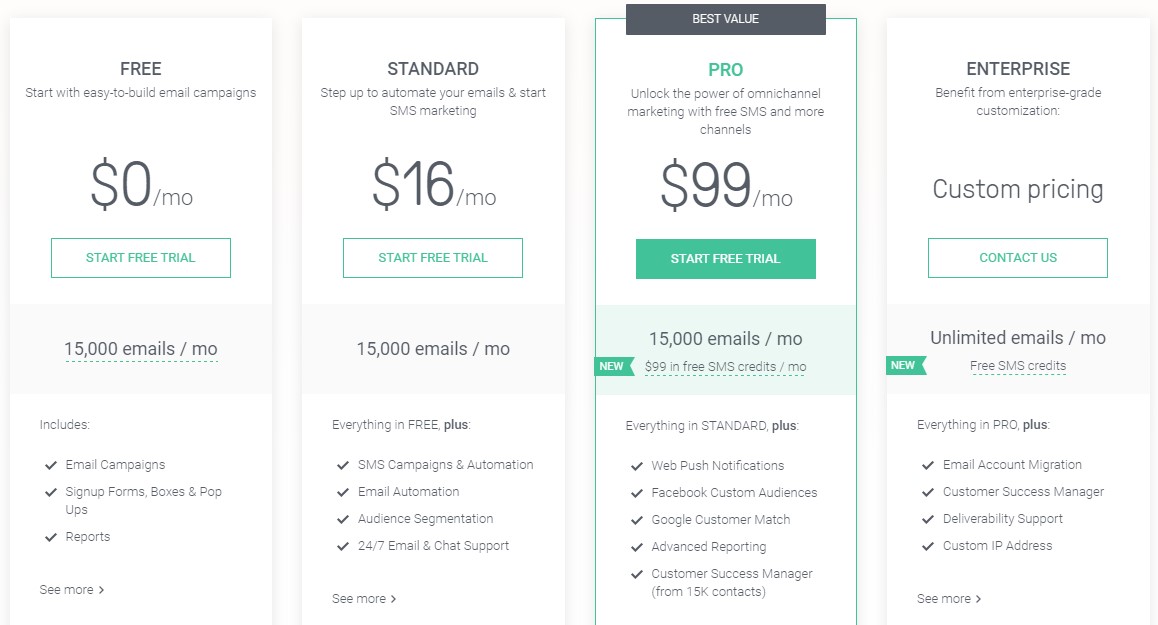 Enterprise offers custom pricing based on your needs. You get unlimited emails a month, migration services, deliverability support, and a custom IP address.
Who Is This For?
Primarily, Omnisend has a strong focus on e-commerce and can offer advanced segmentation and automation at the higher-priced levels.
Good read: Omnisend Alternatives: 4 Advanced Email Marketing Platforms
3. Sendy
Sendy is a self-hosted tool for email marketing. This means that you're not using a web-based application, but you use your own server to create emails. Ultimately, you need the software, Amazon SES (to send them), the domain name for the Sendy installation, and the server.
Features
With Sendy, you can send your newsletters and emails cheaply and quickly. You also get beautiful reports that help you understand how the email marketing campaign is doing.
As far as other LeadFeeder alternatives go, this one features autoresponders, list segmentation, and easy management of your lists and subscribers. Where it shines is that it works with Amazon SES, so bounce, unsubscribe, and complaint handling is done for you. You also get tons of third-party integrations to work with.
Pros:
Simple design

Saves a lot of money

You make the rules
Cons:
Must remember to add 'Unsubscribe' link yourself

Can only be used with Amazon SES

No RSS to Email
Pricing
Sendy's pricing is a little different. For a one-time payment of $69, you get the application, and it's designed to run on your specific server. Once you pay for it, the email marketing tool is yours to keep without paying more.
You do get free updates until major versions come out. Plus, you can use it on one domain, but you can buy more licenses if you've got multiple domains.
Who Is This For?
Primarily, Sendy works best for those who want an email marketing tool on their server and already use Amazon SES to send emails.
4. Sendloop
Sendloop is quite easy to use. The customizable automation platform was designed to benefit digital marketers. You get advanced tools, various plugins, and integrations to automate your email marketing efforts.

Features
The feature-rich platform of Sendloop offers advanced tools, but they're still easy to use. This means you don't have to know coding to create an effective campaign. With the drag-and-drop editor, you're building emails effortlessly.
There are plenty of email templates, but they're also customizable. You can change almost anything you want and create something that is amazing.

Automations are where it's at, though. You can send messages to the right people in the best time-frame to boost sales. Segmentation and automation go hand-in-hand so that companies target people based on their behaviors. This includes abandoned shopping carts and those who visit particular website pages.
Pros:
Easy to use interface

Great migrations

Cost-effective email marketing solution
Cons:
Analysis issues

Few training options
Pricing
Whether you send a lot or a few emails, Sendloop offers straightforward pricing. Frequent senders pay $9 a month to start and have unlimited email delivery and all the features.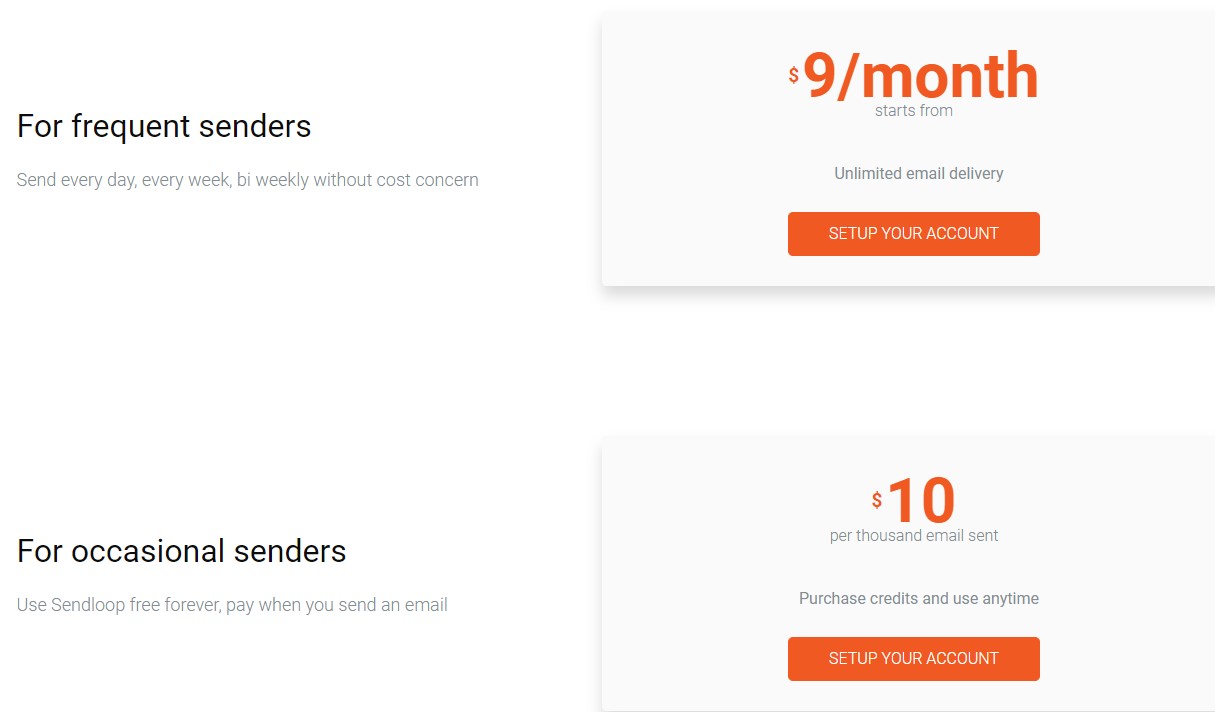 Those who only send emails occasionally pay $10 for every 1,000 emails they send. There aren't any contracts, and you purchase credits when you need them.
Who Is This For?
Primarily, Sendloop is suitable for SMB owners, e-commerce companies, and digital service marketers.
Good read: Sendloop Alternatives: What You Need to Consider This 2021
5. Litmus
Litmus is an effective email marketing tool used by many to create various campaigns. You can preview, track, build, and test your emails. Plus, with the many integrations, you can resell and do other things.
Features
With Litmus, you get one-click testing for your emails. Once it's ready to go, you can make sure there aren't any problems, and it's not going to be marked as spam.
There's also an easy-to-use interface. You're going to appreciate how easy it is to get where you need to go while working. Plus, you get a summary, which highlights what happened to the emails. They could be skimmed, fully read, marked as spam, or deleted.

Pros:
Easy to learn and start

Ideal for testing emails

Analytics is great
Cons:
Needs to be more intuitive

Longer loading times
Pricing
The pricing for Litmus is easy to follow, but it isn't cheap. Basic costs $99 a month, and you can have one user, endless read-only users, and 1,000 email previews.
Litmus Plus is $199 a month, and you can have five users and 2,000 email previews. You also have access to test editor integrations, spam testing, and ESP integrations.
Enterprise is the last option, and it's customized based on your needs. You can have as many users and email previews as you want. Plus, you get insights for your campaign, can standardize tasks, and much more.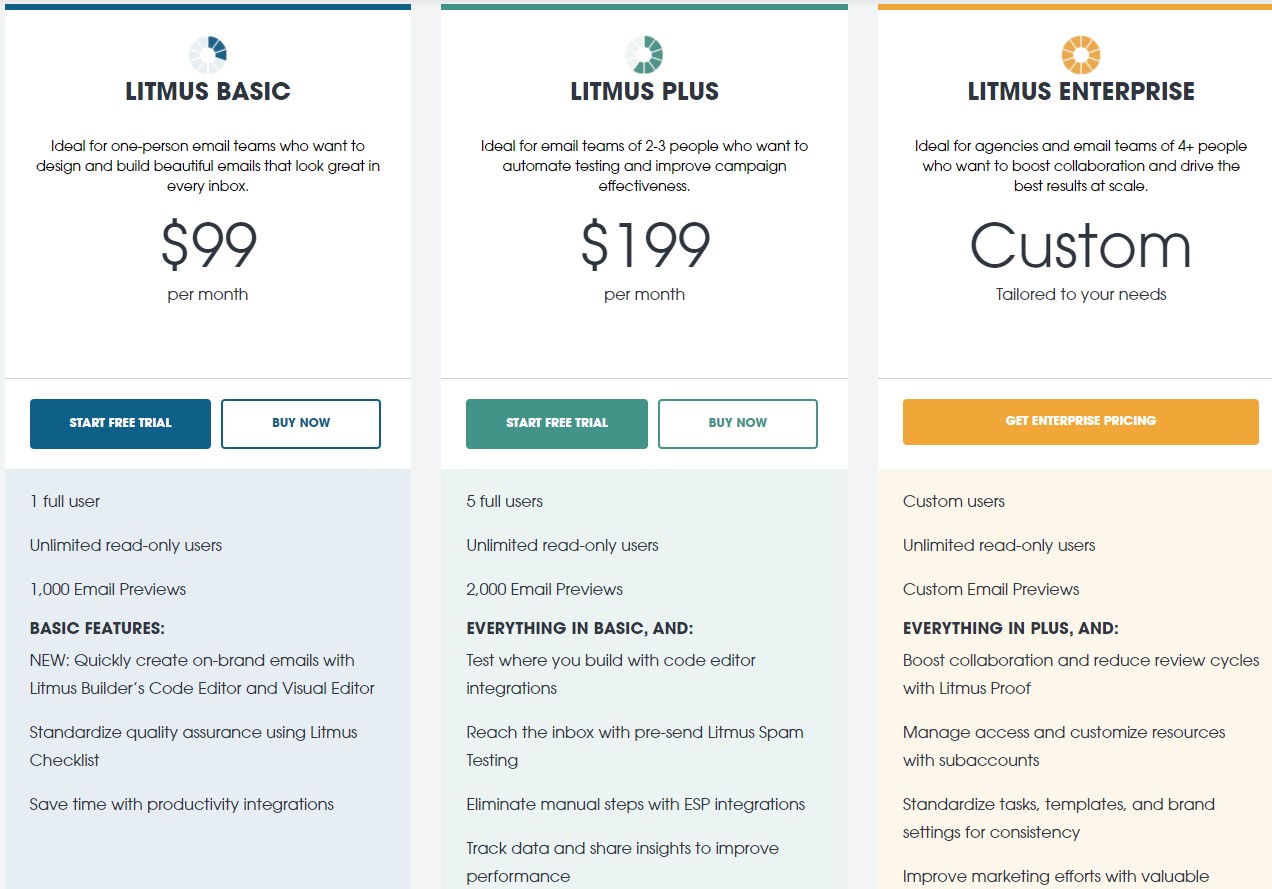 Who Is This For?
Though Litmus claims it is suitable for all types of entrepreneurs, the pricing model indicates that it's better for large companies with a high marketing budget.
6. Reach Mail
When it comes to LeadFeeder alternatives, Reach Mail may have what you need. This email marketing platform offers great deliverability and support. You can design amazing emails from scratch or use templates.
Features
It's important to know what Reach Mail offers. It allows you to import existing lists from other email marketing tools. This means there's less cleanup and organizing to deal with. With that said, you can quickly send emails to the right recipients.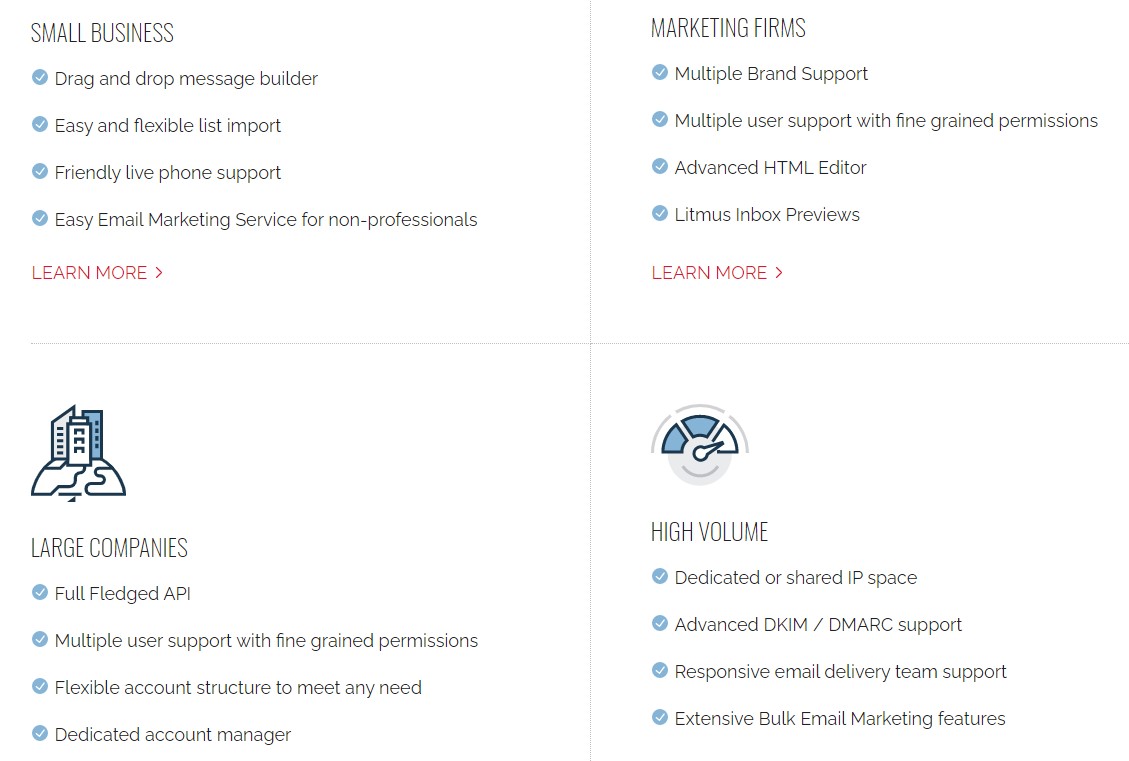 There's a great drag-and-drop editor, which helps you build emails effortlessly. Plus, you can connect with all of your contacts and get new prospects more easily. This means you're always growing your business.
Pros:
Helpful advice

Quick support

Excellent deliverability
Cons:
Better visuals needed for email templates

Formatting could be better
Pricing
Those who require a Forever Free plan are sure to appreciate Reach Mail. You can have 2,500 contacts and send 7,500 emails a month. Plus, you get everything needed to start and can upgrade when you're ready.
Basic only costs $9 a month and ensures that you can have 5,000 contacts and send 12,000 emails a month. You can also have three users and create three signup forms. Basic automations are available, and you get one dedicated IP.
Pro costs $29 a month, and you get 5,000 contacts and 25,000 emails sent before any overage fees are applied. With it, you get unlimited users and signup forms. Plus, there's advanced automation.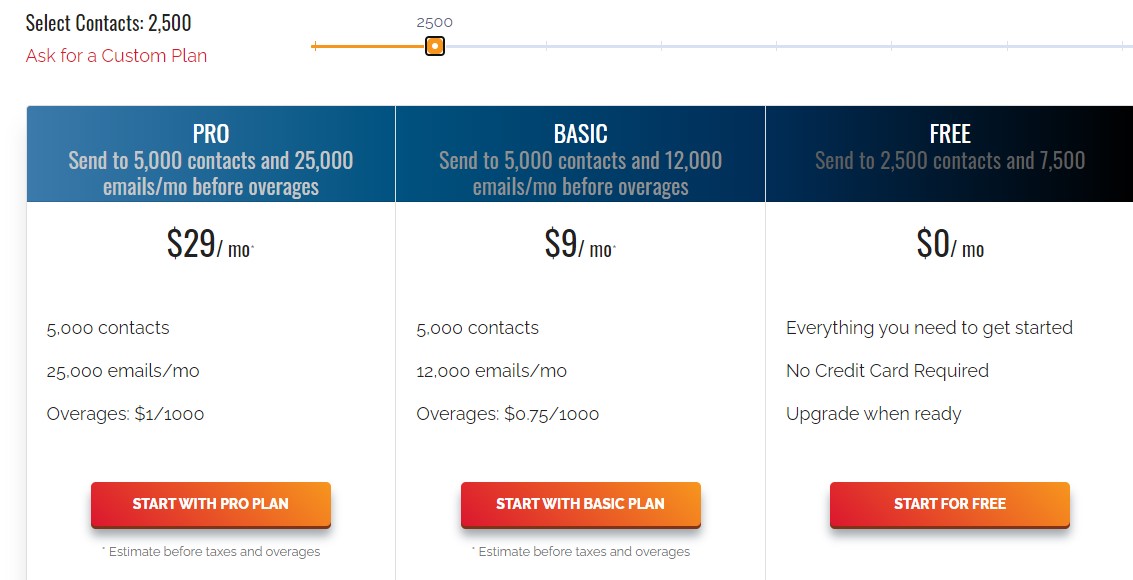 Who Is This For?
Since Reach Mail costs so little, it's ideal for SMBs and startups. Plus, it works well for creatives and e-commerce companies.
7. Moosend
Moosend is an email marketing software that automates much of the process. You get various integrations, tools, and benefits of using it.
Features
Everyone seems to like Moosend because it uses a drag-and-drop interface. That way, you can create and design responsive newsletters and emails. Regardless of the device users prefer, they can read it effortlessly.
Automation is a big part of the email marketing tool. This means you can launch your campaign at the right time, sending the emails to the most appropriate people. Segmentation and list management also come in handy for various tasks.
Pros:
Forever-free plan

Built-in automations

Customizable templates
Cons:
Improved signup forms needed

Slow to load
Pricing
With Moosend, the options are limitless. There's a Forever-Free plan that gives you the core features at no cost. You can have up to 1,000 subscribers and send unlimited emails. Plus, basic analytics and reporting are included.
If you want more, Pro is only $10 a month. With it, you have access to transactional emails, landing pages, and phone support. You can also have five team members.
Enterprise is a custom price based solely on your needs. Custom reporting, onboarding, migration, and an SLA are available. Plus, you can have 10 team members.
Who Is This For?
With the subscriber-based pricing features, Moosend works well for established companies and SMBs.
Good read: 7 Best Competitors of Moosend
Conclusion
If getting leads is your top priority, then LeadFeeder might be right for you. However, most people focus more on email marketing and attracting a loyal fan base. If that's what you want, these LeadFeeder alternatives listed earlier are sure to be something worth considering.
Since you've read about each one, you have the information needed to make the right choice. Consider the price and all the features available. When you're ready to pick a specific email marketing tool, you can use the free plan or free trial and learn more about it.
Be amazed at how much easier it is to market yourself with email when you have the right tools at your disposal.