As the digital world progresses, more and more tools are emerging that can help you with many segments of doing business.
Running a business in itself is stressful and demanding enough, so you should use all the means you can to make the process as much easier for you as possible.
Whether you run your own website or edit websites for clients, a smart move is to use the right tools.
In this article, we will focus on the best apps for creating pop-ups.
Although there has long been a controversy over whether pop-ups can annoy website visitors and turn them away, the fact is that if they are well-designed and offer some added value, they can only help the overall impression of your brand on users.
In addition to Leadin, there are some other great alternatives that allow you to make effective pop-ups.
After a brief analysis of Leadin, we can move on to the best Leadin alternatives
Leadin: Overview
Leadin is a HubSpot tool intended for creating pop-ups.
It helps you to convert visitors and collect leads and insights.
Besides making pop-ups, you can follow the visitors' activity and learn more about their behaviour.
Offered features:
Dashboard

Customization

Analytics
What are the advantages?
Leadin is a simple tool for creating different forms.
You can customize pop-ups, use different colours and fields. Your website custom colours can also be used in Leadin.
This amazing tool helps you track leads and gather information about them all in one place.
What are the disadvantages?
Leadin doesn't have many features, so you can't get the maximum out of using pop-ups.
There also aren't as many updates as before.
And now, here are the best alternatives to Leadin!
Here are the 3 best Leadin alternatives
Poptin is a powerful pop-up tool with many features. All the elements that you need for an all in one lead capture platform are already here.
It is primarily intended for marketers and digital agencies, eCommerce websites, and other types of websites.
As you continue reading, you'll know exactly why Poptin is loved by more than a hundred thousand websites around the world, and counting.
Using Poptin, you will be able to:
Create pop-ups

Build embedded website forms

Send automated e-mails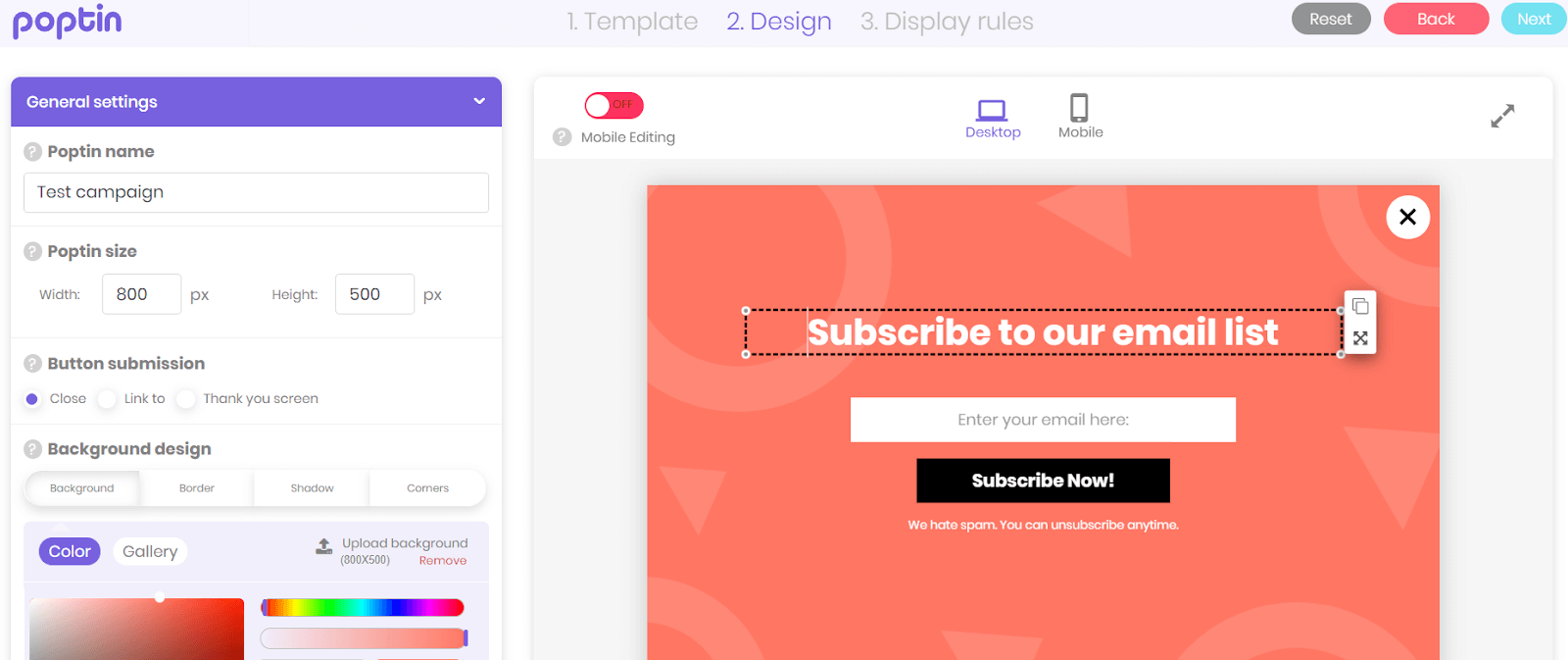 Its intuitive builder allows users to create designs from scratch.
If you're not into design, you don't have to hire a developer or artist to do that for you. Poptin has a wide array of beautiful and highly responsive templates that you can just customize according to your needs and goals.
You can easily remove or add fields, pictures, and logos. It is recommended for anyone who maintains websites, for bloggers, developers, and similar.
Offered features:
Customization options

Templates library

Analytics and other data display

Advanced triggering options

Advanced targeting options

A/B testing

Integrations

Live and chat support
Advantages of using Poptin
Poptin has a high level of customization options. Therefore, with this tool, it would be easier for you to create pop-ups exactly as you envisioned them.
Customer support is available via:
It's important to note that real persons answer your queries right away. Poptin makes sure that you get the best customer that you deserve at the fastest time possible.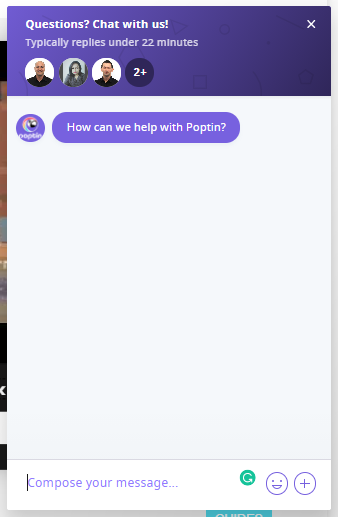 There is also priority customer support and access to the Facebook group. Poptin's user community has grown through the years and you'd be glad to be able to learn and share knowledge to like-minded people in a variety of industries.
With over 40 native integrations and more than 1500 via Zapier, you will be able to connect Poptin with most of the popular platforms.
Moreover, with Poptin, you can track real-time performances of your pop ups through the analytics feature. This way, you know how to strategize next and maintain excellence and deliverability in every pop up that you implement. Here's a sample from a new Poptin account:

Disadvantages of using Poptin
If you are not familiar with the interpretation of analytics, you may need help to fully understand it as well as your visitors' behaviour.
In this case, you can contact the reliable customer support very quickly. 
Poptin's pricing
If you choose Poptin, you can try out a free package and then upgrade to some of the paid plans starting from $19 per month.
There is also a monthly and annual subscription available.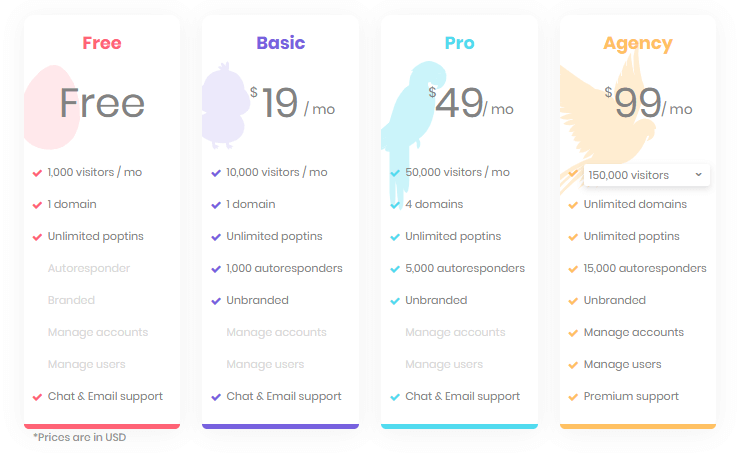 Why is Poptin an excellent Leadin alternative?
This tool offers in-depth analytics. This will enable you to understand your target audience more and use that information in your advance.
This way, you will also find out which of your offers is the most intriguing for your leads.
Use A/B testing to analyze performances of pop-windows.
Poptin also has a knowledge base. Accessing it can be very beneficial for your business because you can gather new information.
Poptin's ratings as the Leadin alternative
For easier comparison with other tools, here are the Poptin's ratings:
Ease of use: 4
Customization level: 5
Visual appeal: 5
Features: 5
Integrations: 5
Customer support: 5
Pricing: 5
Total: 4.9/5
PopUp Domination
PopUp Domination is one of the top Leadin alternatives and a useful pop-up tool.
With this tool, some of the things you can do are:
Collect e-mail addresses

Send traffic to sales

Create countdown pop-ups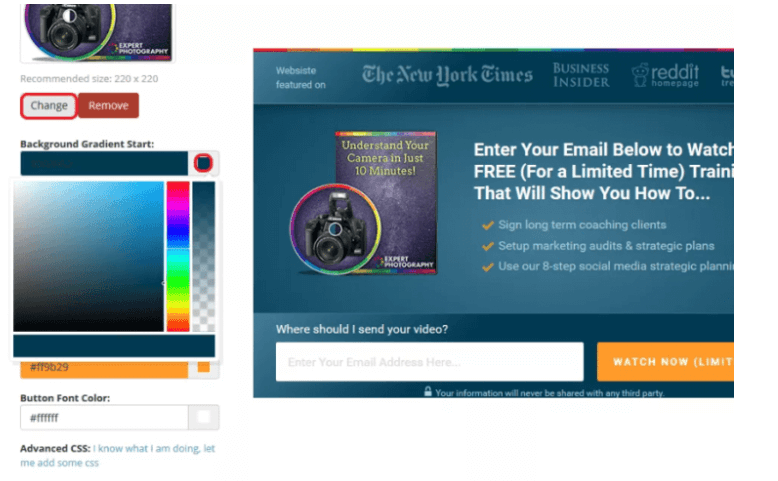 PopUp Domination uses smart exit-intent technology. You can make exit pop-ups for preventing visitors to leave your page.
By using these windows, you can boost your conversion rates even more.
Offered features:
E-mail themes 

Redirect themes

Countdown themes

Customization

Triggering options

A/B testing

Analytics

Integrations
What are the advantages?
You will be able to create responsive pop-ups for achieving different goals very easily.
Thanks to responsiveness, they will look great on both desktop and mobile devices.
Pop-up windows are compliant with GDPR policies.
If you don't want your pop-ups to be shown on every page of your website, you can simply choose where you want them to be seen.
What are the disadvantages?
You can't create a pop-up from scratch.
There are different pre-built forms to choose from. After deciding which one you will use, you can customize it.
PopUp Domination's pricing
PopUp Domination has several packages to choose from: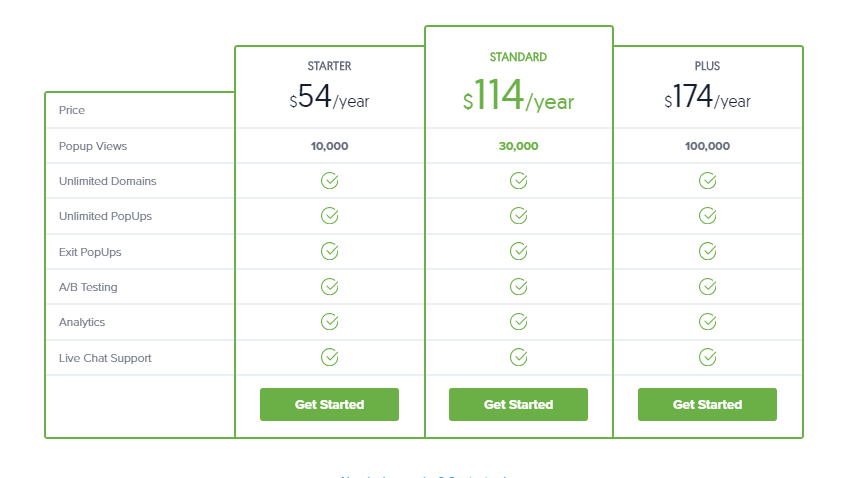 Why is PopUp Domination a great Leadin alternative?
PopUp Domination offers using redirect themes so you can send traffic to websites and affiliate pages.
There are different triggering options, based on page views, time, percentage of the scrolled page, and more.
All pop-ups can be "sticky", which means that visitors can still interact with the website while the pop-up is viewable on the certain part of the page.
PopUp Domination's ratings as the Leadin alternative
Here are the PopUp Domination's ratings:
Ease of use: 4
Customization level: 4
Visual appeal: 4
Features: 5
Integrations: 5
Customer support: 5
Pricing: 5
Total: 4.6/5
Justuno
Justuno works based on AI or artificial intelligence.
This tool "reads" the identity of most of your website visitors. Thanks to this, you can collect different useful data.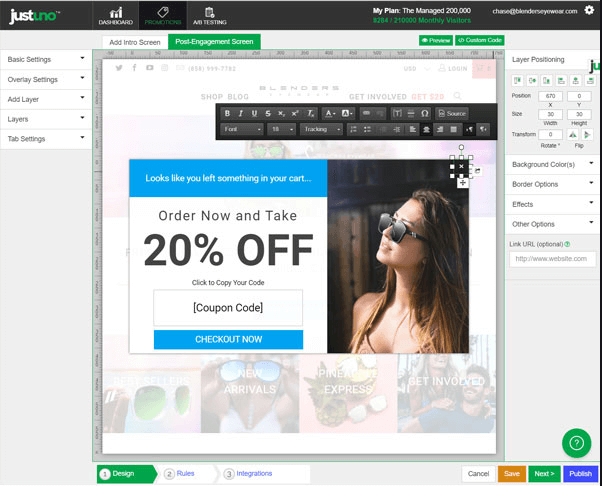 On each side of the editor, you have different options to choose from to help you customize your pop-up window.
Offered features:
Pop-ups

Push-up notifications

Geo-targeting

Design canvas

A/B testing

Targeting options

Triggering options

Analytics

Integrations
What are the advantages?
You can create different forms including:
Countdown timers

Cross-selling forms

Exit offers

Upselling forms

Banners
If your products have age-restriction, use options to decide which pop-up will be shown to whom.
What are the disadvantages?
The interface can probably be difficult for beginners to use at the very beginning.
The same pop-up can be shown too often to the same visitors, so be careful when setting up the pop-up.
Justuno's pricing
Justuno is one of the tools with the widest number of packages to choose from, but here are just some of them.
Why is Justuno another interesting PopUp Domination alternative?
Justuno provides you with a great choice of different features.
You can use different types of pop-ups in order to make your website more interesting and user-friendly.
Some of the Justuno integrations are HubSpot, Shopify, and other important platforms.
Justuno's ratings
Here are the Justuno marks following these criteria:
Ease of use: 3
Customization level: 5
Visual appeal: 5
Features: 5
Integrations: 5
Customer support: 4
Pricing: 4
Total: 4.4/5
The Bottom Line
Pop-up tools are definitely more than just ordinary tools for creating windows.
They are made so that you don't need a team of designers to create eye-catching and effective windows.
Besides that, many of these tools have different features such as in-depth analytics to help you understand your visitors' behaviour much better.
We hope this list helps you in deciding for the best Leadin alternatives and try to implement them on your platforms.
If you need an all-in-one solution for creating a website and you want to cover a huge part of the marketing strategy, then Poptin is a perfect choice for you. 
Try it out now, and use the full potential of these engaging windows!