Using email marketing software is a great way to streamline the process of sending messages to your customers. Litmus is a great choice and is used by various marketing teams. It can help small and large companies build emails, test them, and track their progress.
However, it might not be ideal for everyone. We've come up with these eight Litmus alternatives to help you compare each option. That way, you don't spend money on an email marketing platform that doesn't benefit you completely. Let's take a closer look at them now:
1. Mailerlite
Mailerlite is a solid email marketing tool. While it might not look pretty, it can get you going on your email marketing campaigns fast. As far as Litmus alternatives go, this is a good one, but the approval process can bog you down a bit in the beginning.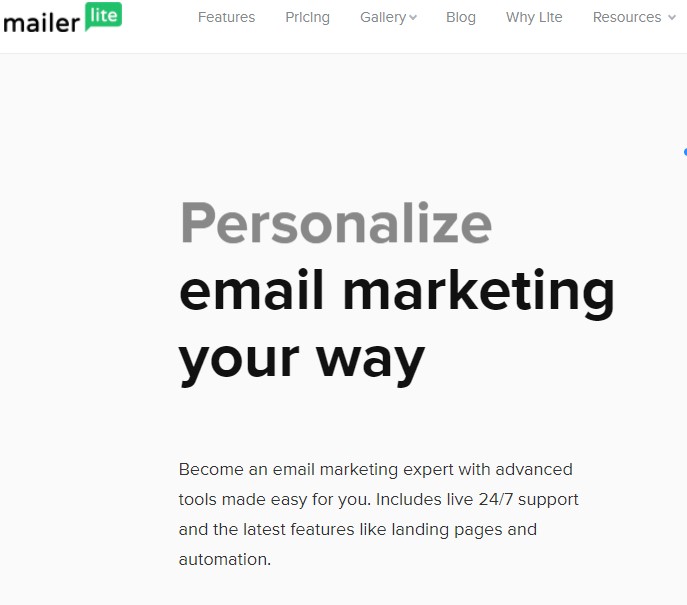 Features
It's easy to create email campaigns with rich text and drag-and-drop editor. You can also find newsletter templates and have access to e-commerce options.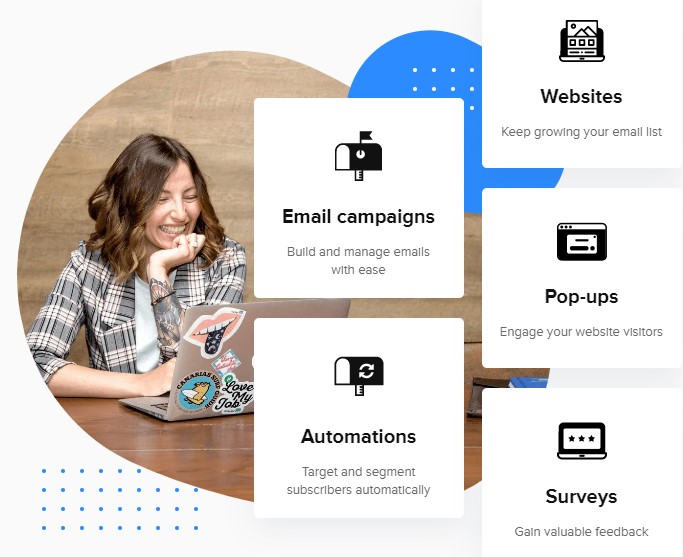 The website builder helps you grow your audience and get people to your site. From there, you can create beautiful landing pages, embedded forms, and popups. Plus, it's easy to manage your subscribers and deliver the best message through segmentation.
Pros:
Granular segmentation available

Organized navigation

Explanation of more advanced features
Cons:
Confusing process for approval

Dated user interface

Few email templates
Pricing
There is a forever-free account option with Mailerlite, and you can send 12,000 emails and have 1,000 subscribers.
The plans are quantitative from there, so you pay more based on the number of subscribers. It's $10 a month for 1,000, $15 a month for 2,500, $30 a month for 5,000, and $50 a month for 10,000 subscribers (all with unlimited sending).
Who Is This For?
Mailerlite uses a guided approach and gives easy-to-understand explanations. Therefore, it focuses more on beginner email marketing needs. It still offers advanced features, making it suitable for big companies.
Good read: 5 Best Mailerlite Alternatives That Will Surprise Every Marketer
2. MailChimp
Mailchimp works well for novices and experienced marketers. It features a blend of amazing features and an organized interface, so you're up and running fast.
Features
Most email marketing tools focus solely on sending and creating messages. However, Mailchimp helps you get your brand online with custom domains and websites.
You can also create better emails with the design tools and templates available. There's even a creative assistant powered by AI to generate custom designs in mere seconds.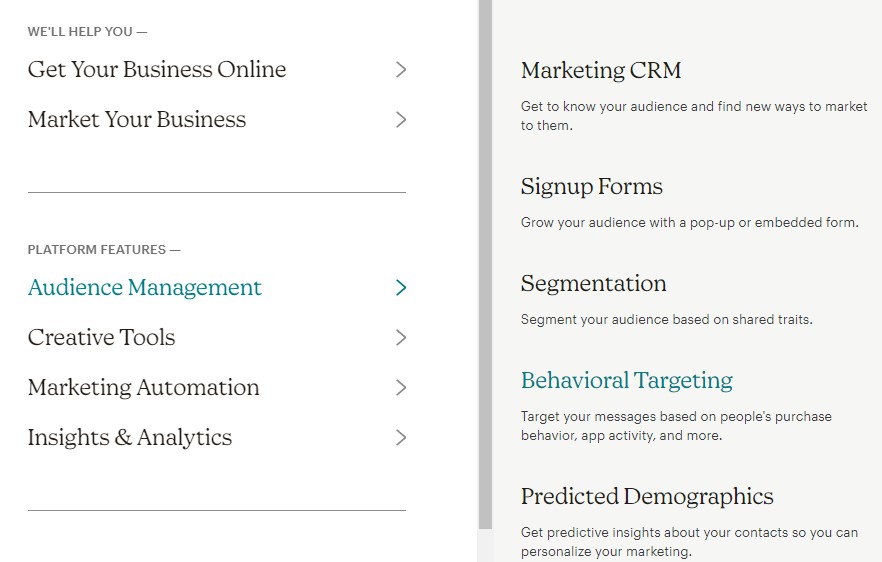 Automation is also easier. Add that personal touch without so much effort. This helps you reach customers at the right moment.
Pros:
In-app tips included

Advanced analytics and reporting

Email responder templates
Cons:
More expensive than other Litmus alternatives

Navigational issues possible

Little support at low tiers
Pricing
With Mailchimp, you get a forever-free plan with one audience and 2,000 contacts. You've got access to the website builder, creative assistant, marketing CRM, and various landing pages and forms.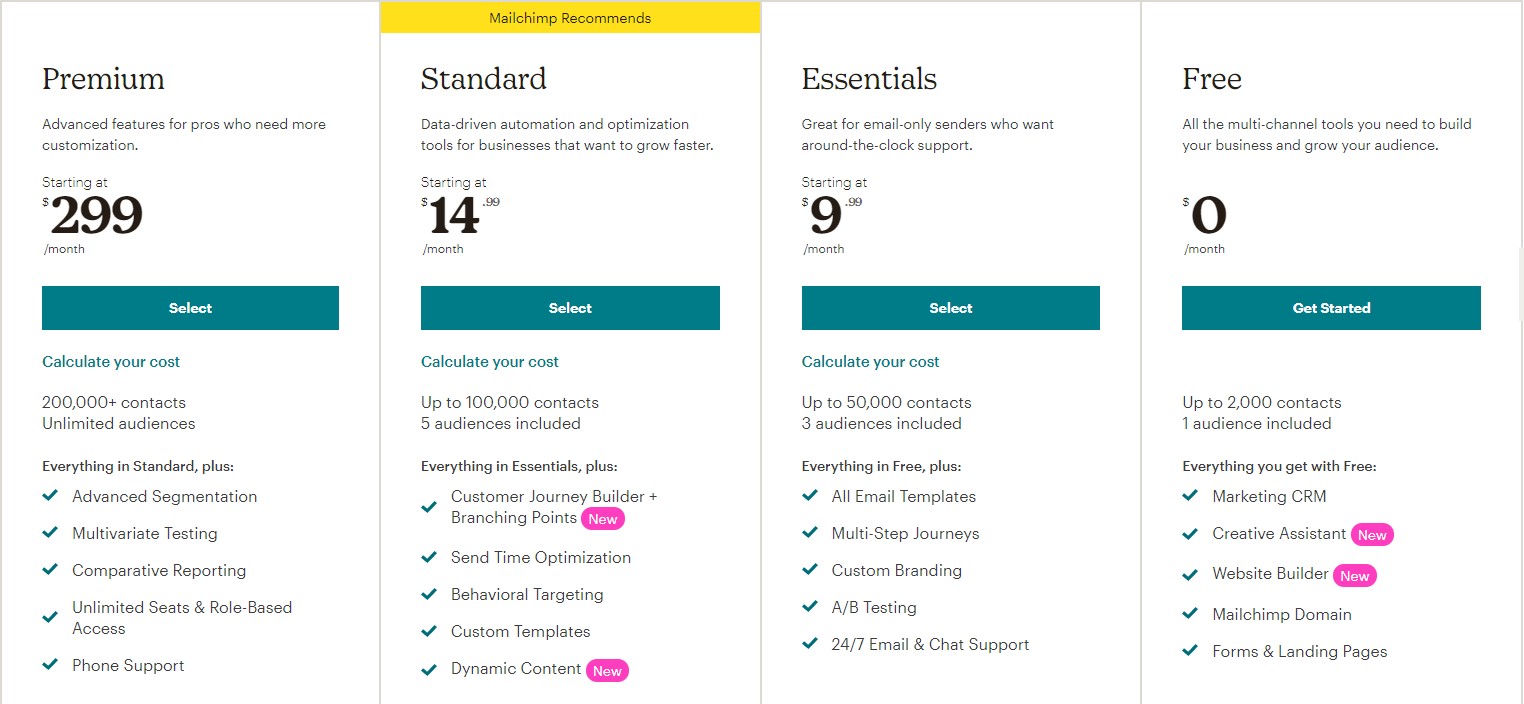 Essentials is next at $9.99, and you get three audiences and 50,000 contacts. The free features are included, but there's also A/B testing, custom branding, tons of email templates, and multi-step journeys.
Standard costs just $14.99 a month for five audiences and 100,000 contacts. All of the Essentials/Free features are included, but you also get custom templates, dynamic content, send-time optimization, and branching points.
Lastly, there is Premium at $299 a month for unlimited audiences and 200,000 contacts. Every feature is available, such as multivariate testing, advanced segmentation, and comparative reporting.
Who Is This For?
Mailchimp is perfect for all types of marketers, and you don't need email marketing experience to use it.
Good read: Top 5 Mailchimp Alternatives: Get Your Email Marketing to the Next Level
3. Sendblaster
Many of the other Litmus alternatives are cloud-based, but Sendblaster is different. You download the software to your computer and can create emails as necessary without being online. It still has modern features and works well for those who prefer proprietary software.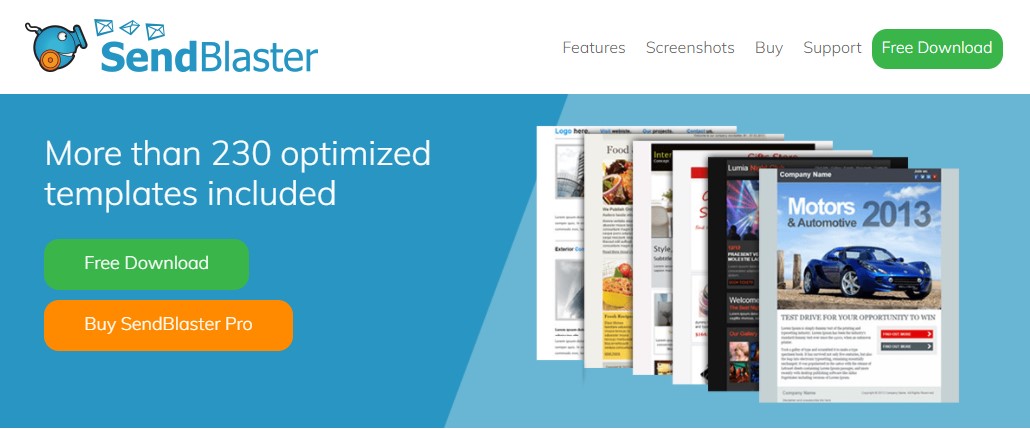 Features
With Sendblaster, you can design your own HTML source codes if you're able. There are tons of templates and a layout editor to help, so you don't need coding knowledge.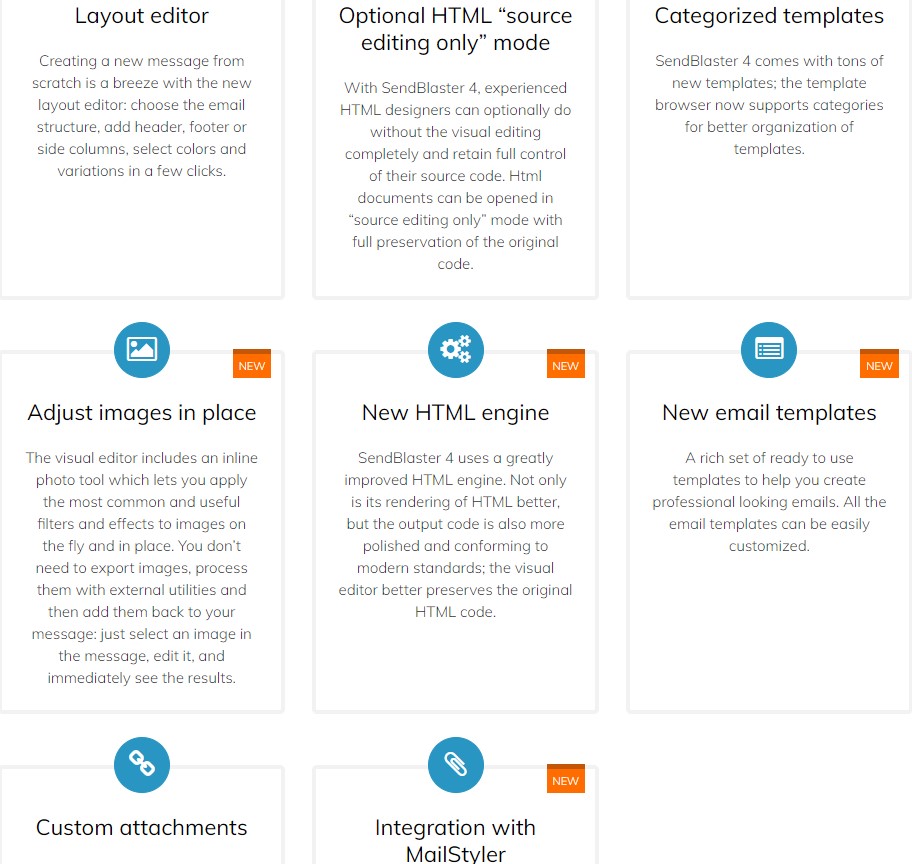 You're allowed to adjust images (found from the stock library) in place, so you know just how it's going to look. It's even possible to customize the attachments based on the recipient. Therefore, each person gets exactly what they need.
Pros:
Flexible and basic

Doesn't require a lot of programming/coding knowledge

Some integrations offered
Cons:
Must buy a license for each computer/user

Slows down the computer processes
Pricing
Sendblaster pricing works differently. When you buy and download the software, you pay $129. However, you can pay for multiple licenses, getting a small discount. Prices go from $206 to $271 to $361 and so on.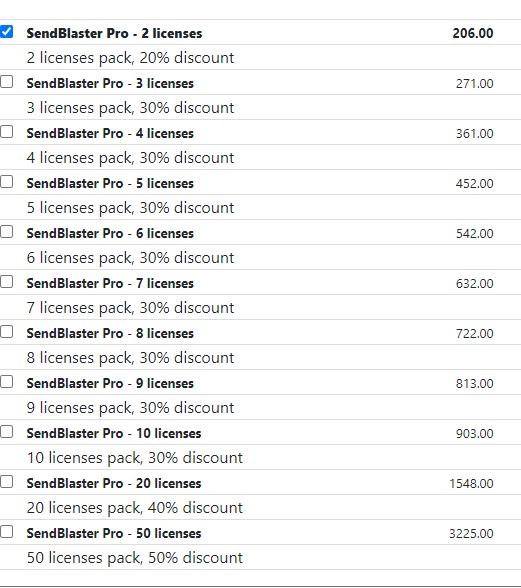 Who Is This For?
Primarily, Sendblaster is for anyone who works from a desktop. This includes SMBs and large corporations. However, it might not be suitable for creatives and digital marketers who work on the go.
4. Emma
Emma is a cloud-based platform for email marketing and can help create and design email campaigns. You can use it on various devices.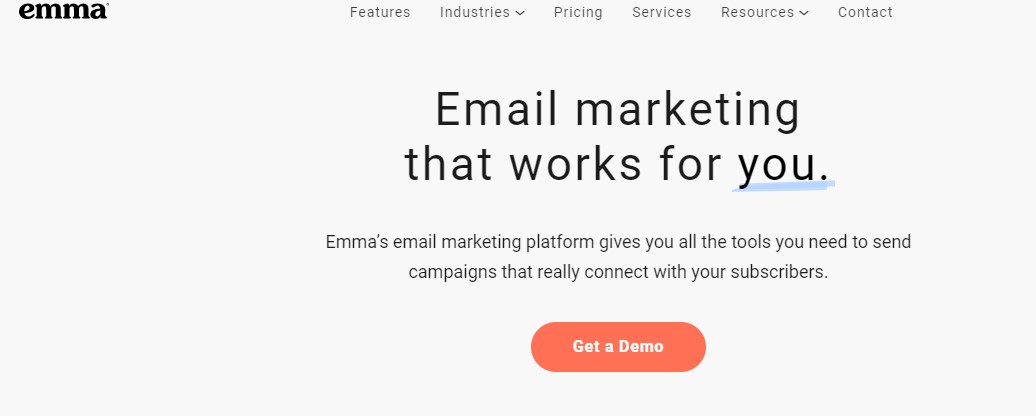 Features
Marketing teams are going to like the many features from Emma. You can design emails, segment the audience based on different factors, and more.

The system ensures that you can track performance metrics for entire campaigns or specific emails. This gives you a better insight into what works.
Pros:
Easy to use

Variety of templates

Great customer service
Cons:
Must sign contract for one year regardless of plan

Few integrations

Costs more than other Litmus alternatives
Pricing
With Emma, there are three pricing plans. Pro is $89 a month for 10,000 contacts. You can have one user, get segmentation tools, various integrations, and more.
Plus is next at $159 a month for 10,000 contacts. There are unlimited workflows and 10 users. Also, you can get a landing page builder, automation, and inbox previews.
Lastly, there is Emma HQ at $279 a month for 10,000 contacts. You can have unlimited workflows and users, as well as an activity dashboard and private branding.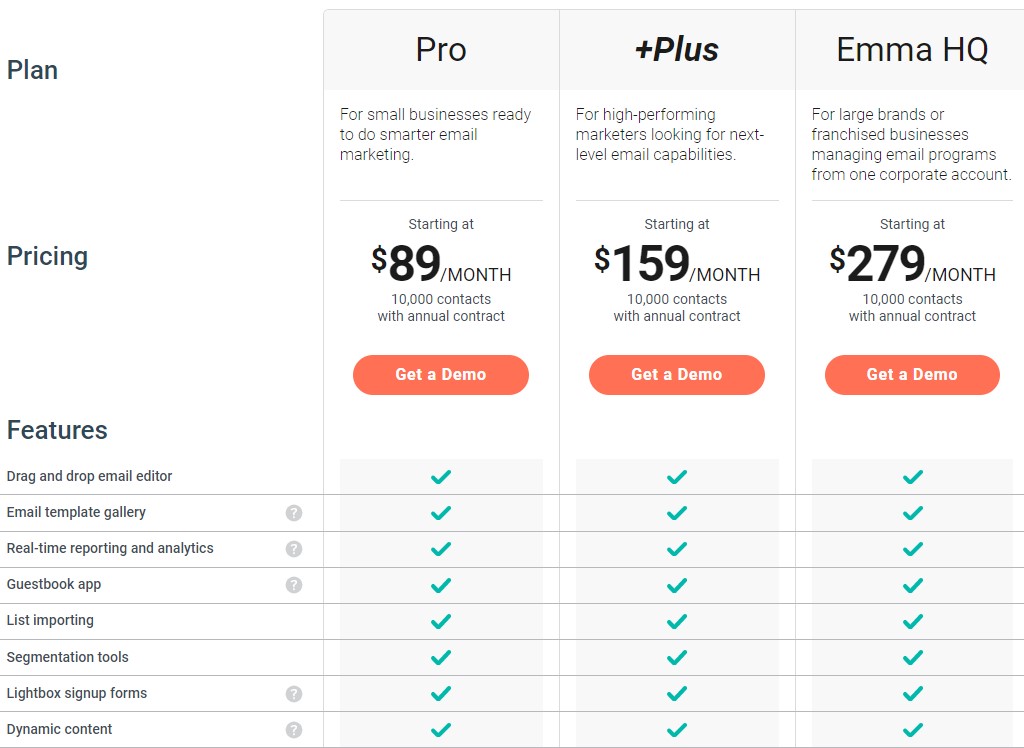 Who Is This For?
Though Emma's pricing is based on contact size and designed to scale with you, we don't feel it does. The features-to-cost ratio isn't all that great, so it's more suited for SMBs.
Good read: 5 Best Emma Alternatives To Save Money and Time
5. Intercom
Intercom focuses on being a marketing, sales, and support solution. It uses a bot-based algorithm to help target emails, push messages, and help sales teams.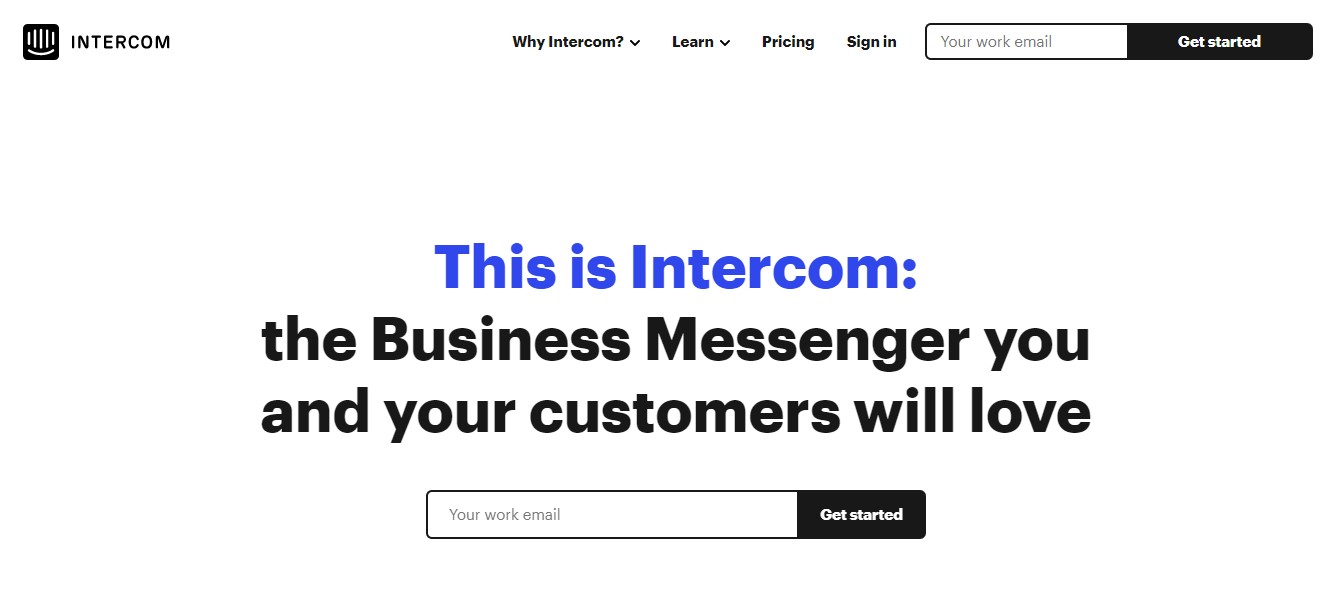 Features
As one of the Litmus alternatives, Intercom works differently. It offers conversational support through live chat so that you can help your customers better. Plus, it is easy to activate new customers and re-engage with current ones. 
You can set up targeted messages and email marketing campaigns, but you can also use virtual product tours. It's easier to convert website visitors to paying customers. You get real-time chat, bots, and can send personalized messages.
Pros:
Visually-appealing interface

Easy to set up

Have email and live chat in one platform
Cons:
Limited chat flow capabilities

Better integrations needed

Reporting could be better
Pricing
Whether you're chatting and messaging or want automation, there's a plan for you from Intercom. 
In Basic chatting/messaging, you have the Start plan for $59 a month. You get one seat, live chat, a team inbox, and Slack integrations.
With Grow, you get five seats, outbound and inbound email, and much more. This works well for targeted emails and chat.
Accelerate offers reporting, bots, and automated workflows. It costs $499 a month, but it requires an annual contract. You get everything from Grow plus custom bots, multiple inboxes, and much more.
Scale is the last option at $999, also with an annual plan. It comes with everything from Accelerate, and you get SLA rules and more.
Who Is This For?
Primarily, Intercom is designed for sales teams, but it can work for any industry where sales are prevalent. 
6. AWeber
AWeber is a very well-known email marketing tool. It's affordable, easy-to-use, and you can get going fast. However, it may not have all the features you need or want, especially when compared to the other Litmus alternatives on this list.
Features
With AWeber, you have access to a smart designer. This email template system uses AI to automatically create great emails in just seconds.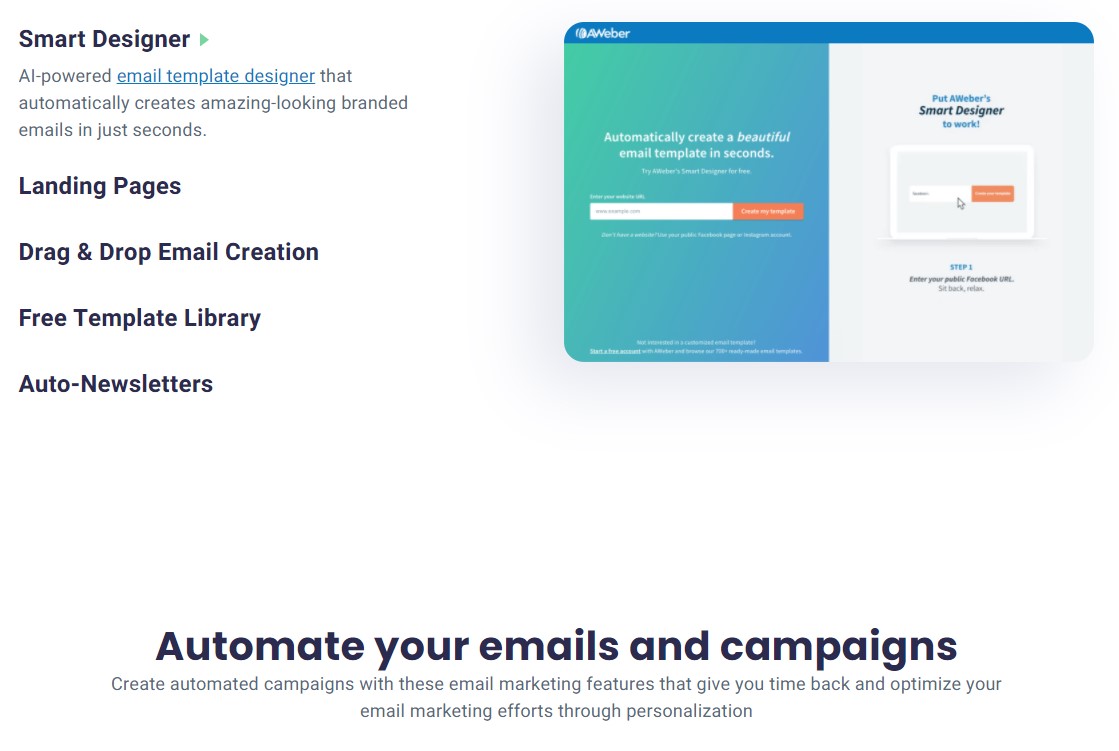 You also have access to landing pages, free templates, and can automate newsletter sending. If that weren't enough, automations can be created based on flows or triggers. That means you're sending the message at the right time and to the right audience.
Pros:
Advanced analytics

Automation builders

Contact management available
Cons:
Only basic builders/templates

Easier navigation needed

Can't preview emails
Pricing
The forever-free plan gives you everything you need to create your email campaign. Plus, you can have 500 subscribers and can send 3,000 emails each month. 
At the Pro level, it's $19 a month for 500 subscribers, and unlimited email sends. Plus, the AWeber branding is removed, you get behavioral automation, and email split testing, among others.
Who Is This For?
We think that AWeber is suitable for businesses of any size. If you don't want to take a lot of time to create campaigns or have a large budget, it's perfect for you.
Good read: 6 Best AWeber Alternatives You Can Trust
7. Drip
Drip is a top email marketing platform, which is why it made the list of Litmus alternatives. It features an intuitive design and doesn't require coding skills, so anyone can use it effortlessly.
Features
With Drip, you can focus on customer data and keep it all in one location. This makes it easier to send messages through email and SMS without having to go back and forth between this and another CRM.

The goal here is to grow your list, attracting more customers. This means you have access to lead ads and forms. For email marketing, you can optimize through A/B testing and segmentation features.
Pros:
Suitable for e-commerce

Robust CRM and reporting

Over 90 integrations
Cons:
Can have bugs

Little support available

"Clunky" design
Pricing
With Drip, the pricing plan is simple. You pay $19 for 500 contacts and get the core features. There's a trial period where you can only send 2,000 emails. When that ends, sending is unlimited.
It's also possible to add SMS for $15 for 1,000 messages. This means you can use Drip as a multi-channel marketing platform.
Who Is This For?
Since Drip focuses on scaling based on how many subscribers you have, it's cost-effective and ideal for startups and SMBs. It puts the focus on e-commerce, so it may not be suitable for content marketers and creatives.
Good read: Top 5 Drip Alternatives (Free and Paid Options)
8. ConvertKit
ConvertKit is a top email marketing solution, and it offers great segmentation and form-building options. We do feel that it's a bit basic for the editor, but it could meet your needs effortlessly.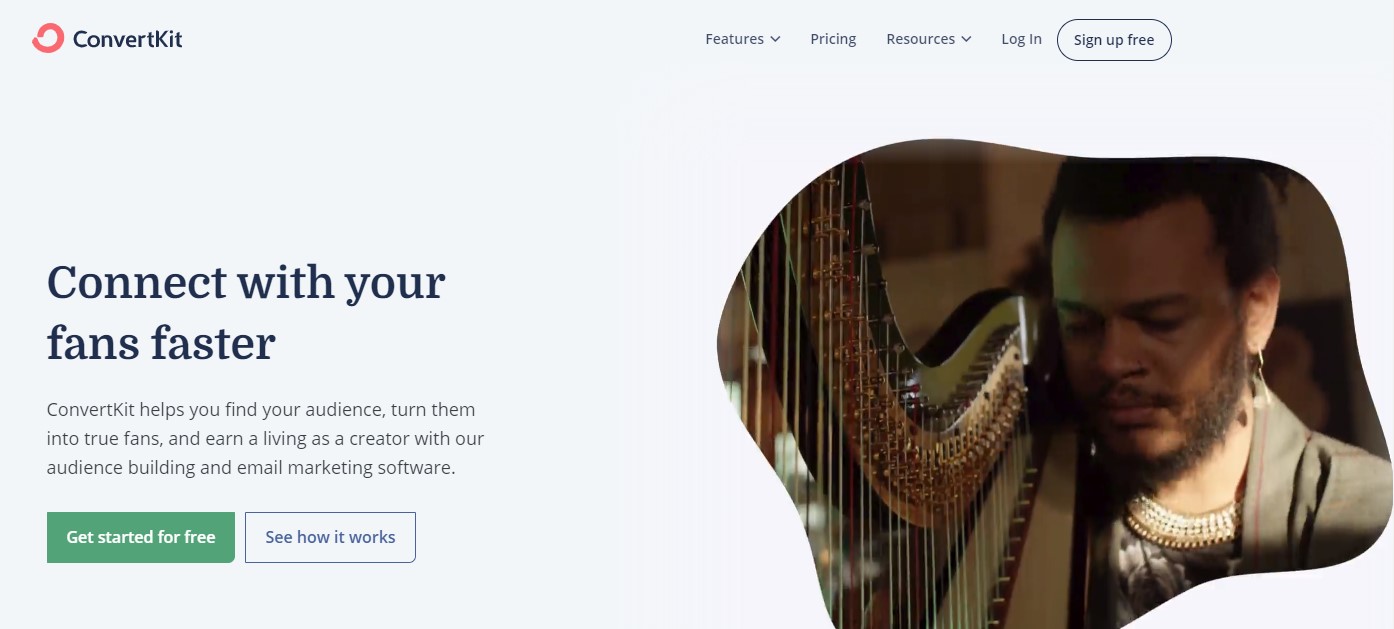 Features
With ConvertKit, you can spend less time creating emails and more on getting new subscribers. Grow your audience by sharing ideas through a customized landing page and offer free downloads right in the email.

You can also send personalized content. Though there are some email templates, it could have more. Still, you can change what you want so that it meets all of your needs.
Pros:
Live chat support

Easy-to-use automation creator

Landing page reports
Cons:
Basic editor

Few email templates
Pricing
The forever-free plan at ConvertKit allows you to have 1,000 subscribers. You can send email broadcasts and have unlimited forms and landing pages. Plus, transactional emails are available.
Creator is $29 a month for 1,000 subscribers. With it, you get the same features as the forever-free plan. However, you also get migration help and automated sequences and funnels.
Creator Pro is last at $59 a month for 1,000 subscribers. You get everything from the other two plans. However, advanced reporting, subscriber scoring, and Facebook Audiences is also available.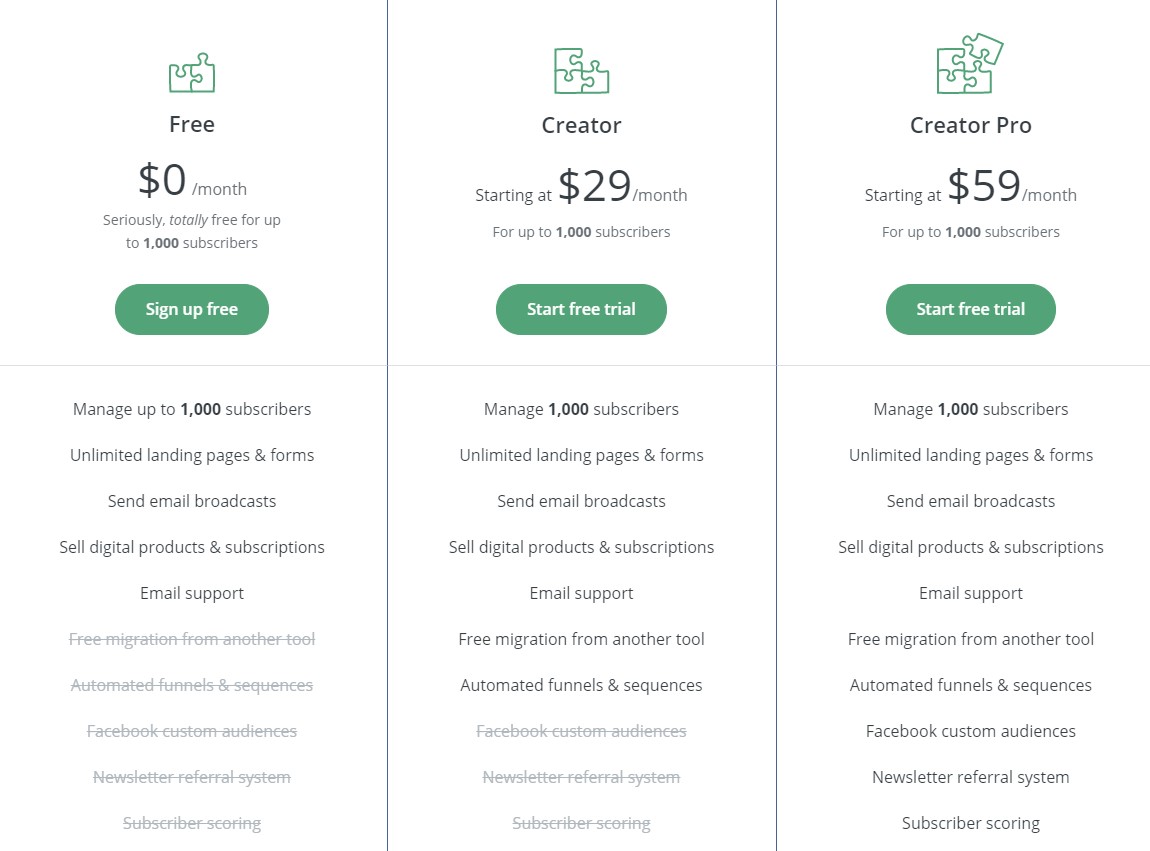 Who Is This For?
Ultimately, ConvertKit is designed for e-commerce marketers and creatives, such as bloggers.
Good read: 5 Low-Cost ConverKit Alternatives for Startups
Conclusion
Every company requires email marketing, and there are many options on the market. While you have choices, it also makes it harder to find the right one.
The Litmus alternatives talked about above are sure to give you many things to ponder. We've given you these reviews to help you make the right decision.
Consider free trials and accounts where possible and test them out to determine if they're suitable for your company and needs.