Many people like the idea of MailChimp, but they aren't satisfied with the features or pricing. Here, you are going to find five different alternatives to the MailChimp system. They all have excellent interfaces and great features, but they have good deals and can help you without making you go over budget.
Though MailChimp is the standard in the business, it's an automation and email marketing platform that may be hard to scale up as needed. Therefore, it's a good idea to check out these alternatives.
Why Is MailChimp Popular?
MailChimp has a variety of great templates, and it offers some free plans. Therefore, even small businesses can utilize the benefits of having this platform. However, it doesn't help you as you grow. Still, there are segmentation options and A/B testing that make it highly popular.
That said, it isn't for everyone. If you find that MailChimp doesn't work for your needs anymore, there is hope.
Constant Contact
Constant Contact is a good alternative for MailChimp. We call it the helpful one because the team who created it offers courses and webinars to help users learn more about it. Plus, the platform is quite easy to use.
You've got tons of options for the important things you want to do, including learning materials and email templates. Signup is easy and free to start as well.
Features
Constant Contact offers many features that are user-friendly and helpful in growing your small or medium-sized business.
You can get many list-building tools, but you also have access to images, templates, and options for social media promotions and sharing. There are also ways to track your click-through rates. With superb customer support and contact management tools, you're good to go!
Pricing
With Constant Contact, you can choose to get help with your website or email marketing. There are different price options for both.
With Email Marketing, you can choose the option for small businesses or the Plus version, which offers better automation and gives more features.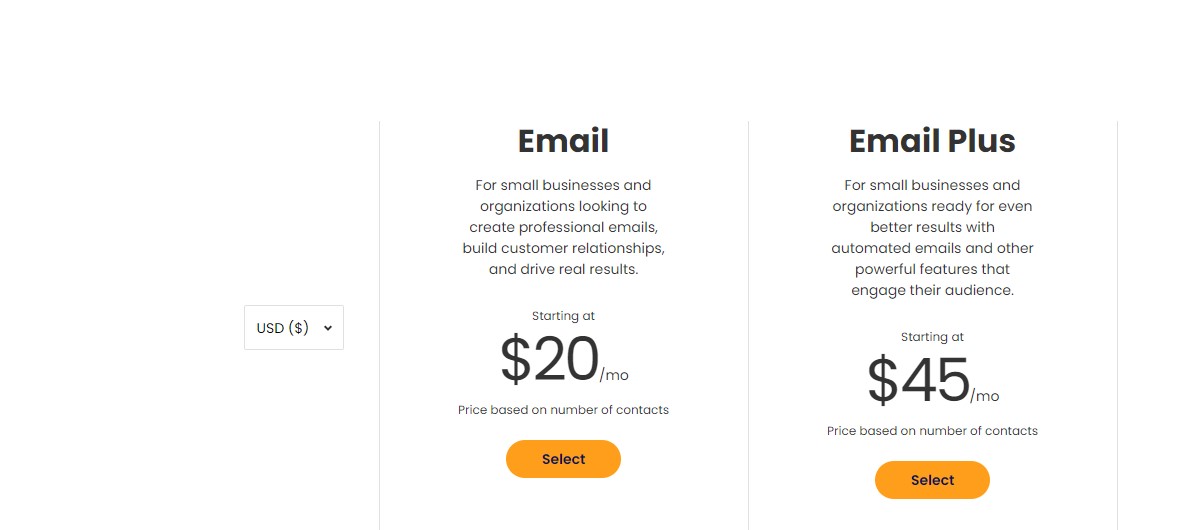 The website builder can help small businesses build their brand and sell products online. It costs $10 per month and offers many features.
Pros
Friendly customer service
Powerful and easy-to-use user interface
More than just email services (surveys, A/B testing, etc.)
Cons
Insufficient two-factor authentication (security)
Can't customize reporting features
No notifications for new subscriber signups
Who Is It For?
If you run a small company, this is the email marketing platform for you. Constant Contact gives you a 60-day free trial and has low-cost options. Plus, it can help you create a website, saving you a lot of time. Medium-sized businesses can also benefit from this immensely.
Moosend is always free, which means you can get all of the features it offers without having to pay anything.
There are never limitations on emails or the features you can use. Plus, you can utilize them the way you need it. There is unlimited customer segmentation, even as a free user.
Of course, it's easier now to master list management for your company, too. The automation builder is reliable and fast and is available at all pricing plans.
This affordable choice is also sophisticated and can provide you with what you require, even on a tight budget. You also get free newsletter templates for any occasion and can ask for help from friendly customer service reps.
Features
You can see the many features available here, so it's going to make it easy to do what you require. You get:
A powerful drag/drop editor to help with your free newsletter templates
Email marketing automation options to make repetitive tasks easier
Premade automation workflows
Landing pages with a landing page builder
Signup forms
Real-time analytics
List segmentation options to increase click-through rates
Integrations with your favorite services and apps
Pricing
Everyone can use the free plan and get a variety of features. However, some of them might not be available, such as landing pages. On the Pro plan, you get everything but custom reporting. Still, this works well for most people. Of course, there's a custom plan that gives you every feature available.
Pros
Easy-to-use interface
Great features
Professional tool to help run campaigns
Cons
Template editor could be better
More integrations could be helpful
Takes time to set everything up
Who Is It For?
This email marketing platform is suitable for start-ups and large corporations. Since you can upgrade to various plan memberships, you can continue growing your business and get exactly what you need.
ActiveCampaign
Most people looking for marketing automation should review ActiveCampaign in detail, it is a highly popular MailChimp alternative. The creators describe it as an all-in-one marketing platform, and it allows you to send emails with ease. We  think its automation features are quite good. It's easy to create a complex series of emails and add almost endless parameters.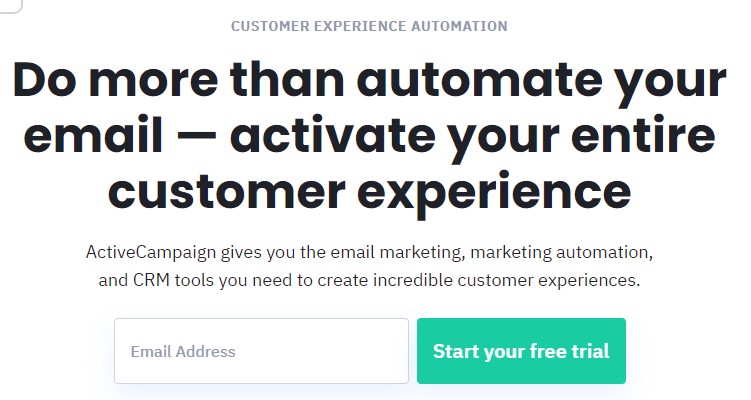 Features
Of course, upon first glance, it looks like there are endless features with ActiveCampaign, which is what you want in an email marketing platform. You can target your email audience to get the right prospects.
However, there is also the ability to tailor the information to each client with segmentation and predictive content. You can also track events and focus on how well the campaign is doing.
Close more deals with the ability to see win probabilities, split up actions, and even integrate with the Salesforce app.
You do get one-on-one training to help you use the platform. This  indicates that it's not simple to set things up. However, with a little hard work, you're well on your way to sending customized emails to the right people. When you focus on value, trust, and good service, you can easily see how ActiveCampaign is there for you.
Pricing
There is no free plan here, but you can get a free trial. There are four tiers of membership with ActiveCampaign, as well. The Lite version includes three users, the ability to send unlimited emails, and a few others.
Of course, the Plus plan builds from there, giving you options for social media, lead scores, integrations, and many others. Then, you've got the Professional version, which includes predictive content and sending, among others. The Enterprise plan works well for large companies.
The price of each plan does go up based on the number of contacts you've got.
Pros
Variety of price points to meet any budget
A clean, simple website
Great customer service
Cons
No free-forever plan
Can only get access to integrations with high-tier plans
Limited users on low-priced plans
Who Is It For?
Small businesses might find this platform to be useful with the lower-priced plans. However, almost any company – large or small – can utilize ActiveCampaign to make sending emails easier.
Mailjet
When you want a tool that's been around for a while and can give you automation, innovation, and experience, Mailjet comes to the rescue.
Many people haven't heard of it, but it allows you to trace and track mailing lists with real-time analytics. You can even see how users are responding to emails.
Plus, Mailjet is easy to use, so beginners like it. You aren't going to be wasting time setting everything up. Still, it's a process, so don't expect to be sending emails that first day.
Features
With a variety of email templates, you are going to find something you can use. Keep in mind that they are branded with the free plan.
Still, it's a great option for those who are on a budget and don't mind promoting other companies. We're not sure that this looks good to clients, but that is a choice you have to make.
There are many advanced features available. These include tracking tools, email templates, and automation. You get more knowledge and help than ever before.
That's not all, either. Compare your campaigns and tracker user behavior to ensure that you've got plenty of data. Use it later to determine if the campaign is successful or not. SMS marketing is available too, making it an all-around great choice.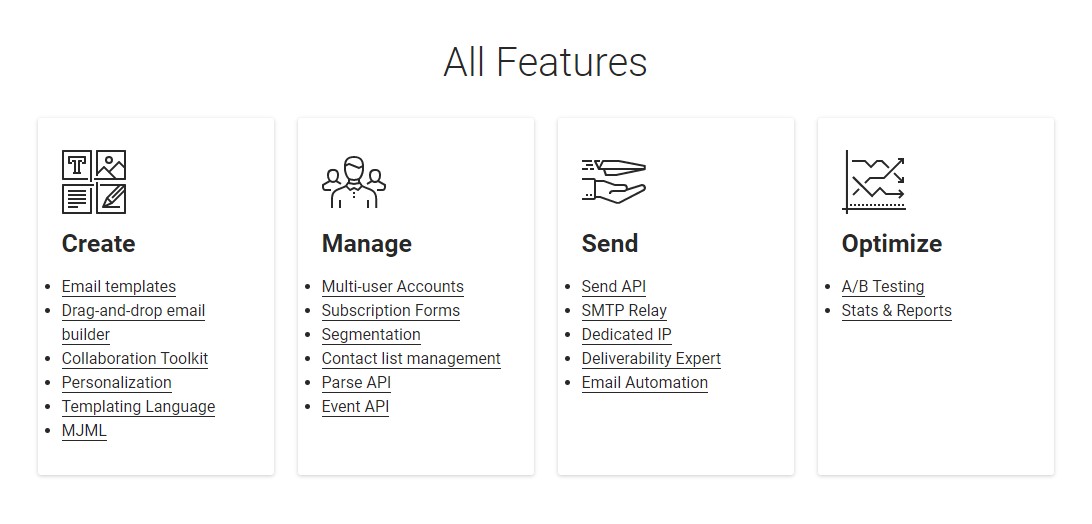 Pricing
The prices for Mailjet can seem a little confusing at first. It's important to know how many emails you're going to want to send each month. As you move to more emails, you may need to switch from Basic to Premium, and then Enterprise. Of course, there is a forever-free option, too.
The Pay as you Grow idea seems to be working for the clients. You only have to pay for the emails you send, but you can still enjoy all of the features of the plan below, with some new ones added to the mix.
Pros
Low-cost options
Easy to import lists
Free-forever plan
Cons
Branded emails on the free plan
Issues with reliability
Cannot resent email as a follow-up
Who Is It For?
This platform can be used by almost any business in the world. It's often utilized by small and medium-sized companies. Start-ups that want to have multiple email campaigns can also find it appealing. Large corporations can also meet their needs with Mailjet.
Campaign Monitor
Campaign Monitor is an excellent email campaign platform, but it is not an inexpensive one. Those who have a larger budget might want to pay more to use this service because of the personalization options, functionality, and automation.
You're going to find that you can personalize each email to make it your own. The automation flow builder is also great and can help in more ways than one. If you prefer interfaces that are well-designed and easy to navigate, this is the choice for you.
Features
When you sign up to use Campaign Monitor, you automatically have access to a visual journey designer. This allows you to set up the automation flows with full details. As you build your clientele, you get detailed customer information from each subscriber. You can also choose to deliver emails at a particular time to a specific person.
Rounding things out, you have access to analytics (reporting) and segmentation between clients. Of course, personalization is an excellent thing, too.
Pricing
You can watch a demo video to learn more about Campaign Monitor. There's also a free trial period that helps you test the system and determine if it is going to work for you.
As with a few other MailChimp alternatives, you have to figure out how many contacts you plan to have. It starts off with 500, and you can always add more as you go along.
The basic plan isn't too expensive, but you don't get much features. As you progress to Unlimited or Premier, you get more options and can do more with the platform.
Pros
Easy and simple to use
Excellent drag and drop builder
Customizable HTML emails
Cons
No CRM
Limited segmentation at times
Unable to integrate with some popular apps
Who Is It For?
Campaign Monitor works well for medium and large companies that want personalization and automation. However, it's not cheap, so you should have a larger budget.
Conclusion
MailChimp is one of the most popular email marketing services available, and it integrates with WordPress easily. Still, it might not offer a lot of room for advancement. Others may dislike the price tag that comes with it.
We have discussed five alternatives that allow your business to grow or work on a tight budget if you're just starting out. Since each one is tailored for different needs, it's hard to provide a clear winner. Many of them are free or have a free trial period; there's nothing to lose by picking one and seeing where it takes you.
It's a challenge to find the right email marketing tool for yourself. With so many services like MailChimp and its alternatives, you get more than a simple email. We recommend that you focus on analytics and reporting. This is going to help you determine what works for you when it comes to your email campaigns.
On top of that, you can compare past campaigns and get more information about potential customers. Then, targeting the emails to the right clients is much easier.