When I first started, email was my preferred marketing tool of choice. It was easy, you could find a ton of email lists, and it isn't that hard to write a polished, professional email. Still, there were many things to do and ponder, so I needed an email manager to help.
Today, it seems that everyone is now looking for the right marketing platform, and they all want it to be automated, just like I did. The two top options are ActiveCampaign and Mailchimp. Most people go back and forth, trying to find out which is better, which one is going to make them happier, and what features each one includes.
Often, it has you sounding like you're back in high school because you can't make a decision and don't want to make the wrong one. For most business owners, email marketing is at the core of what they do. You need the right marketing platform and can't seem to make a choice.
This is an emotional topic for me, as I've had relationships with both platforms. Of course, Mailchimp is easy and fun, while ActiveCampaign is stable and more mature. Both options have drawbacks and benefits, so it's imperative to choose wisely. Switching your platform can ruin a business, and I should know. It almost happened to me, which is why I'm here. I want to prevent others from picking the wrong platform.
Therefore, I'm going to cover all that you must know about Mailchimp vs. ActiveCampaign, giving you the details about both products and my relationships with them. I will also give you my professional opinion in the end.
Why You Must Make the Right Choice from the Beginning
When I first used Mailchimp, I found it to be exciting, stress-free, and fun. However, at one point, the stress levels soared, and my entire business was jeopardized.
Keep in mind that there isn't anything wrong with this platform. It's free to a certain extent and inexpensive if you get to the paid portions. Plus, there are many templates available, and it's quick to learn. Beginners are sure to enjoy all of these things, and that is where I found myself, too.
I was new to the industry, so I was, of course, going to pick the easiest thing to learn. Busy running a startup meant I didn't have tons of time to learn a new system.
Still, I wish I had known about ActiveCampaign because, when I decided to aspire to greater heights, I felt held back. You couldn't use Mailchimp for segmentation, automated business scaling, or cross-channel messaging. Those who want to grow may find that ActiveCampaign is a better choice. Otherwise, you can't scale, and you might end up having to switch everything over later, which is a tiresome and painful process.
Mailchimp Might Still Work
Even though it has flaws, Mailchimp does have some advantages that Activecampaign doesn't. It just depends on your business needs and you. That is why I'm here to cover all aspects of both services. This is your livelihood, so you're going to notice the differences for yourself and determine which ones you can live with and without.
You're going to have peace of mind because you've picked the best email marketing software to meet your business needs.
To make it easier, I'm going to compare them both side-by-side. I'll talk about a particular point or feature and then discuss what each service can do for that.
Ease of Use
For the sake of this article, I am going to assume that you are new to the world of email marketing. I'm going to start by talking about the user-friendliness of both services because that is going to matter in your decision on which one to use. If it isn't quick and simple with a few learning tutorials, you're going to get frustrated.
I didn't have any idea of what I was doing when I first started, which is one of the reasons I chose Mailchimp.
In a sense, it features a drag-and-drop feature, which is a modern concept and one I liked immediately. Even now, it's still easy to use.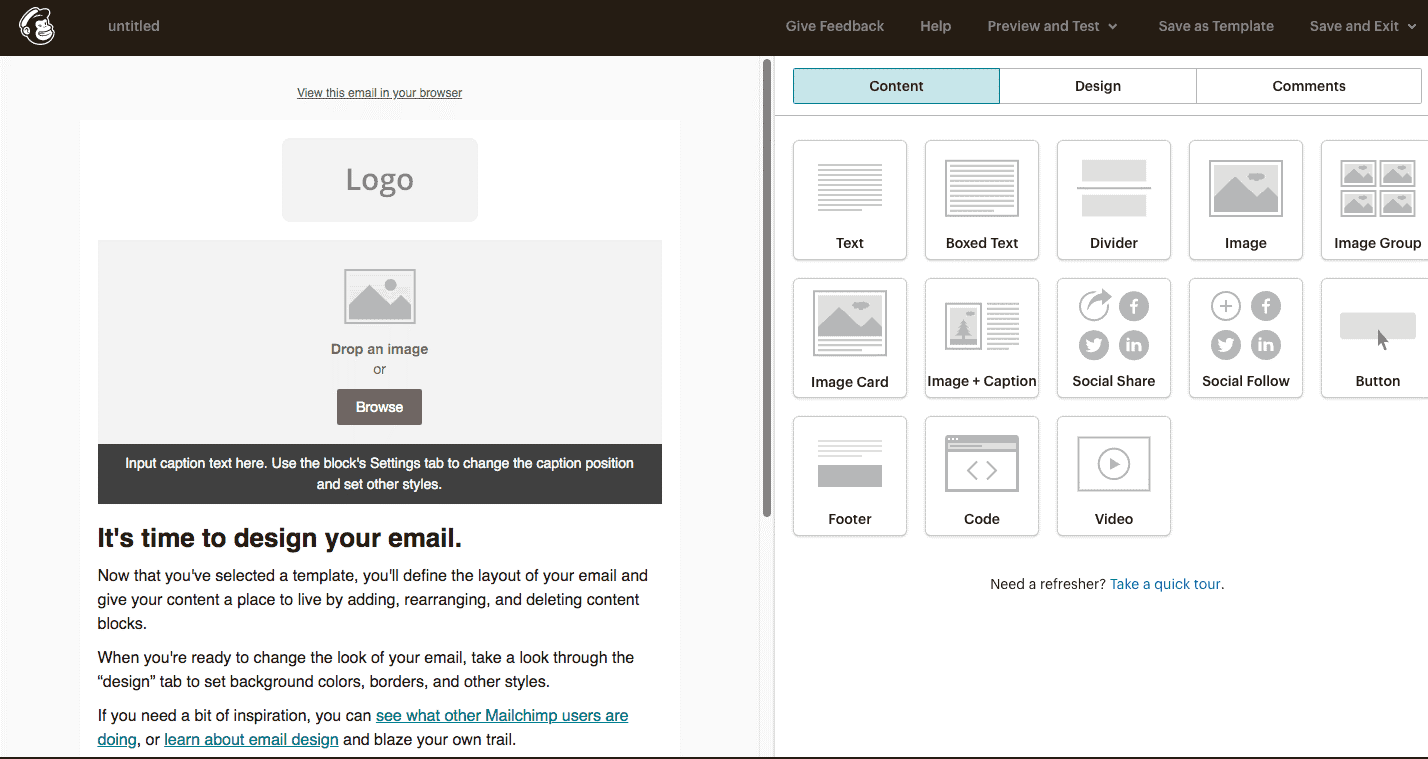 Just drag your logo into the box (or browse if you feel more comfortable), and now you are branded and ready to start composing emails. To the right, you have a variety of designs and types of content that you can include.
Plus, you can watch a tour of how to use the system anytime you need a refresher. You're soon going to be well on your way to creating beautiful, professional-looking emails fast.
The system is:
Comprehensive
Intuitive
Powerful
Clean
The one issue I have with the user experience is that 'Create a Campaign' has too many things inside of it that you can create. These include ads, landing pages, and forms. It's an extra step you have to do, but it isn't a huge deal.
Now, let's look at ActiveCampaign's ease of use.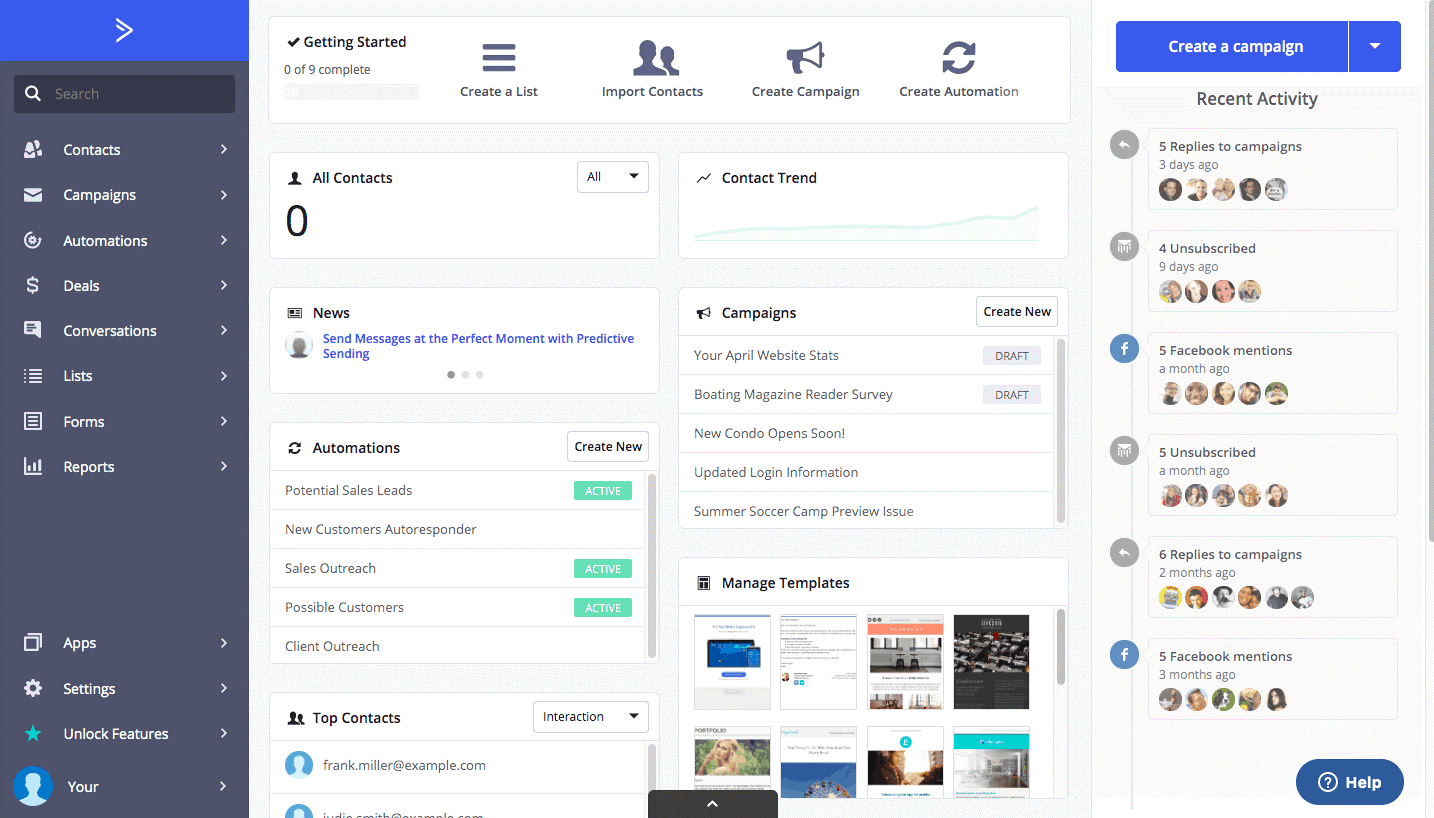 Immediately, you can see that there are plenty of advantages to this service, as well as a few drawbacks.
First of all, there is so much going on when you get to the landing page. Once you navigate to the email editor, you're going to find that it's quite easy to use and looks very nice. It's just sometimes hard to get there when you're just starting out.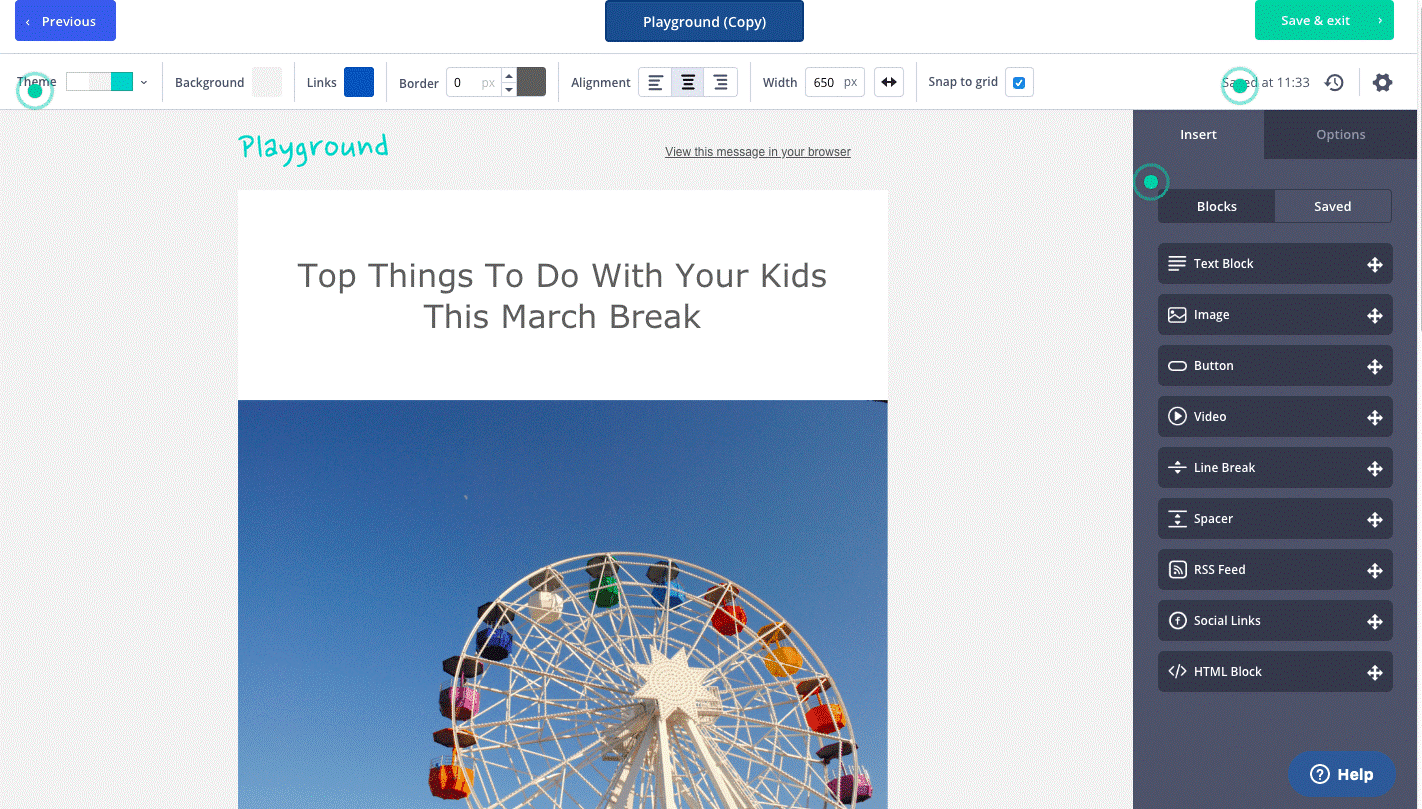 From the above screenshot, you can see that there are more steps involved to create an email. While automation is included, it can be hard to set up and is considered advanced.
If your goal is to crank out emails fast and be done, Mailchimp is the winner for user-friendliness and ease of use.
Templates and Designs
Do you actually create emails from scratch? In most cases, people use templates designed by professionals. It's much easier and faster to do this. Plus, you're going to find seemingly endless quality design templates for a variety of email styles. These can include social media posts, landing pages, and more. Even if you have no idea what you're doing, it's still possible to get a design that is going to impress everyone.
You're not going to get subscribers, sales, or build trust with an email that doesn't look professional. This is key to remember.
Mailchimp claims that it has more than 100 designs and templates available. Regardless of what you're sending, there is a design for it.
Some of my personal favorites include:
Stellar
Tell a Story
Avalon
The beauty of this editor is that you aren't stuck just using these templates. Upload your designs, as well.
Let's switch gears now and talk about ActiveCampaign's options for templates. You certainly aren't limited and can find professional-looking possibilities, just like with Mailchimp. However, you get fewer of them, as there are only about 30 choices.
Still, you have the option of creating your own. However, it is more time-consuming and might defeat the whole purpose of using a template. If you plan to use that design frequently, it can be time well spent.
Since more is often better, as in the case of template options, Mailchimp wins out again.
You can see that Mailchimp is two for two, and you might stop now and think it's the best one for you. However, we haven't gotten into the heart of either service yet and are just talking about looks, essentially.
Pricing
We've already discussed that Mailchimp has a free version, so you may be ready to throw in the towel and say it's best hands down. Yes, it doesn't cost anything, but the free version is quite limited.
Keep in mind that the free version isn't that bad, especially for the price tag ($0). You can get up to 2,000 contacts, basic templates, and some landing pages. However, every model features the Mailchimp logo at the bottom, which is a pet peeve of mine.
It's enough to get you up and running, but you shouldn't expect too much from it. Those who want real features to help them grow are going to have to pay to get:
Custom workflows
Retargeting ads
Advanced CRM features
Now, let's turn our attention to ActiveCampaign. I'm going to say right now that it is pricey. The thing is, you need to focus on value for money and see it as an investment.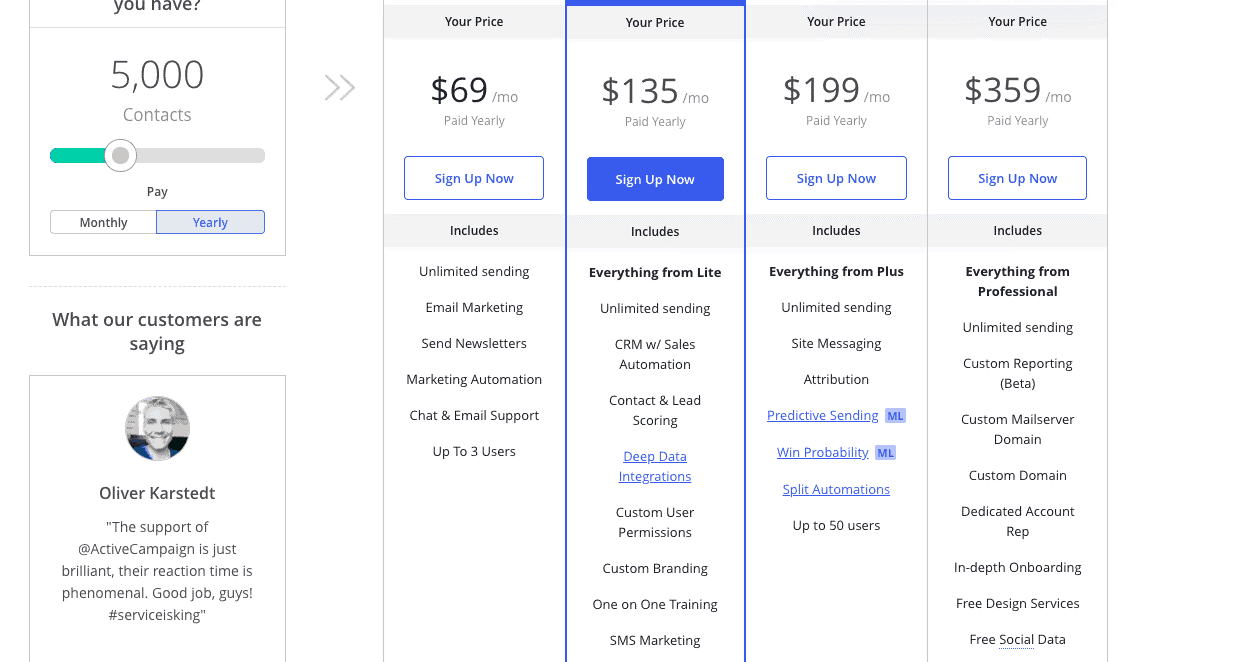 You can see that you're going to be paying $69 right from the start for 5,000 contacts. While you might not be there now, you're going to grow fast and probably need to upgrade quickly.
Still, the Lite Plan from ActiveCampaign is more affordable than Mailchimp once you reach 50,000 subscribers.
Therefore, the winner here is not so cut and dry. Yes, Mailchimp has a free option and competitive prices, but it's still more limited than ActiveCampaign. I still think that ActiveCampaign wins because the price isn't the only consideration or factor.
List Management
When it comes to segmentation, lists are essential. This includes everyone who subscribes to you. Then, you can go further and give them tags or customize the fields to choose a perfect target audience.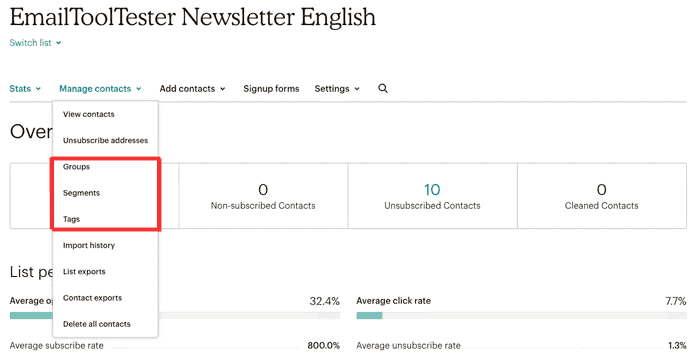 With Mailchimp, you are charged for each subscriber. This means that if you have Linda Jones on two different lists, she is counted as two people. I think that's a little shady and not the way a business should run itself.
The lists can't co-mingle, and it just makes for a lot of aggravation on your end.
On the other hand, ActiveCampaign has a clean-cut list management feature.

There is less rigidity here, so a subscriber is just that, regardless of where they are on the lists. Plus, you can segment your lists based on custom fields or tags. These can include locations, interests, and much more.
With better capabilities and flexibility, ActiveCampaign is definitely the winner here. You've got more freedom and customization for targeting needs.
Automation
Almost everyone, whether they're new or not, wants to automate processes that they do over and over. Of course, we already mentioned that Mailchimp wasn't the best at automation, but let's delve deeper.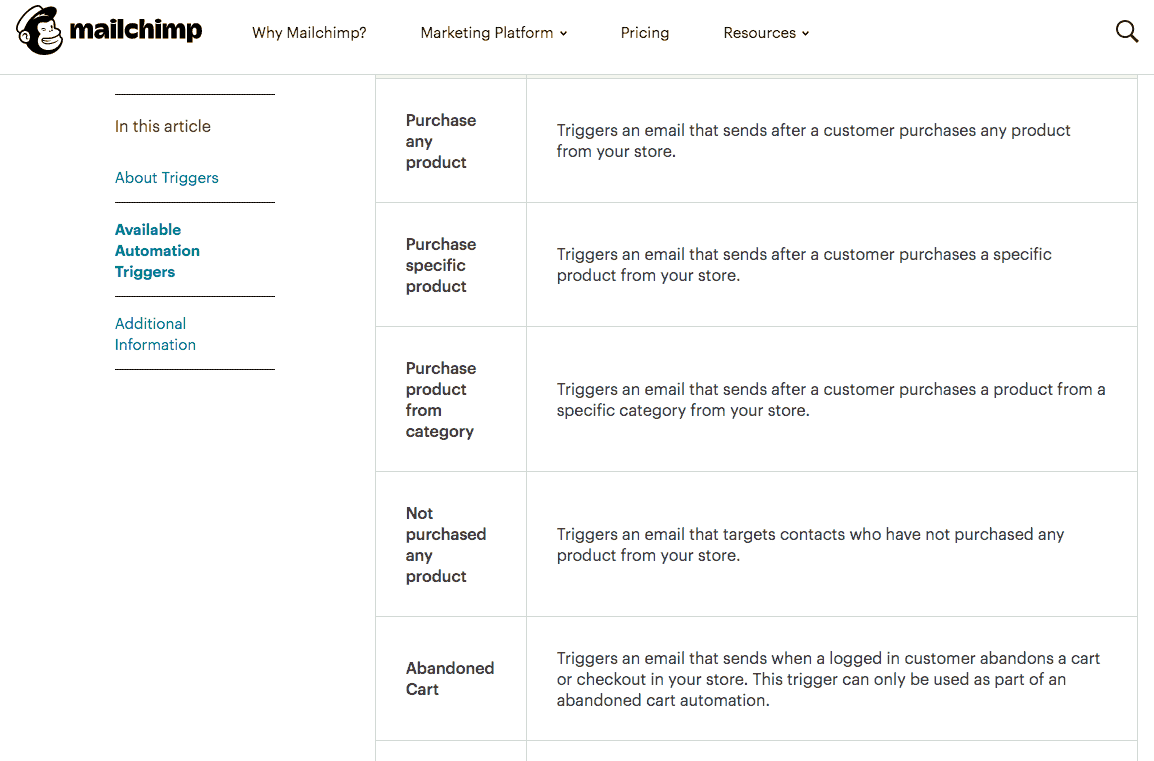 Here you can see that there are some automation triggers. It's quite solid and they can help you grow faster without putting in more effort.
Some of my personal favorites include:
Abandoned cart triggers
Leaves group triggers
Opened email triggers
Clicked campaign
The trigger is a behavior, which indicates that an email should be sent to the subscriber. If someone doesn't open the email you send, Mailchimp can be configured to send follow-up emails.
Here is the issue: the editor is inflexible and limited. You can't branch off onto multiple paths with your automation. Automation should be extremely flexible.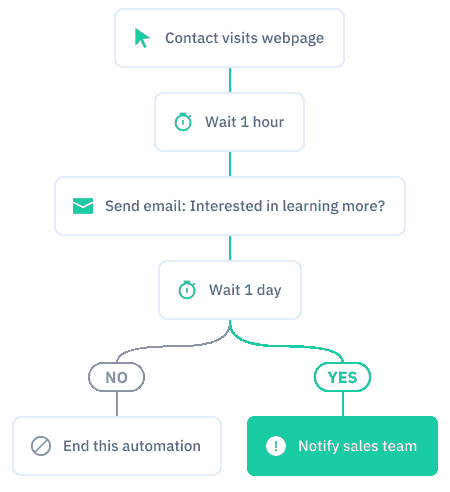 Above, you can see ActiveCampaign's automation option. These are next-level features and what you should expect from an enterprise marketing software.
It's possible to combine unlimited conditions, actions, and triggers to help you create the right workflow and generate leads. Integration is also possible with things like Shopify. The CRM and the automation go hand-in-hand, as well. This allows you to automate your sales processes, too.
Therefore, ActiveCampaign is the winner for this feature.
Opt-in Forms
Forms can help you get more information from the subscribers, and they are often included in email software.
With ActiveCampaign, the form editor is easy to use.
It's visual, intuitive, and simple, so you can add new fields and more. Plus, these forms are already mobile-responsive, which means they are easy to fill out on a smartphone or tablet. You can even embed them and directly add them to WordPress and Facebook.
Mailchimp doesn't have the best functionality because you have to use a separate editor for embedding, and not all of the forms offer mobile responsiveness.
ActiveCampaign wins again!
Bottom Line
Which email marketing software is best for your business? When it comes down to Mailchimp and ActiveCampaign, I have to say that ActiveCampaign is the clear winner here. Those who are serious about expanding and growing are going to find it the clear choice.
Still, Mailchimp is quite appealing to people for many reasons. If you are never going to need automation and advanced features, it could work. The issue is that you're going to later in your career, regardless of what you think now.
Don't put a cap on what can be achieved by your company or put yourself in a position where you have to move to a new service. Go with ActiveCampaign now and prepare for the long-term.