Email marketing has become one of the best ways to get new customers to check out your product or service in the digital era. Thanks to the internet, sending relevant information to your prospective clients is much easier than it was before.
Moreover, the inclusion of email marketing software has changed how we send information to people. Years ago, people would have to make a list manually and send emails, which was a bit inconvenient for some.
Today, marketing by email has become much more fluent thanks to all the features these powerful tools offer. Mailforge has always been one of the most efficient email marketing tools out there to create emails with engaging CTAs.
Still, keep in mind there are other excellent alternatives to the Mailforge software if it doesn't fully convince you yet. In this article, we're going to cover some of the best Mailforge alternatives for email marketers.
What is Mailforge?
Mailforge is an email marketing platform that allows people to create, edit, and send emails to anyone they want within a few minutes. The beauty of Mailforge relies on its easy-to-use platform, making it accessible for most people.
A great thing about Mailforge is that it comes with many features you can use to your advantage. These features include:
Drag and Drop Editors
Pop-Up Creator
Embed Forms
Landing Pages
Newsletters
Simple Contact Management
Segmentation
A/B Split testing
As mentioned by many reviewers online, Mailforge is best for small-to-medium companies that don't need such a complex platform to start personalizing their emails. While bigger companies may also enjoy the benefits that Mailforge has to offer, these may not be enough to cover all of the things the company may need.
Mailforge offers both a free version and a free trial for those who want to test some of the most powerful features before deciding to invest in it. Overall, this software starts at $36.00 per user, per month, which is a relatively accessible price considering all the features it offers people.
Mailforge Pros and Cons
Pros
It's easy to use
It works great for creating and sending mobile-friendly newsletters
You don't need any expertise in email marketing platforms to start using this service
Cons
It may not offer enough features for big companies
The 'Campaign Report' feature doesn't give as many details in its reports as we would have wanted to
Mailforge Alternatives
Now that you know all of the features Mailforge offers for those companies who want to optimize their content for email providers, we're going to take a look at some of this software's alternatives.
While these are alternatives to Mailforge, keep in mind that doesn't necessarily mean that they're much better. In the end, you must choose the service that fits your needs and budget the best.
Brevo (Formerly Sendinblue)
Overall, Brevo (Sendinblue) is an email marketing platform that claims to be capable of handling all your email marketing needs. Some users also call it an 'all-in-one' marketing service.
One of the things we like about Brevo (Sendinblue) is how simple the user interface is. It doesn't mean that it's lacking features, but it allows you to easily get a grasp of how it works. You have the top menu, which allows you to switch from campaigns to automation, your contacts, or your transactional emails.
On the other hand, you have a sidebar, which you can use to switch to your templates, emails, Facebook ADS, SMS, and many more. If you want to create a new campaign, there's a large green button you can click on to get the process started.
Features
Brevo works with four primary modules, which are the following:
Email marketing broadcasts and campaigns
Email marketing automation
SMS and transactional emails
Social media marketing
In the first module, you can create an email blast and send it to your contacts list. Brevo provides a rather simple visual interface where you can build the email's structure. If you have the knowledge, you can also import your current email template through the raw HTML format.
Those who don't want to spend that much time building their email structure may also go into Brevo's library and choose from one of many templates.
As for the 'email marketing automation module, you can set particular email messages or 'triggers' for your potential customer if these triggers go off. Some of these triggers involve sending an email if the customer is abandoning their shipping car or it's someone's birthday.
SMS and transactional emails allow you to build these types of emails without any effort, and social media marketing allows you to set up Facebook ADS under a user-friendly platform.
Interestingly enough, Brevo charges per email sent, not by the number of contacts. This could be an advantage to some companies.
Brevo (Sendinblue) Pros and Cons
Pros
It's user-friendly
It's suitable for any company
It offers competitive pricing
Cons
The email builder could use some work
Setting up the service for the first time may be exhausting for some
Who Is Brevo (Sendinblue) for?
Brevo is best for those who want everything they need on a single platform. Overall, this service works for companies of all sizes, and it offers fairly competitive pricing.
Sendlane
Sendlane is a customer engagement and marketing automation tool for eCommerce merchants. In essence, its platform allows you to gain insights about your customers through behavioral data. Moreover, you can create and send personalized messages to promote engagement.
In case you're a business looking to keep track of everything, Sendlane also offers you to track purchases, visits, and clicks across all your websites. The part where Sendlane shines is in the 'Features' department.
Sendlane Features
Sendlane comes with a plethora of different features you can use to keep track of all the data you need. All of those insights are laid out in Sandlane's beautiful user interface. We're going to go over some of Sendlane's most popular features so that you have an idea of what to expect.
Drag and Drop Builder: Sendlane makes it easier for all users to create content by featuring a simple drag-and-drop builder. Overall, this feature is thoroughly optimized, so you may not have any problems with it.
Landing Page Builder: The landing page builder is included in all of Sendlane's plans, so if you're looking to make the most out of your website, you may use this feature.
Contact Automation and Tagging: Overall, you can create workflows to adjust your email marketing funnels based on what your email subscribers are doing.
Analytics: As the name implies, you have easy access to real-time analytics and reporting for each of your emails so that you don't lose any important data.
Automatic Send Times: Sendlane can track your subscriber's habits when opening emails and optimizes its delivery times to your subscriber's most appropriate moment.
Email Broadcasts and Automation: You can easily create emails and automate them for your subscribers at any point you want. Moreover, you can choose from one of many of Sendlane's designs so that you make the experience much faster.
Sendlane starts at $25 per month, and the price increases based on the number of subscribers you have. There's also a free trial available for those who are interested.
Sendlane Pros and Cons
Pros
The automation features work great
It has a great support team
Cons
The platform may not be as intuitive as it claims to be for some people
Who Is Sendlane for?
As the company itself claims, Sendlane is best for eCommerce merchants who are looking to optimize their marketing.
ActiveCampaign
ActiveCampaign is email marketing and automation software that adds sales CRM. Overall, this service is most recommended for those who are looking to have one of the best email automation experiences possible.
While ActiveCampaign isn't necessarily overwhelmed with different features, it focuses strongly on email marketing and marketing automation software, which is what many companies are going for.
ActiveCampaign Features
ActiveCampaign features several tools you may find useful in the long run. Keep reading if you want to know more about them!
Email Newsletters: You can enjoy both a drag and drop builder and beautiful templates if you don't feel like spending a lot of minutes creating an email structure. Overall, you're in full charge of what happens with your emails, so make sure you're as creative as possible!
CRM: ActiveCampaign's CRM is called 'Deals,' and it allows you to automate your sales follow-ups, which helps close deals without doing that much manual work.
Chat On-Site: This software allows you to add chat to your website and bring it together with your email and CRM messages, allowing your visitors to have a much better browsing experience.
Automated Campaigns: As mentioned before, ActiveCampaign's strong suit is automation. Creating automation with this software is fairly easy, so you don't need to worry about not having enough experience.
ActiveCampaign starts at $15 per month, and it also offers a free trial to those who may be interested.
ActiveCampaign Pros and Cons
Pros
It's a considerably powerful marketing automation tool
It provides a lot of information on its reports
It offers free account migrations for those who come from other software
Cons
There's no free plan
You get charged if you want to see a preview of how your newsletter looks on your email clients
It's not as simple as other platforms
Who Is ActiveCampaign for?
ActiveCampaign works best for those who want to have an extra tool for marketing automation and are looking to optimize multi-channel marketing in their business.
GetResponse
GetResponse is one of the most popular tools out there for any business. Regardless of what your purpose with GetResponse is, you're likely to gain several benefits from it.
Overall, GetResponse is a great tool to capture leads since it offers a lot of handy tools to capture and keep leads efficiently. Moreover, this service's platform is one of the most intuitive ones we've seen on the market.
GetResponse Features
Some of GetResponse's most popular features include the following:
Newsletter Creator
Template Designs
Email Automation
List Management
Analytics
Conversion Funnels
GetResponse's basic plan is entirely free for everyone, which is excellent news. Moreover, its pricing plans start at $15 per month and increase according to the number of subscribers you already have.
GetResponse Pros and Cons
Pros
Excellent list automation
Conversion funnels
Live chats
It's easy to use
Cons
The automation features are only available on high-tier plans
Who Is GetResponse for?
As mentioned before, this service is for those who are serious about capturing leads and getting powerful automation with their marketing.
Remarkety
Unlike other services on this list, Remarkety was built specifically for eCommerce. Overall, this is a multi-channel marketing automation platform that integrates with most eCommerce platforms on the market today.
Remarkety Features
Remarkety offers a lot of different features, so it may be hard for someone to get a grasp of them all in their first run. Still, here's a list of some of Remarkety's most remarkable features:
A/B Testing
Campaign Segmentation, Analytics, and Management
Collaboration Tools
Click Tracking
Customer Surveys, Forms, and CTAs
Drag and Drop Feature
Email Management
Remarkety starts at $25 per feature, per month. There's also a free trial for those who are interested.
Remarkety Pros and Cons
Pros
It's extremely easy to use
The customer support team is excellent
It has a user-friendly interface
Cons
The templates aren't as good as others on the market
There are a lot of features, which may make it overwhelming for some people
Who Is Remarkety for?
Remarkety works best for eCommerce businesses that want to optimize their marketing strategy based on users' behavioral data.
Sendgrid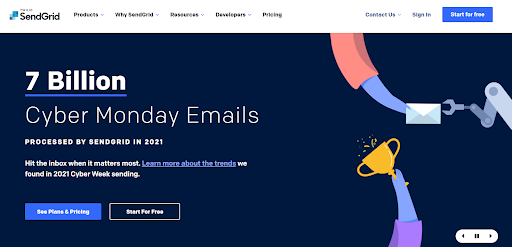 Sendgrid is a marketing software that focuses on email deliverability, meaning it makes sure each email reaches your customer correctly.
Sendgrid Features
Aside from having an email API service, Sendgrid also has a wide range of features that make it easy for the customer to integrate their solutions. Here's a list of some of Sendgrid's best features:
Email Deliverability
Email Editor
Automation
Analytics
Contact Management
Sendgrid starts at $15 per month, per user. However, it also offers a free plan that offers up to 2,000 contacts and 6,000 emails per month.
Sendgrid Pros and Cons
Pros
It has a free plan
It offers amazing email deliverability
Cons
It doesn't have many segmentation options
The autoresponders are basic
Who Is Sendgrid for?
Sendgrid is great for those who want to prioritize email deliverability over everything else since it does it considerably better than its competition.
Bottom Line
There are many powerful Mailforge alternatives you can use today. It's a matter of choosing the platform that best fits your needs. In case you're interested in any of the platforms we just mentioned above, make sure to check them out!