Email marketing stands out as one of the most reliable customer engagement tools you can use. Email marketing is the promotion of business products and services using emails.
Expand your list of email subscribers in no time using Mailgun.
Working in hand with Poptin's pop ups, Mailgun sorts the email subscribers with ease.
Why is it essential to build your email list?
What is an email list? It is a list containing email subscribers and their names. They are people who have given you consent to send them your business promotions and updates.
You can build an email list in Mailgun and send bulk email messages to everyone through email forms.
More people use emails daily as it is a one-on-one communication tool. In fact, Oberlo points out that the number of email users globally stood at 3.9 billion in 2019. This growth presents huge business opportunities to companies.
You need to build an email list to enable you to reach people interested in what you are offering. 
An email list is beneficial to keep in touch with people. You can also build a lasting relationship with your current and potential customers.
What are Mailgun Pop Ups?
These are pop ups that appear on your website. You can connect them with your Mailgun email marketing account. The connection ensures that your popup responses go directly to your email list database.
Using Poptin, you can create Mailgun pop ups to improve your email list-building process. The procedure is seamless, easy, and fast.
Though some pop ups may be irritating, they are effective for marketing. Mailgun pop ups help businesses in building their email lists via sign ups, promotions, and different types of campaigns on their websites.
How to Create Mailgun Pop Ups with Poptin
Poptin is a marketing tool used to create popups and widgets on business websites. The tool helps in getting email subscribers to spend more time on a business website. Businesses also get to add more contacts to their mailing lists.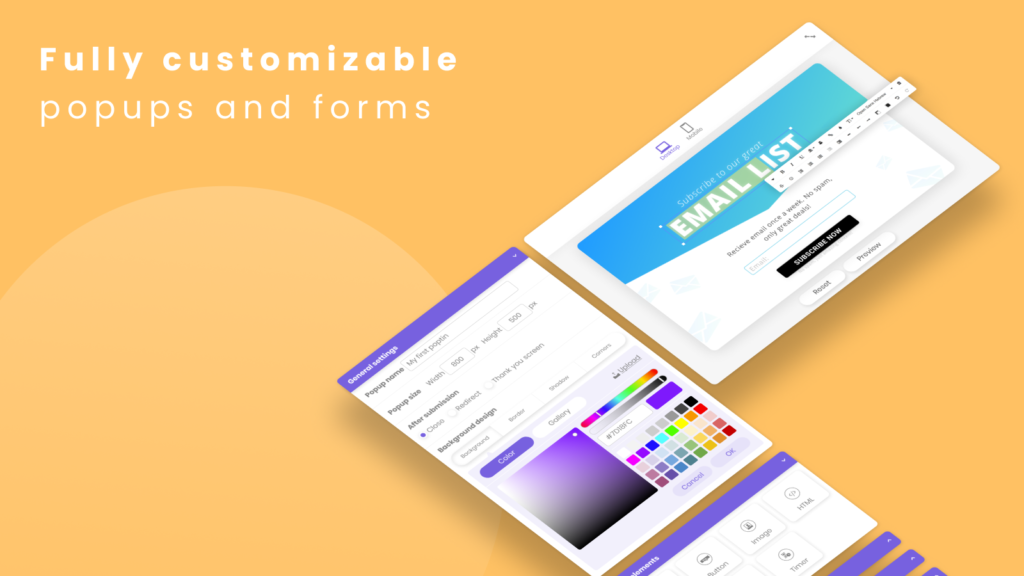 Any business using this email marketing tool is sure to gain big time. Some popup features and what the tool can do are as discussed below:
Social Pop ups: This is a feature that lets businesses share their content with ease on social media.
Video Pop ups: At times, marketing hits the right place with catchy videos. You can use this Poptin feature to create eye-catching marketing video popups.
Countdown Pop ups: Since time is money, you can create urgency and speed up conversions. Create a countdown popup to speed up things.
Full-Screen Overlays: For your popups to be effective, you need everyone to see your message. By using full-screen overlays, your visitors cannot miss what is on the screen.
Mobile Popups: You can use this feature to get more leads and potential customers through mobile phones.
Survey Popups: It is common for businesses to keep track of the performance of their strategies. Using a survey pop-up, you can collect feedback and use it to improve your strategies.
Lightbox Pop ups: This is a common and very effective lead conversion feature of Poptin.
Apart from the popup features, Poptin has other major features that work hand in hand.
Drag and Drop Editor. Once you receive your email forms, you can just edit and style your popups with ease. You simply drag and drop the email forms where you need them to go.
Autoresponders. These are tools used to send automatic emails to visitors once they sign up.
Built-in Analytics. You can use these tools to keep tabs on insights and real-time results.
Account Managers. Use this feature to create and manage your Poptin accounts.
Integration Systems. With over 50 systems, you can integrate your email platforms and CRM into Poptin.
User Templates. In the pop-up gallery, you get many templates ideal for your intended actions. You can get email forms for collecting emails and other templates alike.
Poptin provides many more features that you can use to better your company. This tool is ideal for businesses, marketers, digital agencies, website owners, and eCommerce websites.
Get to know all the Poptin features here.
How to integrate your pop ups with Mailgun
Mailgun is a developers' tool for email automation services. It has a cloud-based service for sending, receiving, tracking, and storing emails.
Are you aware that you can automatically send your Poptin leads to the Mailgun app? Yes, you can. Here is how you can do that:
Step One. Once you log in to your Poptin account, go to your popup's dashboard. Select the pop up you want to integrate with Mailgun. Click the pencil to give you a drop-down menu, then click "Edit Design."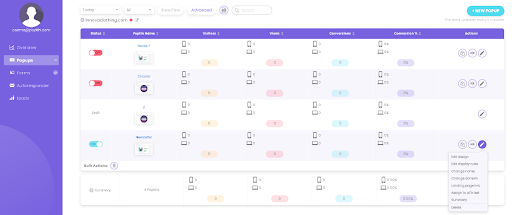 Step Two. Scroll down the opened page to "Email and Integration," then click on "Add Integration."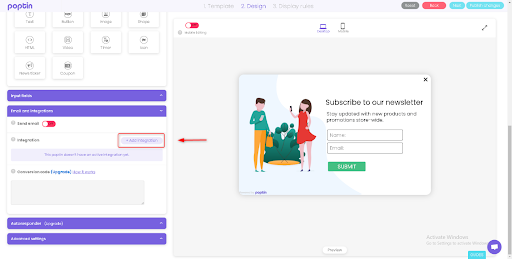 Step Three. Look for Mailgun from the provided integration list and click it.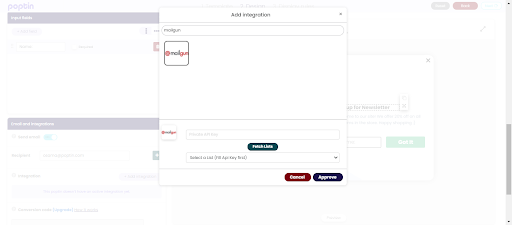 Step Four. Once the Mailgun dashboard opens, proceed to your account, and look for API keys. Copy the provided Private API key validation key.
Step Five. Go to your Poptin's validation window and paste the copied validation key. You should be able to fetch the lists and select the one you want to send leads to. Approve the process to save the integration.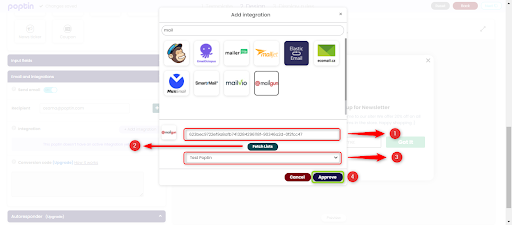 You are now set and ready with an automatic system to start sending leads to Mailgun.
The Bottom Line
It is important to note that the business world is changing and quite fast. Streamline your operations to take advantage of the existing developments. Email marketing is here to stay. You had better wake up and smell the coffee before it is too late.
If you want to create your Mailgun pop ups now, sign up with Poptin for free!