If you are looking for an application that can manage your contact lists, automate your marketing campaigns, and segment your database, Mailify may be the perfect solution for you. It has been used by email marketers worldwide for the last 10 years and is a trusted platform.
Mailify is a cutting-edge SMS and email marketing software company based in Europe. It has multiple integrations with popular everyday platforms such as Zapier, Google Analytics, and WordPress. You are going to be hard-pressed to find a service with more integrations unless you choose one of the Mailify alternatives on this list.
Even though Mailify can send an unlimited amount of emails at once, it is considered a little overpriced. The pricing structure is based on the number of emails you send, and it can cost up to $179 per month to mail up to 50,000 subscribers, which may not suit everyone's budget.
That is why people have started looking for Mailify Alternatives to handle email marketing and various advertising efforts. Finding the right email marketing software is crucial to business success.
Today, you are going to learn about various email marketing software that can change the way you connect with your clients. 
MailChimp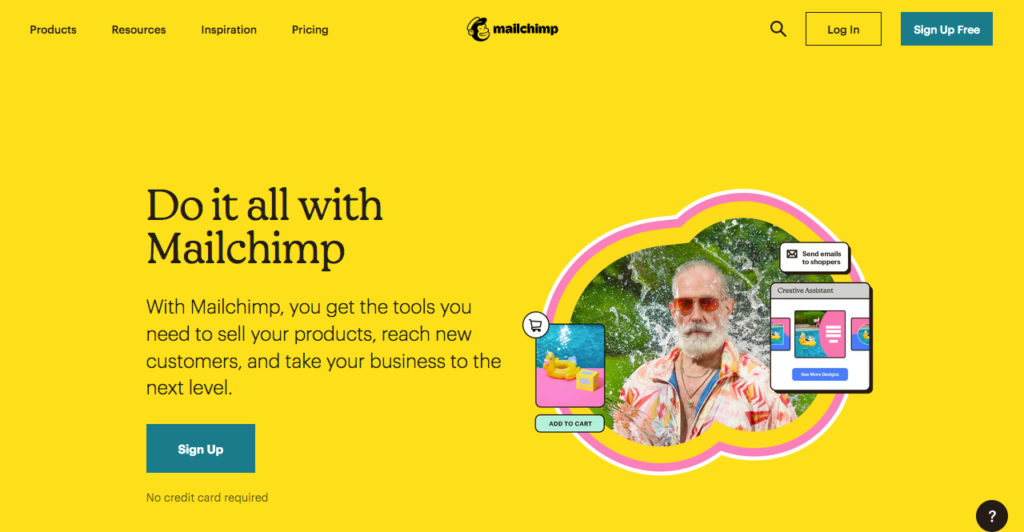 MailChimp is an excellent Mailify alternative and is an all-in-one marketing platform that assists you in managing and talking to your patrons or other interested parties. You can design a beautiful campaign to focus your marketing efforts and monitor the entire process through powerful built-in analytics.
What's excellent about MailChimp is that it has a user-friendly interface that allows beginners who want to grow their audience the ability to do so. The free plan lets you send up to 10,000 emails per month with a limit of 2,000 per day.
You can also store up to 2,000 contacts on the free plan, making it great to build your customer base.
More advanced packages are available that offer customization for professionals who require options. The Premium MailChimp service can hold 10,000 contacts, unlimited seats, and role-based access. It also gives you advanced segmentation, multivariate testing, comparative reporting, and phone support.
MailChimp is an excellent Mailify alternative if you are looking for email marketing software to grow your business.
Constant Contact
If you need essential customer data from a spreadsheet or email clients, such as Microsoft Outlook or Gmail, then look no further than Constant Contact. You can even create an email sign-up form that can be embedded into your website so that you can build your marketing list.
The company was established in 1995, so you can have peace of mind when dealing with this industry leader. Constant Contact lets you monitor and launch email marketing campaigns, build online stores/websites, utilize social media, and much more.
It is the perfect solution to increase your client engagement and grow your business exponentially.
When you sign up with Constant Contact, you get your first month free, and rates start from as low as $50.
However, Constant Contact has some downsides: no visual workflow dashboard, no essential email autoresponders, and a lengthy learning curve. These features make this software the least preferred on this list, but it can still get the job done no matter what industry you are in.
Moosend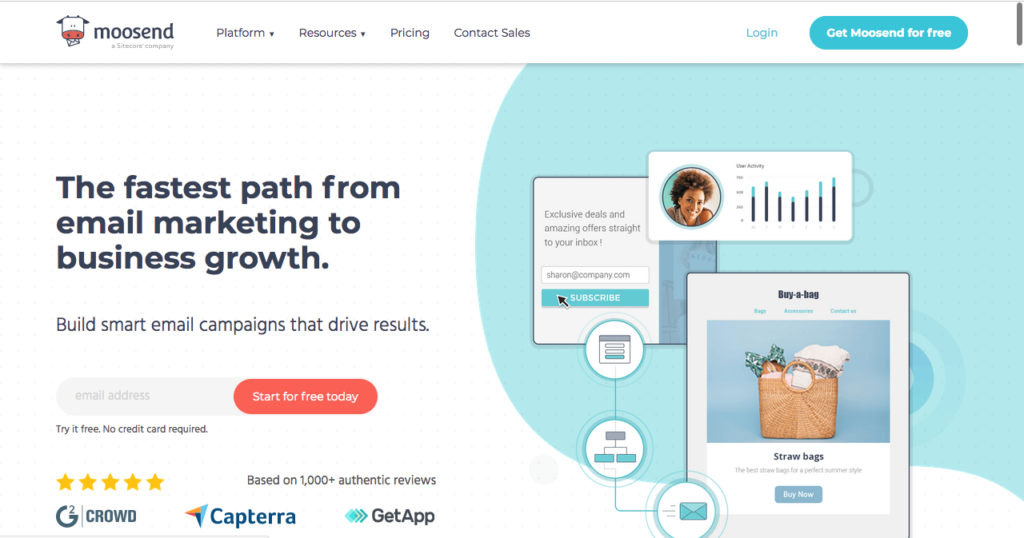 Moosend equips you to step up your marketing game with world-class features and intuitive dashboard design. The platform can help you create the most responsive newsletters and dive deep into the world of email marketing.
You can expect to pay $10 a month for the basic package, which allows up to 2,000 subscribers. A free plan is available if you want to test out the platform first or if you are still a beginner at email automation and marketing.
If you pay for your subscription a year in advance, Moosend offers a 22% discount which is appealing and worthwhile.
Moosend is not just an email automation software; it can also be integrated with Salesforce so that you can manage your team. The intuitive dashboard makes connecting and chatting with clients and your staff effectively and simplistic.
What's excellent about Moosend is that the company is based in the UK, and if you require customer support, you can contact them via email or phone. That comes in handy if you have problems with your account or are struggling to set up a campaign.
The company's support staff are knowledgeable and experienced, so no matter what query you have regarding the platform, they can help you answer it. Using Moosend is a fresh change to other email marketing software because of its vast range of templates and easy-to-use logo designer. The setup process is seamless, and it's super easy to import your contacts from another third-party service. This is one of the best systems on the market that allows you to make the most of your email marketing campaign and attract more customers.
It's time to set up multiple internet marketing campaigns and gain exposure for your business with Moosend.
Mailjet
Based in France, Mailjet is an email marketing platform that has been around since 2010. It is a cloud-based tracking and email delivery system with a user-friendly interface. Mailjet lets you send transactional and marketing emails at the press of a button, plus integrates wonderfully with various other platforms.
This makes it an excellent Mailify alternative because you can send up to 6,000 emails per month on the free plan. However, there is a limit of 200 emails per day, but that shouldn't be a problem if your company is small or just starting in email marketing.
The free plans also lack automation options, list segmentation, multi-user collaboration, and no A/B testing.
Mailjet has an easy-to-navigate menu and a clean dashboard that marketers can use to set up email campaigns hassle-free.
The software is also great because it offers a pay-as-you-grow payment structure. You can start on the Free account and upgrade to the Essential for $15 per month, allowing you to send 15,000 emails.
Paid plans include online customer support, no Mailjet logo, and a unique email segmentation system. Using this software as a Mailify alternative is one of the best ways to grow your company and boost your online presence through email marketing.
Campaign Monitor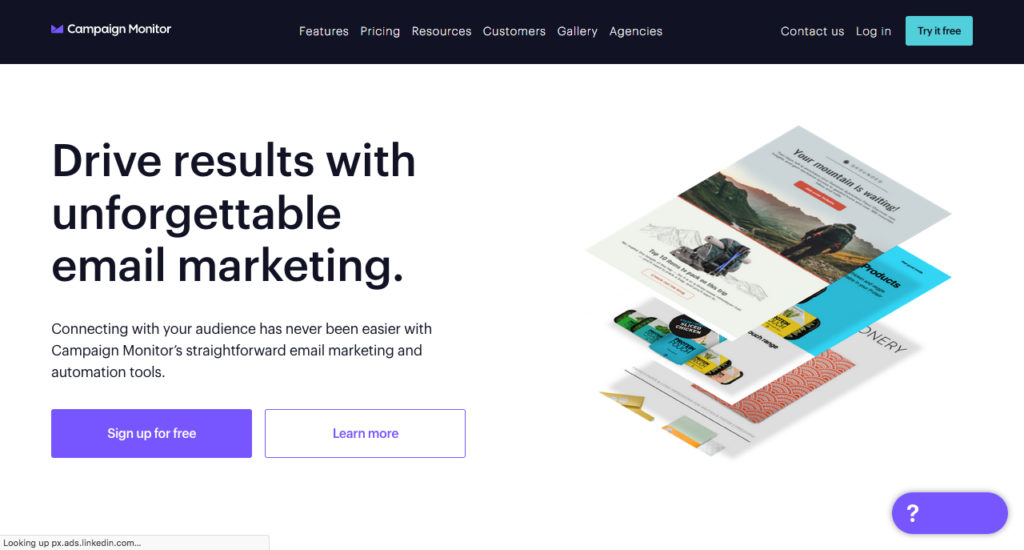 Campaign Monitor brings you powerful analytic tools and an intuitive interface with rich templates to simplify your email marketing efforts. Even if you are a novice email marketer, you are going to love using the application because of its user-friendly interface and excellent customer support team.
The software starts at $9 per month and is one of the best solutions as a Mailify alternative on this list. It has versatile email templates, easy automation tools, and a one-kind easy user interface.
Sometimes importing contacts can be challenging, especially when matching custom fields. There is also no SMS channel which may be a bummer if you are looking for that option to drive your marketing campaign.
With the company's more expensive plans, you can send up to 50,000 with an unlimited amount of sends per day. You can also store all your contacts on the Campaign Monitor dashboard, making this easier to manage.
The software can create personalized emails and a reliable channel to grow engagement plus promote conversation or loyal leadership. It has a drag and drop builder, making piecing together advertising material easy and simplistic. 
You can also monitor audience engagement and segment the data to know which individual to target and when. What is remarkable is that it requires no technical expertise to learn Campaign Monitor because of its slight learning curve and easy-to-use dashboard.
There are plenty of tutorials on the company's website that provide you with full details on setting up and maintaining the software. With Campaign Monitor, you can create radical campaigns that drive users' attention and boost your business reach.
Using this Mailify alternative is the best option to streamline your marketing process and create awesome emails that draw attention.
The Bottom Line
If you are a new business owner or an email marketer, you understand the importance of getting the word out there concerning your business. You can manage and track your marketing effort through an easy-to-use dashboard using email marketing software.
The Mailify alternatives mentioned in this article are some of the best options for new people to email marketing. It is recommended to try out a free service first, such as MailChimp so that you can get a feel for how this kind of software works plus how it can benefit your business. 
Email marketing is a great way to get in touch with your customer and show them that you care. You can set up a monthly newsletter that discusses topics on your blog or even distribute your monthly specials through an email campaign.
However you look at it, email marketing is an effective way to communicate with your audience and inform them about your business. It's time to take control of your company's future by engaging your clients through beautiful and eye-catching professional emails.