It's almost that time of the year again when everyone looks forward to the New Year. Besides reflecting on how the previous year has gone, this is a time of grand celebration for many people.
If you run a business, you know that this is always the busiest time of the year. Sales figures will shoot up as people exchange gifts during the holiday season.
However, the level of competition from other businesses will also rise. To get ahead of the pack, you will need to use an excellent website pop-up that will catch the eye of your customers.
This article will share some great New Year pop up ideas and discuss the benefits they will add to your business. We will also focus on Poptin, one of the best online pop-up builders, in 2022.
7 Great New Year Pop Up Ideas
It is not enough to randomly select any popup you come across and plug it into your webpage. It has to be backed up by proper planning that allows the customer to see the real value behind it.
Each day, customers are bombarded by adverts online, to the point that they are desensitized to following pop-ups that don't offer something unique.
If you want your website to stand out, you can try some of these New Year popup ideas:
1. Take the Chance To Promote Other Products
The point of a good New Year pop up is to catch the customer's eye and redirect them to where you want. However, with the way the web is flooded with promotions, customers are easily distracted.
You must make the best of your New Year popup by bringing their attention to other products. One great way is to use your pop-up to promote products that go hand in hand.
For example, if a user is searching for bedroom slippers as a holiday gift, you can use the pop up to advertise other bedroom essentials, such as gowns or night dresses. This will ensure that your potential client remains interested and is likely to click further.
2. A Full-Screen Pop Up is a Great Option
One thing that will get the user's attention is a full-screen popup. They will have no choice but to see the advert. By the time they locate the close button and exit the page, you will have already gotten your message through.
The advantage of using a full-screen pop-up is that you have much more space to work with, meaning if you take the time to design it properly, you can come up with something spectacular.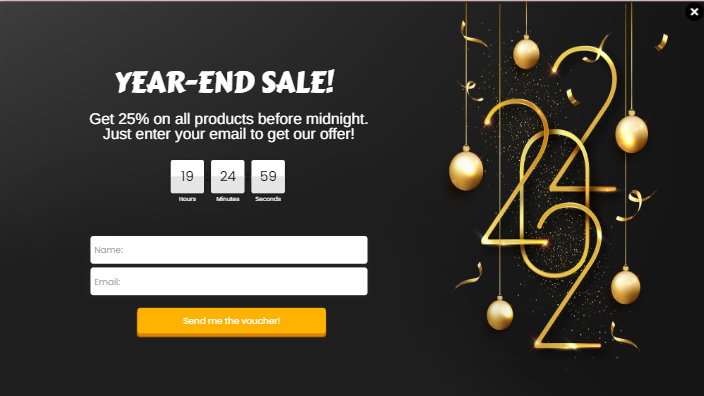 Furthermore, the extra screen space also includes all the necessary details, such as product specifications, contact details, and payment options. This will remove the need for extra clicks before your customer has everything they need.
One thing to avoid is hiding the exit button to keep customers on the page. This is a very annoying trait of most pop-ups, and it only irritates the customer and makes them less likely to buy the product.
3. Customers Love Exclusive Deals
All customers love to feel special, so if you direct your New Year pop up deals to them directly, you are more likely to keep them engaged. You can offer deals specifically for customers who give their email addresses and register.
The best deals are usually when the customers get real value, such as discounts or special offers, in exchange for things they do not mind sharing, such as their email addresses.
4. Use Discount Promotions
Discounts are a great way to attract and retain customers. However, for you to benefit from them, you have to use them wisely.
You can try adding a discount pop-up only activated by a user trying to exit the platform. This way, even though you may have to sell the product for less than you would have wanted, you at least get a new customer who can potentially bring a lot more business to you.
New Year discount pop ups are also a great way to advertise slow-moving merchandise without alerting your customer base that the product is not doing well. Your customers will only focus on the value for money they are getting.
5. A Coupon Can Be a Great Reward
New Year pop ups offering coupons and other freebies will always be a great hit among your customers. If the coupon is too good to resist, customers will be willing to go the extra mile to get it.
Knowing this, you can ask them to do something for your company in exchange for the coupon. Ideally, you should keep the request modest, such as giving coupons in return for viewing an advertisement, completing a survey, or sharing your business details on social media platforms.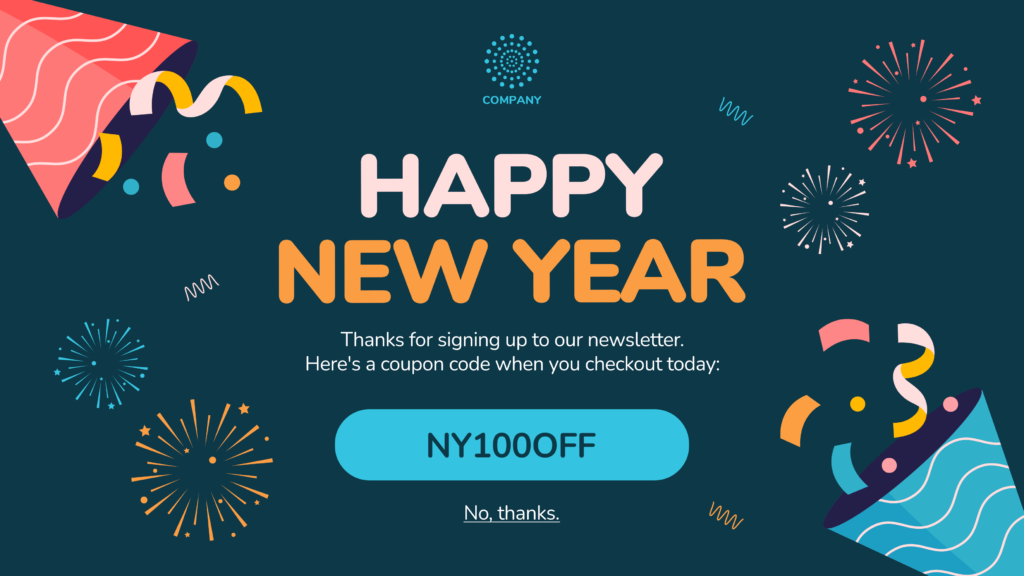 6. Make Use of the Sticky Bar Pop Up
Using a sticky widget is an excellent variation of the ordinary pop-up buttons. It should be small enough not to interfere with the customer's browsing experience. The main thing is that it has to stay on the page as they navigate from page to page.
While a sticky bar has to be minor, other ways to make it stand out include animations or cleverly worded phrases to arouse the customer's curiosity.
7. Add Surveys To Exit Pop-Ups
The last on our list of exit intent popup ideas is to use the exit button well! Don't just let your customers leave without at least trying to win back their interest. Customers like to feel valued, so asking them their opinion in a survey is great.
You can use this option to target those customers who are about to leave without buying anything. Ask them questions that will help you understand why they did not end up checking their cart out.
How To Create Your New Year Pop Ups With Poptin
Poptin has emerged as one of the best platforms for creating effective, eye-catching pop-ups. You, too, can use Poptin to create the ultimate New Year pop-up by following these steps:
Sign up and navigate to the pop-up templates page
Choose the design that best suits your business profile
Run the setup and installation wizard
Add unique features to the design, such as color and catchphrases
Define the rules, for example, a pop-up can be created to only target customers about to exit without spending a long time on the page.
Publish the pop-up on your website
If you need any help, you can go to Poptin's Help Center or email us at [email protected].
Wrap Up
The following are the key takeaways from this article:
You need a New Year pop-up to boost your sales this holiday
There are a lot of advantages to your business if you use pop-ups wisely
Poptin is a great platform to get the best pop-ups from your business
Creating pop-ups is very easy using Poptin
What's Next?
Besides pop-ups, there are various ways to improve your marketing strategy, such as newsletters, competitions, regular promotions, responding to customer reviews, and maintaining an active social media presence.
However, pop-ups remain one of the most effective ways to boost your sales, and you can create them easily using Poptin. Visit their website this holiday season and create some fantastic New Year pop ups. Sign up now!
If you're looking for other popup holiday campaigns, we have helpful resources for you: