5.No matter what kind of business you have, you definitely need good tools to make everything work smoothly and efficiently.
We weten dat u waarschijnlijk een heleboel verschillende informatie heeft gelezen over hoe marketing en SEO van groot belang zijn en hoe ze uw topprioriteiten zouden moeten zijn.
En dat is zeker waar.
Maar het echte perspectief krijg je pas als je voortdurend aan de verbetering ervan gaat werken.
Yes, we understand that consistency may seem challenging and may consume a lot of energy, but with the right tools, nothing will be such a huge obligation.
Ze worden realtime spaarders en helpen u belangrijke doelen te bereiken die u voor uw bedrijf heeft gesteld.
Laat ons u nu enkele concrete marketing- en SEO-tools voorstellen die u meteen kunt gaan gebruiken!
SEMrush is een marketing- en SEO-oplossing die meer dan 20 verschillende tools omvat. Ze kunnen u helpen met:
SEO

Inhoudelijke marketing

Concurrerend onderzoek

Reclame

Sociale media
Het is bedoeld voor marketeers en bedrijven die hun websiteverkeer en verkoop op een hoger niveau willen brengen.
The SEO SEMrush toolkit includes a technical SEO audit that will help you to analyze your web presence and see what you should improve. It also includes position tracking, backlinks audit, and analytics. SEO toolkit can help you to see which tactics will provide you with better organic traffic.
Met een social media toolkit kunt u strategieën van uw grootste concurrenten onthullen. Met behulp van postbooster kunt u uw content op Facebook beter zichtbaar maken. SEMrush bespaart u tijd en stelt u in staat om uw berichten te plannen op maximaal vijf verschillende social media kanalen.
Als u een contentmaker bent, gebruik dan de contentmarketingtoolkit om uit te zoeken welke onderwerpen het meest interessant zijn voor uw doelgroep en gebruik dat meteen in uw voordeel. Ontdek en analyseer hoe uw content heeft gepresteerd te oordelen naar het gedrag van uw bezoekers en zie wat er verbeterd moet worden.
Het is belangrijk om te vermelden dat SEMrush op dit moment de grootste trefwoordbasis op de markt heeft, en als u een hogere SEO-ranglijst wilt krijgen, dan is dit zeker iets dat uw aandacht verdient.
Belangrijkste kenmerken van de SEMrush:
Organisch onderzoek

Reclameonderzoek

Trefwoordonderzoek

Verkeersanalyses

Productlijst advertenties

Marktverkenner

Backlinks

SEO schrijfassistent

Grafieken

Social media tracker

Sociale media poster

Inhoudelijke analyse

PPC-tool voor trefwoorden
Prijsstelling: SEMrush biedt drie plannen en een ondernemingsplan aan voor oplossingen op maat. Zowel PRO als GURU plan kunt u gratis proberen en zien of het werkt voor uw bedrijf.
In de onderstaande foto kunt u zien welk plan speciaal voor wie bedoeld is.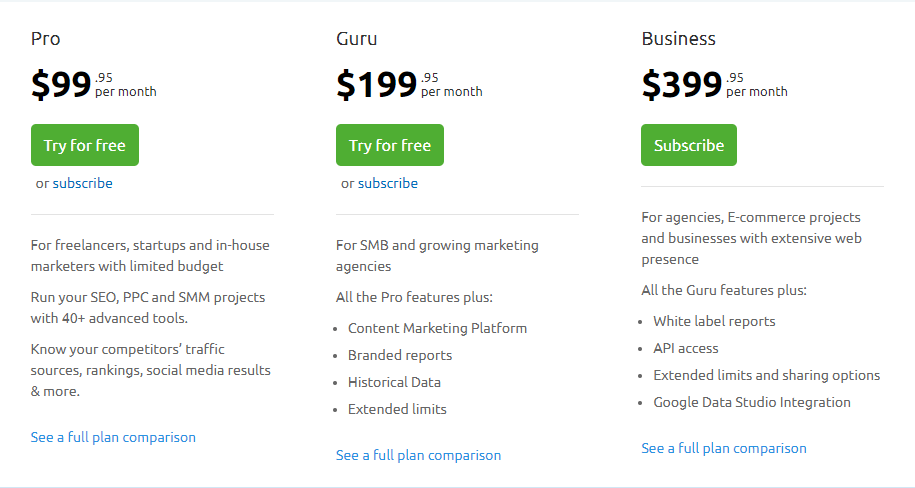 Ahrefs is een geweldige tool voor backlink prospectie, wat een van de belangrijkste factoren voor SEO is.
En het beste is dat u deze tool kunt gebruiken, of u nu al een expert bent of slechts een beginner.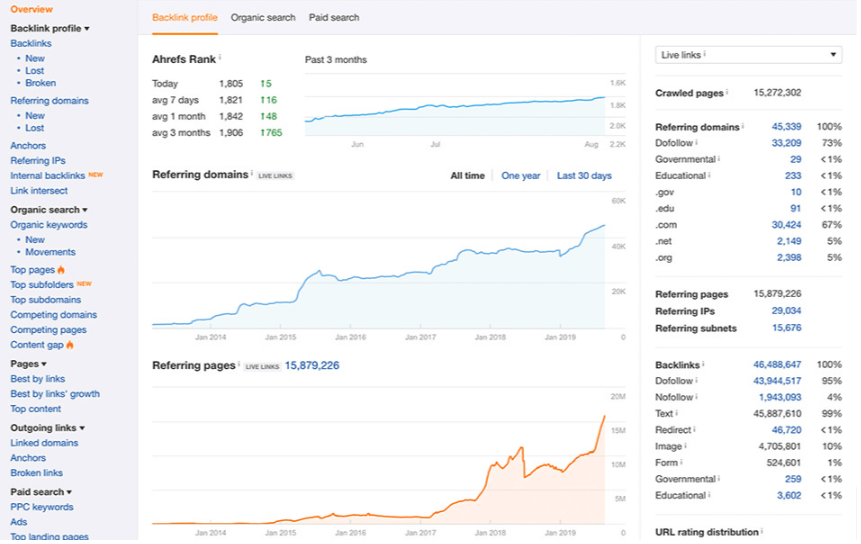 Als u het backlinkprofiel van bijvoorbeeld uw concurrenten wilt zien, hoeft u alleen maar de URL te typen en kunt u de links en de kwaliteit van het backlinkprofiel zelf zien. Ahrefs heeft een zeer snelle backlink crawler.
Wanneer u gebruik maakt van het backlink onderzoek, krijgt u de lijsten en inzichten van:
Backlinks

Verwijzende domeinen

Gebroken backlinks

Ankers

Verwijzende IP's

Interne backlinks
Zoals u ziet, kunt u met behulp van Ahrefs een krachtige backlink strategie creëren met veel minder tijd. Alles wordt georganiseerd en getoond in de vorm van een duidelijk rapport.
Met deze tool ontdekt u ook welke trefwoorden uw concurrentie gebruikt.
Als u ervoor kiest om Ahrefs voor uw bedrijf te gebruiken, kunt u toegang krijgen tot Ahrefs Insider op Facebook, een gesloten groep met meer dan 10.000 marketeers.
Hun supportteam is beschikbaar om uw vragen te beantwoorden en eventuele problemen op te lossen.
Belangrijkste Ahrefs kenmerken:
Organisch verkeersonderzoek

Backlink tracker

Betaald verkeersonderzoek

Trefwoordverkenner

Geavanceerde SEO-metriek

Analyse van de website

SERP-opties

Ranglijsttracker

Content explorer
Prijsstelling: Ahrefs biedt vier verschillende betaalde plannen om uit te kiezen. Voor de eerste twee kunt u een 7-daagse proefperiode uitproberen voor de prijs van $7.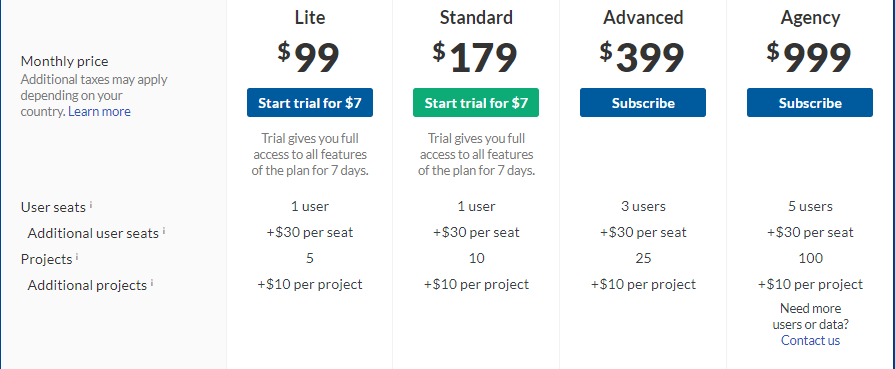 Moz is another marketing and SEO tool, and it is great when it comes to on-site SEO. You probably already know how important it is to optimize every element on your website for everything to work flawlessly.
On-site of on-page SEO is ook cruciaal voor een gebruikersvriendelijke ervaring.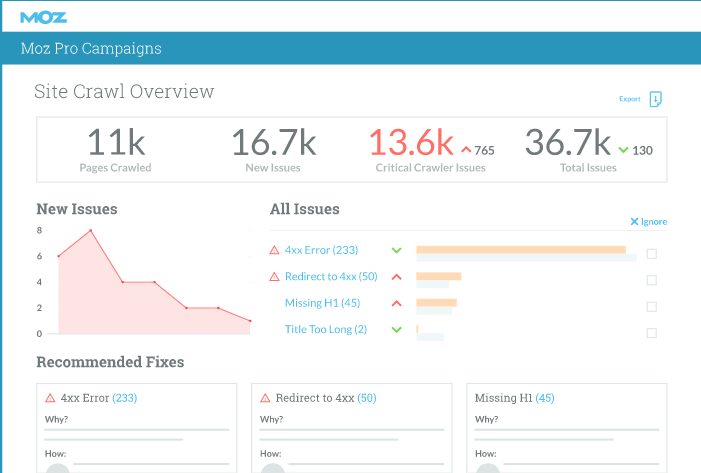 Moz has a clear and organized dashboard. It detects different issues, such as broken redirects and missing title tags. You will also be able to see how these issues affect your SEO.
After detecting specific issues, this tool sorts them by importance, so you know which one you should fix first.
No matter how big your website is, Moz can crawl it fast, thus saving you a lot of time.
Het crawlt uw website wekelijks en rapporteert alles aan u zodat u het zo snel mogelijk kunt oplossen.
You can use Moz for your website or if you manage the websites of your clients.
De belangrijkste kenmerken van Moz:
Website crawler

Trefwoordonderzoek

Backlinks vragen

Sorteerrapporten op pagina's

Geplande rapporten
Pricing: Moz offers four different paid plans to choose which one suits your needs best.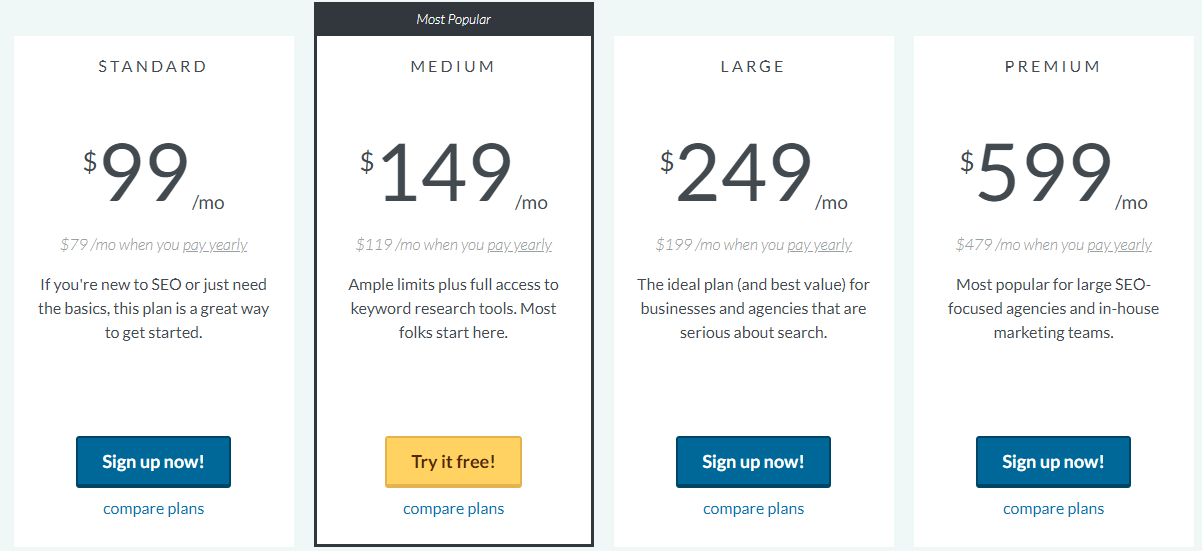 Poptin is een CRO-tool, wat staat voor Conversion Rates Optimization.
Deze tool omvat:
Embedded websiteformulieren

Automatische e-mails
Met boeiende en effectieve pop-ups en formulieren kunt u meer leads genereren die later kunnen worden omgezet in echte kopers.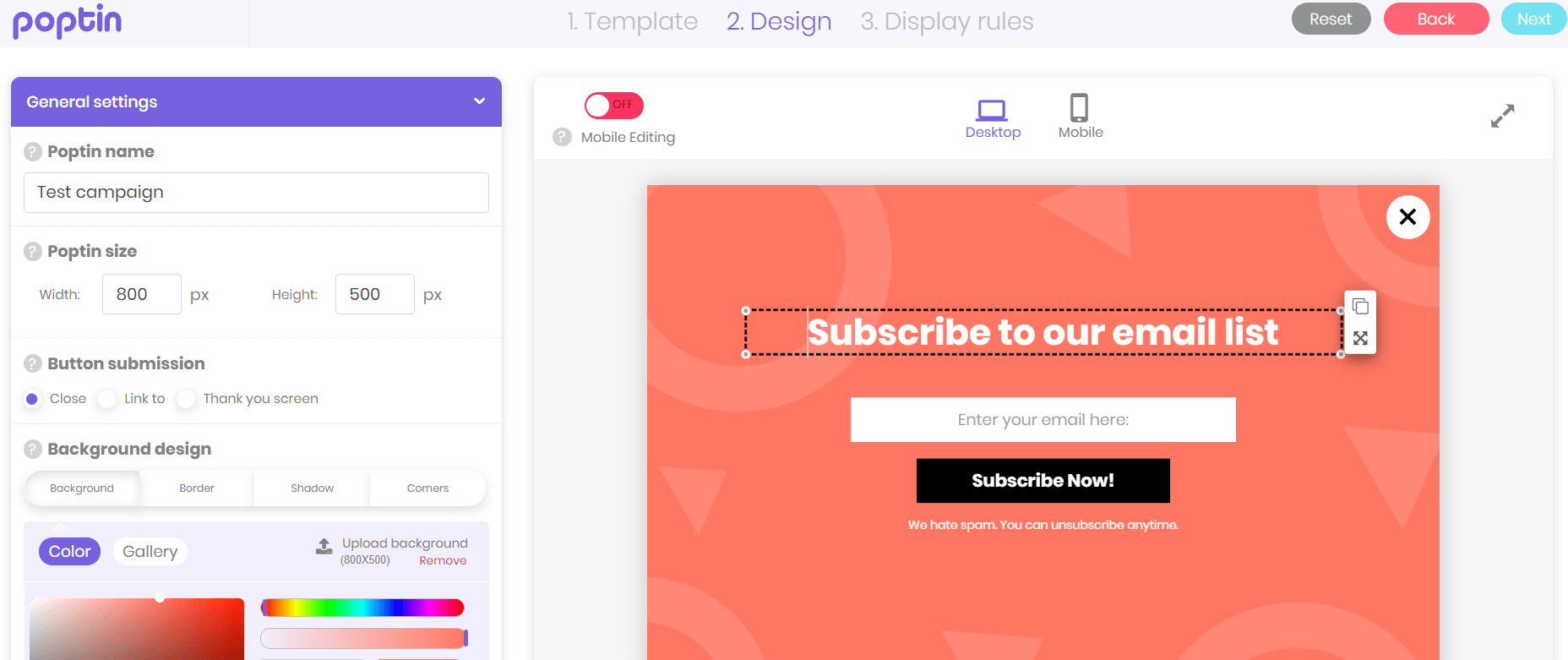 No matter which one you choose (or if you choose both), you will get access to a simple editor with tons of options for customization.

You can change background and text colors, add or remove different fields, change the size, add images, and more.
You have to pay attention to the fact that people access the Internet through mobile and desktop devices both, so it is essential to mention that every form and pop-up window you make through Poptin will be optimized for mobile and desktop.
The primary purpose of these forms is that you can add a CTA (click-to-action) button and encourage visitors to take action.
By using pop-up windows, you can show them some excellent and irresistible offers so that they would leave their contact without hesitation.
You can offer them webinars, courses, e-books, or access to your weekly newsletter to stay in contact with your future buyers.
When you start communicating with them through email campaigns, you are building brand awareness and gaining their trust. Valuable content keeps them interested and builds your credibility regarding your target audience.
Of course, you can use these windows to offer them a discount or free shipping or remind them to pay attention to some current sales, also.
You don't need designer or developer experience to use and make pop-ups and other forms for your website.
You can create your first pop-up in just a couple of minutes. This marketing tool has an easy-to-use drag-and-drop editor.
And, if you want to make different types of pop-ups, you can choose between slide-in pop-ups, countdown boxes, screen overlays, and more formats.
You can rapidly increase your conversion rates using effective windows that engage with your visitors.
De belangrijkste kenmerken van Poptin:
Sleep-en-drop editor

Hoog niveau van maatwerk

Geavanceerde richtingsopties

Geavanceerde triggering opties

Slimme exit-intent technologie

A/B-test

Analytics

Integraties
Prijsstelling: Poptin biedt een gratis plan aan en drie betaalde plannen ook. Op basis van de verschillende kenmerken die ze bevatten, kunt u de beste oplossing voor u en uw bedrijf kiezen.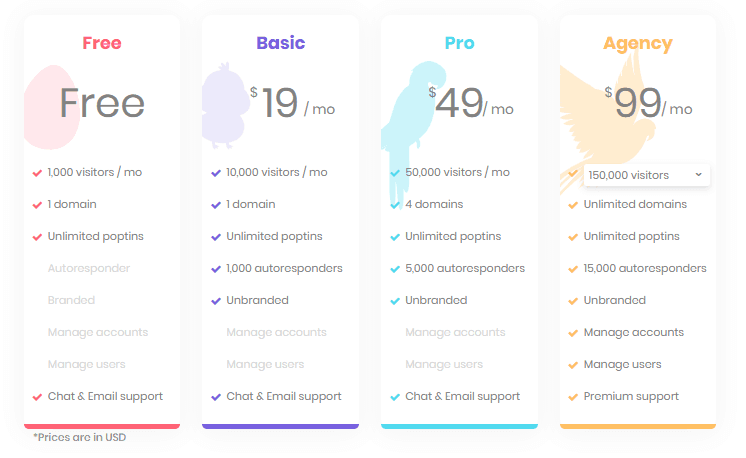 JetOctopus is a visual SEO toolkit about making technical SEO for large websites easy and data-driven. Whether you're new to SEO or a seasoned specialist, JetOctopus is intuitive enough to help you track and improve your enterprise website's SEO health (crawling, indexation, logs analysis, etc.).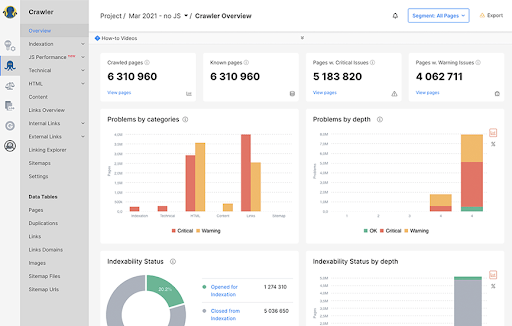 It gives you a big picture of your website's SEO issues — duplicate content, 404 errors, keyword cannibalization, wasted crawl budget, etc. — with actionable visuals so you can prioritize and tackle the best optimization opportunities first.
You can create segments, compare crawls, monitor live logs, identify fake bots, optimize your crawl budget, improve your site's indexation, and so much more with the JetOctopus toolkit.
Most important JetOctopus features:
Crawler (with speeds at up to 250 pages per second)

Log Analyzer

GSC Keywords

Content analysis

Google Search Console integration
Pricing: The Crawler tool starts at $30 per month to crawl 100K pages monthly, while the Log Analyzer tool starts at $60 monthly to log up to 100K pages monthly. The GSC Keywords tool starts at $60 per month, too.
You can buy each SEO module individually or opt for the All-Inclusive bundle (at $120 per month) which includes all these tools plus training calls, onboarding, and support.
So JetOctopus is one of the fastest and most affordable site crawlers and logs analyzer toolkits that you can try with their 7-day free trial.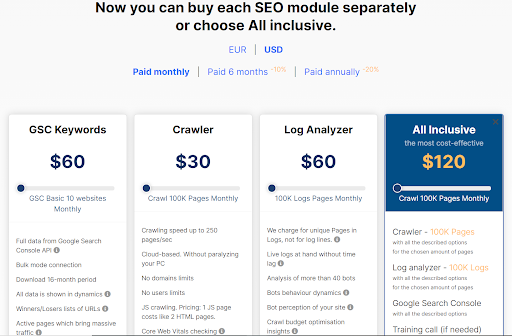 De onderste regel
Marketing and SEO are very challenging parts of running any type of business. But when you become aware of how useful they can be, you know there is no substitution for them.
No matter if you decide to run them on your own or hire teams that would be responsible for marketing and SEO, it is always important to find the easiest but equally effective ways to use their full potential.
Fortunately, as you can see, unique tools like SEO in Glasgow are more available than ever anywhere you are, and they have proven to be very powerful when it comes to dealing with everyday problems, but also time-efficient.
Moreover, as an alternative,  check out Style Factory's in-depth review of Growthbar, which has a bit of a different approach to SEO.
With the right SEO tools, you can build great backlinking strategies, reveal your competitors' techniques, find out every error on your own website or your clients' websites, and improve conversion rates rapidly.
Kunt u zich zelfs maar voorstellen wat u kunt doen met aantrekkelijke pop-upvensters en websiteformulieren?
People need incentives to make a decision, and if you use Poptin, you can show them the privileges that you offer and encourage them to take action right away.
Don't allow yourself to miss out on something so important. Try using these tools, and watch how your conversion rates rise!
P.S. If you're looking for link tracking for digital marketing, you can always try Rebrandly URL Shortener to see its effectiveness.