Every business around long enough knows how vital Black Friday and Cyber Monday are for sales.
This goes for both retailers online and offline. With the growth of e-commerce, we've witnessed a significant increase in sales on both days.
For example, in 2019, we saw holiday shoppers spent a whopping $7.4 billion. This is an 18% increase from 2018!
En als je denkt dat het lucratief genoeg is, wacht dan tot je je realiseert dat tijdens Cyber Maandag 2019, de totale omzet is gestegen tot 9,2 miljard dollar, een stijging van 6,2% ten opzichte van het voorgaande jaar. Dat is gek!
Can we expect Black Friday 2022 to be one for the books too? Hopefully, you have already set up your sales strategy to boost both in-store and online sales.
Met popups kun je dit doen.
How? Let's look at several strategies to increase your sales just in time for Black Friday and Cyber Monday.
1. 2. Bied een Deal in Exchange aan voor Social Followers en Email Abonnees
You can expect to generate a lot of new traffic to your site over the holiday season. Why not capitalize on these shoppers with a popup geared directly towards them?
Met het juiste platform kunt u zich richten op nieuwe bezoekers met unieke popups. In dit geval kan het een popup zijn met een kortingscode die ze kunnen gebruiken zodra ze zich abonneren op uw e-maillijst.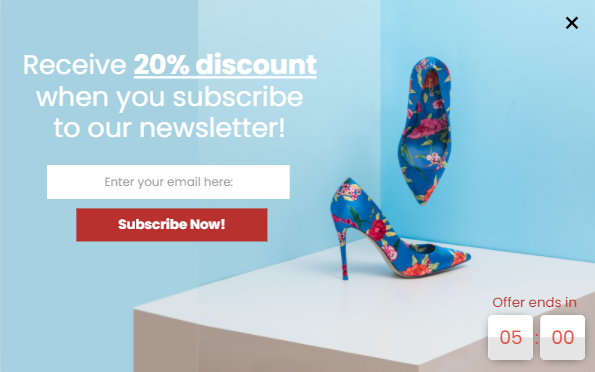 Then it's also wise to include social "like" and "follow" buttons in the popup. Consumers are likelier to click social buttons if the offer is excellent and the brand is trustworthy.
Another way is to offer them the option of liking/following or subscribing to your email list in exchange for the coupon. Make sure the popup has a clear CTA, prominent social buttons, and an irresistible deal.
2. 2. Rijd het verkeer naar de pagina met aanbiedingen
You can use this for your Black Friday and Cyber Monday deals pages. Remember, holiday shoppers are in a rush, so why not help them find what they're looking for?
Since it's impossible to know precisely what they want, you can use a popup to direct traffic to your sales page. In most cases, that's exactly what they're looking for anyway.
These users want to find deals quickly before items are sold out. Ensure the landing page is organized by category so users can easily find what they want.
As a rule of thumb, this popup should showcase after a few seconds of landing on the page. This will help minimize bounce rates due to impatient visitors unable to find your deals.
3. 3. Verminder het verlaten van de wagen met Exit-Intent Popups
There are many cases where exit-intent popups can come in handy. But for this strategy, we're honing in on shoppers who abandon shopping carts.
These visitors have already shown intent to purchase from your brand, and simply allowing them to leave allows money to flow down the drain. With exit-intent popups, you can potentially reduce your cart abandonment rates.
The key is having the right triggers set up to stop users from leaving before checking out. But you don't want a popup asking them to complete their order.
You have to give them the incentive to do so. For instance, you can offer free shipping or a discount that expires in an hour or so. In most cases, shoppers are hesitant to purchase because the prices are high.
So offering an opportunity to save even more on your Black Friday or Cyber Monday sale can help seal the deal.
4. 4. Doe een krachtig aanbod aan herhalingsbezoekers
If your site gets repeat visitors, they may compare your prices to competitors. This means they're still considering your items.
So to help them make their final purchasing decision, you can offer a deal they can't resist. Show a popup that provides an even deeper discount on your Black Friday and Cyber Monday deals.
You can also offer other incentives, such as free shipping, BOGO, etc. Set it up, so this popup shows to visitors who've been to your site within the last 24 hours. This will help target visitors who have already started their holiday shopping.
5. Gebruik Upsell en Cross-Sell Popups
Holiday shoppers are looking for all the best deals they can get their hands on. The problem is they can't be everywhere at once. The fear of missing out is major during this shopping season; you can play on that with upselling and cross-selling.
You'll find this works great for Amazon all-year round. If you offer your visitors additional related options at a discounted price, they're more inclined to buy.
An intuitive popup platform is essential to make this work. For example, you can create a campaign that shows visitors three to four related items in a popup based on their search history and shopping cart data.
Je kunt hetzelfde doen met upselling. Gebruik hun gedrags- en winkelwagengegevens om aanbiedingen op hoger geprijsde artikelen te laten zien. Dit is overtuigender als de kwaliteit en de waarde ook hoger zijn. Anders gaan de mensen vasthouden aan de goedkopere optie.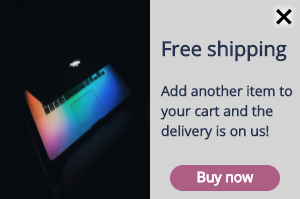 6. 6. Toon een permanent tabblad met aanbiedingen
What's great about tabs is that they don't go away. Even after visitors close your popup, permanent tabs will display throughout the site at the top or bottom of the screen.
Use this feature to share deals, such as free shipping on orders over $X or an X% off coupon code. It's also practical to show a timer ticking away to help create a sense of urgency.
But don't use this without the popup – the popup still captures shoppers' attention. Also, you can make the tab clickable so it takes visitors to your deals page or any other landing page that'll help convert them into customers.
Of je kunt dezelfde popup laten verschijnen als gebruikers op het tabblad klikken, zodat ze naar de aanbiedingenpagina kunnen gaan.
7. 8. Gebruik Pop-ups met een beperkte tijdsaanbieding
Ook hier is het creëren van een gevoel van urgentie een effectieve manier om meer leads om te zetten in sales. U kunt dit doen met een popup die een beperkt tijdsaanbod heeft.
But don't stop there; include a countdown clock. This will help drive more visitors to act quickly. For instance, the popup can say, "Get $20 off plus free shipping when you complete your order in the next 10:00 minutes.
Then include the clickable coupon code beneath the timer (for copy and paste purposes).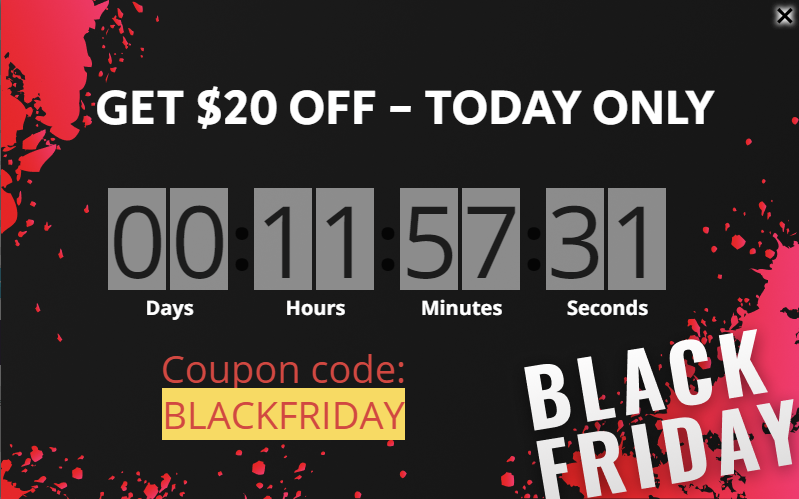 U kunt ook Boost Your Sales lezen met Last-Minute Black Friday Marketing Campaigns als u nog wat ideeën wilt opdoen voordat Black Friday en Cyber Monday hier zijn.
8. Create an Exit Popup to Collect Email Addresses (and Reduce Cart Abandonment)
Een andere manier om het aantal gevallen van het achterlaten van een winkelwagen te verminderen, is het gebruik van pop-ups die e-mailadressen verzamelen. In plaats van alleen maar een deal aan te bieden om te blijven en hun aankoop af te ronden, kunt u vragen om hun e-mailadres om een kortingscode te sturen.
Once you have their emails, you can retarget them later if they still don't check out. Be sure to have a strategy in place just for these users.
A fast-drip (vs. slow-drip) email campaign is vital for visitors to return and complete their purchase before the sale ends.
9. 10. Implementeer Pop-ups om UX te verbeteren
If you sell popular items that typically sell globally, you must inform users if you don't ship to their area. Using cookies, you can identify where a visitor resides.
You can then use a popup that shows items stating that delivery options aren't available for their area. This can trigger when the object's added to the visitor's cart.
Visitors can either change the delivery address or remove it from their cart. This will help prevent issues down the line and improve the user experience.
Het creëren van de Ultimate Holiday Sales Popup Strategie
You only get one shot each year to maximize Black Friday and Cyber Monday sales. Without implementing sound strategies to grow your holiday sales, don't let time pass you by.
With the above popup ideas, you can ensure you can do just that.
Als u op zoek bent naar een kwaliteitsplatform om te helpen bij de uitvoering van deze strategieën, kijk dan eens naar Poptin. Je kunt het een kans geven met behulp van het gratis account.
Laat ons in de commentaren weten welke popup-ideeën werken voor uw bedrijf deze komende Zwarte Vrijdag en Cybermaandag!