All eCommerce stores are faced with a lot of challenges.
The competition is a lot fiercer than decades ago. 
The consumers are ever-changing and it becomes harder and harder to keep up.
Technology, on the other hand, is always in the loop to give us the tools that we need.
If you're a small business owner, you might feel the pressure. But believe it or not, you have the capability to catch up with your competitors.
Some eCommerce platforms like Nuvemshop pave the way for all businesses irrespective of size to have a home in the World Wide Web.
With the presence of its powerful apps, every store owner has the capacity to maximize its potential and reap better results in no time.
In this article, you'll know more about Nuvemshop as an eCommerce platform and the essential apps you need to have in your store.
Let's get started!
What is Nuvemshop?
Nuvemshop is one of the largest eCommerce marketplaces in Latin America. It's the home of over 70 thousand active online stores, all enjoying the benefits of Nuvemshop's advanced features and functionality.
This platform allows every store owner to have a unique store layout and acquire personalized improvements.
Another thing that's great about Nuvemshop is that you can integrate third-party apps and create seamless transactions from payment to shipping. 
These applications are necessary for boosting your store and may help you speed up the success of your lead generation and customer retention efforts.
Check out these 6 Nuvemshop apps that you can consider.
1. Poptin
Poptin is one of the most powerful and user-friendly lead capture tools today. 
It allows users to create engaging pop-ups and forms that help in converting visitors into customers, subscribers, and leads.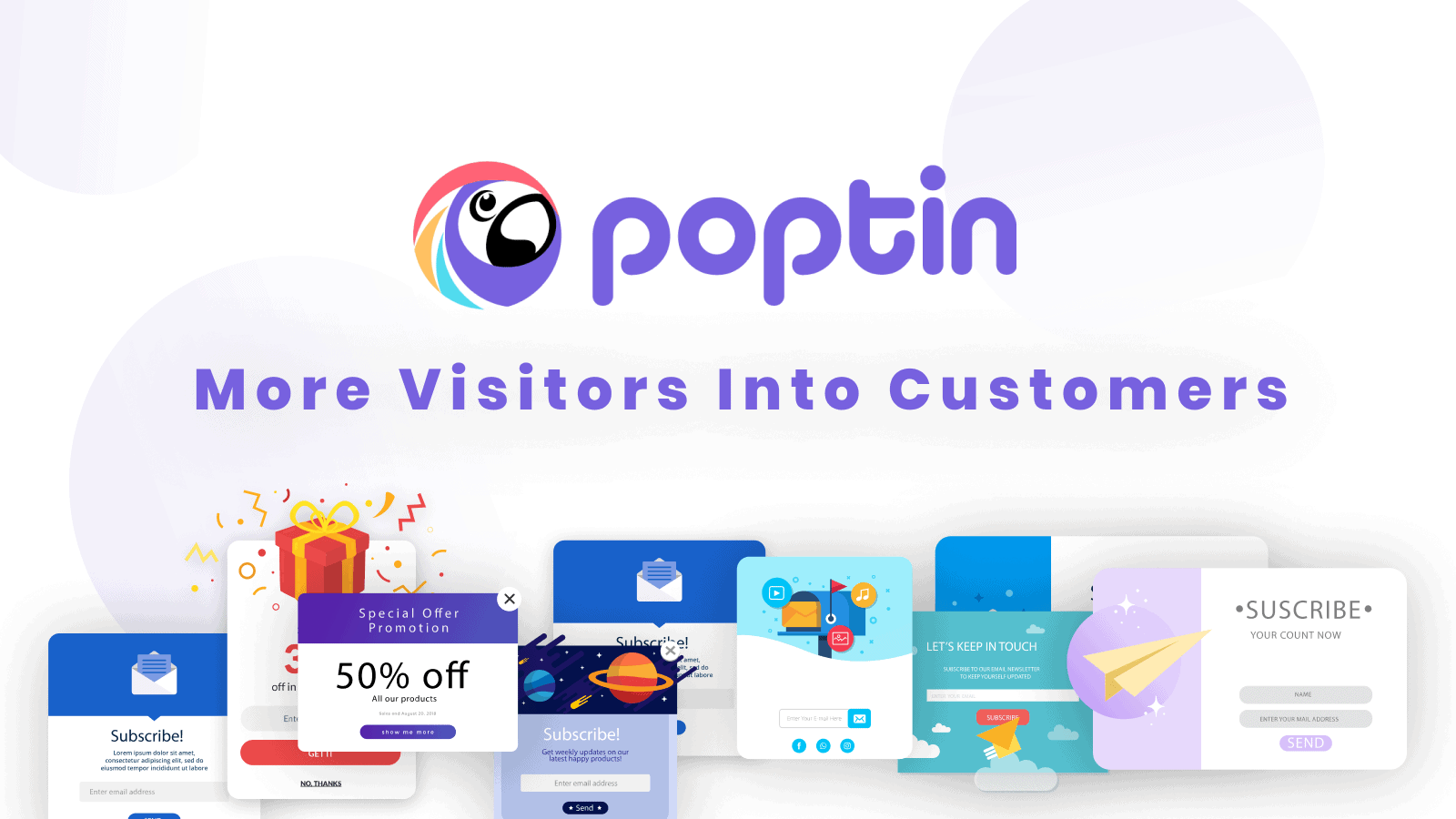 In just two minutes, you can create your own designs using Poptin's drag and drop editor. Choose among the many kinds of popups such as lightboxes, full-screen overlays, slide-ins, mobile popups, widgets, and email forms. Its comprehensive customization options allow you to add or edit fonts, colors, sizes, images, and a lot more.
If you're not into creating designs from scratch, Poptin has over 40+ premade templates that are also compatible with any devices. There's no need for any coding so you can relax knowing that you can do them yourself.
You can even add some essential elements that can speed up conversions such as a countdown timer, media files for visually-appealing, and coupon codes.
Generally, Poptin is an all-in-one toolkit that can help you achieve the following for your Nuvemshop store:
Boost your email list

Attract more leads

Improve sales

Rescue abandoned carts

And engage with more customers
Regarding abandoned carts, exit-intent technology is the way to go. It tracks mouse movements of visitors and shows an enticing offer through a pop up once the cursor leaves the frame of the site. This is an effective way to upsell, engage, and boost sales seamlessly.
In addition, you won't need to worry if you're reaching the right audience. Poptin makes it easy for you to attract qualified customers based on specific behavior and targeting rules.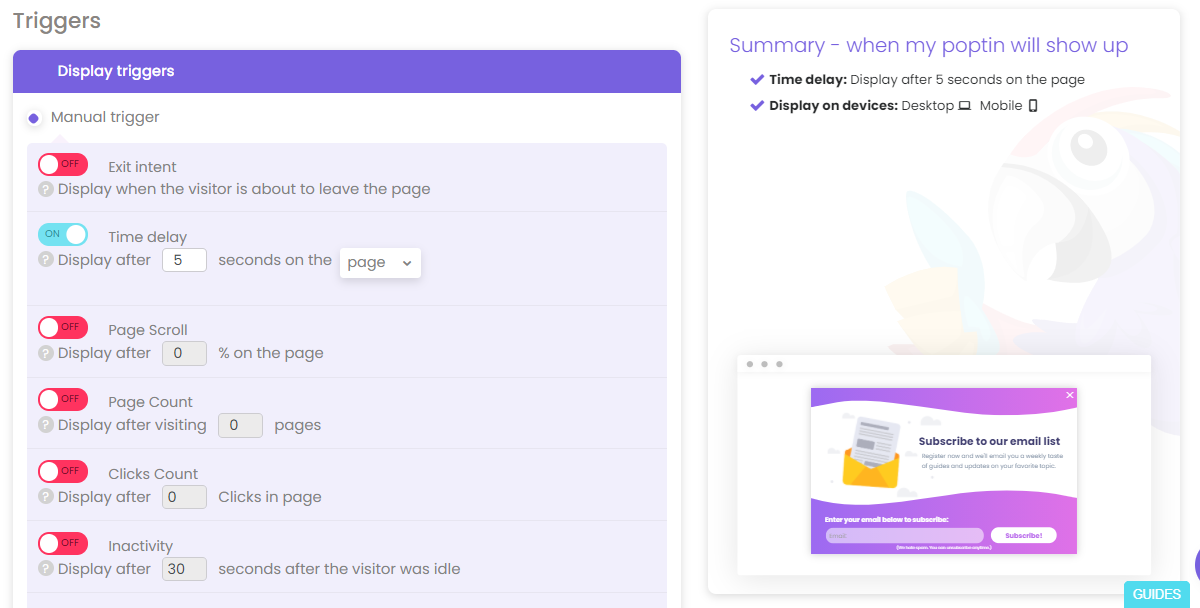 With the right options, you can show the right message to the right people at the right time. This way, conversions can be much more efficient.  
Poptin is now being used by over 140,000 websites in 155+ countries around the world.
Start converting more visitors with Poptin now!
2. Jivochat
Improve your customer service with Jivochat. It gives you the ability to chat with your visitors right away.
You can even use it to manage teams and communicate with visitors through different channels such as Chat, Telephone, E-mail, Facebook Messenger, Telegram, and Viber. 
It's so user-friendly that you don't have to switch apps and devices to communicate. In just one platform, you'll experience fewer distractions and better results. 
JivoChat now has a free forever version of up to 5 operators along with several advanced features.
3. Mailbiz
Studies show that email marketing is one of the most effective ways of marketing a brand. That's why it's all the more important to utilize its power before you totally miss out on its benefits.
Mailbiz is a solution that's focused on improving your Nuvemshop store's email marketing performance.
Aside from its advanced features, you won't go wrong with Mailbiz as it also gives consultancy to help you strategize and do certain functionalities well. It gives you access to several learnings in terms of delivering emails, increasing opening, boosting click rates, creating automation and segmentation, and continuously improving sales.
Some of the features of Mailbiz are the following:
Seamless subscription integration

25+ premade campaign templates

Easy to understand dashboard

Analytics

Landing Page
4. SEO WebPeak Tool
If you're new to eCommerce, you probably don't know yet how important SEO is. 
Having an SEO-optimized website can help you get better rankings on Google's search results. This may indicate success in traffic, leads, and hopefully, sales.
WebPeak offers SEO solutions for your Nuvemshop store. It gives you the right tools and proper structures on how you can build your brand and improve your rankings.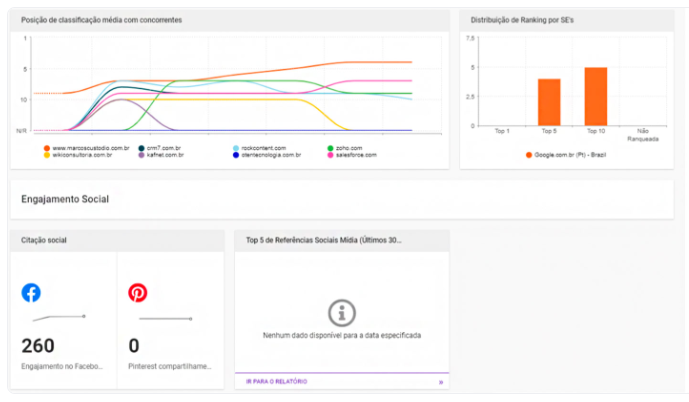 From time to time, you can scan your website and see its performance, assess your competitors, and monitor your social media engagement. This way, you can pinpoint the elements you need to improve or nurture.
Once you install this application, you can also chat with their SEO experts so you can manage your SEO well and maximize your store's potential.
5. ADSROCK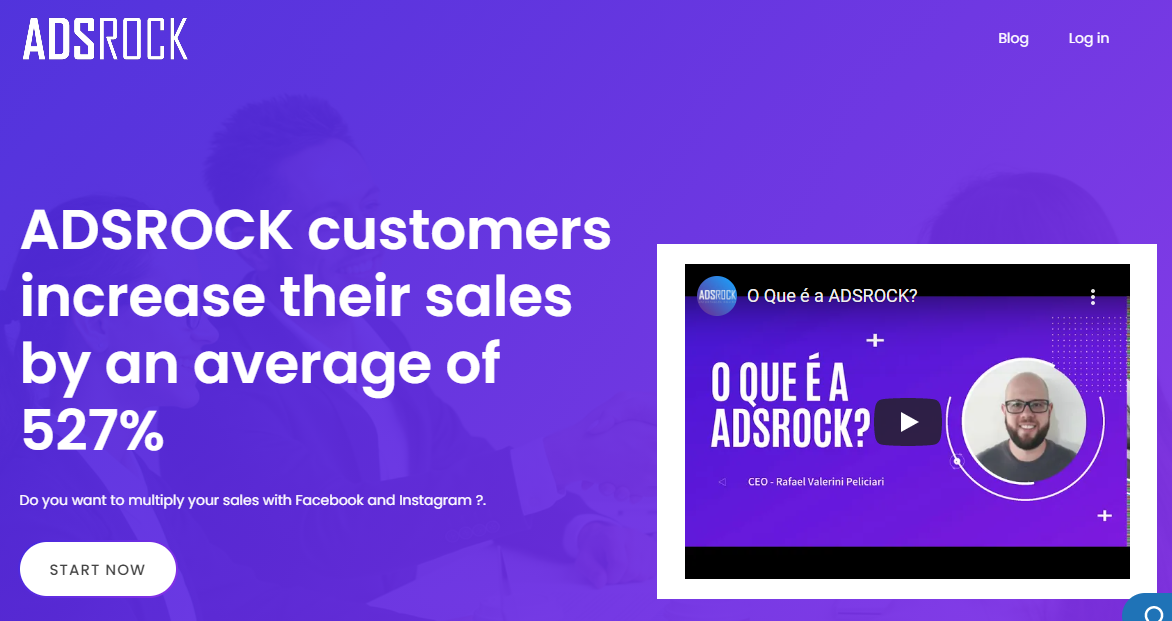 Want to reach more customers on social media? With ADSROCK, you can create and monitor your Facebook and Instagram ads with so much ease.
It makes use of artificial intelligence that puts the necessary refinements to your campaign, giving you better business results. 
You can also do automated A/B testing using the said AI. By conducting A/B testing, you can focus on improving your campaigns and get better insights into what works best for your customers.
Aside from analyzing campaigns, you can also check the status of your sales funnel and check if there are any leakages.
ADROCK's subscription plans start from $30 a month, including chat and marketing support, analytics platform, campaign management dashboard, and many others. 
Conclusion:
Keeping and growing an eCommerce business might seem too scary at first. But with the right tools, you'll realize you're capable of doing the things you think are too hard for you.
Nuvemshop is a great marketplace as it gives you access to several important tools to speed up the growth of your business. 
If your objective is to supercharge your store with amazing popups for customer engagement, acquisition, and retention, then don't hesitate to try Poptin. Its features and functionalities are sure to give you effective lead generation for your business.
For customer service and additional engagement, JivoChat is the right one. You can chat with your visitors right away and offer your support anytime.
You won't miss out on the opportunity that email marketing provides if you use MailBiz. It's the app that gives you 100% email support and solutions.
If you want to optimize your site with SEO, WebPeak can give you the right tools and ensure that you can rank up higher in search results.
And when it comes to social media, you can now reach your customers even on Facebook and Instagram by using ADSROCK.
By using these tools, you're sure to boost your online presence and achieve better results.