Mid-funnel or middle-of-the-funnel marketing can be defined as a bridge between the prospects' initial contact with your brand and the final purchase. It is a stage in the buyer's journey that helps you build trust and convince your leads about your product or service.
At this stage, leads become aware of the products or services you offer and are willing to know more about the same. They are also evaluating other products in the same niche to understand which ones suit their requirements the best.
Lead nurturing is an important aspect of mid-funnel marketing. It helps you reach out to the best leads, slowly nurture these prospective customers, and help them make thoughtful buying decisions. Therefore, it is essential to craft content offering unique value to your leads and solve their problems.
A study by Invesp reveals that only 20% of new leads usually convert into customers. One of the reasons for such a low number is attributed to the absence of lead nurturing in the middle-of-the-funnel marketing strategy. It is also found that the companies nurturing their leads are generating 50% more sales than others.
Mid-funnel marketing offers the following benefits to businesses.
It helps in delivering qualified leads to the sales team.
It offers businesses a chance to demonstrate their products or services to the leads in-depth.
It helps businesses build a relationship of trust with their prospects.
It empowers leads to make a thoughtful buying decision.
Now, let us have a look at the prerequisites for omnichannel lead nurturing.
Prerequisites for Personalized Omnichannel Lead Nurturing
To have a successful omnichannel lead nurturing strategy, you should have –
A motivated and engaged sales team can work wonders for businesses. Being the backbone of your business, your sales teams should focus on building meaningful relationships and helping leads with their queries. According to HubSpot Research, 93% of customers are more likely to repeat their purchases with companies offering excellent customer service.
Having a rich database of qualified leads is the next prerequisite for a successful omnichannel nurturing strategy. Your lead generation team should also regularly add new prospects to this database. Furthermore, you can leverage SEO and social media marketing to generate leads and grow your database.
An Ideal Customer Profile
A customer profile is a generalized yet detailed description of your current customers. An ideal customer profile mentions their pain points, demographic data, purchasing behaviors, and other information. It serves as a guide for categorizing your leads into various segments for sales and marketing campaigns.
Sending out the right messages at the right time is one of the essentials for a successful lead nurturing strategy. This process can be boosted by using some excellent lead nurturing tools, especially CRMs and marketing automation tools. It will not only save the time of sales and marketing teams but also give them more time to engage with the leads.
The introduction of technology in this ever-changing marketing industry has triggered a digital transformation in various business processes. With the right tools and tactics, firms can leverage lead nurturing tactics to bring in the best customers and boost your sales.
Now, let us have a look at five effective tactics for your omnichannel lead nurturing strategy.
5 Tactics to Improve Omnichannel MOFU Lead Nurturing
1. Identify Ideal Fits via Deep Profiling
Not every lead generated is an ideal fit for buying your product or service.
According to Sales Insights Lab, around 50% of leads generated are not a good fit for products or services. That is why identifying these prospective customers is mandatory to boost sales and marketing efforts.
Gain a deep understanding of your leads. Learn about their background, pain points, challenges, and expectations from the product or service. This information will help you gauge whether or not your lead has a genuine interest in the product or service.
Defining an ideal customer profile and comparing the prospective customer's characteristics to this profile is a good approach to identify the fit. Here are some of the tried and tested tactics you can follow to profile your leads to see if they match the ideal customer profile.
Use registration, demo request, newsletter signup, website popup forms to collect phone numbers, or any other subscription form to capture information about leads
Ask relevant questions to the leads via questionnaires and surveys.
Have a look at this screenshot of a lead profile in the Intercom, a customer communication app. Information about the lead, such as sign-up details, region, industry, activity log, and other information is presented in a structured profile.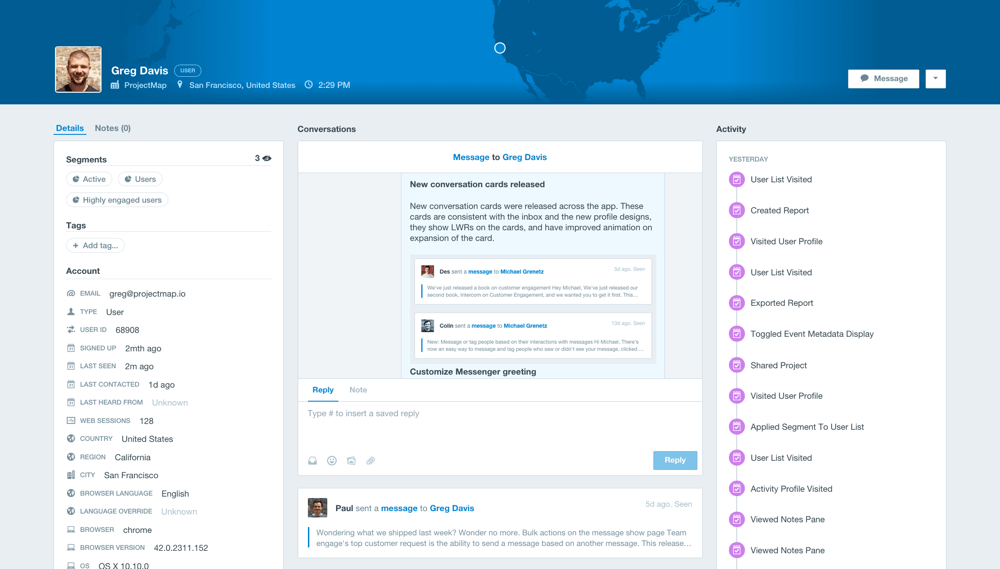 Here is a screenshot of a company profile. Check out how company account information and details of their employees are presented in a simple layout.
2. Track Engagement to Identify the Intent
When purchasing a product or service, customers have the flexibility to choose from
various options available in the market today. So, it is important to know where
the lead stands in the buying journey to engage them in your brand even better.
Monitoring leads is essential to track their intent. This intent data is essential to boost the effectiveness of your marketing campaigns.
For example, when a lead visits the pricing page of your product website, you can track the activity and devise your campaign to convert them into customers. Similarly, when a lead submits a form on the website, you can connect with them over email or via ads to encourage them to engage with your brand.
Intent data gives you detailed insights into how your leads engage with various marketing mediums like website, email, social media, etc. Further, it also offers you a thorough understanding of the content types you could leverage to increase interactions with your leads.
SalesTrip, a travel booking, and expense management system, leverages this excellent lead nurturing strategy to reconnect with leads that were put on hold due to the pandemic.
They use lead generation software to track these leads visiting their website pages. This app also gains access to crucial information like company name, company size, location, as well as the number of times the lead has visited the website. They use these insights to target these leads to convert them into customers.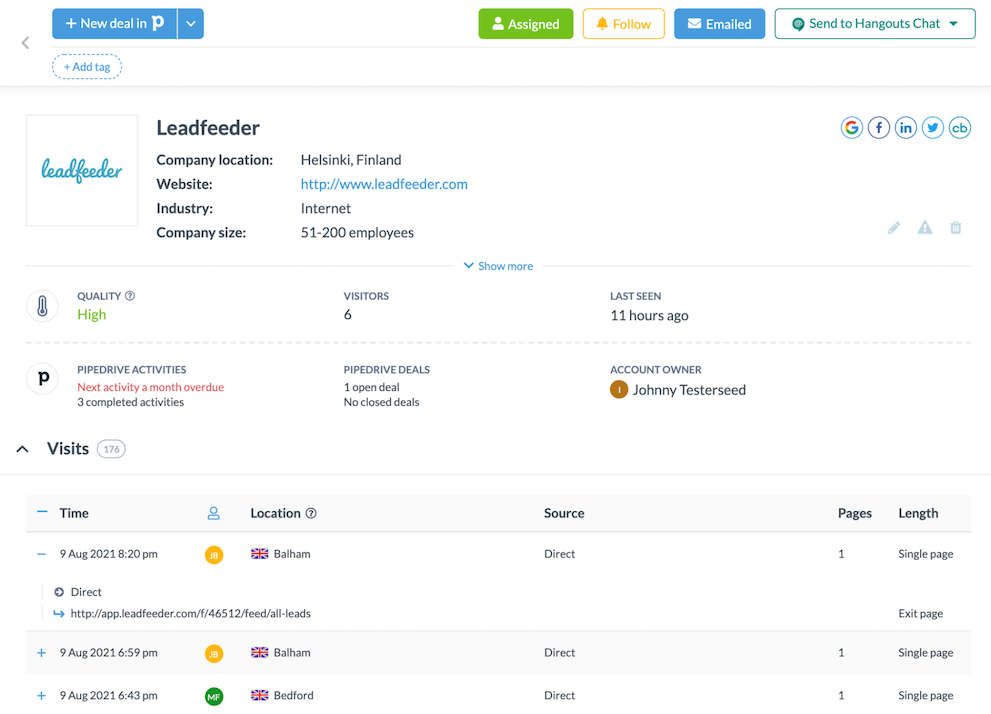 This strategy has helped them increase their lead conversion rates by 10%.
3. Tailor Content According to the Buyer's Journey
Identifying the best-fit leads is helpful for the sales team. Moreover, content teams can leverage these leads to devise an outstanding content strategy. This data can help content teams identify the ideas to create content assets, such as blog posts, articles, eBooks, and videos to nurture the leads.
Besides, the sales team can also speak with the customers to understand what kind of content they found most helpful and provide the findings to the content team. This will help in planning an effective content strategy.
Tailoring content based on the lead's status in the buyer's journey goes a long way
in engaging them with the brand. It helps educate and inspire leads to take an action.
Furthermore, promoting this content on various social media channels can also help in
capturing new leads as well.
This report by DemandGen Report revealed that targeted content can increase sales opportunities by more than 20%.
Oz Content, a content ideation software company, ran a series of highly-focused webinars for a list of leads that were the best fit. This email campaign saw an increase in open rates by 3x.
4. Nurture Leads across Multiple Channels
When it comes to leads, employing a multi-channel lead nurturing strategy helps them
to discover your brand. If overdone, multi-channel nurturing can feel spammy to your leads. Ensure that your content is helping leads with their decision about purchasing your product.
By limiting your lead nurturing efforts only to email, you are losing out on many other marketing channels for lead generation like social media, community forums, and many others.
For example, if you are targeting leads via email marketing campaigns, you can leverage retargeting ads to capture their attention.
MoEngage is a widely-used tool for customer engagement. In addition to sending email messages to the leads, they are also leveraging retargeting ads on many platforms including social media, music streaming platforms, and other similar websites.
5. Interact at Both Company and Personal Level
In the B2B space, it is important to remember that the product or service you are selling is a person who represents a company. The lead could be anyone. It could a person who is trying out the product or someone who has subscribed to your newsletter.
The company could come into the picture when the lead subscribes to a plan. Thus, it is necessary to understand who you are interacting with.
Not all marketing tools available out there have this feature for addressing leads. There is a possibility of you sending incorrect messages to your leads.
That is why using customer data platforms are essential. This software helps in categorizing leads into different segments based on their stage in the buyer's journey.
Wrapping Up
Identifying the best-fit leads and maximizing engagement through targeted messaging and content across various channels can help businesses gain more conversions.
By following the tactics mentioned above, you will be able to hand over qualified leads to your sales team while keeping the leads engaged with relevant content. This will improve conversion rates and offer you a clear picture of what strategies works for your business.

Author Bio
Lucy Manole is a creative content writer and strategist at Marketing Digest. She specializes in writing about EdTech, productivity, career, technology, and entrepreneurship. When she is not writing or editing, she spends time reading books, cooking and listening to music.