Pop ups could be extremely obnoxious, but they work! If you realize that basic website pop-ups could boost your email subscriber rate by 1,375 percent, would you consider using one?
Indeed, you would. Even though creating and keeping an email list is essential to your business, web pop-ups have numerous uses that convert into improved engagement and more customers.
If you do not realize you have a problem, why would you require a solution? The following figures shed some light on some of the common challenges experienced by business owners seeking to attract customers through their website.
A business using exit-intent pop-ups that show when a user tries to exit your website can experience a 

boost of sign-ups by 600 percent.

Seventy-five percent

 of people who initially leave your website without engaging intend to return after making a purchase or become a customer.

Only 0.25 percent of new visitors will make a purchase—the chances of making a sale 

rise by nine times

 when they're promoted to visit again.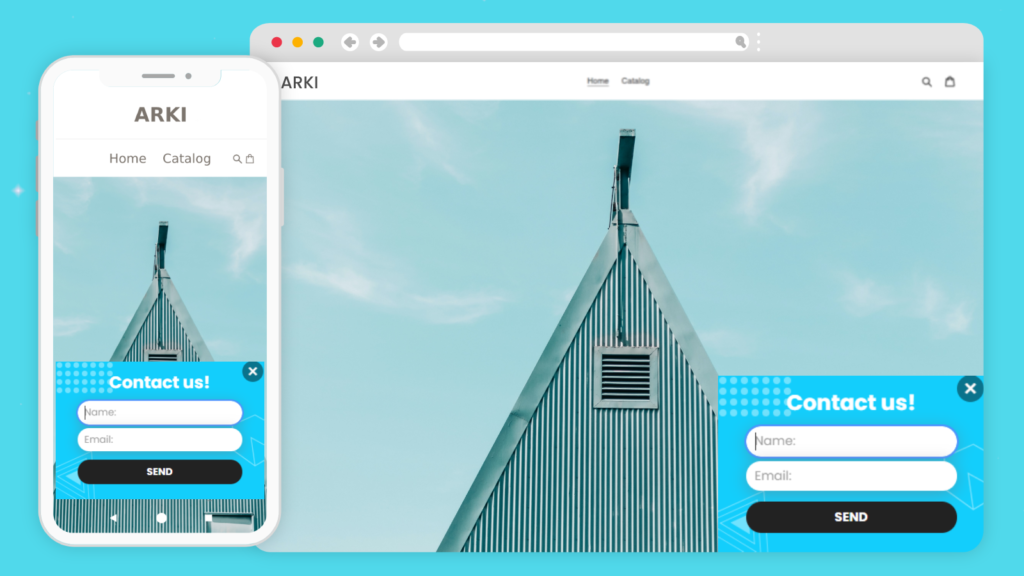 Meanwhile, website building can prove to be quite difficult, especially for those who don't know where to start; and in an era where everything is digital, creating your perfect website couldn't be more necessary.
Luckily for you, this can all be made possible using the Shopline eCommerce platform. This excellent platform enables you to create your ideal website quickly and efficiently without knowing anything about code.
Shopline is an e-commerce store wherein users can install pop-ups to convert more visitors into leads, subscribers, or customers.
What is the Shopline eCommerce platform?
Shopline online store platform is a great start for you. Did you know it's designed to boost your sales and handle multiple tasks such as product listings, payments, and even shipping to marketing promotion settings?
Equipped with their own smart, responsive web design (RWD), this platform adapts perfectly to every browsing device in order to ensure that you can create a website that embodies all your ideals and values for your brand.
From applications such as Whatsapp to Facebook, Shopline Social Commerce offers you efficient and full-featured tools such as Chatbot, Livestream, Message, and broadcast Center that guarantees conversion of your followers into customers and boost your overall sales.
Feature Highlights
Shopline eCommerce platform includes featured highlights to help you pave your path to your ideal website. Some of these are as follows:
Store and inventory management

. With this platform, you can easily manage all your daily eCommerce functions with the use of the Shopline dashboard with centralized inventory, order, visualized reports, and returns management.

Real-Time Performance Report

. Ever had trouble keeping track of your activity? Well, Shopline eCommerce platforms efficiently organize all of your relevant sales data and visualize them for you to effectively create business insights to ensure the best decisions for your business.

Payment and Logistic Integrations.

Integrated with localized payments gateways and delivery service companies all around the globe, which includes credit cards, ATM transfers, cash-on-delivery, and lots of other methods. This ensures that your website can serve a wide range of customers.

Online Ads Services

. Advertisements are crucial to the growth of your business. Shopline is officially listed as Facebook Marketing Partner and Google Premier Partner. Their advertising specialists would lead you to boost business growth effectively.

Shopline Community.

Shopline offers you a unique community that is designed to educate, inspire, connect entrepreneurs and business owners to create a community that shares real experiences through a variety of workshops. After all, the experience is the best teacher, and the shop line offers you only the most hands-on experiences you can get.
Why Pop Ups are Effective?
Pop ups are a Shopline's greatest friend and will greatly help you create your ideal website. Let us take a closer look as to why they are so effective.
The last thing you want for your Shopline ecommerce website is for potential customers to lose interest and leave. In the worst-case scenarios, customers are likely never to return.
Good thing is, Poptin has launched an app on Shopline!
It is a free pop up builder that has all the features you need to achieve highest conversion potential of your pop ups and inline forms.
Pop ups enable you to convert much more of your audience into customers by centralizing your visitor's attention on valuable and interesting offers just for them.
Is it hard for you to decide on many things? If so, that may be exactly what your visitors may be experiencing when visiting your website. Often, customers will be overloaded with buttons and options, which may cause them to leave your website.
Using popups allows you to sway visitors to stay on your Shopline website and convert them into customers. You can avoid giving your customers the anxiety of choosing by prompting pop up to make it easier for them.
The Best Tool to Create Shopline Pop Ups: Poptin
Now, you may be asking yourself, "how could I create effective Popups for my website?" Well, Poptin takes all those worries and optimizes them into one simple tool.
With your ideal eCommerce website on the line, you surely want only the best features for each of your customers.
Poptin is a product worth a year of digital experience. It aims to help you effectively grow your website and claim your spot in the massive digital space.
Poptin is suitable for building user-friendly pop up. Even if you know nothing about coding, you can easily create amazing designs in just a matter of minutes.
With its plentiful templates, integrations, customization options, display rules, it is guaranteed to create your perfect pop up with ease.
Converting visitors and customers couldn't be easier with Poptin.
With that in mind, here are some of the benefits of using Poptin today!
Create different types of pop-ups. Did you know Poptin enables you to make different types of the pop-up? Some of the types you can create are mobile-only, social, full-screen, slide-in, bar, and lightbox.
Customize the pop up

. Poptin offers you enough flexibility when creating a pop up. In fact, you can customize the pop up design to match your brand's colors. Other things you can customize are border colors, shadow effects, background colors and images, animations, button colors, and more.

Hassle-free installation

. The best part about Poptin is that the installation is extremely easy. It's as basic as getting the installation code and paste it on every page you wish to appear pop-up on above the head tag.
See complete list of Poptin features here.
How to install Poptin on your Shopline Website [5 Quick Steps]
1. Log in to your Shopline dashboard. Go to Apps and click Go to App Store.
2. Once you're in the app store, search for Poptin and tap Install.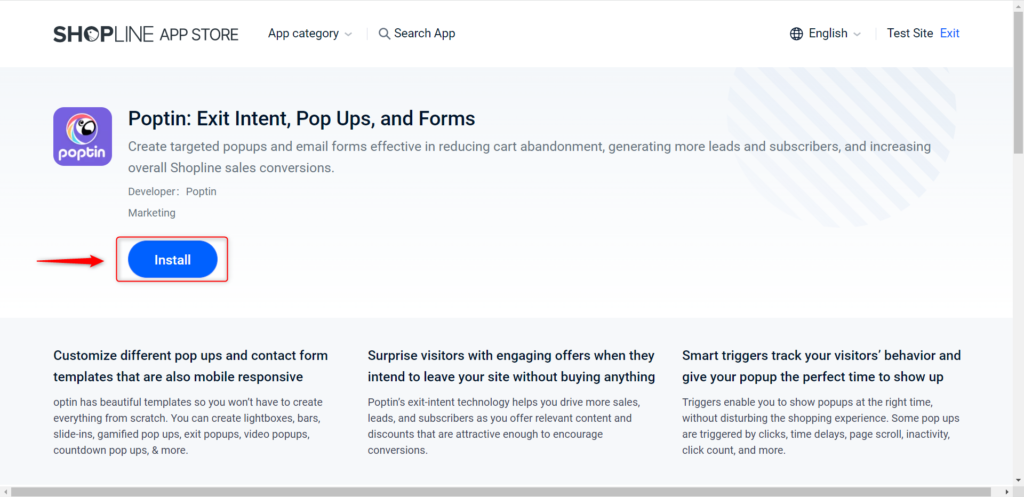 3. Just click Agree to the Privacy Policy and click Authorize and Install.
4. Make sure you're logged in to your Poptin account so it will automatically connect to Shopline.
5. Activate a popup and check it on your website. Your popup should now appear on your Shopline Store.
That's it! Poptin is now installed on your Shopline account.
Start converting more visitors into leads, subscribers, and sales through engaging pop-ups and embedded forms.
Benefits of Connecting Poptin with Shopline
Naturally, there is an assortment of benefits that comes with connecting Poptin with your Shopline website. Although not limited to the following, here are some of the many benefits you can enjoy.
Achieve better visitor engagement.

Poptin enables you to conduct surveys, get feedback, and show visitors more items they might just be interested in. With this, you will be able to keep a close track of your visitors as well as manage multiple features that come with Poptin.

Get more email subscribers. You can expect improved subscription rates when using Poptin with the ability to give information displayed at just the right moment. This will be particularly useful for updating your customers about the latest news from your website.
Reduce shopping cart abandonment. Customers tend to stray away from their purchasing plans, which often leads them to leave their carts. Pop-ups can give them exclusive offers to keep them interested and overall reduce shopping cart abandonment.
Produce more sales.

Your visitors will appreciate good offers that suit their interests. Poptin will enable you to serve your customers more efficiently and effectively, which is a must-have for any successful website.
Conclusion
So you've set up a Shopline website. You have put together amazing plugins and posted exciting products. However, you don't know how to engage your web visitors and shock them upon entry. That's when Poptin pop-ups enter the scene.
As you can see, Shopline and Poptin go hand in hand, especially if you have to convert more customers to your website. Shopline is a complete solution to support merchants to go online and global, while Poptin is geared with the essential features to increase engagement, boost sales, and grow your email lists.
If you have not used these two, you might be missing a lot!
Want to start creating your Shopline pop ups? Sign up now with Poptin for FREE!