OptiMonk is a conversion and lead optimization tool that focuses on helping businesses increase their revenue by getting more conversions and reducing their car abandonment rate. As it happens with other conversion platforms, you need to pay for it.  
Paying for a lead optimization tool pricing plan is always positive for your company, as it will help you recover that money in the long run. However, is OptiMonk the best option for you? Poptin pricing plans are more accessible, and it offers similar features.
Here, you will get an overview of both software's pricing plans and a recommendation of which one is better. 
Which OptiMonk Pricing Plans Suits You?
The first thing you should analyze before comparing the features both companies offer is their pricing plans. As for OptiMonk, it has five pricing plans with a decent range of prices for all clients to find a plan that fits their budget. Needless to say, the most affordable plans are the ones that offer the least features.
OptiMonk's Free plan works as a way of getting started with this software and its interface, but it doesn't include the most essential features online marketing often needs. This plan doesn't have A/B testing, smart tags, or priority support for its users. However, it offers popups, campaign analytics, and several integrations. 
You could consider the Essential pricing plan – the true first plan of this software – since it gives you access to the essential features all marketers need to make successful campaigns. Here, you have A/B testing and can remove the OptiMonk logo from your content. Users can also manage up to two domains with the same account. This pricing plan is $39/mo.
We recommend that you pick this pricing plan if you are the owner of a new brand that wants to start getting revenue with the help of website personalization. The Growth plan is the most popular one from this software.
You have to pay $99/mo to enjoy its features, but it gives you access to A/B testing and smart tags, and it allows you to remove the OptiMonk logo from your campaigns. Go for this plan if your brand is growing fast, as it will help you maximize your sales and get more leads.
The Premium plan can be expensive for small businesses, as you need to pay $249/mo for it. However, it gives you all the features the previous plans offer and priority support. That means that you'll get quicker answers whenever you need help from the customer support team.
You can manage 10 domains if you pay for this plan. If you want unlimited domains and have the money to afford them, you can pay for the Master plan. This plan offers all OptiMonk features, but you have to contact the support team to get its pricing.
All pricing plans have mobile compatibility, so you can create popups and embedded content anywhere, as long as you have a smartphone. That includes side messages and sticky bars. You can create your templates if you don't like the ones OptiMonk offers.  
What's Really in Each Pricing Plan?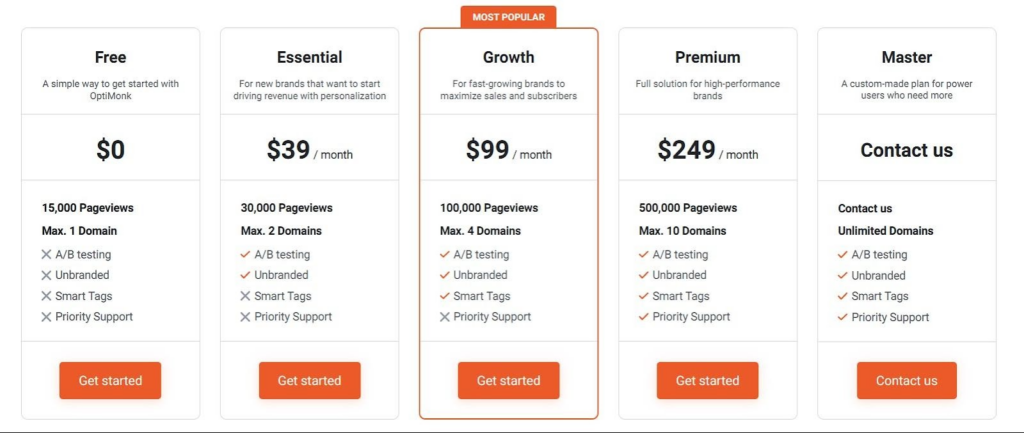 OptiMonk is, overall, an excellent conversion and lead optimization tool, but you can't pay for it if you don't know what's really in all its plans. Let's start with the things all pricing plans have:
Embedded content
Analytics
Mobile-compatibility
Customization
Integrations
Those are the main features marketing teams use to create their campaigns, and you can enjoy them from the free plan. The problem with that is that you don't get access to other features you need to maximize your marketing efforts and get more leads.
We don't recommend you get the free plan, as it doesn't give you access to A/B testing. If you don't have that, you can't test different variations of your marketing campaigns, so you can't optimize them. The same happens with its targeted messaging features that let you create a business persona that works on specific audiences. 
The Growth plan is the overall best one if you take pricing into account. It may be expensive for startups, but OptiMonk is – in general – an expensive software. However, it gives you smart tags, and it only lacks the priority support the other plans have.
Paying the most expensive plans of the company is only a good idea if you have to manage 10 domains or more since they have the same features. The only thing that changes between the most expensive plans and the others is the expensive ones have priority support and let you manage more domains.
Comparison of Poptin's Pricing Plans to OptiMonk's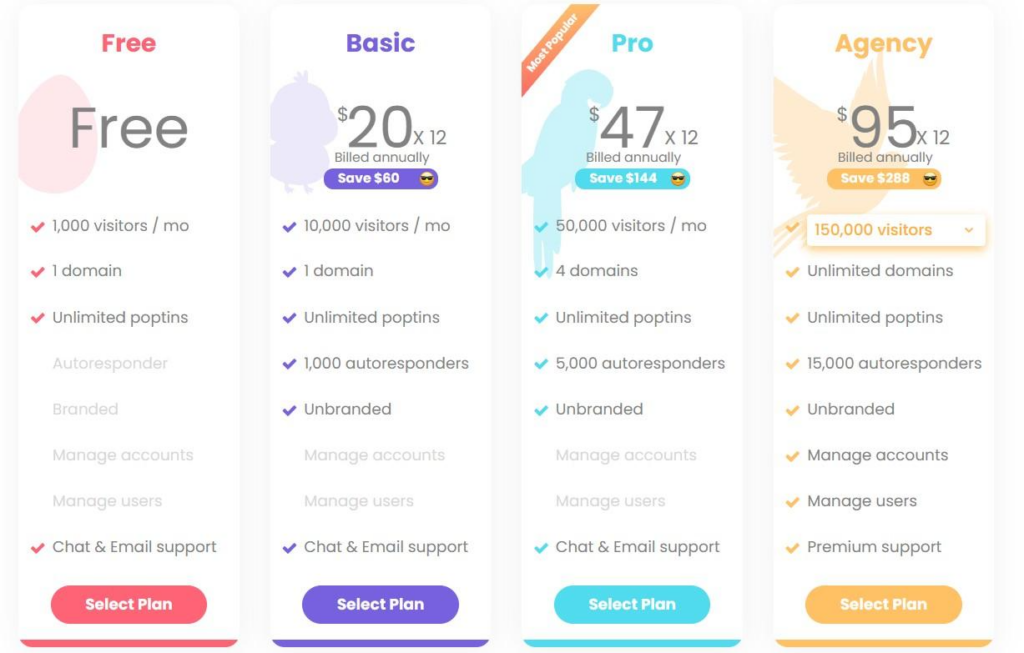 Poptin pricing is way more accessible for people working on a budget than OptiMonk. Besides that, the most affordable plans Poptin gives you more features than OptiMonk's. The first thing that you should know is Poptin has a 14-day free trial that gives you access to all the platform features.
That lets you know if you want to keep using this platform in the future without spending a penny on it. OptiMonk has a free plan, but it doesn't give you access to all features, so you don't know if the software will work for you with a better plan.
The Free Poptin pricing plan offers embedded content such as popups and contact forms. You can only manage one domain with it. Both platforms' free plans are similar if you ignore the 14-day free trial. Things start to change when you get to the Basic plan. 
Poptin only asks for $25/mo for unlimited poptins, embedded content, 1,000 autoresponders, and unbranded content. Clients can only manage one domain with it, but it's an overall better option for small businesses, as it's more inexpensive and offers you more features than OptiMonk's most affordable plan.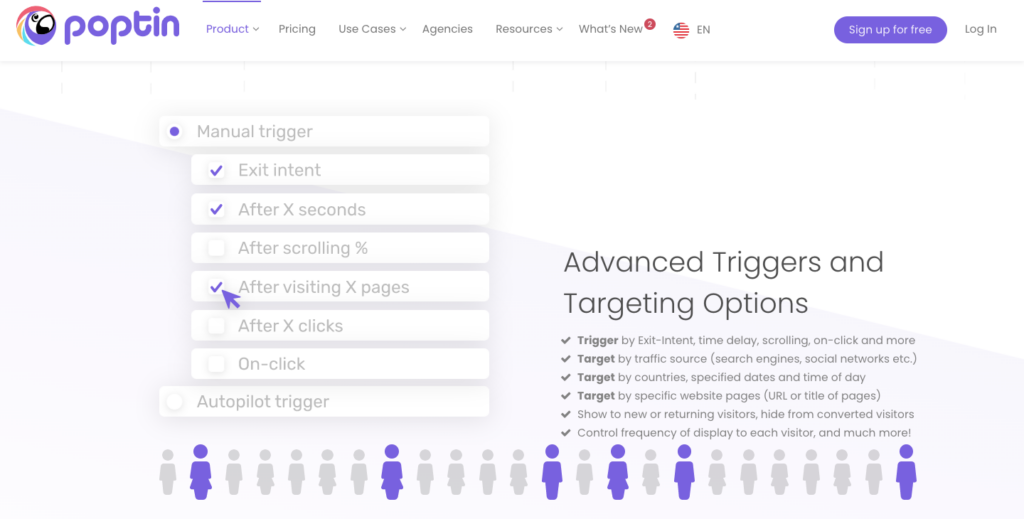 Following up with the Pro plan, it costs $59/mo, and it gives you access to four domains, 5,000 autoresponders, unbranded content, and all the features the other plans have. That also includes integrations, customization, targeted messaging, and A/B testing.
This plan already has a better offer than OptiMonk's most popular plan. The reason for that is that it's more affordable and gives you the same features. Something similar happens with the Agency plan, which is $119/mo and lets you use all the features Poptin offers. Besides that, clients have premium support with it. 
Why Should You Make the Switch to Poptin?
Poptin is a way better option than OptiMonk, and if you have been using the latter for email marketing purposes or any other campaign, you should switch to the former. These are a few of the reasons why you should do it: 
Affordability
As you already know, Poptin is more affordable than OptiMonk, so you can get access to its features if you are working on a budget. Apart from that, the free trial lets you start marketing campaigns with it without spending any money on its features. Even if you don't use the trial, you get access to more features for less money. Small businesses can benefit a lot from that.
Customization
Although that's not something you will notice right away when you check the pricing plan both platforms offer, Poptin has more customization capabilities than OptiMonk. You may not use that if you don't know much about marketing, but more experienced marketers will benefit a lot from having more customization options.
We are talking about features, such as CSS and HTML editing. While both platforms are easy to use, learning how to use those customization options won't take much time for beginners thanks to how intuitive and user-friendly the Poptin interface is. If you have any questions about it, you can always ask its support team.
Features
Most conversion optimization tools have the same features, so the only thing that changes between them is the money you have to pay to get all of them. However, even if you set that aside, Poptin has more features than OptiMonk. 
Functions, such as autoresponders and contact forms, are essentials of a lead optimization tool, but OptiMonk doesn't give them to you. Poptin does, and it does it for a more affordable price than what the competition offers. Even if you want customer support, it's less expensive to get it with this software.
Final Thoughts
We understand that it's difficult to switch to another lead optimization tool if you are already used to using the other. Nonetheless, it's often necessary to do it if you want to get better results and spend less money. Poptin is one of the best options you can pick online, so we recommend that you don't miss the opportunity to enjoy its features.
If you want to read more marketing-related blog posts, you can always go to the Poptin website. Learning more about marketing will help you optimize your marketing campaigns.