Poptin recently launched its newest feature that can level up your conversion strategy – pop up teasers!
Teasers are small-sized sticky popups that appear first before the main one. It triggers a pop up once a visitor clicks on it. it usually just have a simple call to action like "Click Here!" that's hidden in plain sight so the visitors would be more curious and enticed.
Pop up teasers prove that there's more to the usual pop ups that we know. It gives a whole new experience for your website visitors as they feel more excited about what your brand can offer.
There are a lot of things you can achieve with pop-up teasers, such as:
boost customer engagement
reduce cart abandonment
add value to your cart
generate more qualified leads
increase sales
drive more email signups
and many more.
Here are some of the best use cases for pop up teasers
Promote your deals without obstructing the view. Pop up teasers are an effective way to let your visitors know that you have prepared something for them, and that it's just around the corner if they want to see it. In this manner, they won't get disturbed when they're browsing something on your website. For eCommerce websites, teaser popups are great for displaying your Black Friday sale, free shipping promotions, coupon codes, and more.
Let your visitors know that they can access an important information/announcement and it's ready for viewing. With an engaging CTA, you can inform your visitors about your upcoming announcements. An example of a good CTA to add to your pop up teaser is, "We've reserved a slot for you!". And when they click on the teaser, a pop up about the event with a subscribe form appears.
Grow your subscribers list by giving a sneak peek of your content. Some website visitors do not care about subscribe forms not until they know what they can get in return. Add an enticing piece of content on your teaser, like a quote or a headline, so visitors would be encouraged to click it. Don't forget to add your email form fields on the main pop up that's integrated on your favorite email software for a seamless email marketing funnel. See Poptin's list of integrations here.
Just tap your creativity and you'll be surprised at how pop up teasers can boost your overall sales conversion rate.
Learn how you can create your pop up teasers below.
How to create pop up teasers with Poptin
Pop up teasers are pretty easy to create just like any other website pop up and contact forms, especially when you use Poptin and its no-code drag and drop interface.
It has a lot of customization options that you can use to add/edit your pop up sizes, fonts, colors, images, animations, and more.
Once you've logged in, to implement your popup teaser, all you have to do is to tick on the teaser option, and you can start from there.

Poptin also provides editing options for your teasers, such as entry and exit effects.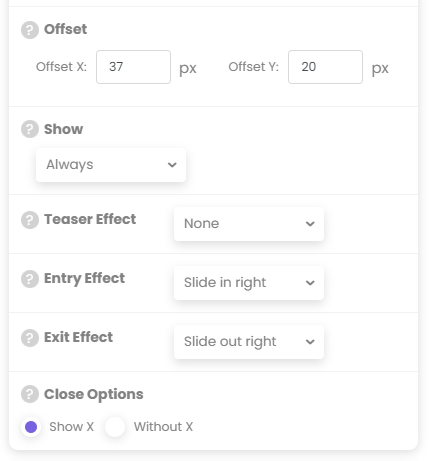 Although it's not necessary, it's aesthetically appealing to ensure that your teaser won't look too strange from the main pop up. From the teaser example above, here's the main pop up: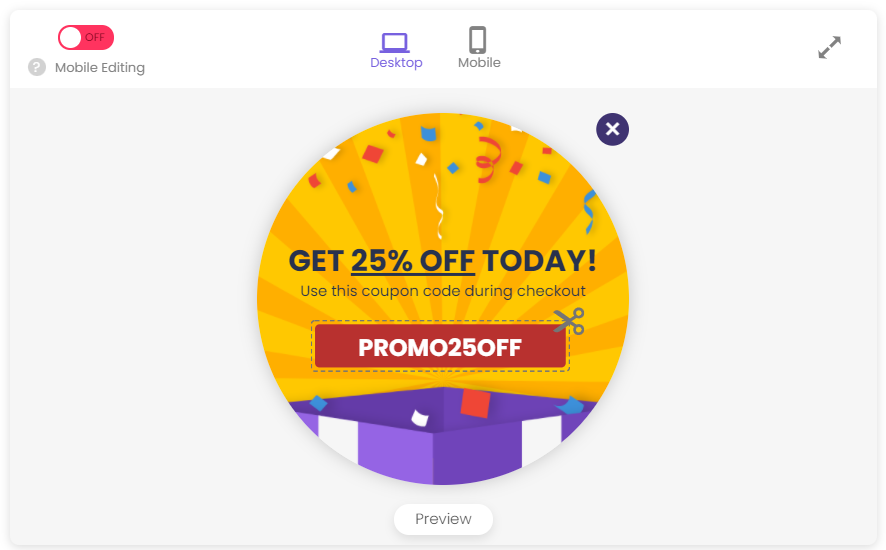 Once you're satisfied with the design, animation, integrations, and other important elements, you can then proceed to the display rules.
Poptin has a long list of smart triggers and targeting rules, such as exit intent, on-click, time delay, page scroll, inactivity trigger, OS and browser targeting, traffic source, country targeting, and more. See the full list of triggers and targeting options here.
If you've published your pop up teaser and feel like it's not converting enough, A/B testing is your best friend. Poptin's built-in analytics also lets you monitor and track your performance in full view. And in a situation where you find difficulty in implementing your teaser, customer support is efficient and fast to help you all the way.
Adding pop up teasers to your conversion optimization strategy can boost your results as you offer a new way to interact with your visitors. Try it now and start converting more web traffic into leads, subscribers, and sales – all without obstructing their browsing experience.
Unlock more powerful conversion features and tools when you sign up with Poptin today!