Bitrix24 is a platform that offers different solutions for e-mail marketing, communication, tasks and projects, websites, and more.
Lead generation is a complex task and when you find the right tools, you can make this process much less challenging.
Next time when you start creating your business strategy, you should include these tools as the first step to your road to success.
If you use Bitrix24 for different segments of running your business, you can achieve even more with the right tool for creating pop-ups.
Why are pop-ups so important?
With these, as it seems, simple windows, you can realize big goals more quickly.
Use pop-ups and easily collect more leads by offering:
E-mail subscription

The download of demos or guides

Coupon or discount codes

Gifts or another free product
Possibilities are numerous and it is only up to you to choose which one will be your main focus.
The best pop-up for Bitrix24 is definitely Poptin.
Let us introduce you to this all-in-one solution for creating amazing pop-ups!
What can you do with Poptin?
This innovative tool allows you to:
Create eye-catching pop-ups

Build embedded website forms

Send automatic reminders and e-mails
As you can see, the pop-ups are not the only segment of using this powerful tool.
By using forms and e-mails, you can also attract more qualified leads and convert them into your customers afterward.
But, let's get back to our main focus – engaging pop-ups!
Why we love Poptin?
Here are some of the main reasons why Poptin is a perfect solution and the best pop-up app for Bitrix24.
Dashboard: Poptin has a simple drag and drop editor. You can easily add or remove fields, include images, change fonts and sizes, add background photos and effects.
If you want to make your pop-up more compatible with your website, just add a logo of your brand into the pop-up itself.
Easily switch from desktop to mobile preview and see how your pop-up looks like on both devices.
Every form your make with Poptin is fully responsive and optimized for desktop and mobile devices.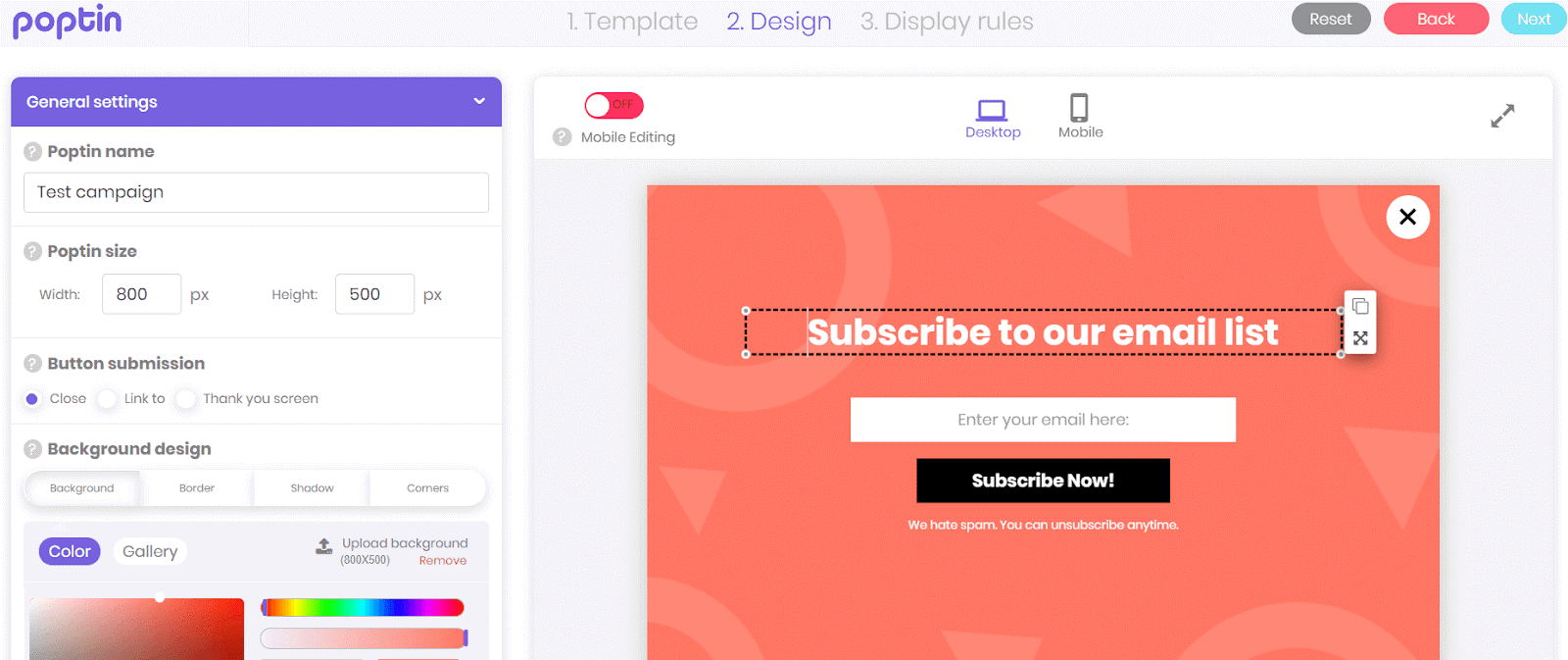 If we look at the picture above, there are three different phases:
Template

Design

Display rules
Poptin can be something like your personal guide through the whole process of designing and creating your pop-ups.
What Poptin offers
Customization options: As you can see, there are numerous options for a high-level of customization. You can literally make windows exactly as you have imagined them.
Templates: If you don't want to create pop-ups from scratch, you don't have to! Just enter the templates library, choose the one that suits your needs the most, and customize it further according to your needs. You can also use it as it already looks like, it's up to you.
Advanced targeting options: No matter which niche your business belongs to, you have to know who your ideal customer is. When you create the perfect buyer, Poptin is here to help you to target your audience and show them your irresistible offers.
You can target the right people based on the many different criteria including targeting by:
Countries

Specified dates

Time of the day

Search engines

Traffic sources

Social networks
Easily set up who will see your windows. If you want to include only new or returning visitors, you can do so in a couple of clicks.
Advanced triggering options: You surely want to show your pop-up at the right time and in that way maximize the possibility of your visitors taking an action.
Knowing this, team behind Poptin made advanced triggering options. Thanks to these great options, you can show your pop-up at the perfect time, when your visitors are already engaged.
Different types of pop-up triggers are:
Exit-intent

Time delay

A certain percentage of scrolled page

Click on some element on the website
Smart Exit-intent technology: Poptin also includes exit-intent technology. It tracks mouse movements and recognizes when a visitor tries to exit the page. 
That intent triggers the pop-up and your offer gets the opportunity to keep the visitor's attention and encourage him to change his mind.
Statistics: Statistics help you to understand users' behaviour much better. Poptin has in-depth analytics and provides you with the ability to track and monitor the results of your pop-ups.
Dynamic merge tags: By using dynamic merge tags, you can send more personalized e-mails. This kind of e-mail creates stronger connections with your subscribers. You will be able to gather information from e-mails such as first name and phone number.
A/B testing: A/B testing options are here to help you compare your pop-ups and to show you which one has the best performance. By knowing which had the highest engagement, you will know what is your best practice and use it in the future.
Embedded forms: Thanks to the intuitive form builder, creating responsive forms will be easier than ever.
You can choose which fields you want to add to your embedded website forms. Some of them are:
E-mail field

Radio button

Checkbox

Dropdown menu

Phone number field

Message field
After the submission form, you can send a quick message, show a pop-up, sent autoresponder, and more.
Autoresponder: Autoresponder helps you to send automatic and responsive e-mails. This tool can save you a lot of time and help you to nurture leads.
Track the bounce rate and open rate. You will find out exactly what is happening with your mailing campaign.
Integrations: Poptin offers over 40 native integrations and more than 1500 integrations via Zapier. This means that, by using Poptin, you are completely covered. Your workflow won't be interrupted.
Accessibility and RTL support: Every pop-up has RTL support and can be made in any language you need. With this tool, managing sub-accounts and users' permissions will be much easier, also.
Great support: Poptin built reliable customer support which is ready to help if you have any issue using this tool. Support is available via:
Some packages give you access to Priority customer support as well. Besides this, you can also join the Facebook group and knowledge base.
Free plans: Poptin has a completely free plan with some amazing features:
More than 40 templates

Various types of pop-ups

Targeting options

Triggering options

A/B testing

Integrations

Support via live chat and e-mail

Access to Facebook group and knowledge base
Affordable pricing: There are several paid plans to choose from, starting at $19 per month. You can also choose between a monthly or annual subscription.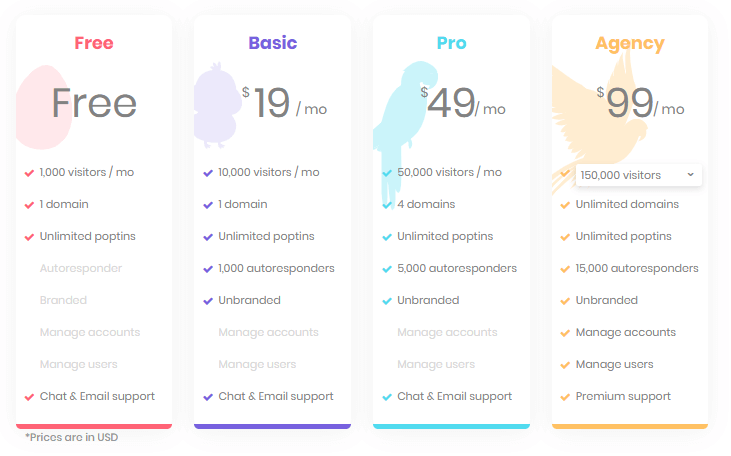 To Sum up
It is a smart move to use all the possibilities of today's market.
Many tools, apps, and platforms are trying to be up-to-date and to track innovations.
Poptin is one of these tools. It is the best pop-up app for Bitrix24 since it's simple to use yet still effective and with numerous possibilities.
With every package, including the free one, you can make an unlimited number of pop-ups.
The best thing about Poptin is that it doesn't require hiring designers and developers and it also saves you both time and money.
Every time you decide to make a new pop-up, you will need a couple of minutes and your perfect window will be ready for you to implement it on your website.
Bitrix24 is definitely a powerful platform and with such an incredible tool as Poptin, you can quickly increase conversion rates.
Start using this helpful tool immediately and watch all those amazing results!