With so many customer engagement tools out there, it's amazing that email marketing is still king. It's highly effective and can help you connect with your customers and email subscribers. Companies like it because it's automated, saving them a lot of time and money.
It doesn't hurt that you can get tremendously sales conversions, too!
Since there are many email users, email marketing is opening up more opportunities. However, the goal is to get valid email subscribers that might convert to customers with time.
When you use email marketing automation platforms, such as Moosend, your efforts are streamlined. Furthermore, combining it with pop-ups expands your mailing list much faster.
Why is it essential to grow your email list?
Email marketing campaigns are a necessity for every business strategy. When you use them, you can reach people interested in your products and services. This also helps you stay in touch with them.
One of the best and most effective ways to get contact information from your website visitors is to offer value in the email forms. In exchange for providing the email address, you can give them:
Important information and news

E-books and guides

Discounts and coupon codes

Online courses or webinars
However, you must fulfill your promises once they leave their information with you. Remember, the prospect expects that promised content to show up in their inbox.
Now that you've got the contact information, you can maintain connections and build stronger relationships with the target audience. What you're achieving here is brand awareness. However, you're also converting your visitors into paying customers.
Many entrepreneurs wonder if the process is necessary. Yes, it is!
Instead of waiting for them to come across your emails, you can simplify the process. 
Pop ups can assist!
Popups are there to wow the visitor and make them want to learn more. The best way for them to do that is to become email subscribers.
However, what happens you get an influx of email addresses? You're bombarded with the task of inputting them into your CRM or email marketing platform. It's a drag, but it doesn't have to be.
When you fully integrate your email marketing software with your pop-up creation tool, the email you get from the visitor is directly added to the email platform.
That way, when you send out a newsletter or another email communication, the new subscriber receives it, as well. It virtually eliminates the work you have to do to manually add email addresses.
With that, you've probably realized how easy it is to input the email address incorrectly. If you're adding them manually, you could make a mistake, which means that email never reaches the recipient. This can add to your bounce-back rates and cause other headaches.
Using Poptin and Moosend integration, you can remove that hassle and makes life much easier for you.
Benefits of using pop ups in driving more email signups to your Moosend email database
Pop ups have a reputation for being annoying and interrupting people. However, it's still an effective tool to convert visitors into sales, leads, or email subscribers.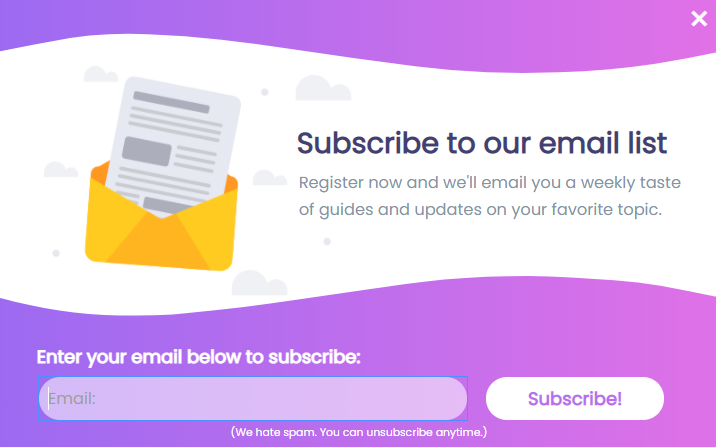 Here are a few facts about pop-ups:
Popups have better click-through rates than other ads.

They have helped various businesses throughout the world increase email subscribers quickly.

With them, you can decrease lead costs by roughly 50 percent.
Despite the negatives you hear, visitors engage with popups, but only when they're done correctly. Pop-ups can make various offerings accessible to the customer, such as:
Coupon codes

Downloadable e-books

Free shipping vouchers

Discounts

and more!
If you're not using popups yet, you're missing out! This could be the best time to use this affordable and easy channel to create conversions through email marketing.
Most people use pop-ups to give email forms a bigger boost in visibility. Website visitors rarely scroll to the bottom of your web page. Guess where most of the marketers out there embed the subscription form? They're usually at the bottom or in the footer. When you add popups, you make it hard to miss the email forms.
Poptin offers all the features you need for your successful lead capture strategies since it has engaging templates, customization options, exit-intent technology, and many more.
Plus, you can integrate popups and email forms with your favorite email platform, such as Moosend. It only takes a few clicks! Whenever visitors sign up through a pop-up, their details go directly to the Moosend database. It's efficient, fast, and seamless!
Poptin also provides various targeting options. You can push your message and offer to the right person to increase your chance of them signing up for your newsletter.
Since popups aren't embedded into the website and float on top of the content, they provide more design flexibility. This creativity can provide more leads!
Finding the right offer is crucial, too. Think about how you react to a pop-up on a website? Your first instinct is to click off instead of rushing to subscribe.
Most people do, but that's why you need an amazing design with the best offer possible. No, you aren't giving away products, but there are ways you can boost conversions and get those emails!
How to implement pop ups the right way
Now that you know the benefits of popups for email marketing, how do you make them effective and "do them right?" Content and context are the two buzzwords you must know. 
The context focuses more on the message. You can't tell people to buy your stuff or subscribe to your newsletter without giving them a reason! 
Content is also essential; you want it to grab their attention without being flashy. However, you also need to convey a message quickly because most people are ready to click off the popup as it's zooming into view.
Still, they might be engaging with your brand in other ways. For example, they:
Click on the popups you provide

Become email subscribers and read the content

Interact on social media

Recommend your services/products to others
No, they might not buy from you, but they are helping you anyway.
How to create Moosend popups with Poptin
Since Poptin is a conversion optimization toolkit, it can help website owners, marketers, and digital agencies engage with visitors to convert them into subscribers, leads, or buying customers. It works with your site to track a visitor's behavior and shows them an appropriate message at the best time.
Poptin offers tons of great features, such as:
Surveys

Auto-save

CRM integrations

Email marketing integrations

Visitor tracking

Customizable templates for popups

Customizable branding

Analytics

and much more.
If you want to be like Okisam, which achieved a 42 percent boost in email signups in only a month, you need to create Moosend popups with Poptin.
Here's how:
You can build great-looking Moosend popups without any design or programming skills. When you use Poptin, a pop-up creation tool, it's easy to create those windows in about five minutes!
Poptin uses a drag-and-drop system. This means you can remove or add fields, photos, elements, and more. With that, it's effortless to change colors and fonts.
Here are the popup types you can create with Poptin (and they're all mobile-responsive):

Full-screen overlays

Lightboxes

Slide-in popups

Countdown pop-ups

Bottom and top bars

Social pop ups
Widgets
Email Forms
Contact Forms
and more!
Within the builder, you have various ways to customize your options. It's easy to customize special elements, too. These include countdown timers, coupon codes, media files, and others.
Once you're happy with the design, you can focus on the display rules. For this section, you've got full control and can target customers based on the targeting rules you set up. Your Moosend popups will show up at the right time based on the rules you use for their behaviors. This leads to more efficient lead capture.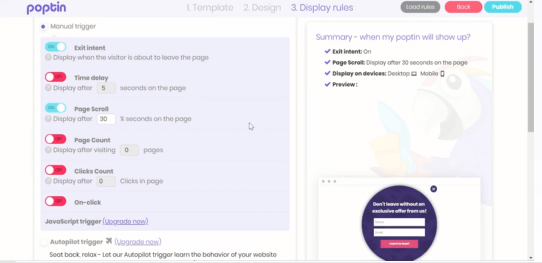 There are different parameters, such as:
Date and time

Countries visitors come from

Traffic sources

Specific website pages/URLs

and more.
The trigger options help you choose when to display the Moosend popups. Some triggers include:
Time delay

On-click

Scrolling page percentage

Exit-intent

and more.
All of the options are shown on a simple dashboard, so you can pick the ones you want. If you don't know what Moosend popups work best for your email marketing campaign, there's always the A/B testing feature.
It's easy to create a test in one minute, and the results show you how the Moosend popup performs. That way, you can expand your list of email subscribers effortlessly!
Once you create the pop ups, you must connect them to your Moosend account.
How to integrate your pop ups with Moosend
Moosend is an email marketing provider based in London. It lets online companies make things easier when creating campaigns and sending out emails. 
This web app also helps you manage your mailing list, create newsletters, and send them to the right people. Plus, there are various tracking and reporting tools to help you measure your success.
Once you've created your pop-ups with Poptin, you have to figure out how to integrate them with Moosend. The process isn't hard, but it seems daunting when you're starting out.
Here's a step-by-step guide to assist:
Step 1: Log into the Poptin account and visit the popups dashboard. Click the pencil icon beside the popup you're integrating with Moosend, and choose "Edit Design."
Step 2: Scroll to the "Email and Integrations" section and click "Add Integration."
Step 3: Choose Moosend from the Integrations list and click on it.
Step 4: Enter your API Key and the List ID from Moosend. The API key is found here:
The List ID is here: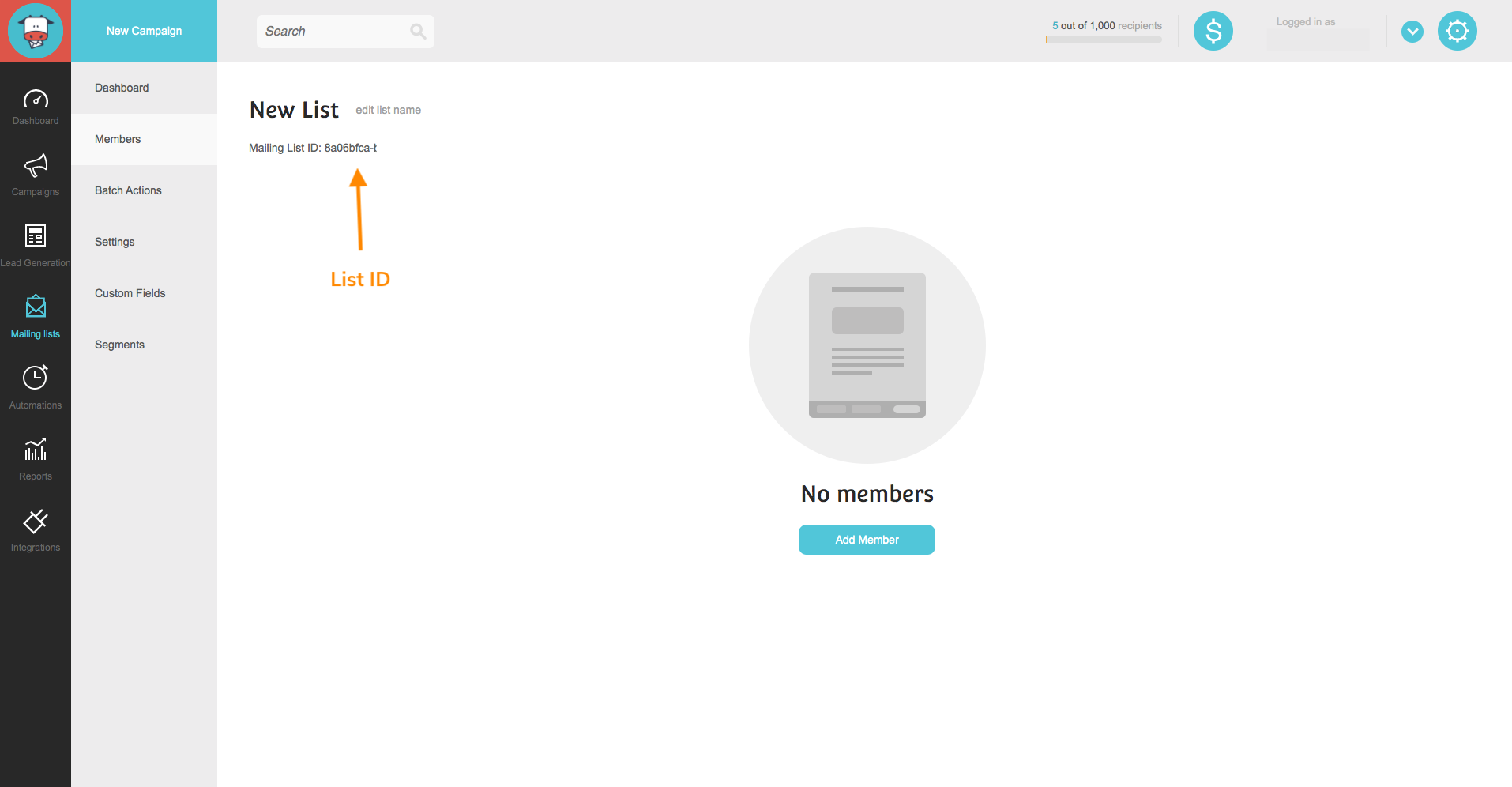 You enter them here: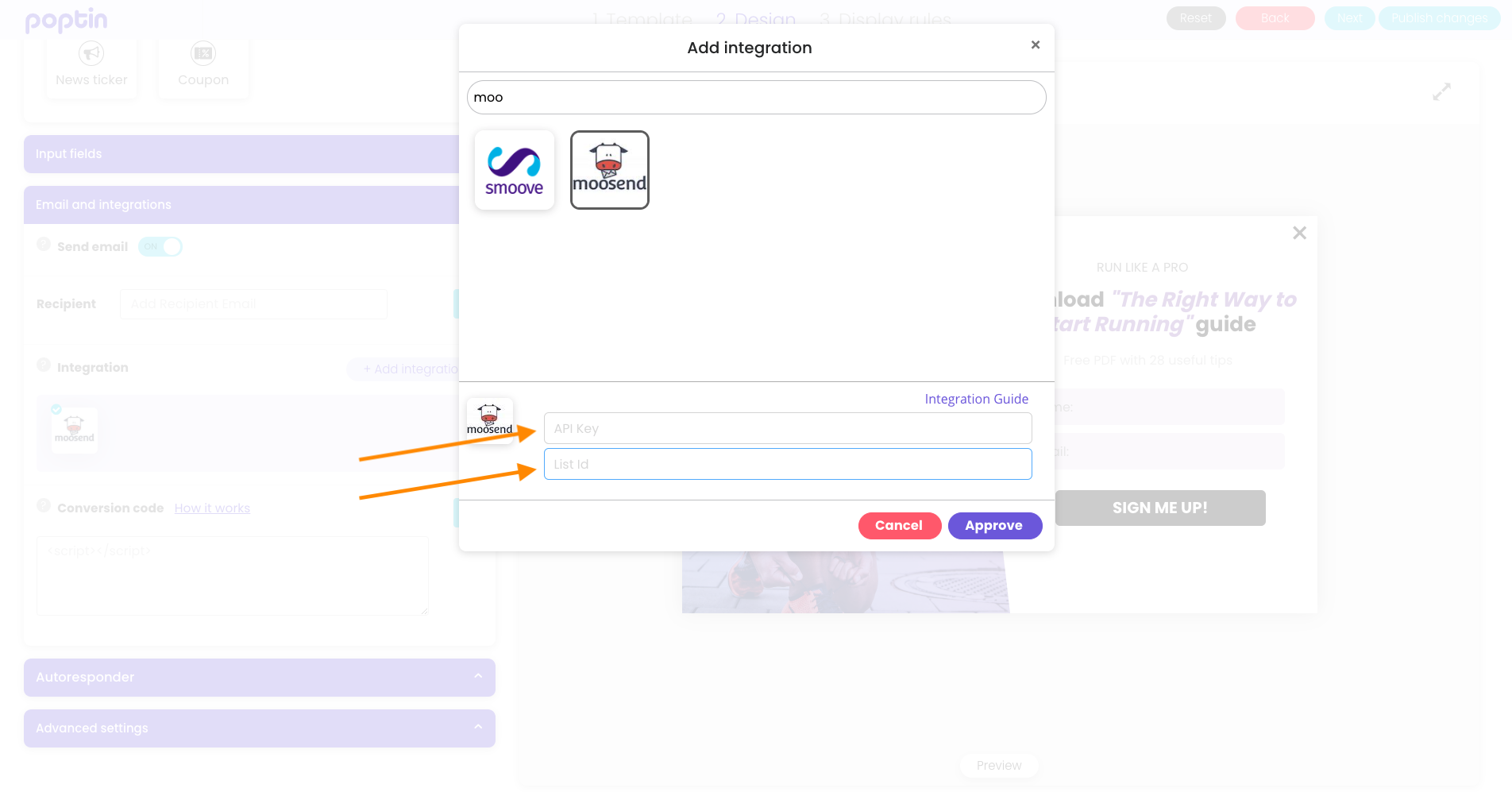 Once the system has authenticated everything successfully, click the "Approve" button. This is at the bottom of the popup and saves the integration.
Now, you're ready to send leads automatically to your Moosend account to grow your email subscribers from email forms!
The Bottom Line
Email marketing isn't easy for beginners, and many people shy away from it. However, if you're not sending emails to your email subscribers, you're missing out on a huge opportunity to engage with them and build trust.
With the right tools, you can save a lot of money, energy, and time. There are fewer mistakes, more conversions, and you're happier.
The worst thing you could do is try to add email addresses manually and misspell them. The potential customer feels that you don't care, and you miss out on assisting them. 
That's part of the reason why you use Moosend because it helps you create emails and send them effortlessly. However, your goal is also to grow your email list, and that's nearly impossible if people don't visit your website and provide their contact info from email forms.
Therefore, you also have to work on your website and create powerful pop-ups that people click on. You don't even have to ask them to buy something right away. Just ask for their email address in exchange for a discount, pertinent information, or something else.
From there, you can integrate your popups with Moosend to create a streamlined and seamless email-gathering tool.
To see how easy it is to create amazing popups, try Poptin today by signing up for free!. You can quickly convert your website visitors into email subscribers!