Você está procurando por alternativas ao OptinMonster? Então, você pousou na página certa. Eu tentei todas as alternativas do OptinMonster, e estou aqui para poupar o tempo que você precisa para a pesquisa.
Este blog foi escrito especificamente para lhe dar uma análise honesta e não filtrada do Optinmonster & suas alternativas.
Neste blog, vou partilhar o seguinte:
Critérios para escolher um íman de chumbo/popups

O que você pode e não pode obter do OptinMonster

3 melhores alternativas OptinMonster
No final, vou partilhar a tabela comparativa que o ajudará mais e poupará tempo.
Critérios para escolher um íman de chumbo/popups
You're choosing a lead magnet with the sole purpose of converting website visitors or engaging with them.
These are the criteria you should look at before choosing a lead magnet.
Deve ser

fácil de usar.
Changing colors, sizing, and fonts

to match your brand should be quickly done with those popups.

When you're deciding on popup apps, do look at

mobile responsiveness.

Many popups apps are good with websites but not good with mobile responsiveness. 

Integrations with crucial

email marketing tools such as MailChimp, ConvertKit, Autopilot, etc.
Must-have features when you're choosing a lead magnet:

Exit-intent technology for the right triggers
Scroll & time-based technology to trigger at the right time
Advanced targeting tools such as:

Target by traffic source (search engines, social networks, etc.)
Mostrar aos visitantes novos ou que regressam
Controle de freqüência de exibição para cada visitante
See full list of targeting features here.

Ready-made templates: Many people like ready-made nice, looking popup and form templates that could help them immediately put the popup live without designing. 
Different kinds of popups: Not all of those popups work similarly on each page. Hence, you need different kinds of popups, such as:

Caixas de luz
Barras superior e inferior
Poptins especialmente desenhados para telemóveis
Gamified popups (spin the wheel, scratch cards, and pick a gift pop ups)
Popups de contagem decrescente
Sobreposições de tela cheia
Slide-in

A/B Testing: Marketing isn't done well if you have not done A/B testing. It is a must-have feature for marketers to know which popup, copy, images, and messaging work

better.

Analytics:

You should be able to analyze and understand how different popups are performing based on different pages, triggers, and more. Without analytics, a popup app is incomplete.

Formulários em linha:

Os formulários em linha são uma forma subtil de pedir e-mails sem perturbar a experiência do utilizador.
See the full list of Poptin features here.
O que você pode e não pode receber do OptinMonster
O OptinMonster é um grande íman de chumbo. Eles actualizaram recentemente a sua UI com análises. 
Com o OptinMonster, você pode desfrutar destas características avançadas...
OptinMonster has exit-intent technology, geo-location targeting, a coupon wheel option, and an inactivity sensor. The best part is that you have sub-accounts and can host multiple websites under one. Also, it has Shopify, WordPress, and Google Tag Manager platform integrations.
...mas podes perder alguns destes:
OptinMonster does not offer a free trial or free version, which most customers really want. Its custom branding/watermark can only be removed from its most expensive plan subscription. The basic plan doesn't include relevant features such as A/B testing, inline forms, location-based triggering, and device targeting.
In terms of pre-made templates, their page features mostly conventional designs that may not be suitable for those businesses looking for more versatile and creative templates. But what's nice about their editing platform is that you can freely utilize its diverse customization features. You just need to make a little effort to learn its interface on your own.
Moreover, OptinMonster's customer support often takes a while to respond and address a particular issue. This might be because they cater to several customers at a time, however, if you're an entrepreneur who doesn't have the luxury of time, this might not be the perfect fit.
If you can't afford to miss these key features, this article will give you OptinMonster Alternatives that you can try!
Poptin – The Smart Popup Tool (Free)
I've been using Poptin, and I'm pretty satisfied with it. Here are some reasons why:
Visão geral das características da Poptin
Interface: É o mais fácil de usar para não-programadores
Customer Support: They have a live chat, and my problems are resolved immediately.
Preços: Grátis para alguns, depois começa em $19/mês (a melhor parte)
Eles têm todos os recursos que eu preciso sem comprometer os recursos básicos, como testes A/B, formulários Inline, localização baseada e acionamento do dispositivo.
Talking about the features, you can see all the features available in the free plan here.

Poptin has all the Integrations, such as:

Integração MailChimp
Integração de Contato Constante
Integração iContact
Integração Hubspot
Integração da Nutshell
Integração Zapier
Poptin has more than 60+ integrations. More information on it is here 👉 Poptin Integrations
Por que Poptin é uma alternativa melhor ao OptinMonster?
Poptin is a user-friendly lead generation software that allows users to create visually appealing popups and forms. These opt-ins enable businesses to engage with more visitors, boost customer retention, rescue abandoned carts, improve email lists, and skyrocket sales.
Com a ajuda dos recursos avançados da Poptin, você pode maximizar o potencial de seus opt-ins e aumentar suas conversões mais rapidamente.
Here are some of the top-of-the-mind points for you: 
É mais fácil e rápido de usar

Tem mais de 40 modelos com capacidade de resposta total

Poptin coloca uma prioridade no suporte ao cliente

Poptin tem um plano GRATUITO

Poptin has all the essential features compared to OptinMonster

A sua interface é moderna e intuitiva.

Tem vários modelos para qualquer finalidade

Poptin apoia marqueteiros e agências digitais

Você pode adicionar qualquer número de domínios
You can use a popup with Poptin without opt-in, too (OptinMonster does not let you do that). 
Accessibility – Poptin popups have auto-focus, accessibility aria tags, ready for screen readers,

etc.

Você pode tratar a versão para celular de forma diferente da versão para website.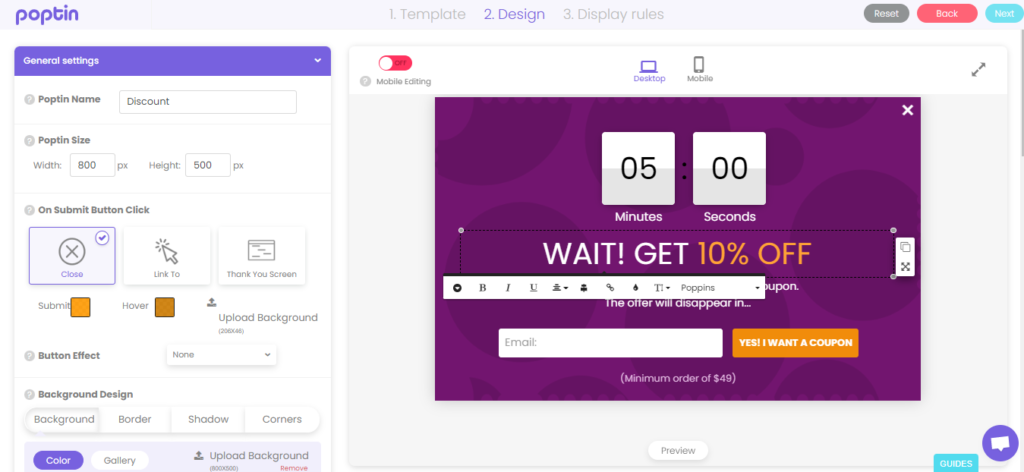 With these Poptin features, you can decide if this is the right time to try this alternative. I'll add a comparison table at the end to further help.
Meantime, if this convinces you, then try Poptin for free!
Sumo - A Ferramenta de Construção de Listas de E-mail (Grátis)
O Sumo é provavelmente tão antigo como o OptinMonster. 
Sumo is also very user-friendly and has good design flexibility. They divide popups based on goals and have manual mode offering granular control over form visibility.
O melhor do Sumo também é que você pode começar a usá-lo de graça.
Click-trigger popup is fantastic because it waits for user behavior. I love that Sumo feature.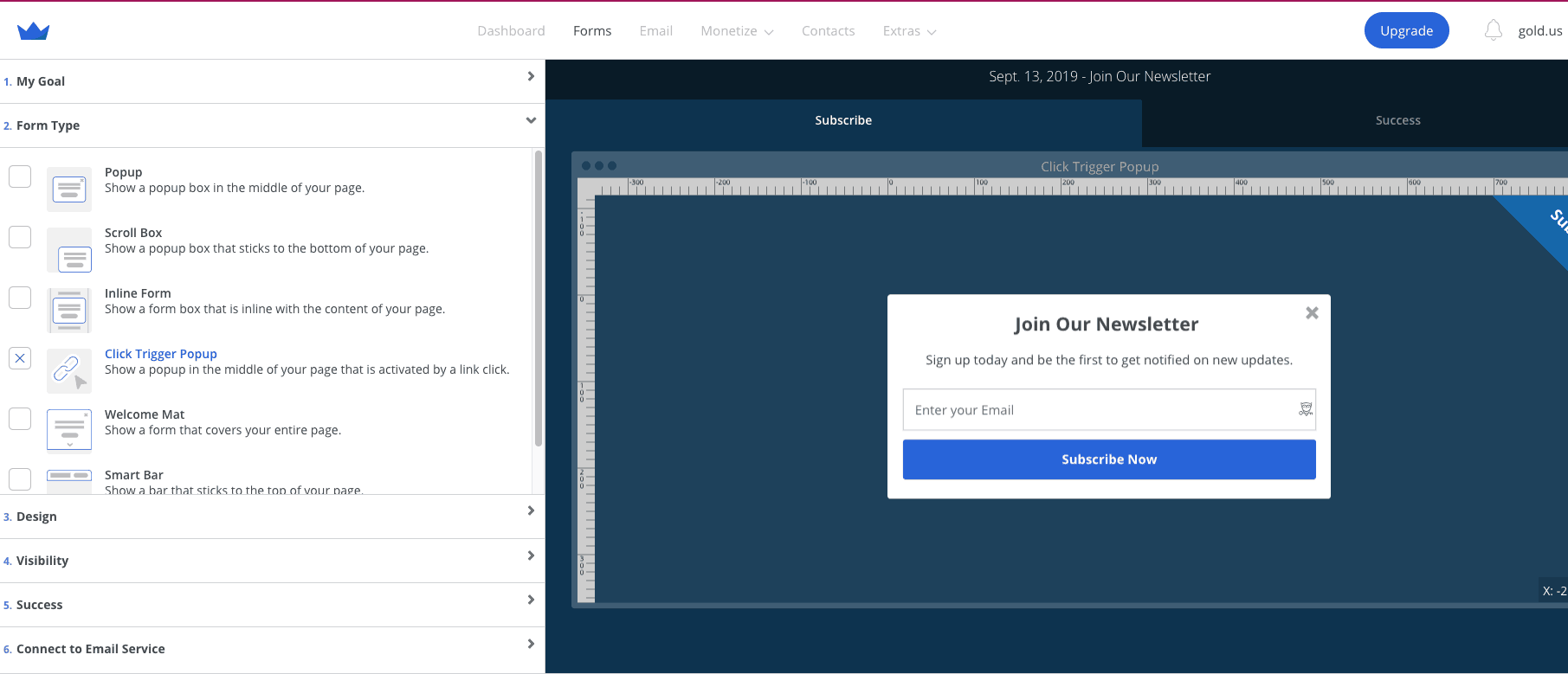 The focus on user behavior and activity type of features is excellent.
As limitações de Sumo
How many integrations do they have in the free plan? Many features are unclear on their pricing, which you only understand once you subscribe.
The design editor takes a little time to understand, and only a few integrations are available in the free plan. You will quickly outgrow the free plan.
They call the "smart-mode" feature only exit intent, so advanced triggering is not available in the free plan. Also, the A/B testing kind of essential feature is not available in the free plan.
Eles têm um melhor suporte ao cliente do que o OptinMonster.
Você deve escolher Sumo se:
Você está bem com as integrações básicas

Você está procurando a alternativa gratuita ou mais barata do OptinMonster

Você não precisa de teste A/B ou gatilho avançado (Poptin é muito melhor aqui)

Acessibilidade e versões móveis não são uma prioridade 

Se você precisa de uma ferramenta simples com vários tipos de popups

Desenhos limitados

If you want a simple tool that helps you with fundamental user triggers and support
Since Sumo uses the freemium model, you'll have access to all their tools, but there will be several restrictions, such as:
Limite de 200 assinantes

Modelos limitados

Integrações básicas de e-mail

Essential email support (no live support)

Visitas básicas ao visitante

Menos controle sobre o design
Some of the other cool features they have, such as Heatmap, image sharer & highlighter, and discovery app for me, are nice to have. 
Sumo is an excellent Optinmonster alternative. It's great for content marketing and list building.
Talvez, isto o ajude a escolher uma alternativa melhor.
If you're in eCommerce & Shopify, perhaps Vitals will help- Lightweight All-in-One with a Popups feature.
Sleeknote - O software Enterprise Ready Popup
Sleeknote probably has the best website design of all. It's even more feature-rich and must have more integrations than OptinMonster.
Sleeknote gives you several use cases to use such kinds of popups like the image below:

Sleek is focused more on E-commerce Marketers. So, if you have a considerable number of visitors, look no further. Sleeknote is your answer.
Além disso, a sua página de preços valida a mesma suposição.
Why is Sleeknote a better alternative than OptinMonster?
 Aqui estão algumas das razões:
Comparação de desempenho de notas elegantes & rastreamento de objetivos são recursos avançados que ninguém tem

It has the most significant

amount of templates out there
Modelos mais personalizáveis e posicionamento de popups
Você pode mostrar teasers e prova social
Possui elementos interactivos, tais como botões de rádio e dropdowns.
Tem a maior quantidade de elementos personalizáveis para adicionar
It has the most significant

amount of triggering and segmenting features

Tem o maior número de integrações
You probably won't need that many features if you're a small business or an agency.
There's no freemium model, but you have 7 days trial for all features.
No entanto, é um dos melhores concorrentes em termos de características como OptinMonster Alternatives.
Como prometido, aqui está a tabela abaixo para lhe dar uma visão geral.
Para resumir
All the tools have different features, markets, personalities, and benefits. If you're considering an OptinMonster alternative, then here are the reasons why you should choose these tools:
Poptin: Uma ferramenta gratuita, rica em funcionalidades, mais de 40 integrações, o melhor suporte ao cliente, e lindos modelos.

Sumo: A free tool with limited features and subscribers, easy to use, and basic integrations.

Sleeknote: Software empresarial para comerciantes de comércio eletrônico com todas as características possíveis e empresas de alto tráfego no site.
If some way or the other, this article has convinced you to try Poptin – Give Poptin a Try. It's free, and your first 1000 views are on us.