Email marketing is what businesses use to reach loyal and potential customers. When someone goes to your website and signs up for the newsletter, it's a sign they're interested. Through email marketing, you can send them helpful information and discounts to get a sale and start a loyal fan base.
With so many options out there, it's confusing. Reach Mail is a web-based solution with scalable monthly plans to help everyone. However, it's suitable for smaller companies and only offers English languages.
Therefore, you may want to consider Reach Mail alternatives, and these seven have what it takes. Let's learn more about them now:
1. iContact
iContact has a great range of features, but it could always be better. We like the jargon-free and straightforward approach to email marketing. This makes it a great choice for anyone who wants to get started and doesn't prefer to spend hours upon hours creating campaigns.
Features
As one of the top Reach Mail alternatives, iContact offers a drag-and-drop editor to create emails quickly. You also have access to A/B split testing. This helps you test layouts by sending two different versions to select recipients. It's possible to test color schemes, subject lines, and more.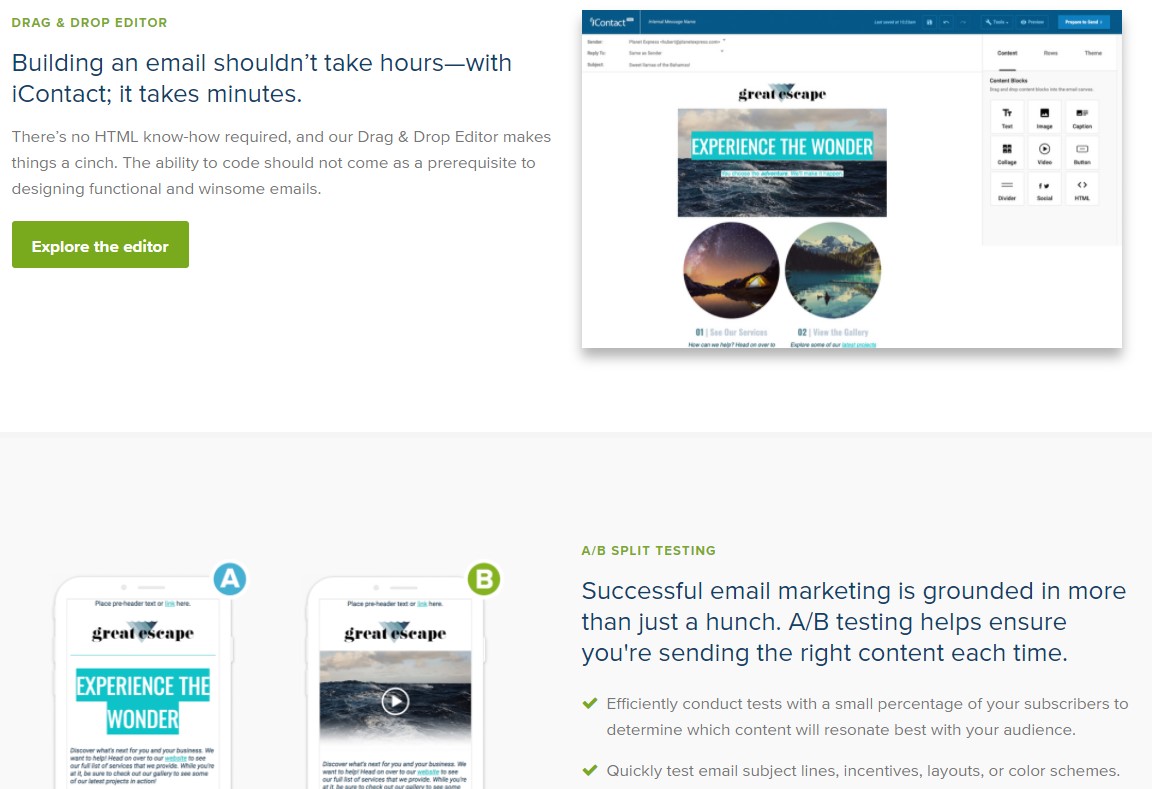 Automation is available, but the series options are based on the plan you choose. Regardless, you can remind people to visit the site or buy something without having to create/send an email yourself.
Pros:
Many support options

Personalized interface

Easy to navigate
Cons:
Slow loading for pages

Few email scheduling choices

Basic segmentation
Pricing
There are two pricing tier levels with iContact. The first includes the Base plans. Here, you get the welcome series automation, a stock image library, and customizable email templates. Pricing is $15 a month for 1,500 subscribers, $25 a month for 2,500 subscribers, and $45 a month for 5,000 subscribers.
With the Pro plans, you get the same benefits as with Base. However, you also get the win-back series and event promotion series automations, as well as landing page creation. You pay $30 a month for 1,500 subscribers, $50 a month for 2,500 subscribers, and $90 a month for 5,000 subscribers.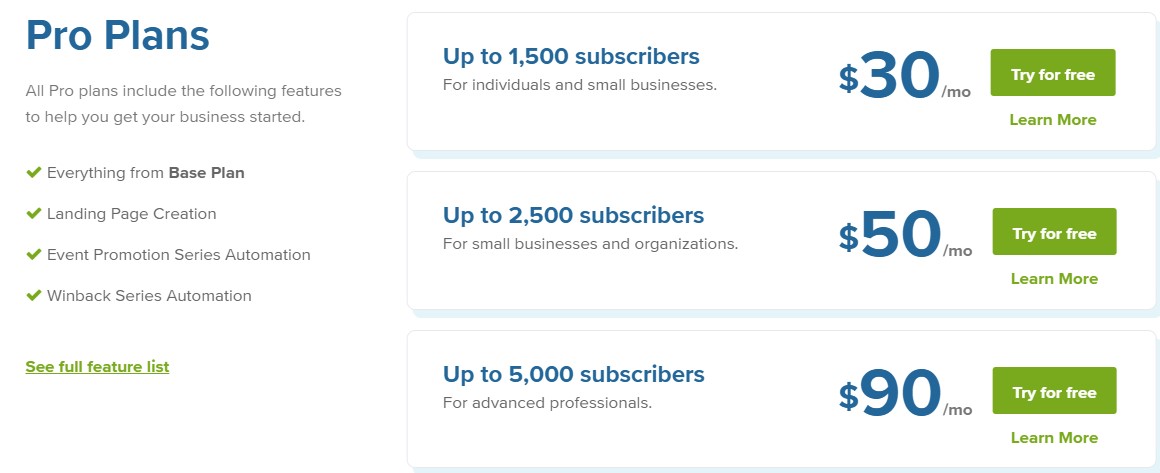 Who Is This For?
Primarily, iContact is suitable for people who don't care to learn a complex email marketing platform. There are decent features and all the basics, but it might not be ideal for large corporations.
Good read: 4 Popular iContact Alternatives
2. Mad Mimi
Upon arrival to the Mad Mimi website, you're welcomed by a zany and cute character that helps you figure out what to do. This company was purchased in 2014 by GoDaddy. Since then, it has been helping thousands of businesses create emails that are ready by the recipients.
Features
There's plenty to like about Mad Mimi, but it can be a bit confusing. Regardless of the price tier, you get every feature available. Still, some of them are 'add-ons,' but they're free.
These can include timestamps and IP addresses of the contacts stored and RSS, which automatically sends email-friendly blog updates to your contact list.
You can also add social media links to the email, integrate with Google Analytics, and have multi-user account access, which can be color-coded. The Etsy integration works well for e-commerce owners, too!
Pros:
Clean and modern interface

Excellent list management features

Easy to use
Cons:
Few integrations

Barely any templates
Pricing
Mad Mimi's pricing is a bit different than other Reach Mail alternatives. You get all the features, regardless of the plan. However, emails can send at normal, 2x, 3x, or 4x the speed. 
Respectively, you pay $10 a month for Basic, $42 a month for Pro, $199 a month for Silver, and $1,049 a month for Gold. The other difference is how many contacts you get (500; 10,000; 50,000; or 350,000).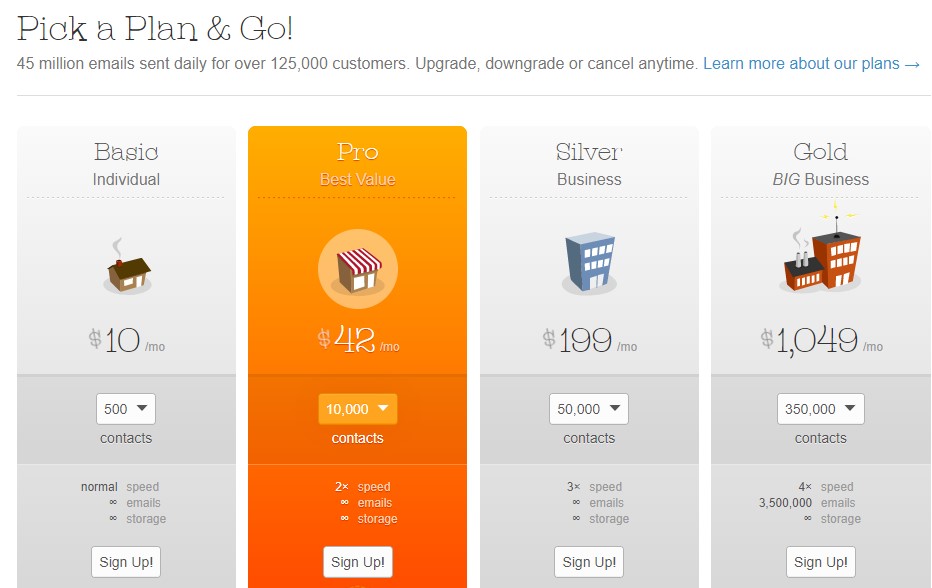 Who Is This For?
Though Mad Mimi has enterprise-level plans, they are outrageously expensive. If you're just starting out, it's a cheap and easy-to-use platform. However, if you're more established, you may find it doesn't have the features you require for the price you pay.
Good read: 5 Best Mad Mimi Alternatives for Startups
3. SendinBlue
SendinBlue offers scalable email marketing software. With it, you get high usability and a strong feature set. Ultimately, it's designed to grow with your company, so you can achieve success throughout the years.
Features
With SendinBlue, you can communicate through SMS and email marketing. It's also possible to personalize everything by using it as a CRM.
You can get sales right from the message with the transactional emails. Plus, there is marketing automation to make the process easier and simpler.
That's not all because you can create landing pages and signup forms. Facebook Ads is also available on a higher-tier level pricing plan.
Pros:
Can A/B test the automations

Advanced attribution functionality

Customizable and intuitive interface
Cons:
No transactional metrics

The extremely limited free plan

No live chat support
Pricing
The prices for SendinBlue are fairly straightforward. There's a forever-free plan where you can send 300 emails a day and have unlimited contacts.
From there, Lite is next at $25 a month for 10,000 emails. You can send 100,000 emails a month with no daily limit. You also get email support. For an add-on fee, you can have advanced statistics, A/B testing, and can remove the SendinBlue logo.
Premium is next at $65 a month for 20,000 emails. You're allowed to send 1 million emails a month. Plus, you can create landing pages, have marketing automation, and multi-user access.
Enterprise is the final option, and it's a customized price based on your needs. With it, you can create 20+ landing pages, have priority sending, a customer success manager, SSO, and so many other advanced features.
Who Is This For?
Ultimately, we think that SendinBlue is easy to use, so it's suitable for those without experience (start-ups and SMBs). However, the advanced functionality also makes it ideal for large corporations with complex needs.
Good read: Sendinblue Alternatives: Top Email Service Providers for 2021
4. LeadFeeder
Leadfeeder is different from the other Reach Mail alternatives on the list. It's a software-as-a-service application, so it tracks the traffic to your website and scores various leads. Email marketing is just one tool available.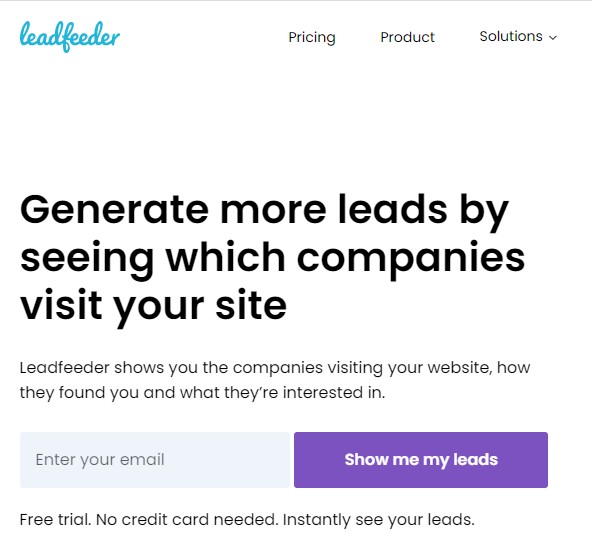 Features
The features are numerous with Leadfeeder, but it isn't strictly an email marketing tool. You can get insights about contacts, and it automatically scores the leads.
There is an instant lead generator that pushes data every five minutes. You also get email alerts when a company visits your site. That way, you can quickly follow-up with them.
Pros:
Multiple integrations

Lead generation made easy
Cons:
Hard to set up filters

Confusing to understand at first (takes time)

More about leads than creating emails
Pricing
The pricing for Leadfeeder is quite simple. The Lite plan is free forever and contains a basic version of the email marketing tool. You have limited features and can see the last three days of leads.
Premium starts at $63 a month. With it, you get all the features. The premium trial ensures that you can test the functionality and are downgraded to Free if you don't add a credit card.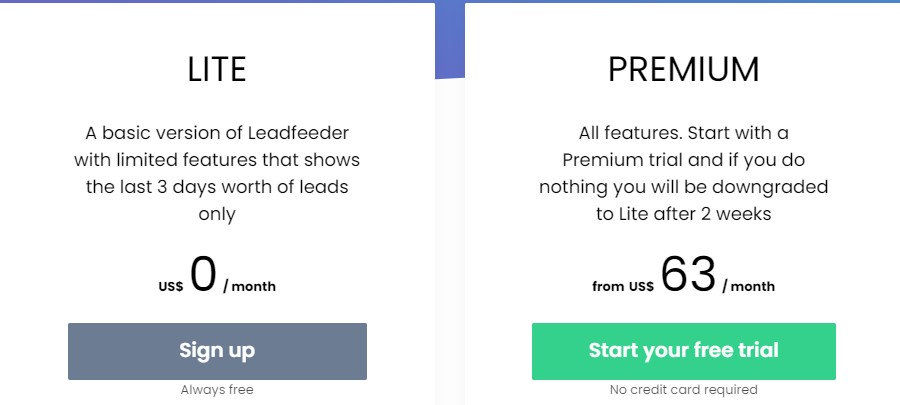 Who Is This For?
Primarily, Leadfeeder is suitable for all businesses that want to find more leads and generate more revenue. There are plenty of integrations to work with other tools, so it's scalable and beneficial.
5. Mailgun
Mailgun promotes itself as being an email marketing service for developers. Therefore, you can personalize each aspect of the process and make it your own.
Features
The Email API of Mailgun helps you get things set up and automated quickly. You can also use the email validation tool (on higher-level plans) to make sure that email is still in existence. 
Burst Sending is a unique feature of this email marketing tool. With it, the software can attempt delivery of 15 million emails each hour. Deliverability is high for this software, so you make sure the message gets to the recipient's inbox.
Pros:
Transactional email based

A/B testing included

Keep track of emails sent previously
Cons:
Focuses on developers

Hard to get set up/takes time
Pricing
With Mailgun, there's an interesting Flex account. You can start sending immediately for free and get 5,000 emails for three months. Then, you just pay for what is sent. There's five-day log retention, email tracking/analytics, and detailed documentation.
Foundation is next, and it costs $35 a month for 50,000 emails. You get everything from the Flex plan, but there is a dedicated IP, inbound email routing, email validations, message retention, and more.
From there, you move to Growth at $80 a month for 100,000 emails. You receive everything from the Foundation plan, but you also get more email validations, 10 inbox tests, 15 days of log retention, and instant chat support.
Lastly, there's Scale at $90 a month for 100,000 emails. Every feature is included, and you have longer log retentions and message retentions.
Who Is This For?
Since Mailgun focuses on developers, it might not be ideal for most companies. Unless you have a full IT team or understand coding, you are going to have trouble using all the features.
6. CakeMail
Cakemail has been around since 2007 and operates out of Canada. It also offers a mobile app, so you can do email marketing from anywhere. Therefore, it's so easy to create/send your email.
Features
You can create responsive emails for any device with Cakemail. The images are going to be in the right place, the buttons look good, and everything is formatted perfectly.
With the dynamic content and ability to personalize, you can send messages that readers want to view. Whether you're adding a CTA or putting their name to it, everyone benefits and is impressed.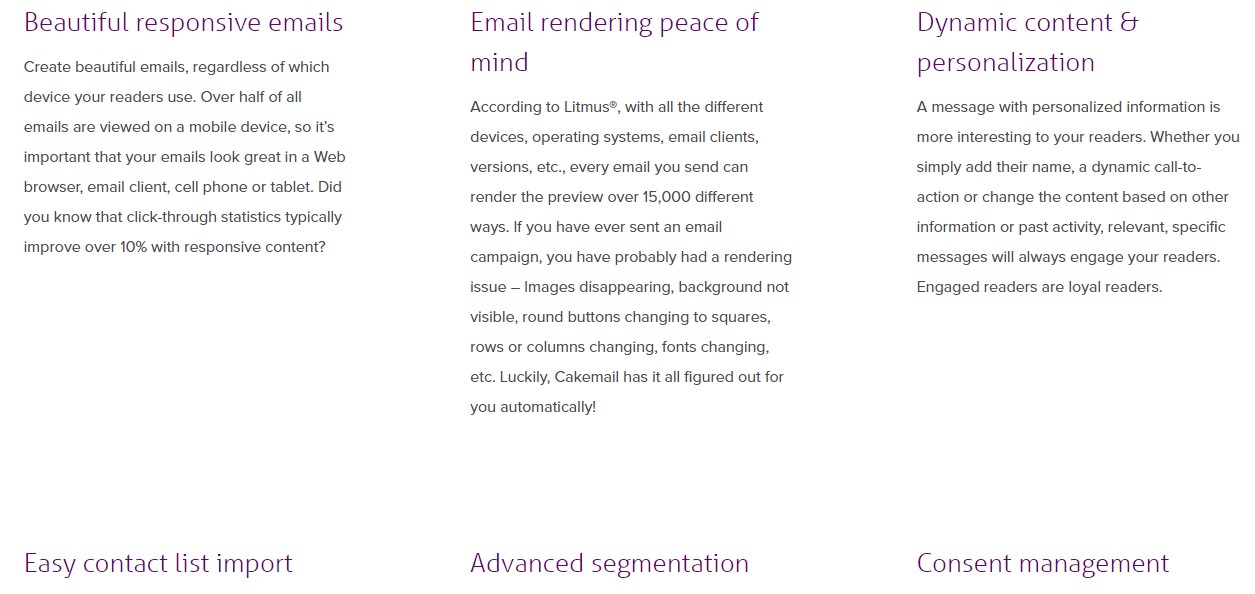 There is also advanced segmentation, so you can define the target audience and make sure they see what you're saying. On top of that, it's quite easy to import your contacts. You also get a clean-up tool to remove multiple email addresses or contact instances so that everything is streamlined.
Pros:
Many email templates available

Easy to understand quantitative pricing plan
Cons:
Hard to use

No social media integrations
Pricing
The pricing for Cakemail is a bit hard to find, but when you do, you can see it's pretty inexpensive. The free trial lasts 30 days and doesn't require a credit card.
From there, you pay $8 a month for 500 contacts, $12 a month for 1,000 contacts, and $24 a month for 2,500 contacts. If that still isn't enough, you can spend $39 a month for 5,000, $59 a month for 10,000, and $119 for 25,000.
Who Is This For?
Cakemail is an all-around email marketing tool and one of the best Reach Mail alternatives. It's suitable for almost anyone, and it comes with amazing features, regardless of the plan you select.
7. SendX
When you choose SendX, you have a feature-rich and intuitive email marketing tool. It's simple to use and features reliable capabilities that other Reach Mail alternatives fall short of.
Features
You can send unlimited email campaigns, upload from your list, and even have access to reports. It's easy to build your contact list and design forms or use pre-built themes.

Everyone appreciates automation. Drip sequences are available, but you can also automate based on user activity and much more.
Pros:
Easy migration 

Includes landing pages and popups

Marketing automation and segmentation included
Cons:
Can only have 15,000 subscribers per account

Limited trial period
Pricing
SendX offers quantitative pricing levels, so you pay based on how many subscribers you have. You get all the features and unlimited emails.
Pricing is $9.99 for 1,000 contacts, $19.99 for 2,500, and $39.99 for 5,000. Those who have 10,000 subscribers pay $59.99 a month, and if you have 15,000 subscribers, you're going to spend $79.99 each month.
Who Is This For?
SendX works well for lead generation, nurturing, engagement, and retention through email. Therefore, almost any business can use it effectively.
Good read: Top SendX Alternatives and Competitors (An In-Depth Analysis)
Conclusion
Having the right email marketing software is essential, and each of these Reach Mail alternatives can be just what you need. You've read through these mini-reviews and have a better understanding of each one.
Hopefully, this has made it easier to pick the email marketing solution that fits your budget and needs now and in the future. Use the free trial period from one of these Reach Mail alternatives and make it easier to send emails to your prospects.