All businesses need email marketing software because it helps them create emails quickly and send them automatically. There are so many tools out there, and it's sometimes hard to know which one to pick.
Many people like Revue because it's a newsletter service where you can add links, text, and images. Typically, social media influencers, curators, and managers use it, but small companies can also benefit. 
Though it doesn't cost much, some people find that it doesn't have the best features. If you're looking for Revue alternatives, here are the top eight choices:
1. Rejoiner
Rejoiner is an email marketing solution that's hosted in the cloud. It claims that it can manage your customer engagement levels and monitor abandoned cart rates.
Features
Since Rejoiner primarily focuses on cart abandonment, its email marketing software can help you see who has left their carts in real-time. That way, it's easier to follow up with a prospect and get the sale.
However, Rejoiner also lets you send welcome series, win-back emails, and more so that you can increase customer value. If that weren't enough, segmentation is available to separate lists based on browse behavior, purchase history, and more.
Pros:
Behavioral triggers available

Email broadcasts offered

A/B testing
Cons:
Can have issues with plugins

Might not integrate with physical POS systems

Needs more robust reporting
Pricing
When you go with Rejoiner, the price is based on how many contacts you've got. Therefore, you pay $95 a month for 2,000, $120 a month for 2,500, and so on.
Each price tier gives you access to all of the features.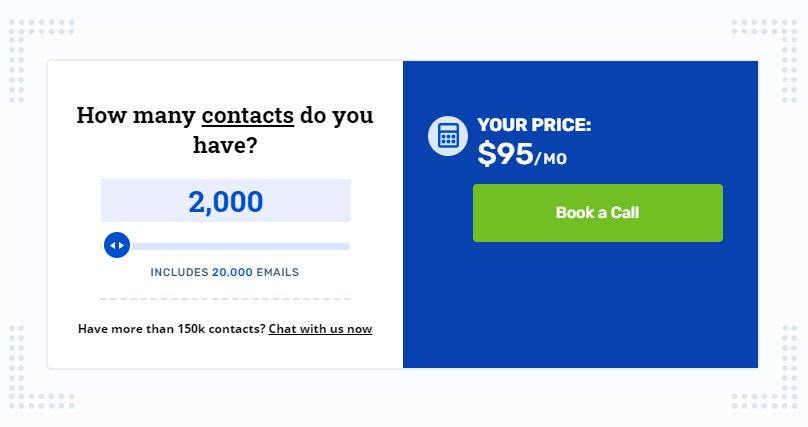 Who Is This For?
Typically, Rejoiner is used by online retailers and eCommerce companies. However, the high price makes it hard for small businesses to utilize effectively.

2. Moonmail
Moonmail is a slightly complicated and confusing email marketing software. However, it's designed for those with technical knowledge and can really boost conversions.
Features
Though Moonmail claims that it's easy to use for sending email marketing newsletters, that's not true. It's not very user-friendly, but if you already know what you're doing, you might have no issues with it.
We feel that it's quite light on features, and you only get the basics. These include segmentation, an email editor, A/B testing, autoresponders, and some analytics. 
However, we did like the checklist in the editor, which is always visible. That way, you know exactly what you need to do to create your emails.

Pros:
Live chat available

Visual reports and analytics

Uncluttered UI
Cons:
Lengthy process to signup

Few email templates

Complicated segmenting
Pricing
Moonmail has four pricing plans. Lite is $59 a month for 10,000 active contacts, and you can send 50,000 emails each month. You can also host 250,000 events and get one domain.
The Starter plan is $249 a month for 50,000 active contacts. Plus, you can send 250,000 emails a month and host 1,250,000 events.
Professional is $499 a month, and you can have 100,000 active contacts. With this, you can send 500,000 emails and have 2,500,000 events with five different domains.
Enterprise is the final option, and it's customized for your needs. You can have as many domains, events, email sends, and contacts as you need.
Who Is This For?
Primarily, we feel that Moonmail is there for people who have strict requirements and already know everything there is to know about email marketing.
3. Zoho Campaigns
When it comes to Revue alternatives, Zoho Campaigns might be what you need. It's recently been redesigned, and the email marketing software has more features and is designed for all types of companies and individuals.
Features
With Zoho Campaigns, you can easily import subscribers/contacts from other sources, such as G Suite and Eventbrite. You also have access to A/B testing on all plans. This lets you test two different versions of your email marketing campaign to figure out which one is best.
We like that there are various pre-designed templates to help you get started fast. Still, you can make changes as needed to personalize the campaign to meet your needs.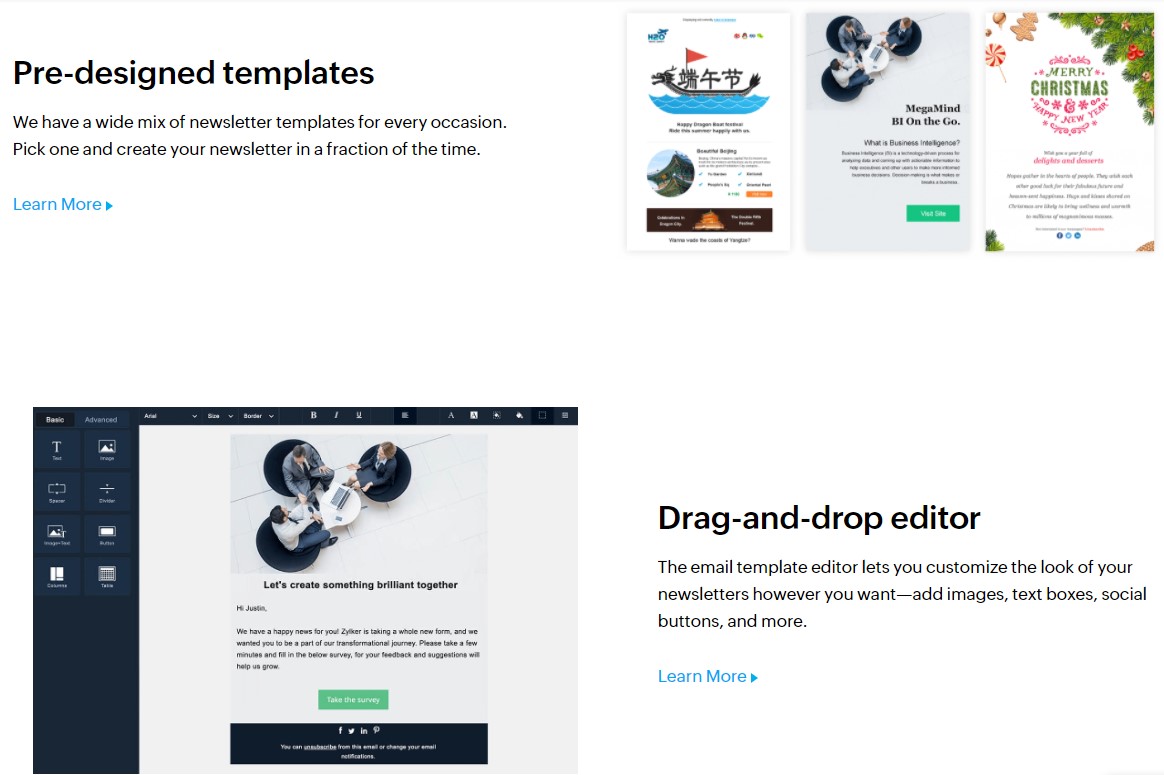 Pros:
CRM styled

Organized reports

Intuitive editor for emails
Cons:
Occasional glitches in the workflow

No analytics for revenue

No live chat support
Pricing
The prices for Zoho Campaigns are quite reasonable. With the Email-Based Plan, you can have 250 contacts and send 500 emails for $3 a month. With it, you get a drag-and-drop editor, consent management, advanced segmentation, and A/B testing.
Next, the Subscriber-Based Plan gives you 500 subscribers for $5 a month. You get all the perks of the Email-Based plan, but there are also email polls, workflows, autoresponders, and more.
With the Pay By Email Credits plan, you get 250 credits for $6. It's suitable for occasional email sending, and you still get pre-designed templates, A/B testing, and a drag-and-drop editor.
Who Is This For?
We feel that Zoho Campaigns is suitable for all types of business, though it aims itself toward SMBs and startups.
4. MailGun
Mailgun is primarily an email service for software developers who prefer to use Application Programming Interface (API) to send mass emails. An email API lets applications and websites access a mail platform's functionality.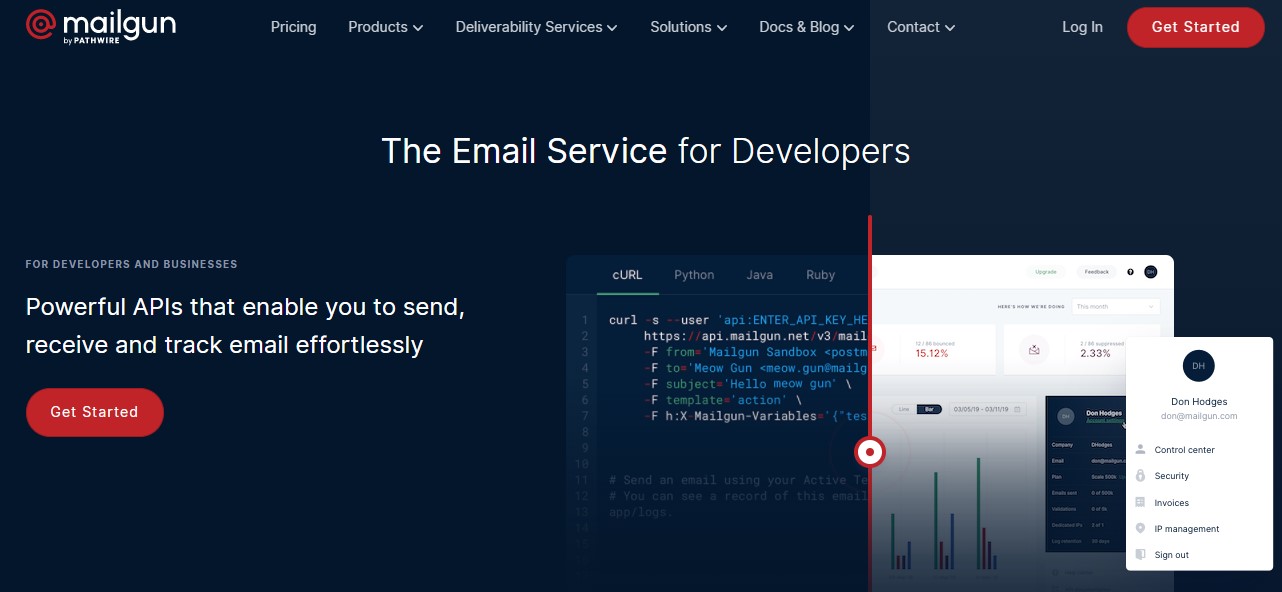 Features
In all fairness, Mailgun isn't email marketing software. It's designed as an SMTP relay tool and mail API. However, with Mailgun, you can send transaction emails if you're a developer who knows what they're doing.
In fact, you can track emails and optimize them to get higher engagement ratings. Ultimately, you're predicting the performance of the emails, monitoring everything, and sending out quality emails that you create yourself.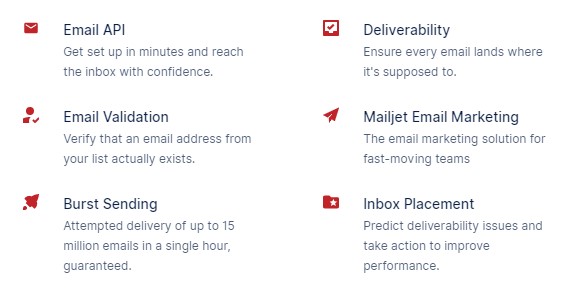 Pros:
Real-time email validation included

Burst sending

Prediction of email performance
Cons:
Hard to set up if you're not a developer

No email marketing features included

Limited support
Pricing
There is a forever free plan with Mailgun called Flex. You can use it for three months and send 5,000 emails for free. Then, you just pay for the emails you send. With it, you get the basic features, such as tracking and analytics, 24/7 support, Webhooks, email APIs, and more.
From there, you can move to Foundation, which is $35 a month for 50,000 emails. You get the same benefits as Flex, but there's message retention, detailed documentation, and inbound email routing.
Growth is next at $80 a month for 100,000 emails. With it, you get the same perks as in Foundation. There's also instant chat support, three-day retention on messages, and more email validations.
Scale is the final plan at $90 a month for 100,000 emails. You have access to all the features, including placement tests, SAML SSO, dedicated IP pools, and much more.
Who Is This For?
Ultimately, we feel that Mailgun is best for email marketers who have tons of experience as developers because it's only an API.
5. Flashissue
Flashissue calls itself an online publishing tool because it helps you create newsletters and emails for Twitter, Facebook, and more. This email marketing software has tons of features.
Features
With Flashissue, you can monitor your emails, and there are amazing analytics and reports. When compared to other Revue alternatives, this one takes the cake.
There's subscriber management to help you segment lists. That way, you send the message at the right time. 
We like that the templates are customizable, and you don't have to start from scratch. It's easy to create a stunning newsletter.
Pros:
Easily personalize emails

Can link blog posts, videos, photos, audio, and more

Intuitive and easy to use
Cons:
Can have glitches and resets itself

Randomly saves your edits
Pricing
With all the pricing plans on Flashissue, you pay one fee for a full 24 months. Starter is first at $9.99. You can have 300 contacts and 100 monthly email credits. There's no branding on the emails, and you've got powerful analytics and reports.
Small costs $79 and includes the features from Starter. However, you can also have five team members, 250 email credits a month, and unlimited contacts.
From there, you bump up to Medium at $129. It includes the Small plan features, but you can have 10 team members and 5,000 email credits a month.
Large is the final option at $199. This plan includes everything from Medium with 50 team members and 10,000 email credits each month.
Who Is This For?
We feel that Flashissue is suitable for startups, but large companies can also benefit from the email marketing tool if they use Gmail and Google apps.
6. Reach Mail
Reach Mail is an email marketing software that provides great email deliverability with customer support. It's easy to create emails and send them effortlessly.

Features
With Reach Mail, you can create beautiful emails from a template, and there are about 70 available. If you want, you can also make changes with the drag-and-drop editor.
Those who already have an existing contact list can import it from another email marketing tool. That way, there's less clean-up and organizing to deal with. You're sending emails quickly and efficiently!
Pros:
Excellent image library

Tons of email templates

Free storage included for links and documents
Cons:
Can be hard to alter email templates

Ineffective online help tool
Pricing
With Reach Mail, there is a forever free plan. You have access to email hygiene, one signup form, and one user.
Basic costs $9 a month for 12,000 emails and 5,000 contacts. With it, you get more email hygiene credits, three users, three signup forms, three auto messages, and basic automation.
Pro is the final plan at $29 a month for 25,000 emails and 5,000 contacts. You have access to advanced automation, dedicated IP addresses, and unlimited auto messages, signup forms, and users.
Who Is This For?
We believe that Reach Mail is suitable for all types of companies, including eCommerce businesses and creatives who want to promote their brands.
Good read: Reach Mail Alternatives: Achieve Simple and Efficient Email Marketing
7. SendX
SendX isn't an email marketing tool that has tons of extra features. It's not a CRM, and it can't help with various channels (social media or blogs). Instead, it focuses on being a simple, all-around email marketing software solution.
Features
When compared to other Revue alternatives, SendX is a reliable email marketing software that focuses on simplicity. It offers the tools you need to automate and grow so that you can focus on other aspects.
You have access to action popups, embedded forms, and landing pages. Plus, it's easy to use, and you can design your own widgets to see how they look on the website right on the SendX platform.
Pros:
Send unlimited emails

Intuitive interface that's easy to use

Build landing pages, forms, and emails effortlessly
Cons:
Non-flexible automation builder

Only basic targeting and personalization
Pricing
The pricing plans for SendX are based solely on how many subscribers you have. You get all the features it offers.
Here is a list of the prices:
Who Is This For?
We feel that SendX is suitable for small companies and users who require efficiency when sending emails. If you don't have complex needs, it's ideal for you.
Good read: Top Sendx Alternatives and Competitors (An In-Depth Analysis)
8. MailPoet
MailPoet is a great email marketing tool for WordPress users. This plugin lets you integrate an email marketing solution with your WordPress website. That way, you can send emails from a centralized location.
Features
With MailPoet, you can easily communicate with your customers. You can send welcome emails and newsletters. Plus, there are a ton of templates to get you started.
If that weren't enough, MailPoet integrates with WooCommerce, so you can create transactional emails. There are tons of options available, such as first purchase and abandoned cart campaigns.
Pros:
Manage campaigns from start to finish in the WordPress dashboard

Easily import/export subscribers

Segmentation and automation included
Cons:
Few email templates

Limited scheduling
Pricing
When you choose MailPoet, you pay based on the number of subscribers. It's free for up to 1,000 subscribers. At 1,250 contacts, you start paying $15, and the price rises from there.
Regardless of the subscriber count, you get all the features it offers.
Who Is This For?
We feel that MailPoet is ideal for email marketers who already use WordPress because it's a WordPress plugin.
Conclusion
While it's easy to get confused with all the Revue alternatives out there, this list should help you realize that there are other email marketing tools. Learning about each of these eight email marketing software solutions is the first step. From there, you have the information necessary to pick the right one for your company.
Many of the Revue alternatives shown have free trials, and a few of them offer forever-free plans. Take advantage of them to figure out what's best for you.
If you want to learn more about email marketing, we have plenty of resources for you: