Video content is slowly but surely becoming the most popular type of content both on Instagram and in general when it comes to marketing on different platforms.
Small businesses try to keep up with innovations and build their marketing strategy in line with the preferences of their target audience, and the videos seem to meet all the necessary criteria.
They are fun, interesting, and visually appealing, but if you want to create the perfect memorable videos, it's best to use highly efficient, user-friendly video editing tools.
For small businesses, we have selected 4 user tools for editing videos on Instagram, so take a look at them and see for yourself why videos are a necessary part of any social media marketing strategy.
InShot is a mobile video editing application that has all the necessary and useful features to help you edit, trim, speed up, delete, and enhance your videos.
It is designed for iOS and Android devices and can help you make perfect videos for your needs and allow you to be creative while doing so.
InShot's interface is quite simple and easy to use, and all the initial options are clearly visible and ready for you to choose from: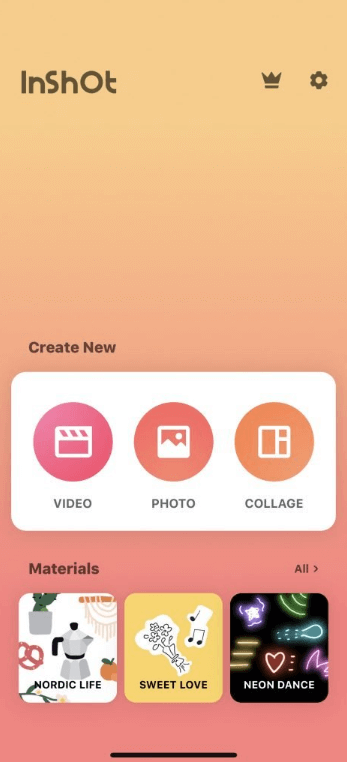 As for video editing options, you can crop videos, merge clips, remove the middle part of the video, make multi-part videos, and more.
When you select a video from your device and plan to upload it to the app, you can trim it first to determine the desired length.
When it comes to Instagram stories and IGTV, you can easily set the frame size wherever you are.
With the "Select one track to edit" section, you can select the part of the video you want to edit and do it very quickly and efficiently.
This video editor also offers several effects and filters to make your videos look exactly as you imagined them and some of these filters are dark, bright, glitch, film 05, and others, and you can adjust them, too.
You can add certain sound effects, your own music, voice-overs, or you can even record your own sound.
There is also an option to control the volume, so you can change it for different parts of the video if you want.
Include colors, change the background, or even add fun, animated stickers and text.
When it comes to texts, you can change fonts, colors, their location, tilt or rotate text, and more.
За:
Простой в использовании

Very accessible interface

Includes all the necessary and basic features

Affordable for small businesses
Задержки:
It lacks certain advanced features 

You can only remove InShot brand logos by paying $2.99 per month

Not suitable for professionals

There are difficulties when duplicating certain parts
InShot's pricing
This tool is free, but if you want some additional features, you need to upgrade to a paid subscription. With the premium version, there are three paid options, so you can pay $3.99 per month, $14.99 per year, or pay for а lifetime access that costs $34.99.
Boomerang is a very popular Instagram tool that is very fun to use and suitable for anyone who wants to be playful and add a certain flavor to their work.
It is also available on iOS and Android and can help you make short videos and interesting GIFs.
It is also very easy to use and set up, and you can save the videos you have created on the camera roll and make them ready for use.
With just one button, you are ready to create short videos of 3 to 5 seconds in length and capture the desired moment in an interesting way.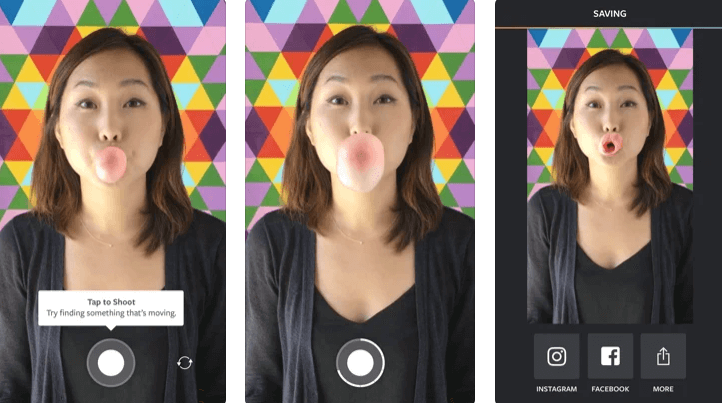 You can easily share these videos, make them by recording someone or something or by taking a selfie video, all in one step.
You can also shoot bursts of ten photos and turn them into one short beautiful video to surprise your visitors with creativity.
This is certainly one of the less formal applications of its kind and that is why people love it and use it widely to embed short, engaging video content into their profile.
This tool is simple, fun, and free.
You will not waste time with it because it is very easy to use, and visitors will be delighted and pleasantly surprised by the variety you provide.
За:
Very easy to use

It has simple but effective options

Practically made for Instagram

It saves you time
Задержки:
It doesn't have many options as its primary goal is for you to have fun while working

It doesn't offer a camera roll option if you are using an iPhone

You can't change the background 

It lacks certain effects
Boomerang's pricing
This tool is free for use.
Rocketium is an Instagram video maker that allows you to create amazing and interesting videos in just a few minutes and without any designing skills.
By including engaging, text-based videos in your content, you get the opportunity to drive more traffic and reach a large number of people.
You can brand your videos by using logos, changing colors or fonts, but also by adding custom intros to make everything look even more professional.
What is great about this tool is that you can use their beautiful ready-made templates, so you will be able not only to improve your videos visually but also to save some time for some other tasks.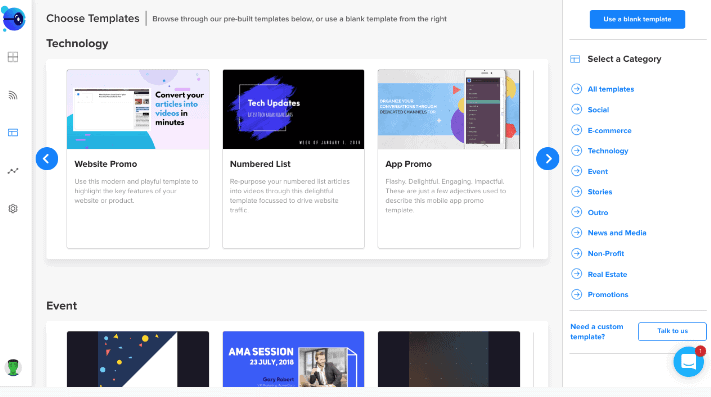 Rocketium has an advanced AI that allows you to automatically change video size according to your needs and further adjust it by changing the text and adding animations into your videos quickly.
Videos with subtitles are very popular today, so this video maker allows you to add subtitles to your videos which makes it even easier for you to create useful interview videos, webinars, or podcasts.
It is pretty intuitive, flexible, and easy to use, and if you want to be able to create simple but beautiful videos with just a couple of clicks, this video maker is ideal for your business.
It enables a smooth creation process, offers important basic features, and it doesn't slow down your load page because it is pretty lightweight.
They also have a great support team that is always ready to help.
За:
Простой в использовании

Very fast

Beautiful ready-made templates

Advanced AI

It has an option to add subtitles 

The support team
Задержки: 
It lacks certain features

When you use it for free, there is a Rocketium logo at the end
Rocketium's pricing
There is a free trial available, but if you want to be able to use more features, you need to use paid plans. You can even request pricing if you work in a team and have special requirements related to collaborations, and the only thing you have to do is leave your work email.
Magisto is an online video editor that helps you create powerful videos for your Instagram profile using AI.
This allows you to organize your content better and helps you automate processes to create amazing videos even faster and easier.
It is really fast, easy to use, and extremely efficient.
You can choose a video editing style, incorporate certain content in your videos, or add your own music.
Make a mini-movie and offer your visitors quality and creative content.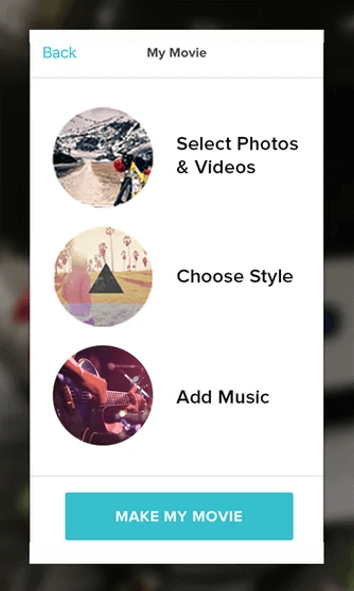 Everything is done in three simple steps:
According to the type of story that you want to present, choose a video editing style

Upload pictures or clips that you want to include in your video 

Select music from their in-built music library
There is also a face recognition option, cropping options, you can adjust the speed, and much more.
This tool offers a number of different features that allow you to easily make exciting professional-looking videos.
It's even easier to share them, and you can do that on different marketing channels.
AI helps you choose the right segments that will arouse certain feelings in your visitors by performing an in-depth analysis of your footage.
You can use it from iOS and Android devices.
Creating movie-like videos has never been easier, and posting such professional and interesting videos is surely something that your visitors will deeply appreciate.
За: 
Very intuitive

It has a large number of features

It uses the power of AI

Easy to use drag and drop builder
Задержки:
When using automated options, there is a lack of control

You need to upgrade to a paid version if you want to remove the watermark

The free basic version allows videos of up to 60 seconds
Magisto's pricing
There is a free version, but if you want some extra features, try some of the paid plans starting at $4.99 per month. The Professional plan costs $9.99 per month, and the Business plan costs $34.99 per month, and there is a free trial.
The Bottom Line
To keep your visitors interested, it is important to always be up to date with innovations and use different types of content to make everything more interesting and versatile.
To easily create videos that look professional but also interesting, you need to use certain tools because they will make your life easier and improve your marketing strategy.
When it comes to making your content more engaging, Poptin is the tool that you can use to create useful pop-ups and forms for your business website and reach an even higher level.
Try these useful video editing tools for your videos on Instagram, and delight visitors with creative and memorable content!