The idea in the online business world is to attract as many visitors or potential customers as possible for a particular business to expand.
We can assume that this was much more difficult to do before the so-called pop-ups appeared on the market.
As windows that appear in the hope of converting as many of your visitors as possible, pop-ups are today the main tool many marketers use daily.
Whether you like them or don't, the fact is that these windows are becoming more prevalent and that today there is a huge number of pop-up apps.
So, as MailChimp is a popular platform that constantly helps small businesses by offering various tools and apps, we have selected the four best pop-up apps for Mailchimp that you can try out and see how useful they can be to your business goals.
Let's begin!
Poptin is a highly efficient pop-up tool that, with the help of its versatile features, helps you make great pop-up windows easily and quickly.
Like all pop-up apps, its ultimate purpose is to convert as many visitors as possible into customers.
Besides that, it can help you get more email subscribers and reduce shopping cart abandonment.
By using Poptin, you can:
Create amazing MailChimp popups

Создавайте встроенные формы для вашего сайта

Отправляйте автоматические электронные письма своим подписчикам
You can easily create MailChimp popups with the help of an efficient drag-and-drop editor in a manner of minutes.
Here you can take advantage of various options like inserting images, logos, changing colors, fonts, and more to ultimately make your MailChimp pop up to your liking.
Poptin is used by everyone, from online marketers to bloggers, because the app is such that anyone can easily manage it.
Предлагаемые функции:
Перетаскивание редактора

Триггерные опции

Варианты нацеливания

A/B тестирование

Аналитика

Библиотека шаблонов

Интеграции

Отличная поддержка клиентов
Explore all Poptin features here.
Преимущества использования Poptin
Poptin is very easy to use. You don't need any coding skills, so it is accessible to everyone. Integrating it with MailChimp is easy-peasy. 
With the many different features it offers, a phenomenal drag-and-drop editor stands out that allows you to make windows exactly the way you envisioned them.
It will help you collect more leads, get more sales, increase the number of subscribers, and many more.
Just some of the types of pop-ups it offers are:
Лайтбокс

Слайд-ин

Обратный отсчёт

Fullscreen overlays

Социальные виджеты

Top bars

Bottom bars

Gamified popups (spin the wheel, scratch cards, pick a gift pop ups)
Countdown pop ups
Video pop ups
Watch this video for a visual guide on how to create your own MailChimp popups.
Also, it has excellent customer support that will solve any doubts and is available by phone, live chat, or email.
Templates library offers many beautiful designs that you can edit according to your needs, and you can do it all in just a few minutes.
By using the A/B testing option, you will always be sure which version of your MailChimp popup is the best and which one works best with the audience so increased sales will not be missed.
Learn more about the Poptin <> MailChimp integration.
Недостатки использования Poptin
For someone who is entirely new when it comes to monitoring analytics, it is best to turn to customer support, with which everything will become much more straightforward.
Цена Поптина
You can opt for a monthly and annual subscription. When it comes to packages, they start at $19 per month but they also offer you to try Poptin for free and make sure it's the right choice for you.
Why is Poptin an excellent popup app for MailChimp?
Besides offering fantastic targeting options, Poptin also offers triggering options that will help you gain as many customers as possible because your MailChimp popups will appear at precisely the right time.
You will be amazed at how easy it is to use a drag-and-drop editor and how easily and quickly you can use customization options.
Using various templates lets you play with the design quickly and efficiently and make great windows for your website.
A/B testing lets you check each pop-up's success with your audience and what needs to be changed to make everything work even better.
Poptin's ratings as a pop-up app for MailChimp
Here they are:
Простота использования: 5
Уровень настройки: 4
Визуальная привлекательность: 5
Особенности: 5
Интеграция: 5
Поддержка клиентов: 5
Ценообразование: 5
Всего: 4,9/5
Want to get started now? Sign up with Poptin for FREE!
2. Privy
Privy is a platform that can help you create attractive MailChimp popups, flyouts, banners, follow-up emails, and more.
It concentrates on collecting but retaining as many customers as possible, thus increasing sales.
It is especially intended for small businesses, but it can be used by anyone who deals with online companies and wants to take it to a higher level.
Privy primarily helps you grow your email list faster, reduce cart abandonment, and boost response to your email campaigns.
When it comes to creating pop-ups, Privy's editor is simple yet effective, and it helps you effortlessly customize your pop-up window according to your wishes.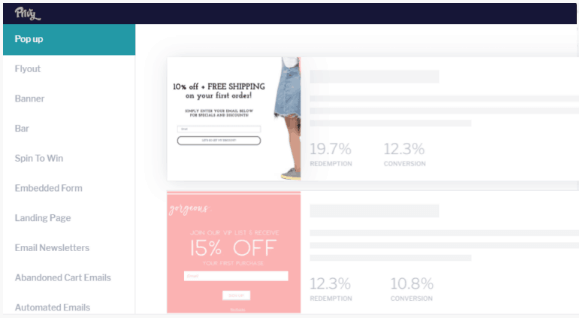 Also, you can create different bars, spin-to-wins, embedded forms, and landing pages for your website.
With its advanced targeting options, you can choose the most suitable audience to show your relevant MailChimp popups to and thus increase the chances of buying.
Предлагаемые функции:
Перетаскивание редактора

Опции настройки

Расширенные возможности таргетинга

Exit-intent campaigns

Pre-built campaigns

Bars and banners

Spin-to-wins

A/B тестирование
Преимущества использования Privy
Privy is great for attracting attention but especially for preventing potential customers from leaving your website before they decide to make a purchase.
It offers many different options, such as attractive pop-ups, flyouts, bars, banners, and other different onsite displays.
With Privy's help, you can offer additional products based on what the customer has already bought, which is another good way to increase sales.
It helps your online business with email marketing as it encourages the growth of your email list, for example, by sending coupon codes to those visitors who have subscribed.
Another thing that makes it easier to create different forms is the templates that are beautiful and easy to edit.
It is both mobile and desktop responsive.
Недостатки использования Privy
Since it does not have certain features, the price is slightly higher than other tools.
It would be more efficient if there were more options for creating upsell emails.
Some customization options are missing, such as changing fonts.
Ценообразование Тайваня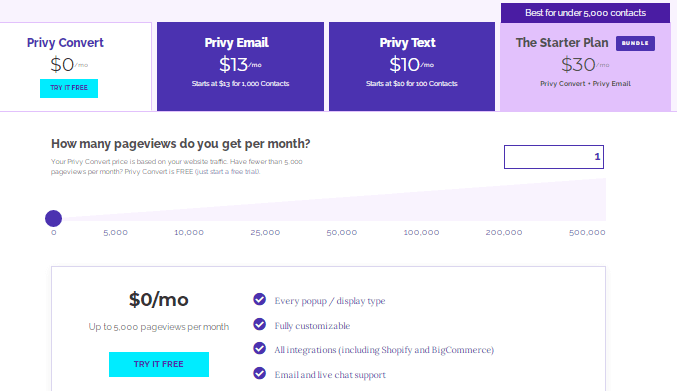 Privy has a free plan that includes up to 5000 pageviews, and paid packages start from $10 per month. Prices differ and depend on how many page views you get per month or the number of contacts, as we can see below.

Why is Privy an interesting pop-up app for MailChimp?
Its exit-intent pop ups, bars, banners, and flyouts are specially designed to attract more visitors and grow your sales.
It is mobile-friendly, so customers can constantly access your business wherever they are.
Privy's pop ups are effortless to create, and its editor allows you to customize them and change their look according to your needs.
You can use targeting options to target a specific audience and surprise it with your phenomenal offers.
By using A/B testing, you can easily find out how your pop-ups perform and what modifications need to be made.
Privy's ratings as a pop-up app for MailChimp
These are the ratings:
Простота использования: 5
Уровень настройки: 4
Визуальная привлекательность: 5
Особенности: 4
Интеграция: 5
Поддержка клиентов: 5
Ценообразование: 4
Всего: 4,6/5
3. WisePops
WisePops is one of the great tools for small and big businesses, online marketers, and e-commerce in general.
Their smart pop ups are simple but powerful, and in addition to them, you can also create beautiful bars and banners to grow your sales.
It is straightforward to use, and you don't need coding or designing skills to make attractive pop-ups.
With the help of its simple and functional dashboard, you can customize everything and make great campaigns appropriate for your website.
WisePops views the creation of MailChimp popups as art and therefore allows you to use several different types of pop ups:
Exit pop-ups

Lightbox pop-ups

Email pop-ups

Video pop-ups

Mobile pop-ups
When it comes to responsiveness, they are all both mobile and desktop responsive.
With its targeting options and detailed reporting, you can track your visitors' behavior and see the best tactics for boosting your sales.
Предлагаемые функции:
Drag and drop builder

Опции настройки

Варианты нацеливания

Триггерные опции

Интеграции

Responsiveness

Customer service
Advantages of using WisePops
If you want to make quality MailChimp popups with minimal effort and high speed, use their pre-made templates.
It is very easy to use its highly customizable drag-and-drop editor and create various pop-up windows according to your every need.
With advanced targeting and triggering options, you can reach the right person at the right time with a unique offer.
As WisePops pop ups are mobile-friendly, your customers will have no difficulty resolving their purchases on the go.
It also has customer support to help your customers resolve potential problems with dedication and efficiency.
Disadvantages of using WisePops
If you are a designer, customization options may not be to your taste ultimately.
High costs can be a problem for someone who does not plan to be a frequent user.
WisePops's pricing
WisePops offers a 14-day free trial, and after that, you can upgrade to some of the paid packages whose prices vary according to how many page views you get per month. Prices start at $29 per month, where you get 50.000 page views, and you can see prices for other packages on their website.

Why is WisePops another good pop up app for MailChimp?
With this pop-up app, you get to create unique MailChimp popups in just a few minutes, which leaves you room to dedicate to some other tasks.
Using its many templates, you can design your pop-up entirely according to your customers' wishes and present your business in the best way possible.
Various tracking options help you get a complete impression of how your business is going and whether people generally react positively.
It is both mobile and desktop responsive, and it supports various integrations.
Wisepops's ratings as a pop-up app for MailChimp
Let's see them:
Простота использования: 5
Уровень настройки: 4
Визуальная привлекательность: 5
Особенности: 4
Интеграция: 4
Поддержка клиентов: 5
Ценообразование: 4
Total: 4.5/5
4. Getsitecontrol
Getsitecontrol is another pop-up tool that, besides increasing conversion rates, helps to establish total control over your online business.
You can develop your marketing strategy but at the same time actively work on bringing in as many visitors as possible without waiting for them to come to you first.
It helps attract your visitors' attention with proactive pop ups, collect feedback with contact forms, conduct surveys, and reduce cart abandonment.
You can also create personalized messages, which positively strengthen the relationship with your customers.
Their gallery contains various templates that you can use to tailor your MailChimp popups perfectly.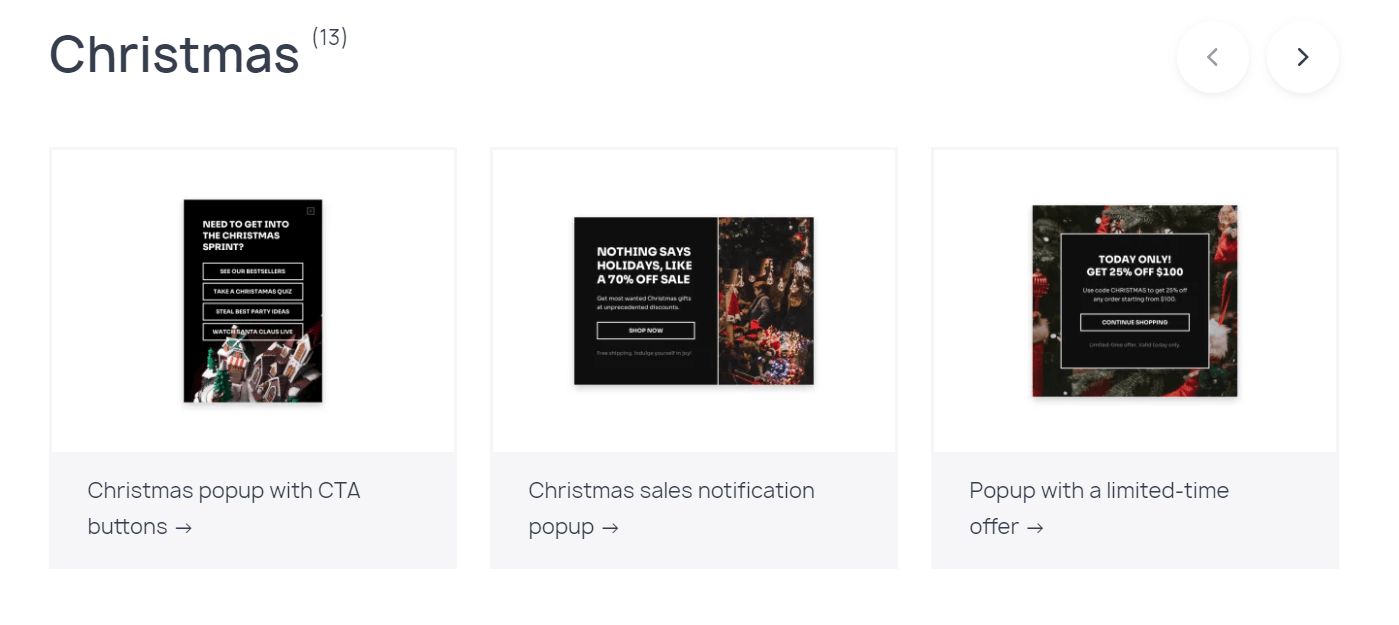 Just some of the types of popular pop ups are:
Call-to-action pop-ups

Плавающие бары

Слайд-ин

Top and bottom sticky bars
For example, by using the exit-intent trigger, you can reduce cart abandonment rates as your pop-up will appear just in time to prevent your visitor from leaving your website.
Предлагаемые функции:
Templates Gallery

Варианты нацеливания

Триггерные опции

Responsiveness

CSS editor

Интеграции

Multi-page widgets

A/B тестирование
Advantages of using Getsitecontrol
It enables you to create mobile pop-ups that are perfectly convenient and flawless even on smaller screens.
With targeting and triggering options, you will be able to accurately target a specific group and make your pop-ups appear just when you need them to.
A/B testing helps you determine which pop-up design your audience likes the most.
Getsitecontrol is very easy to use, and with the help of its CSS editor and clear interface, you can easily create and customize your MailChimp popups to fit into your brand.
When it comes to conversions, you can use various analytics to see how your audience behaves and whether maybe something needs to be changed.
Disadvantages of using Getsitecontrol
To use some of the features, you have to pay for the upgrade, which is a drawback.
Customization options could have been better.
Getsitecontrol's pricing as a pop-up app for MailChimp
You can start a free trial, and after that, you can upgrade to some of the paid packages according to how many widget views per month they offer.
Why is Getsitecontrol another suitable pop-up app for MailChimp?
It offers you a multitude of exciting forms that you can use to activate your online business and gather as many customers as possible.
This app helps you engage your visitors with many pop-up forms and surveys and encourage them to make a purchase as a final goal.
It helps you grow your email list by using subscription forms, and you can also personalize messages and stand out in that way.
It is fully responsive, and it offers many integrations.
Getsitecontrol's ratings as a pop up app for MailChimp

Ratings for this app are below:
Простота использования: 5
Уровень настройки: 4
Визуальная привлекательность: 4
Особенности: 5
Интеграция: 5
Поддержка клиентов: 5
Ценообразование: 4
Всего: 4,6/5
The Bottom Line
Although there is a vast number of different pop-up apps on the market, it is essential to choose the right one that will help you create the most amazing MailChimp popups.
If you are looking for an all-in-one solution for your online business, then Poptin's smart pop-ups are the unmistakable choice.
Take advantage of all the features these great apps offer you and convert your visitors into customers faster and easier than ever!
If you want to learn more, here are some relevant articles to get you going: