Poptin recently launched its newest roster of pop up templates that can give your next campaigns an extra boost to convert effectively.
Introducing…the gamified popups!
This kind of pop-ups allows you to show game elements to your visitors in a fully non-game setup. It's brand new and it's worth the try!
We've already introduced the first two gamified pop up templates; spin the wheel pop up and pick a gift popup.
In this article, we'll be focusing on the third template, which gives you and your visitors an equally fun and exciting experience on your website.
Meet your next gamified popup: the Scratch Card!
What is a Scratch Card Popup
Are you into the lottery? Well, you'd be surprised that you can play this on your website too, whether you're into eCommerce, SaaS, or a different type of niche.
This interactive scratch off popup lets your visitors get surprising brand offers by just scratching off the concealed information using a virtual coin. Inspired by the popular gambling cards, it's fun to do as excitement increases! Who doesn't want free gifts, right?
Once the scratch-it box has been scratched, the specified promo is revealed and visitors can redeem the offering just within the duration of the session.
Although you can choose to give a losing ticket, the experience itself would enable you to capture more visitors and give them a nice shopping experience anyway. Knowing that you've given them a chance to win makes this strategy a lot more effective for web conversions.
Why Use Scratch Off Popup
Scratch card popups can help you gain more email marketing leads, subscribers, and customers. You may opt to give discount vouchers, free shipping promos, coupon codes, and more, to entice them.
With gamification, you can drive your visitors into giving their contact information while doing the game and having fun. It's achievable when you successfully trigger their excitement, competitive spirit, and love of winning.
It's also possible to reduce cart abandonment significantly once you show your scratch card pop up when they try to leave your site without buying anything.
How to Create Your Own Scratch Card Pop Up with Poptin
With Poptin's user-friendly interface, anyone can start creating their own scratch-it overlay using the template. You don't need any coding knowledge so even beginners can implement this gamified marketing tactic.
To start, log in to your Poptin account and follow these:
1. Creating and customizing your scratch off popup campaign
On the Poptin dashboard, create a new pop up and find the scratch card from the template options. Start customizing your design based on your campaign or brand theme. You can add, edit, or remove elements such as sizes, colors, fonts, images, coupons, and more.
There are four sections to customize: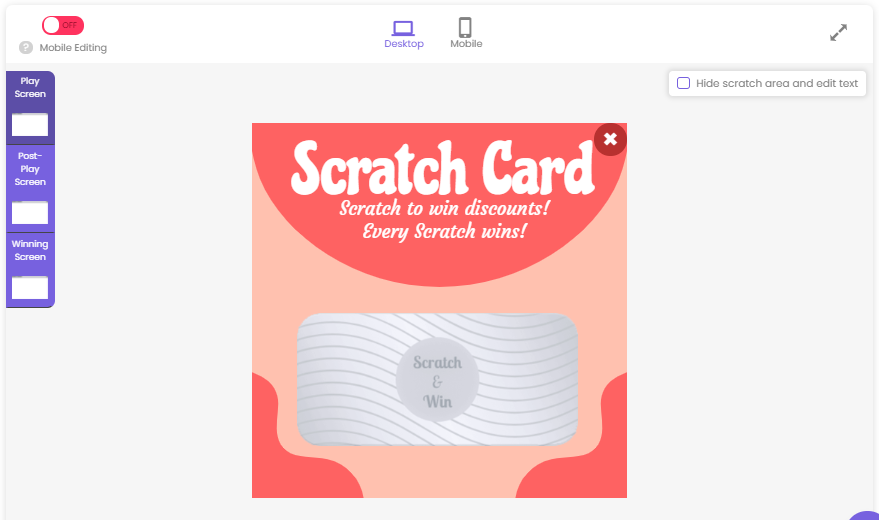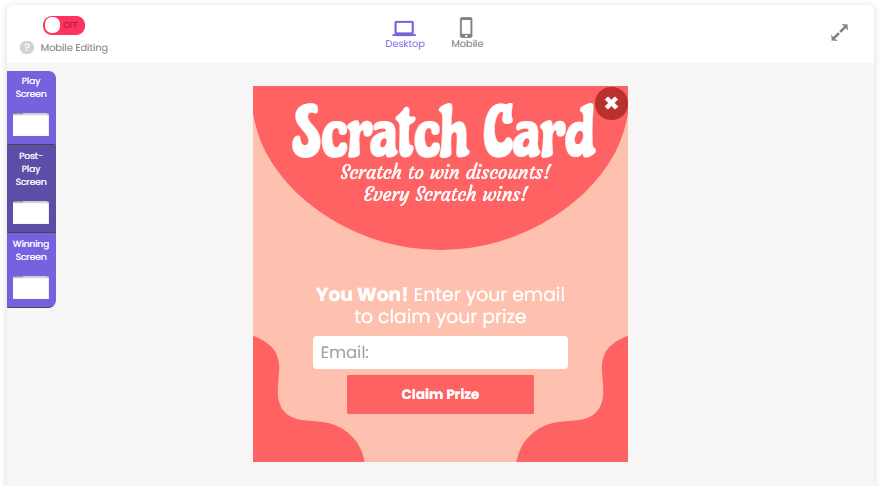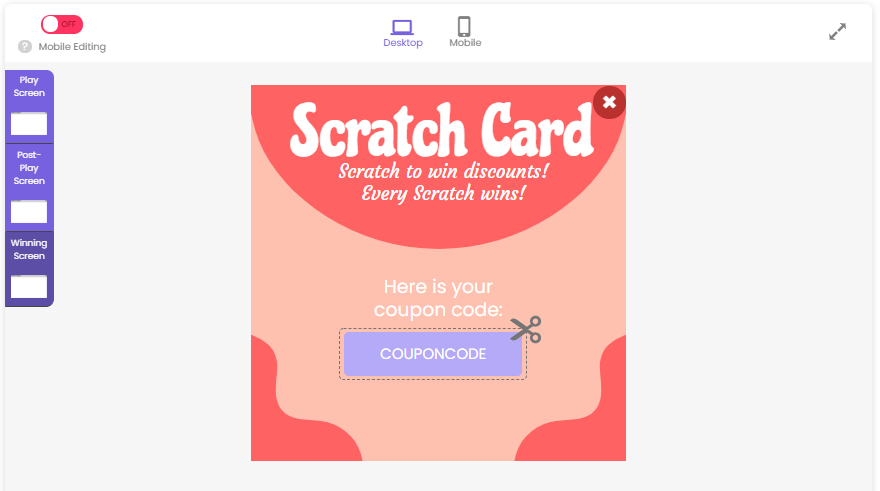 2. Set up your email or CRM integration
Once you're done with your scratch off popup, you can start integrating it with your favorite emailing or CRM platform. Poptin has 60+ native integrations, which include the major software such as MailChimp, GetResponse, Klaviyo, Zapier, Integromat, Constant Contact, ActiveCampaign, Hubspot, Zoho, and more.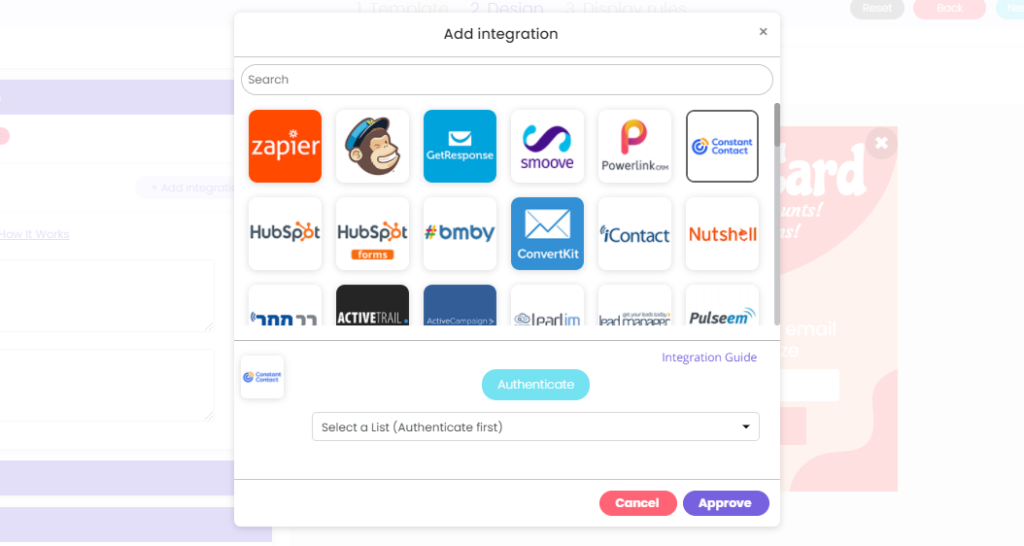 3. Add your smart triggers and targeting options
Setting up the right smart trigger allows you to show your scratch card popup at the right time, without disturbing your visitor's browsing experience. Available triggers are:
Time Delay
Page Scroll
Page Count
Inactivity trigger
On-click
Click count
Autopilot trigger
Shopify cart trigger
To be able to show your scratch off popup to the right people and convert more qualified leads, targeting rules should be set correctly. You have a variety of options to choose from: page targeting, OS and browser targeting, geolocation, javascript targeting, title tag, date and time, and many others. Check the full list here.
Once you've equipped your pop up with the right rules, you'll be able to convert more qualified leads and customers.
However, if you feel like your strategy is not converting enough, A/B testing is your friend. Just always monitor your performance on Poptin's built-in analytics so you're on the right track.
Here's how it looks:
To start creating your own scratch card pop up, follow the detailed instructions here.
Conclusion
Gamified pop ups can do more than just attract and excite visitors. You can take advantage of its power to reduce card abandonment, build more email signups, improve engagement, drive more qualified leads, and get more sales. Like scratch card popups, gamification of campaigns is easy to implement, not to mention its effectiveness in boosting your conversion rate all the more.
Sign up with Poptin today and create your engaging scratch-it overlay designs with ease!