Seguno, an email marketing software, is an excellent add-on for your Shopify website or eCommerce store. It is exclusively built for Shopify and is one of the top-rated email marketing platforms on the internet. When using this application, you are going to love its user-friendly design and easy integration.
You can use the software to grow your sales, attract new customers, or deliver crucial marketing information to previous clients. This email marketing software has many integrations, including Instagram, Facebook, popups, banners, and much more. No matter what everyday application you use, it can connect to it effortlessly.
With Seguno email marketing software, you create high-performing newsletters, email marketing templates, and email automation campaigns that drive your business to success.
Even though Seguno is a well-known application, some users still prefer using Seguno alternatives for email marketing. It may be due to cost, but also some users like the additional features other email marketing software gives them.
Today's article shows you the best Seguno email marketing alternatives and highlights why they are excellent for email marketers. Let's get started with the list of the best choices for you and your business without further ado.
Klaviyo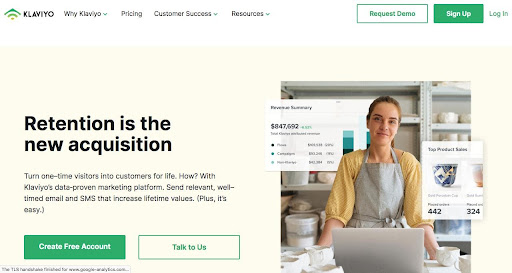 If eCommerce store owners want to deliver a unique and more personalized experience for their visitors, Klaviyo is the perfect solution. The software also allows you to send bulk SMS campaigns and has powerful built-in automation to personalize every message.
Klaviyo makes managing your content automated and straightforward, even if you are a newcomer to email marketing. It also acts as a customer relationship management tool that can support up to 250 contacts on the Free version of the software.
There are businesses worldwide that rely on Klaviyo to supercharge their growth. A study was performed and showed that brands that use Klaviyo as a marketing tool had made more than $3.7 billion in revenue in last year alone.
The software lets you create more profound and valuable customer relationships through its intuitive and user-friendly interface. Over 67 brands move to Klaviyo every day, and the above statement is one of the primary reasons.
You can expect to receive world-class support in a variety of languages, including:
German
English
Finnish
French
Italian
Japanese
Dutch
Portuguese
Romanian
Russian
Spanish
Turkish
Vietnamese
Chinese (Simplified)
With the comprehensive support system, it would be silly for you not to give Klaviyo a try as a Seguno alternative.
What's excellent about Klaviyo is that it's a cost-effective yet mighty CRM with a slight learning curve and a host of features. It offers reporting solutions so you can manage your campaign and marketing efforts every step of the way.
If you want to build a campaign or perform A/B testing on a specific email, the parameters can be easily set in the backend. It has never been easier to handle your marketing efforts with Klaviyo, but that doesn't mean the software is without its flaws.
The graphics manager doesn't allow you to resize or crop images in the backend, which can be a massive pain in the butt. We also think the campaign designer should have more template options to edit things to the email marketer's requirements.
Even though the software has automation features, it does lack the more standard marketing automation tools of other Seguno alternatives.
Either way, Klaviyo is an incredible all-in-one digital marketing tool with many integrations that can help your company grow. The software is regularly updated, and if you need help, its support staff is an email away.
MailChimp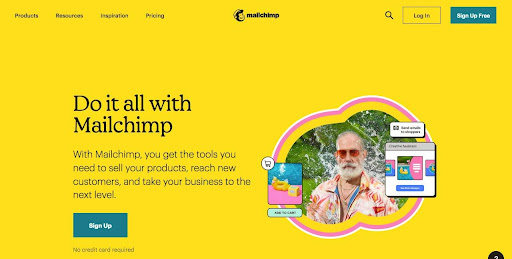 You may be looking for an excellent Seguno alternative that is cost-effective and intuitive; that is where MailChimp can come in to save the day. It is an all-in-one marketing platform that helps you talk to and manage your clients or other interested parties in a single place.
MailChimp allows you to design a beautiful campaign to monitor your marketing efforts and streamline the process through its powerful built-in analytics.
What's fantastic about MailChimp is that it's user-friendly, meaning even novice email marketers can use the software to grow their audience. Another excellent thing about the software is that the Free plans let you send up to 10,000 emails per month with a daily limit of 2,000.
That is perfect if you are new to email marketing and want to try out an email automation software that doesn't cost an arm and a leg. The Free plan also allows you to store up to 2,000 contacts, making it an excellent tool to build your client base.
More advanced packages are available for professionals who require customization and customer management options. The MailChimp Premium service can store up to 10,000 contacts and allows you unlimited seats plus role-based access.
Additional Premium version features include phone support, comparative reporting, multivariate testing, and advanced segmentation.
MailChimp is a fantastic Segundo alternative because of its easy-to-use dashboard, Free plan service, and advanced Premium package offered to its customers.
Campaign Monitor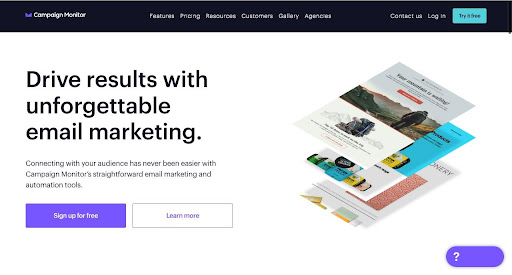 If you are looking for a software package that brings you powerful analytic tools and an easy-to-learn dashboard with rich templates, Campaign Monitor may be the perfect solution for you. It is an option for people new to email marketing which requires an application with an excellent customer support team and an intuitive, user-friendly backend.
The software starts at $9 per month and is one of the best choices if you are looking for a Seguno alternative to power your business's marketing efforts. It has automation tools, a unique easy to use WYSIWYG interface, and a versatile email template.
Furthermore, the features mentioned above play a significant role in the application's popularity and are the primary reason it's loved worldwide.
A few downsides to the Campaign Monitor include importing contacts with custom fields. In most case, the software struggle to place the imported data correctly if it is not set up suitably on your excel file or importing document.
Another bummer regarding Campaign Monitor is that there is no SMS channel, which can hinder your company's reach if you wish to perform SMS marketing.
With the Campaign Monitor's more expensive plan, you have unlimited sends per day with a 50,000 per month quota. All your contacts are easy to manage through Campaign Monitor's dashboard and are stored in alphabetical order.
Campaign Monitor is an excellent option to create a reliable channel to grow engagement and deliver personalized emails to your clients. You can even use the software to promote conversation or develop a loyal leadership program for your most valued members.
The drag and drop builder allows you to piece together your email marketing efforts simplistically and easily. You can also monitor audience engagement through built-in analytics, and it does not require any technical knowledge.
Many tutorials on the Campaign Monitor website give you information regarding maintaining and setting up the software. With Campaign Monitor, you can draw your website visitor's attention and boost your company's reach.
This Segunda email marketing alternative is the perfect solution to create awesome emails that draw attention and streamline your marketing process.
Omnisend
Omnisend does not only allow you to send emails, but you can deliver SMSs, push notifications, and WhatsApps to your customer worldwide. There are unique and easy-to-modify popups that can be added to your website through this intuitive application.
What's excellent about Omnisend is that it lets you segment your customer base to use advanced targeting to market to them. There are also dynamic integrations with various online services, such as Google and Facebook ads.
It is truly an all-in-one marketing automation solution for businesses that want to get the most out of their email marketing campaigns.
One of the best email marketing tools for a fashion brand is Omnisend because of its malleable templates and unique interface. You can use segmentation to create relevant and hyper-targeted email messages, essentially earning your company more money.
What's fantastic about this software package is that it can be integrated with various eCommerce platforms, including WooCommerce, Magento, Bigcommerce, Shopify, and much more!
You can even join the Omnisend Partner program and start earning 20% revenue from the company's shares. The simplicity of the software and how easy it is to send out customer emails make it one of the most beloved email marketing automation software on the internet.
It does have its downfalls, though, especially regarding the pricing structure. You can start with the company for free, but as your business grows, you are going to have to start paying for its services.
The most popular package, the Standard version, retails for $16 per month and allows you to send up to 6,000 emails plus 60 SMS per month. We think the above benefits of the Standard package are somewhat limited. However, Ominsend is still a fantastic software to help you get the word out through email marketing campaigns.
AVA Email Marketing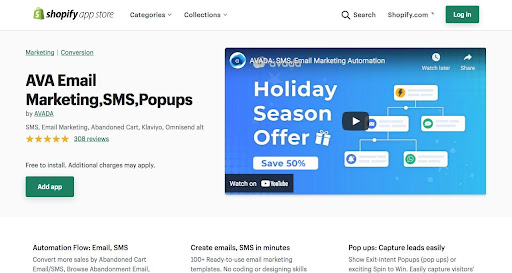 AVA email marketing is an excellent Seguno alternative for Shopify that allows you to manage customer emails and create personalized content for your audience. All new users that sign up with the software get a 50% discount on all paid plans for three months.
The software lets you convert and follow up on your customers through omnichannel, including WhatsApp, push notifications, SMS, and email marketing. There is also abandoned car recovery built into the software that can target users when they leave or enter your website.
It has fantastic cross-platform integrations that you can use to manage the client list and build a sale funnel for your business. You receive transactional emails concerning order confirmations, return emails, PDF invoice emails, and shipment information.
Easily capture leads and attract more customers using AVA email marketing for your outreach efforts.
There aren't too many disadvantages to this software, other than the pricing structure. If you want something that is effective and gets the message across perfectly, choosing AVA email marketing software is the ideal solution for your company.
Mailerlite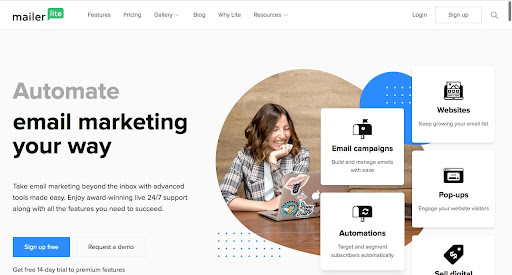 Mailerlite is an email marketing automation software that provides outstanding customer service to existing customers and is laser-focused on having the best service on the internet. A solid user-intuitive user experience, straightforward pricing, and exceptional 24/7 live customer support are what make this software so well-loved.
It is designed for people of all skill levels, meaning that even if you have no technical savvy, Mailerlite makes it easy for you to get started with email marketing for your business.
You can quickly grow your audience with custom landing pages, popups, and forms that can be created through the user-friendly drag plus drop interface. There is also a pre-designed template that can assist you in developing beautiful newsletters to keep your customers engaged and informed regarding your business.
The vast amount of personalization on offer allows you to create content that gathers more clicks and forces consumers to act. You can use segmentation and various other tools to handle client targeting to deliver the right message at the right time.
If you want to succeed in email marketing, Mailerlite is with you every step of the way, from customer support to template management. You can expect to receive the company's best service, especially if you sign up with its premium services.
There is a 14-day free trial available that gives you access to the premium features to get the whole experience and use that to decide if you want to sign up with the email marketing tool.
Conclusion
Online and traditional business owners understand the importance of email marketing. Using software like ones of the above is crucial to automate the email marketing process.
We recommend using the trial versions on offer before signing up with any software, especially as a beginner marketer. In our opinion, one of the better software is MailChimp because it offers its users a large quota of emails per month for free. You can experiment with MailChimp to find out if email marketing is for your business, plus reach a larger audience while doing it.
Overall, we hope you've enjoyed this Seguno email marketing alternative article, and you are now filled with the correct information to make an intelligent decision concerning your email marketing campaign.