Most companies realize the need for an email marketing solution. The problem is there are so many options available.
Just when you believe you've got the information you require to decide, another comes up that you want to check out and learn about.
It's important to determine which option is best for your email marketing needs now and in the future. We're going to discuss Sendfox and help you decide why it might be better to go with one of Sendfox alternatives.
What Does Sendfox Provide?
Sendfox is designed for content creators and is simple and affordable. It has branded itself as an email marketing tool that makes it easier to automatically send custom emails to followers, fans, and subscribers.
Why People Look for Sendfox Alternatives
Primarily, people switch from Sendfox to one of its alternatives because it's part of the Sumo Group. While this includes Facebook and many other software options, it also limits you slightly if you have other non-Sumo Group affiliations.
Since it is part of a much larger family of apps, it can take much longer to figure it out and set it up. You're going to want to use all the other affiliations because it helps centralize your efforts, but it's time-consuming.
We also don't like the pricing. There's a forever-free plan that offers basically nothing. When you buy the Lifetime plan, you're still limited and must add the Empire add-on to get all the perks. While it isn't expensive for either option, it's confusing and unnecessary.
1. Zoho CRM
Zoho is a newer email marketing tool, and it's geared toward those who want a full CRM and all the features that come with it. Typically, it's got the power and intuitiveness you need, as well as various third-party integrations.
Compared to other ESPs that claim to be CRMs too, Zoho is suitable for many types of people.
Features
The features you experience are based on the plan you choose. Everyone gets a few templates and can make notes on certain things. Social media integrations are also included in each plan.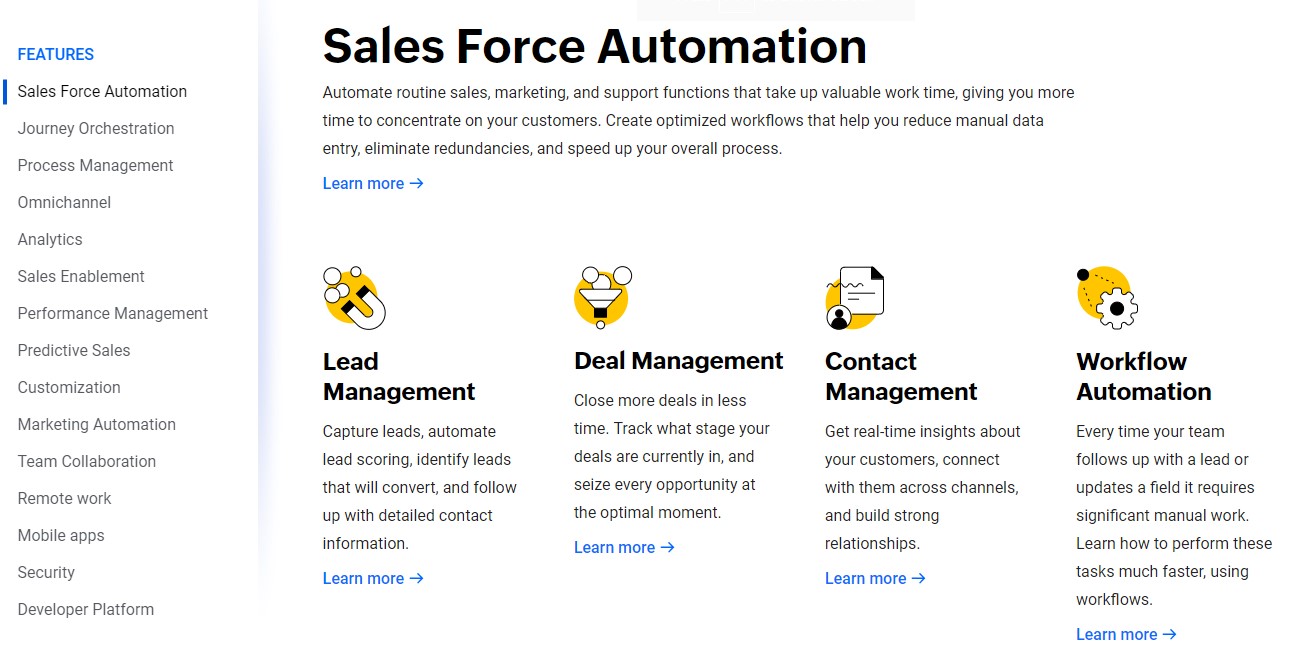 Live tracking for websites and sales forecasting are available with the Standard plan. From there, you can get inventory management, lead generation for social media accounts, and a CRM for your Google AdWords campaigns at the Professional level.
Pros:
Comprehensive reporting and targeting
Analyzes social media information
Integrates with various software
Cons:
Limited custom fields
Slow customer support
Requires significant set-up
Pricing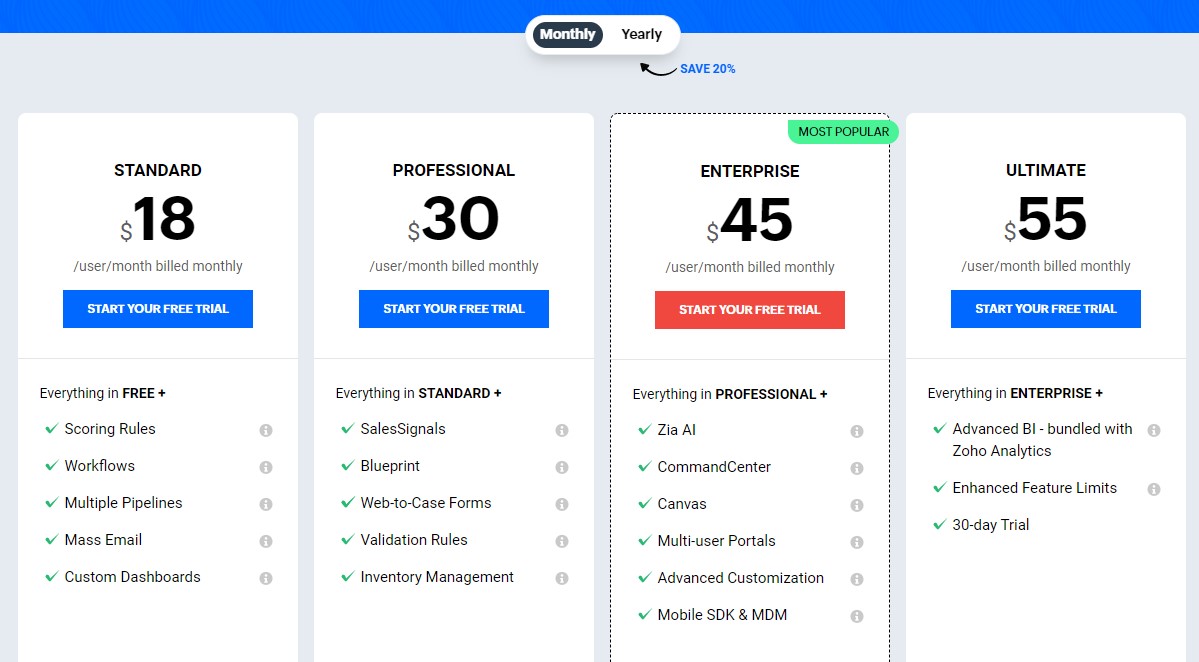 With Zoho, there are four different plans. Standard is $18 a month per user and includes custom dashboards, multiple pipelines, mass emails, workflows, and scoring rules.
You move to Professional at $30 per month per user and get everything from Standard. Inventory management, validation rules, Blueprint, and SalesSignals are also included.
Enterprise is next at $45 per month per user and includes everything from Professional. With that, you get advanced customizations, multi-user portals, mobile MDM and SDK, the CommandCenter, and Zia AI.
Ultimate is the last and most expensive plan at $55 a month per user. You get Enterprise features, as well as Advanced BI and Zoho Analytics, among others.
Who Is It For?
Zoho CRM works well for almost every business and person. Whether you own a startup or have been around for a while, this ESP can grow with you and is affordable
2. ActiveCampaign
ActiveCampaign is ideal for B2B and B2C markets, though it's quite complicated to set up and use. Those who are already using another ESP may want to switch to this one for its advanced functionality. Segmentation and personalization are top priorities here.
Features
You can appreciate ActiveCampaign's features, which aren't all just for email marketing. Higher tier price plans also give you CRM, sales management, and some lead management functions.
The goal is to make it easier to create campaigns, and you can do this with ActiveCampaign. Still, you have to set up a list before you can create emails, which limits your options slightly. It focuses on all the steps necessary, which gives you a basis for your sending needs. However, it can be annoying for those who are experienced and have a specific way of doing things.
Pros:
Advanced segmentation
Dynamic personalization
Sticky help feature
Cons:
Fixed task order
Limited email scheduling
Time-consuming on startup
Pricing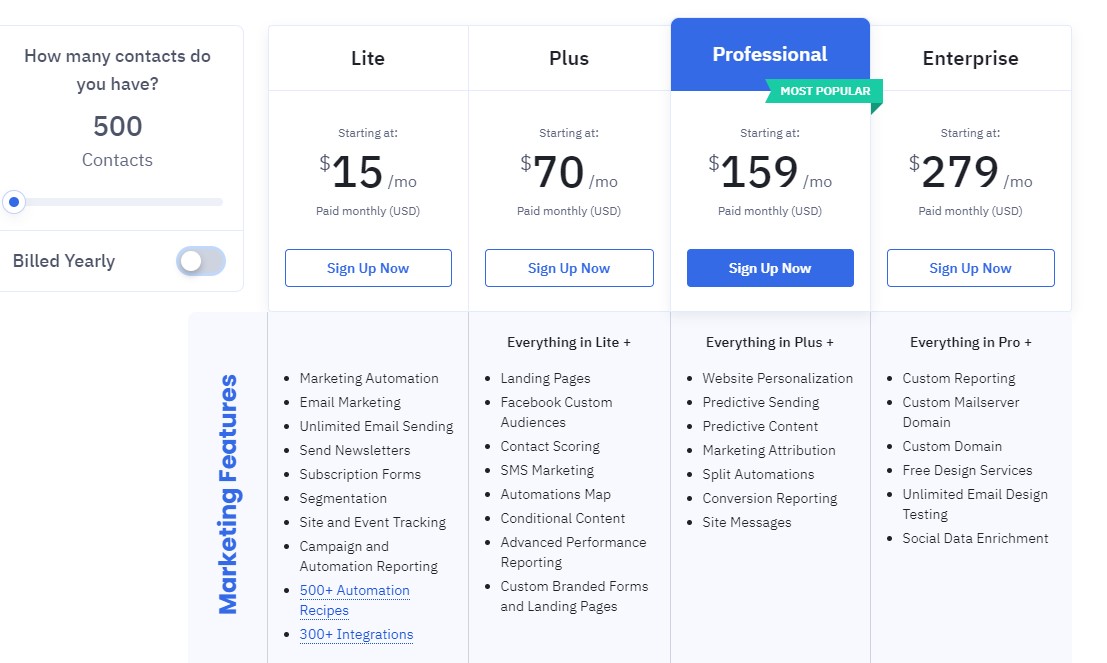 With ActiveCampaign, you have four plans available. Lite is $15 a month for 500 contacts. You get subscription forms, segmentation, email marketing, marketing automation, and much more.
Plus jumps up to $70 a month for 500 contacts, but you get everything from Lite. Also, there are custom-branded landing pages and forms, advanced reporting, automation maps, Facebook Custom Audiences, SMS marketing, and much more.
From there, Professional is $159 a month for 500 contacts and comes with everything from Plus. With that, you get site messages, split automation, predictive content and sending, and website personalization.
Last is Enterprise, which costs $279 a month for 500 contacts. You get all the features available, including free design services, a custom domain, and customized reporting functionality.
Who Is It For?
ActiveCampaign works well for marketers who are experienced and familiar with ESPs. If you want an advanced solution for complex campaigns, it works well for you and can handle personal and business accounts.
3. Smoove
Smoove is a newer SAAS marketing platform that helps companies strengthen bonds with customers and maintain relationships. It offers exclusive and targeted marketing information to help you send relevant and effective messages.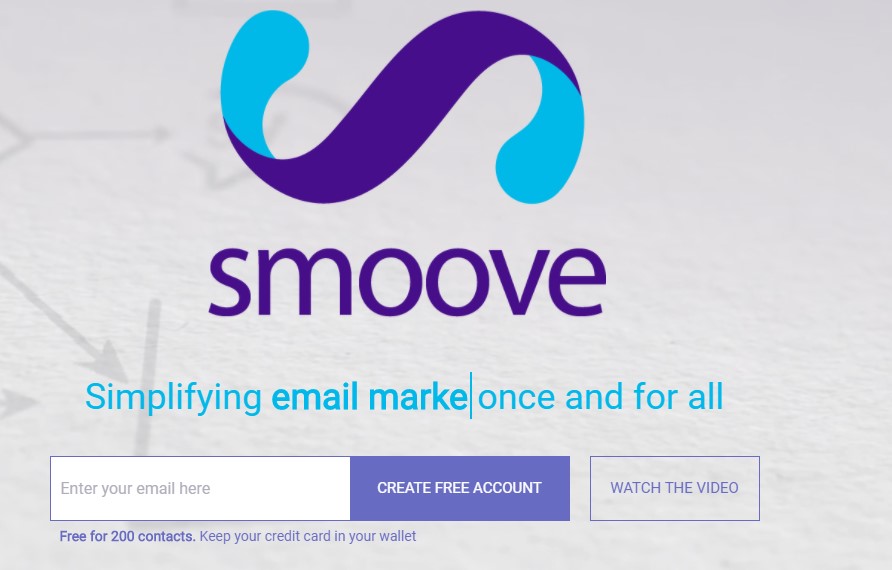 Features
Many people appreciate all the features available from Smoove. Even with the free plan, you get all capabilities and functionalities it provides.
You're allowed to segment your customers and manage them based on specific data points. This also ensures that you can build a customized customer journey to convert your leads into paying clients.

It's possible to build workflows to keep customers satisfied and retain them for longer. With that, you can create automated tasks that help ease the administrative aspect of the business.
You're always able to send professional-style newsletters, which keeps your customers informed. Landing page creation helps to capture leads, but there are also smart forms that gather feedback for you.
Pros:
Easy-to-use interface
Smart technology used
No duplications
Easy to build automation and journeys
Cons:
Too many options
Can contain bugs
Pricing
The forever-free plan allows 2,000 emails to be sent a day for up to 200 contacts. You get dynamic content, A/B testing, real-time analytics, and much more.
Professional is the next option, and it costs $15 a month for up to 500 contacts. You get every feature regardless of the plan. It just charges more based on how many contacts you require.
Who Is It For?
Smoove is primarily for SMBs, but self-employed people and bloggers can also benefit from it.
4. Activetrail
Activetrail helps digital marketers because it's an intuitive platform that sends automated emails, online surveys, SMS messages, and much more. We like that it's available in 20 different languages and includes many advanced options that people seem to want.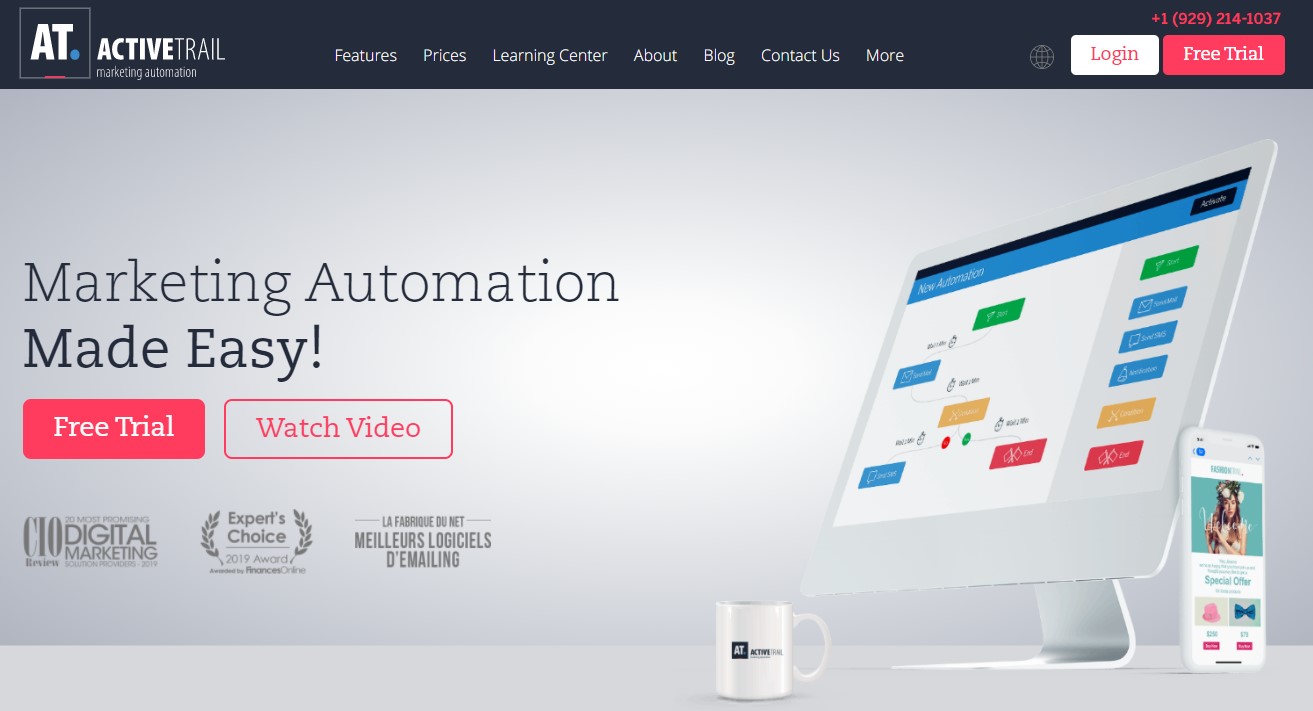 Features
The features available are seemingly endless. You get real-time analytics tracking, optimization capabilities, A/B testing, and the timed-email-delivery function. With it, you can let the software choose the best time to send emails to subscribers. That takes much of the guesswork off of you.
Drip campaigns are also available. That way, you can capture leads using a dedicated and repeated system to target your users. Plus, email campaigns, marketing automation, and SMS options are all available.
Pros:
Navigable and affordable
Many features for optimization and testing
Relevant integrations included
Cons:
No access to e-commerce workflows without the API
No support to connect APIs or report bugs
Pricing
There's no forever-free plan with Activetrail, but the prices are relatively low. The Basic plan is $8 a month (paid yearly) for 500 contacts. This gives you unlimited emails, automation, reporting/analytics, landing pages, surveys, A/B testing, and so much more.
Next, you have Plus, which is $11 a month paid yearly for 500 contacts. You get the Basic features, as well as Webhooks, a mobile app, AI predictions, and enhanced security measures for up to 10 users.
Last is the Premium, which jumps to $298 per month paid yearly for 500 contacts. You get all features available, which include on-demand training, monthly reports, onboarding and migration help, and unlimited users.
Who Is It For?
Activetrail is suitable for all marketing professionals to send successful email campaigns. However, if you want to create your own templates or email set-ups, a coding experience is advisable.
5. Sendloop
If you need a beginner-friendly ESP option, Sendloop is right for you. It offers rich features and is extremely easy to use. Though it's new to the market, we like that it's approachable in terms of cost and comes with everything you need to create fantastic emails.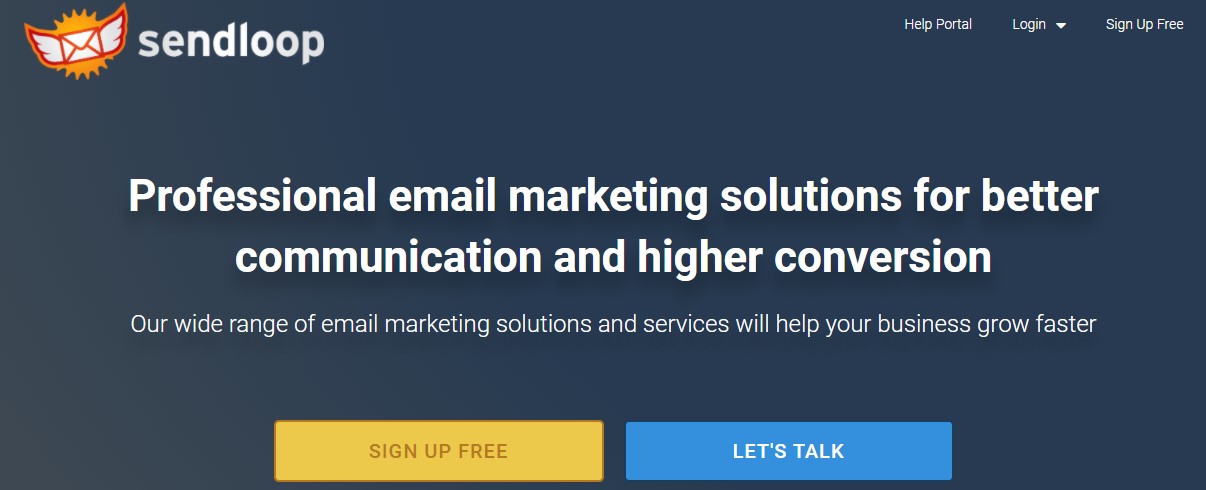 Features
With Sendloop, you can easily create and send your emails. It doesn't matter how big the message is; you're going to find it quick to do it. With over 100 templates, you can drag-and-drop your content right into the appropriate slots.
You can also migrate quickly with this software. It doesn't matter how many subscribers you have. It's easy to get them to their new location.

We like the one-click booster. This helps you increase how many times the emails are opened by subscribers.
Sendloop has an HTML editor so that you can customize the templates or create your own. You don't need coding knowledge and can drag what you want to where you want it.
Pros:
Reliability
Targeting available
Easy-to-use interface
Cons:
Reports/automation could be better
Logs you out involuntarily
Better integrations needed
Pricing
There are two-tier levels for pricing with Sendloop. Those who send emails every day or frequently are charged $9 a month. People who occasionally send emails to pay $10 for every 1,000 emails sent.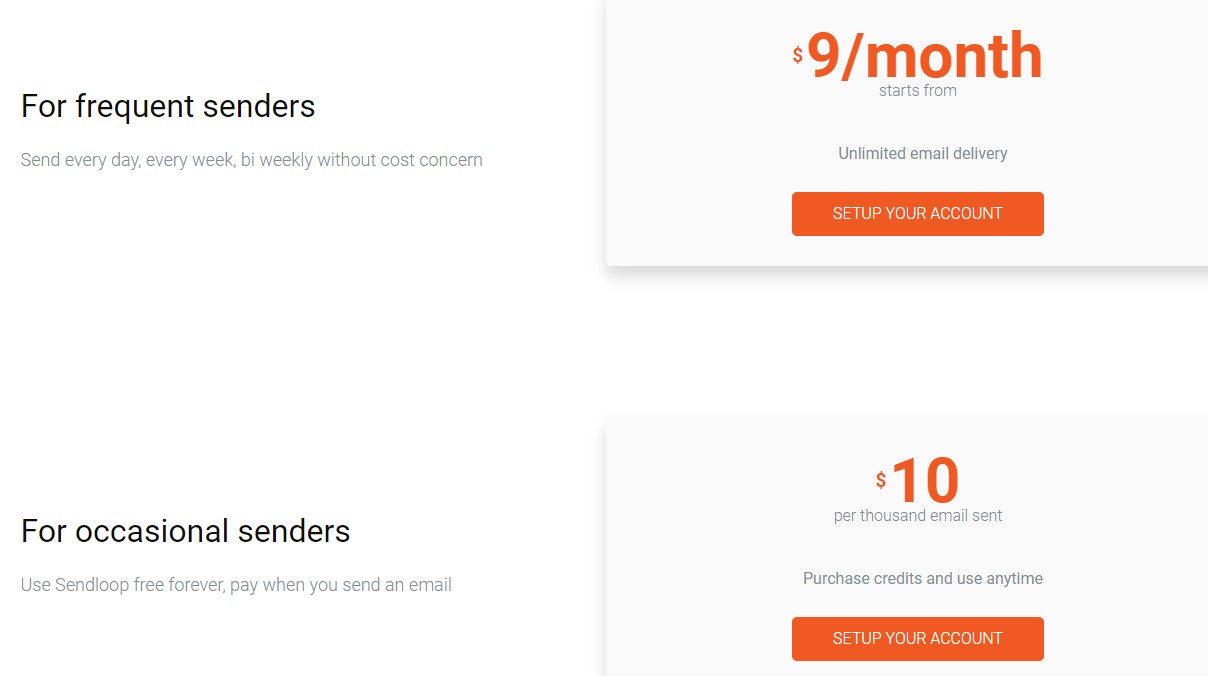 You're charged based on the subscribers, so you pay $9 a month for 500 subscribers on the frequent plan. Every feature is available for both tier levels.
Who Is It For?
We feel that Sendloop is ideal for a variety of people. It's easy to use and comes with many features, so digital marketers, SMB owners, and e-commerce companies are sure to find a use for it.
Moosend is a marketing automation software option that features many integrations, tools, and benefits. It's perfect for all types of companies and includes a subscriber-based price model like many others on the market.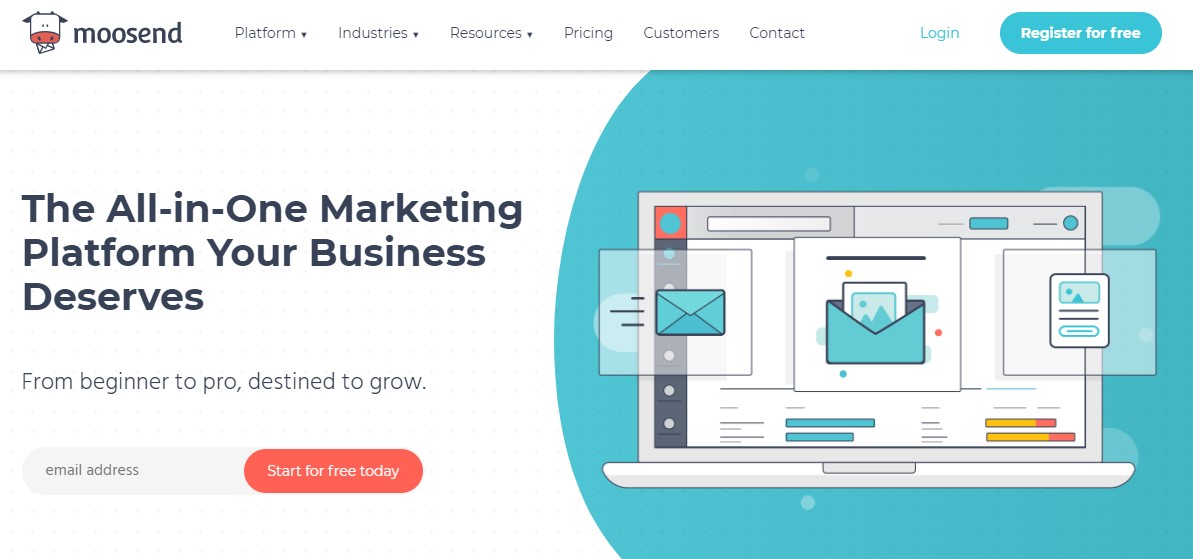 This intuitive platform is a powerful tool that can make it easier to set-up and complete email marketing campaigns.
Features
There are countless features to like about Moosend. With the drag-and-drop editor, you can add social share buttons, images, text, and whatever else you want to your newsletters. It's also possible to create personalized designs or use the various templates available.
Automation is key, and you can trigger actions and sends based on specific events. Segmentation is also available, where you can build lists with customized forms. With that, you can capture data for each visitor that helps improve the website and your email sending options.
Pros:
Customizable templates
Built-in automation
Free trial
Cons:
Slow loading times
Needs improved sign-up forms
Pricing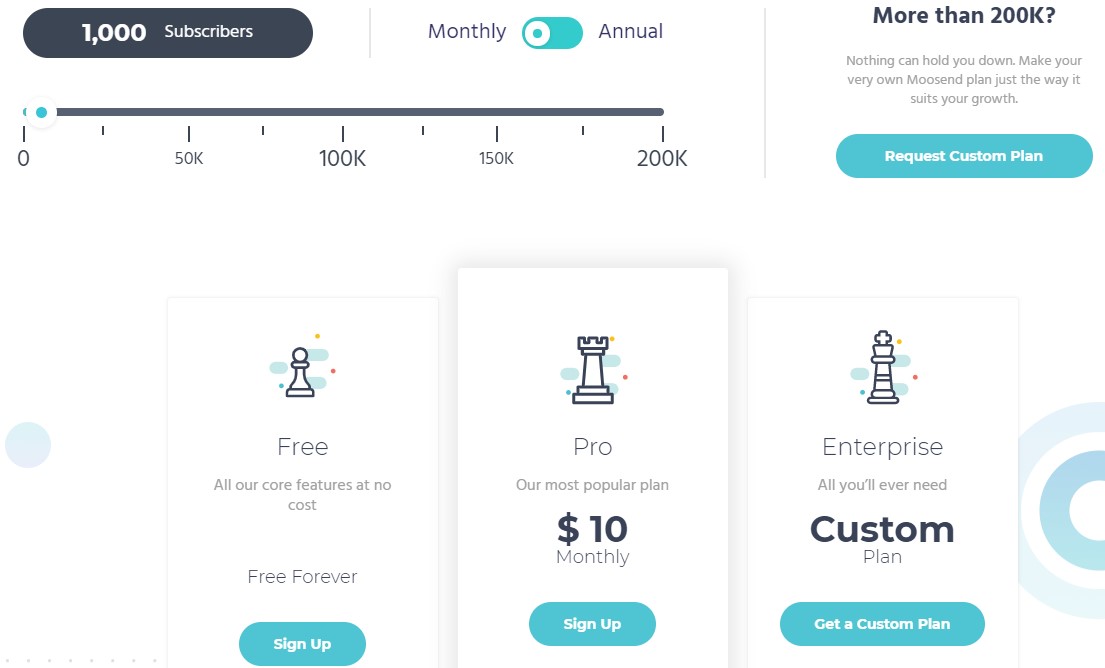 There is a forever-free version of Moosend. With it, you get the core features, such as unlimited emails, reporting, analytics, and sign-up/subscription forms with basic automation.
Next is the Pro plan at $10 for 1,000 subscribers. You get everything from the Free plan along with an SMTP server, phone support, transactional emails, and landing pages.
Lastly, there's Enterprise, which is a customized price based on how many subscribers you have. With it, you get all the features. These include custom reporting, SSO, an account manager, and SLAs.
Who Is It For?
Moosend works well for e-commerce brands. As an all-in-one platform, it also works for various digital marketers and their specific needs.
Conclusion
While Sendfox is an excellent ESP, it might not have everything you want. Before deciding on your email marketing platform, consider these six alternatives. They stand apart from the crowd for many reasons, and it's a good idea to read more about them.
Consider your Sendfox alternatives carefully, and you're going to be happy with the email service provider you choose.