Email marketing is nothing new; everyone wants a platform that helps them create engaging electronic mail without the hassles. Typically, email service providers offer many other features, such as automation, segmentation, and the ability to track your progress. This means you can send emails as people click links, buy things, or abandon their carts.
With so many choices available, you may wonder which one to choose. You want it to work for your needs now, be low-cost, and offer scalability as you grow and expand the company. Let's learn about Sendlane and then find out about its alternatives and why they might be better.
What Does Sendlane Provide?
Sendlane is an easy-to-use ESP that offers various automation and email marketing functionality. There are plenty of features to like from this ESP, including newsletter campaigns. It focuses on deliverability, so the emails you do send are sure to reach the recipient's inbox. With the drag-and-drop editor, you can seamlessly create emails that are sure to wow the people getting them.
Autoresponders are a necessity for email marketing programs. You get to decide when the emails roll out and when, but you've also got the option to optimize and change them to meet your needs. Then, you can save those as templates and reuse them as necessary.
Workflows are also important to help you boost your marketing tactics. With Sendlane, you can subscribe and unsubscribe people, send emails when someone buys something, and much more.
The reporting features are great here, as well. You get real-time reports so that you can tell how the campaign is going. This also helps you track performances and know what works best for the next round.
Why People Switch from Sendlane
Though Sendlane has many features and components, it doesn't have everything. For one, it lacks a customer service department. While you can get help, it takes a while for anyone to respond.
Many people like Sendlane for what it does and offers, but the price just seems to be too much. The cheapest option is $79 per month, and that's only for 5,000 contacts. Though you can choose the Starter package, it's only good for six months and costs almost $500. We're not saying it's not a great tool; we think there are less expensive options that fare better and do the same things.
Sendlane Alternatives
Omnisend
If you own an e-commerce brand or you're a marketer, Omnisend might be best for you. It primarily focuses on automation and is a great email marketing platform. With it, you have social media integration, segmentation, and various templates. Plus, it's quite easy to use.

Features
You have so many features available on Omnisend. There are plenty of automation functions, which help you build better workflows. In turn, you send messages quickly and at the right time whenever you need them. This ensures that you don't have to schedule them for every subscriber to get the best results.
If you want to boost your conversion rates, you need the ability to create multiple email campaigns and use SMS. Omnisend lets you do that. Through this omnichannel service, you get your messages to those who need to see them. You also get segmentation features to target appropriate customers at the most opportune moments for them.
Pros:
Provides automation, segmentation, and high functionality
Easy to use platform
Cons:
Can be buggy at times
Doesn't offer many features on the free plan
Pricing
With the forever-free plan, you can send 15,000 emails each month to 500 contacts. This also gives you basic email campaigns, signup forms, and reporting tools.
For those who need more, the Standard plan costs $16 a month and also allows you to send 15,000 emails. You get everything on the Free version, and SMS campaigns, email automation, email and chat support, and audience segmentation are also included.
Next, the Pro plan provides you with 15,000 emails each month for 500 contacts. It costs $99 and gives you free SMS credits every month. With it, you get what Standard offers, as well as priority support, advanced reporting, push notifications, and Google Customer matching.
Lastly, Enterprise is available and allows you to send unlimited emails for a custom price. Everything Omnisend offers is included, such as free migration, a dedicated account manager, and a customized IP address.
Who Is It For?
Omnisend is suitable for those who need to send weekly newsletters and various marketing emails. With plenty of integrations available, those with e-commerce websites are going to like the platform.
Constant Contact
Constant Contact has been an email service provider from 1995 until now. It's gotten where it has by being innovative and doing what it can to make its customers happy. Right now, it boasts over 650,000 customers and is highly sought-after by many companies and brands. The good news is that it's always adding new features whereas the competition seems to slack in this area.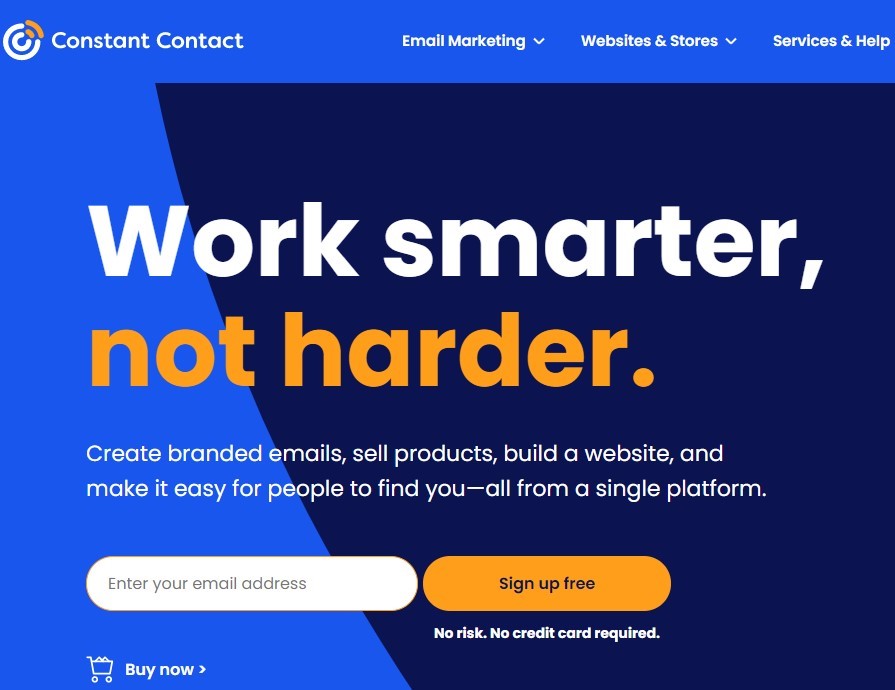 Features
As an email service provider, Constant Contact focuses on sending quality and beautifully-designed emails. However, it goes a step further by providing you with surveys and various social campaign options.

It used to include an event management tool, but it no longer does this. We aren't sure if it was too difficult for the system to run or if something else was to blame. However, you still have access to this feature through integration. In fact, there are over 400 integrations available through Constant Contact, so you can pair various websites together and use them from a central hub.
You're also going to notice the expanded reporting features. Most email marketing platforms offer reports for standard opens, spam, clicks, and bounces. Constant Contact includes new ones, such as finding out which device the person used to open the email and which subject lines were most successful. While e-commerce tracking isn't available, you do get to compare campaigns.
Pros:
Easy to use
High deliverability rates
Various features available
Cons:
Less customization available for forms
Basic automation only
Higher prices
Pricing
With Constant Contact, you have two plans available. Basic is $20, but that's the starting point. Expect to pay more if you have many contacts. You have access to templates, A/B testing, tracking, and reporting, and can send unlimited emails on this plan.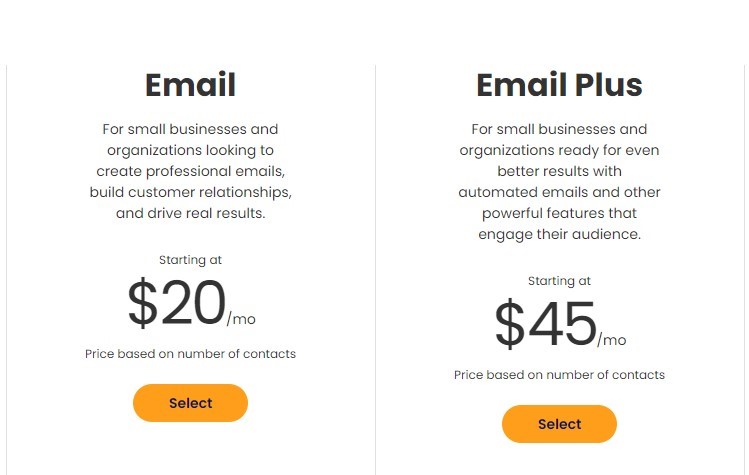 Then, you have Email Plus, which gives you everything in the Basic plan. You also have access to behavioral automation, RSVPs, and surveys, among others. It starts at $45 and goes up based on how many contacts you've got.
There is also a Website Builder plan, and it helps you manage your site or create one if you don't already have one. You get various e-commerce tools, free hosting, a blog, and mobile responsiveness. This costs $10 per month.
Who Is It For?
For those who want a unique email marketing tool and run many events, Constant Contact is for you. With it, you can manage your invitations, registrations, and tickets through the Email Plus package. However, if you need better automation, this might not be ideal.
GetResponse
When you visit reviews about GetResponse, you often hear that the email marketing provider is quite easy to use and provides you with various professional features. It serves over a billion clients in more than 180 countries, making it a top choice for many.
Features
If you want something with plenty of features that can help you automate your processes, GetResponse has you covered. You get comprehensive designs, customized landing pages, video email marketing tools, and A/B testing.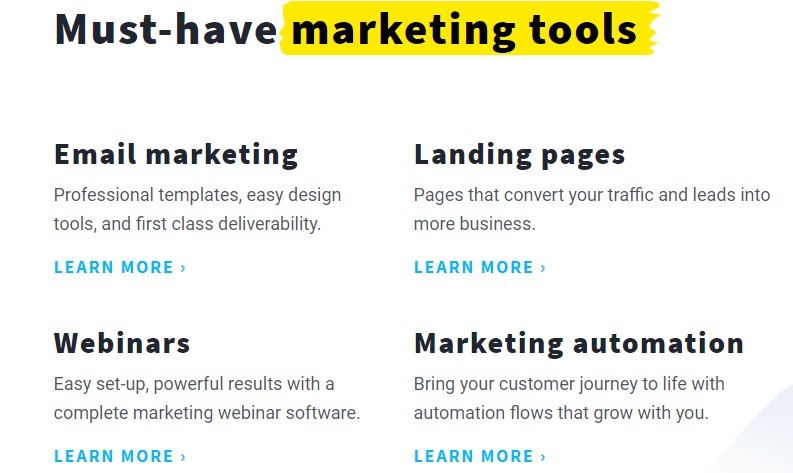 Through the landing page feature, you have access to Conversion Funnels. This new feature can help generate traffic and gives you more options for your online store.
Automations are essential for any email marketing tool. We like the triggers and conditions that GetResponse provides. You can create more advanced campaigns by segmenting by sales and location, among others.
Pros:
Intelligent automation for lists
Spam/design testing options
Conversion funnels through the landing page feature
Cons:
Problems with deliverability
No free version
Pricing
While there isn't a forever-free plan, each one does provide you with a 30-day trial period. The Basic plan is just $15 a month for a list size of 1,000 contacts. You get a sales funnel, unlimited templates, autoresponders, and unlimited landing pages. Transactional emails are available.
With the Plus plan, you pay $49 per month for 1,000 contacts and get everything on the Basic plan along with multiple sales funnels, webinars, and automation builders. Professional is next at $99 a month for 1,000 contacts. It includes unlimited funnels, on-demand webinars, and additional features. Max is the last option. You get all the elements from the other packages with a customized price based on your particular needs.
Who Is It For?
Primarily, GetResponse works well for e-commerce website owners who require more automation power and the ability to get more leads. However, it has deliverability problems, which means your hard work could end up in the spam folders of your potential clients.
Drip is more than just an email marketing provider. It's an e-commerce customer relationship management platform, sometimes called an ECRM. With it, you gather important data on your customers and organize everything effectively. Then, you're able to send out personalized emails to your clients and prospects.
Features
You've got countless features available when you use Drip. Personalization is a big concern for most entrepreneurs, and Drip understands this. That's why it offers deep segmentation to help you determine which emails to send to whom. Behavior-based automation is also available, so you can engage with the prospect at the most appropriate time.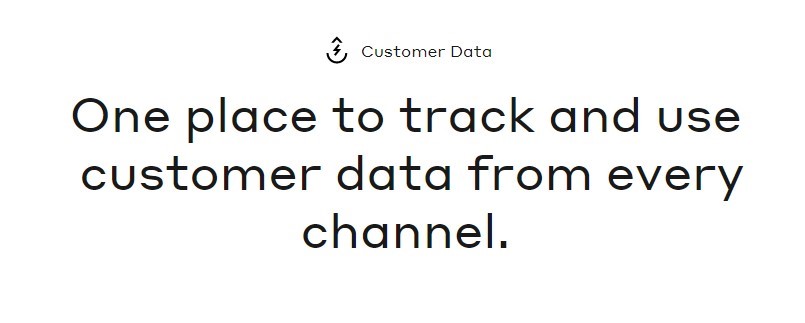 We also like that you can store all of your customer data in one place. That way, the storefront and marketing information stays together. It's also possible to create custom fields, tags, and behaviors. Then, use the many integrations to make your apps work for you.

With so many integrations, you can engage with your customers in various ways. This also means you can create personalized emails and use social media outlets too.

Pros:
Easy to use
Various learning tools available (courses, guides, and webinars)
Many integrations included
Cons:
Confusing demo
No forever-free plan
Short trial period
Pricing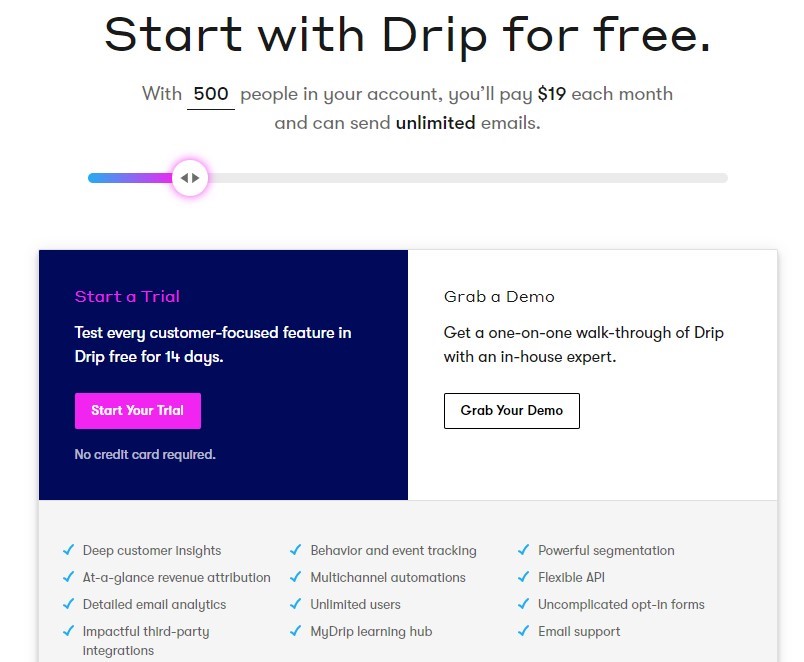 With Drip, you may find it a little confusing to understand the pricing structure. You get 500 contacts for $19 per month, allowing you to send as many emails as you want.
You get every feature available, such as email support, the learning hub, and customer insights. However, since you only get a 14-day trial, we don't know if that's enough to get to know the system.
From there, the price goes up, so you're paying more for having more contacts. With every 1,000 subscribers, you spend $10 extra. This doesn't seem like a bad thing to us.
Who Is It For?
Any entrepreneur is sure to find value with Drip. However, it focuses primarily on SMBs and e-commerce websites. This tool has amazing features and doesn't cost much, but prices do skyrocket when you've got 3,000 contacts or more, so it might not be ideal for larger companies.
Conclusion
You understand how important email marketing platforms are and how these services can benefit you. There's no question in your mind that you need one, but there are so many available. This makes it a challenge for you, but we're here to help you find the best ESP for your needs.
Though Sendlane has a lot going for it, there are a few minor drawbacks. These mainly focus on the pricing – it's expensive to use Sendlane, and startups and small businesses might not have the funds. That doesn't mean all hope is lost. With these four alternatives, you get similar features without the high price tag.
The choice is yours, but we feel that any of these Sendlane alternatives can be beneficial, give you the services you need, and reduce costs. Those who have used Sendlane and can afford it might want to stay with the brand. Otherwise, consider Omnisend, Drip, GetResponse, or Constant Contact for your ESP requirements. You are going to be glad that you gave one of them a chance.