Businesses are constantly adapting and evolving to keep up with the times. It is a competitive world out there. Staying on top of your game is essential for your company to thrive. There are more leaps forward in technology, innovation, and information now than ever before. Marketing strategies are not immune to this need for development.
As more creative methods of marketing and advertising come to light, there is one that holds steadfast through it all: email marketing. The youngest business minds may think, at first, that email is for dinosaurs. They would be wrong.
Email marketing software plays a central and vital role in the business world. SendPulse, for example, gathers thousands of new users every day. The technology and tactics they use are developing equally as quickly. SendPulse is undeniably a rising star in email marketing software.
Why Email Marketing?
Email marketing is arguably the most effective strategy. Big corporations and independent SMEs can benefit equally from this kind of software. Regardless of size, there are overall benefits to email marketing that everyone can appreciate.
It costs less than almost every other marketing channel.
You can reach a global audience at the touch of a button.
The email audience is often engaged as they chose to receive email ads.
Easily target your message to the right clients at the right time
Emails = impulse buys! Increased conversion rates = happy business.
It is quicky and easy to set up and keep track of.
Most people check their email every day at least once, so they are likely to see your ad on the day you sent it.
The possible return on your investment is unrivaled in any other marketing strategy.
It can build a sense of connection and community for your customers.
Using email marketing software such as SendPulse makes this process so simple. If you want to take your company up a notch, start thinking about this strategy.
SendPulse Alternatives
Although SendPulse is a name a lot of people are hearing right now, it is not the only option. There are a lot of email marketing software providers to choose from. Here are eight of the best SendPulse Alternatives to use for email marketing.
Brevo (Formerly SendinBlue)
Widely considered one of the best in the business, Brevo does it all. Using smart automation and a premium cocktail of contact features, Brevo is a one-stop-shop for your marketing needs. 
Pros
It combines multiple connection features in one place. You can build an entire ad campaign all in one place.
The choice of email templates is excellent. You can choose from more than 60 responses and layouts.
Creating smaller targeted campaigns is possible using the segmentation feature.
Access the shared inbox to keep track of everything that is going on.
Cons
So many features could be a bit overwhelming for someone looking for a simple service.
There is a low email limit on the free tariff.
Users often complain about the system running slowly.
Pricing Structure
You can send up to 300 per day free of charge. The lowest price point is $25 per month to send up to 20,000 emails per month. Brevo offers four packages: Free, Starter, Business & Brevo Plus.  
Business plan is the more advanced package aimed at larger businesses running a more complete campaign. It offers 20,000 emails per month like the Starter plan but also includes marketing automation, advanced statistics, multi-user access, a/b testing among others.
Anything more requires a specialized quote from the company under the BrevoPlus plan.
Who is it best for?
A middle-sized to large company looking to fire up its marketing strategy to take things to the next level.
Hubspot
Innovation and simplicity do not often go hand in hand, but Hubspot has found a way. Intelligent marketing in a tidy, easily worked platform. Marketing beginners are sure to appreciate the Hubspot approach and the way it can impact their businesses.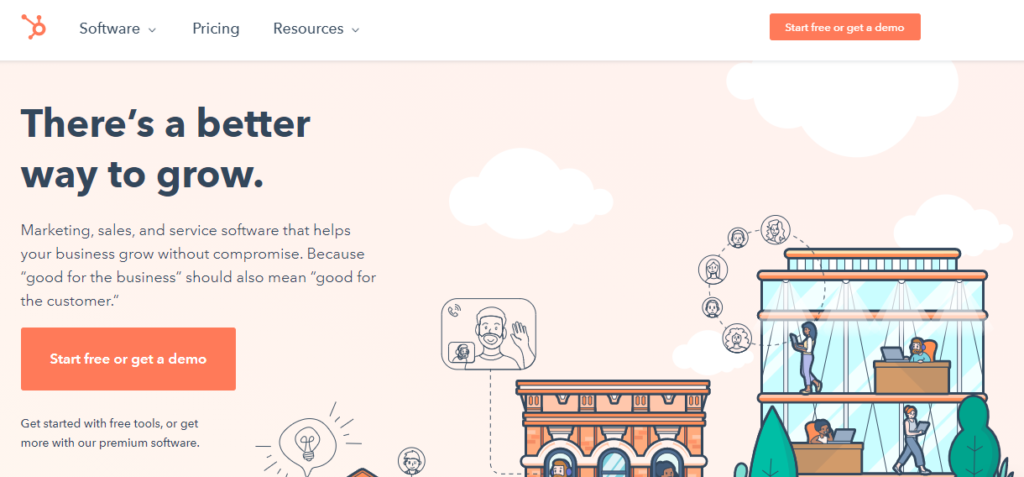 Pros
Hubspot email integration features are second to none.
The interface is very user-friendly and easy to navigate.
If you are a small business, the free service is very workable!
Cons
Initial pricing can be misleading and creep up as you add more features.
Pricing Structure
Hubspot's pricing structure is divided into two: businesses & enterprises and individuals & small teams. The Individuals and Small Teams pricing structure is further divided into three plans – Free tools, Starter & Professional.
Hubspot's free service includes all the marketing essentials for a small or mid-sized business. If someone decides to move to the starter plan the packages start around $18 per month and jump up to over $800 for the professional level.
Who is it best for?
Small and middle-sized businesses where B2B selling and communication is a big part of the marketing strategy.
Omnisend
Another email marketing software that can do it all is Omnisend. More targeted towards e-commerce brands, this provider combines several marketing strategies in one neat package.
Pros
The simple platform is easy to use, regardless of experience.
You can test out the platform with a free trial.
By using multiple tools, Omnisend covers every aspect of your marketing.
There are specialized features for e-commerce.
It boosts buyer experience by streamlining the process.
Cons
If you want to send a lot of emails or use the premium service, the price jumps quickly.
There are not as many customizable templates as with some other providers.
Pricing Structure
There are three tariffs: free, standard, and pro. Each plan offers from different email limits starting at 500 emails per month on the free and going up to unlimited emails on the Pro plan. They are priced monthly at $0, $16, and $59, respectively.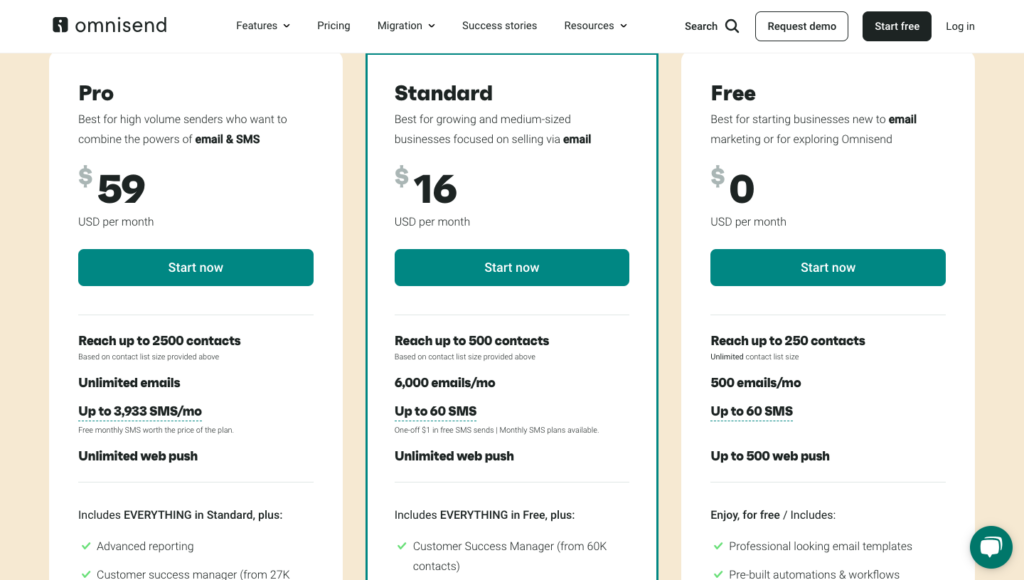 Who is it best for?
E-commerce companies that want to increase conversion rates and create a more dynamic buying experience for their customers.
Freshmail
Not all marketing is purely sales-based. The importance of communication is paramount, especially when trying to grow a network. Freshmail is an email marketing software that specializes in newsletters and template design.
Pros
Templates designed by innovative artists make Freshmail stand out from the crowd.
Freshmail is excellent for newsletters and making subscribers feel engaged.
No prior experience is needed to create templates and use the platform.
Smart features can track when emails are opened and customize the send times based on the date they collect.
Unlimited emails can be sent to your subscribers, whatever package you are on.
Cons
The services offered are not a match for every style of marketing campaign.
Editing features are minimal since the templates are created by artists.
There is no free option to get you started.
Pricing Structure
Freshmail has four pricing levels: starter, standard, pro, and enterprise. The first three tiers offer a set monthly price for anything between 1000 subscribers to 100,000 subscribers. Anything above this number and enterprise takes over, and you need a quote.
Prices start at $13 per month. Discounts are available for six-month and 12-month subscriptions on every tariff.

Who is it best for?
SMBs or freelancers with subscriber-based marketing who send out newsletters, updates, and similar communications.
MailGun
MailGun is a flexible platform. It allows you to track emails and collect data based on the success of your campaign. More of an API service than an email marketing tool, MailGun takes a different approach to help build your business.
Pros
MailGun is integrated with WordPress.
The email validation features are excellent.
Intelligent software can predict email success rates and adjust your campaign accordingly.
Cons
This platform is not meant for people without some prior knowledge of how the software works.
There are no pre-set templates.
With no free plan available and limited support on the lower tiers, you need to pay extra to make it worthwhile.
Pricing Structure
The Trial plan lets you take a run at the software with only 5000 emails per month. Foundation and Scale are the following two tiers, which gradually add more services as you go up. The Custom plan, like most of the companies on this list, is customizable and aimed at large business models.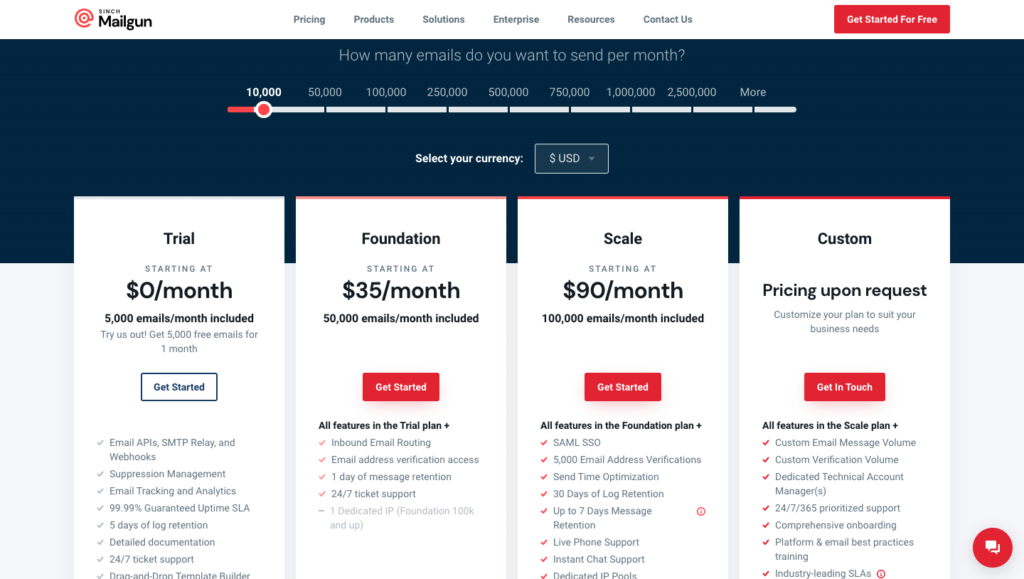 With four tiers, MailGun has more packages. Prices range from free to $35 to $90 or a custom quote per month – with discounts for long-term subscriptions available.
Who is it best for?
Software developers who want to increase their audience engagement via bulk emails, and to learn more about what works.
MailPoet
One of the best email marketing software companies to use with WordPress is MailPoet. It is a designated plug-in that integrates seamlessly for an easy user experience.
Pros
The application is well-organized and easy to navigate.
Run your email marketing campaign from start to finish, thanks to the multitude of features on offer.
Target a smaller audience with the segmentation feature if necessary.
Perfect integration with WordPress and WooCommerce
Cons
There is not a great selection of email templates to choose from.
Right now, the scheduling options are limited.
Pricing Structure
You can opt for a monthly or yearly payment plan with MailPoet. The free subscription allows up to 5000 emails per month and is very workable for a simple email marketing plan. Paid plans range from $10 to $30 per month based on the number of subscribers you have.
You can send unlimited emails per month, remove the Mailpoet branding and get targeted marketing automation on any of the paid plans.
Who is it best for?
Bloggers or e-commerce brands that use WordPress as the base of their business.
SendGrid
If you want to create excellent emails and make sure they end up in front of your customers and not in the junk folder, SendGrid can help you. 
Pros
Personalization features are great, letting you make individuals feel more engaged with your brand.
You can analyze the details of your email marketing thoroughly with this program.
Cons
It does not allow for much segmentation, so targeted marketing is difficult.
The free plan comes with no support, so it is not easy to run even a small campaign on it.
Some of the auto-responses are quite basic.
Pricing Structure
SendGrid's pricing plans are differentiated into two: For Developers & For Marketers.
On the Marketers side, you can get up to 2000 contacts and send up to 6000 emails per month with the free plan. The Basic plan starts at $15 per month while the advanced plan goes up to $60 per month both offering powerful features and contact limits.
Who is it best for?
Any business that wants to focus on email deliverability or that has had trouble staying out of the spam folder in the past.
Emma
Emma is a professional email marketing company aimed at successful businesses that want to grow even further. Using a variety of expert tools and technologies, Emma boosts brand recognition and connectivity.
Pros
The customer support is excellent.
Training is provided and a guide to using the software makes a big difference.
Features are varied and numerous.
Cons
There are fewer integrations available with Emma than other similar plans.
Even the lowest tariff is quite expensive, making it unsuitable for small businesses.
You need to sign up for an annual contract to receive the benefits.
Pricing Structure
Emma offers four pricing plans: Lite, Essentials, Teams, and Corporate. They all allow for up to 10,000 contacts per month, provided you have signed up for an annual subscription. With monthly costs of $99, $159, and $249 respectively, it is quite a financial commitment. The Corporate plan is aimed at larger organizations with more unique needs. It requires contacting the team for a quote
Each tier is aimed at a different level of business and provides features to match.
Who is it best for?
Businesses with a high-marketing budget that want to grow their brand or better organize their corporate connections.
Final Thoughts
With so many platforms to choose from, the question you ask should not be "if." There can be no doubt that email marketing software is beneficial to businesses of all sizes. All there is to consider is what platform is best suited to your requirements.
Any of these SendPulse alternatives could revitalize your marketing strategy and give your business a boost. Low cost, high reward, easy tracking, and not time-consuming- what's not to like?
Why not join the millions of others who are proving that email is far from obsolete. In fact, email marketing is a tool for the ages, and it is going nowhere.