Getting a website visitor onto your mailing list is a journey. It's a journey with a beginning, a middle, and an end. But the kind of end that leads into another journey. Or even multiple journeys!
As a marketer, it's a journey you create. It's a journey you can tweak and optimise to grow your mailing list.
And it's a journey that we're going on today. From sign up to hello, we're going to dive into what it takes to make an effective opt-in form and how to greet every new subscriber with the perfect welcome message.
So let's start at the beginning…
The sign-up form – converting website visitors into subscribers
One of the most effective ways to grow your mailing list is to convert website visitors into subscribers. And the best way to do that is with an effective sign-up form.
With sign up form builders like Poptin, it's easy to create a variety of forms that can be customized to your brand and website. You can choose where they sit on your webpage and how they appear.
Here are the two most common types of sign up forms:
Embedded sign up form –

these sit permanently on a webpage, usually in the footer or sidebar. They can also exist as separate landing pages.

Pop up forms – these appear on your website after a set period of time. Or they can be triggered by visitor activity. Exit-intent pop-ups are a great example. As website visitors go to leave the page, the sign up form appears.
In most cases, it's beneficial to use both. Place an embedded signup form on your key landing pages – homepage, contact us page, etc. And use pop up forms to capture attention at critical moments. For instance, after a visitor has read a certain amount of an article.
Whichever type of sign up form you choose, there are a few psychological tactics you can use to get more people to convert.
Using psychology in sign up forms
Back in 1984, Robert Cialdini wrote a book called Influence: The Psychology of Persuasion. It was based on observations Cialdini made training at used car dealerships, fund-raising organizations, and telemarketing firms. During these three years spent "undercover", he defined the six key principles that influence people to say yes:
Reciprocity – give a little something to get something in return
Commitment and consistency – get people to commit to something and they'll keep consistent with that first commitment
Social proof – people are influenced by the actions and opinions of others
Authority – people are inclined to obey orders from anyone in a position of authority
Liking – the more you like someone, the more you'll be persuaded by them
Scarcity – the less there is of something, the more you want it
More than three decades after the book was published, these principles are still fundamental to a successful marketing campaign. And can be used to tremendous effect in a sign up form.
Let's take a look at a few examples.
Example #1: Content Marketing Institute

There are a few tactics employed here. First, there's social proof, with the heading "Join over 200,000 of your peers!". This tells website visitors that they'll be joining a large group of people. But not just any old people – "your peers".
People with similar interests and backgrounds. People who you're likely to respect and be swayed by.
This one clever phrasing taps into the human need to belong. And also creates a sense of FOMO – do you want to miss out on what 200,000 people like you have already joined?
Reciprocity is also being used here. The CMI is offering a free eBook in return for a contact name and email. It's exclusive, free content that's "driving content marketing forward". So not only is it highly relevant to the brand and what most website visitors are likely to be interested in. But it's also something you won't find anywhere else.
Example #2: Backlinko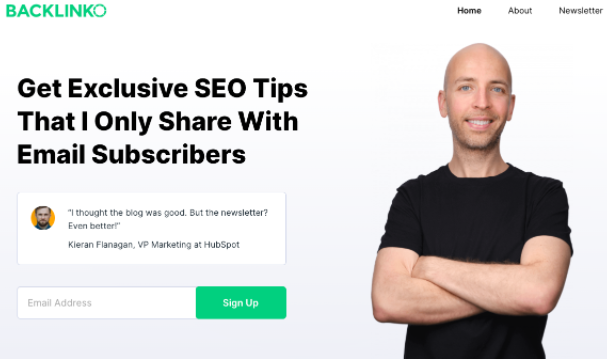 This embedded sign up bar on the homepage of Backlinko occupies the top two-thirds of the page. You can't miss it!
If that wasn't enough to get people's attention then the power of persuasion will. In exchange for an email address, visitors will receive SEO tips that Brian Dean (the founder of Backlinko) ONLY shares with email subscribers. This act of reciprocity makes people feel special, especially with the use of the word "exclusive".
Including a quote from a happy email, the subscriber provides social proof. And the large picture of Brian himself does two things – it suggests authority and likeability.
How?
Well, the arms crossed against his chest shows confidence while his smile makes him seem more likable. Including a picture also makes the transaction more human. As though when you sign up, you'll be hearing from a real person.
This all combined improves the chances of converting a website visitor into a subscriber.
Example #3: Natasha's Kitchen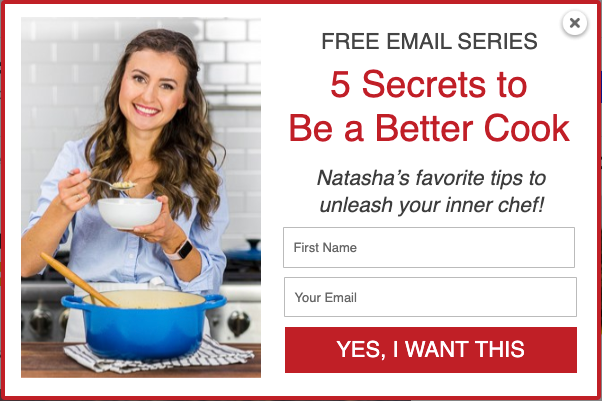 Giving away freebies is a popular way to lure subscribers onto a mailing list. And in this example, the freebie is an email series of cooking secrets in exchange for contact details.
There's a healthy dose of likeability in the form of Natasha's picture. It's wholesome and homely, she's smiling with perfect teeth and looking directly at you. What's not to like?
The phrases used also build on the self-image of the target demographic. If you're on this website looking for a recipe, it's a safe guess that you like cooking. And it's not a stretch to imagine that you might want to "be a better cook" or "unleash your inner chef".
For the visitors who relate their self-image to their cooking skills, they'd be willing to make this small commitment (signing up) in order to be consistent with that image they have of themselves.
And rather than just hitting a 'submit' or 'sign up' button, visitors make it clear that "YES, I WANT THIS". A bold commitment to wanting to improve.
Takeaway tips for a high converting sign up form
Now that we've had a look at a few examples, here's a summary of tactics that you can use to improve the performance of your sign up forms:
Make your sign up form easy to find – embed a form on your key landing pages, ideally above the fold or in a prominent sidebar.

Use pop up forms to capture attention – use exit intent pop ups, lightboxes, and slide-ins to ask for contact details when website visitors engage with your content or show signs of leaving the page.

Influence website visitors with the power of persuasion – combine a few of Cialdini's six key principles to persuade more people to sign up.

Experiment with the CTA – 'sign up' is clear and concise, but try different CTAs to excite potential subscribers into action.
An effective sign up form is crucial if you want to grow your mailing list. But you're not limited to just one. And certainly not confined to the same form all the time. You can use different signup forms on different pages to deliver more relevant messages. And drive higher conversions.
But that's just part one of the journey. Now that you've designed the perfect sign up form, and visitors are becoming subscribers, what happens next?
You deliver a knockout welcome email, that's what.
The welcome email – greeting new subscribers
First thing's first – you need a welcome email. Every mailing list should have one. If you're asking people to sign up to receive your newsletter, the least you can do is greet them when they do.
It's been shown that subscribers who receive a welcome email are more engaged than those that don't – 33% more engaged, in fact.
And whopping three-quarters of consumers expect to receive a welcome email when they sign up.
The 48 hours after a website visitor signs up is the most engaged they'll be with your brand. So not messaging them during this time is a huge wasted opportunity.
But aside from increased engagement, a welcome email can also play a part in improving your email deliverability.
Customers are more likely to open your welcome email than any other marketing email. This engagement tells inbox providers that your emails are trusted and wanted. This means your chances of future emails hitting the inbox are increased.
And if you're telling new subscribers to expect a welcome email when they sign up, they'll know to check their junk folder if it's not in their inbox. This is your chance to get your emails marked as "not spam" and again, improve the success of your future campaigns.
So that's the why – now let's look at the how.
How to write an effective welcome email
Pick apart the anatomy of a successful welcome email and you'll find they all have these five things in common:
Include personalization

Show your appreciation

Explain the benefits

Set expectations

Be clear on your goal
We're going to take a look at each of these in more detail.
Include personalization
According to research, 82% of marketers report an increase in open rates through email personalization. And if you're collecting names on your signup forms, it's easy to add a dash of personalization to your welcome email.
Simply insert a merge tag into your subject line and greet your new subscribers by name. Some reliable subject lines where you can use this tactic include:
Welcome to the club [NAME]!

It's good to have you on board, [NAME]

[NAME], thanks for signing up!
You can also include your subscriber's name in the body of your email text with merge tags.
Another way you can personalize your welcome email is by creating different versions of the email for different subscribers. If you've got multiple mailing lists and multiple signup forms, create a welcome email for each. And tailor the message in those welcome emails to suit the journey each subscriber took to get onto your mailing list.
Show your appreciation
Gaining a new subscriber is a pretty big deal. And pretty vital to your overall email marketing strategy.
So it's nice to take a moment and thank each new subscriber for joining. Show them that you appreciate their interest in your newsletter. And for taking the time to sign up.
It doesn't take much. Just a simple line of text. Or an image that shows the words "thank you!".
Here's how Levi's do it in their welcome email: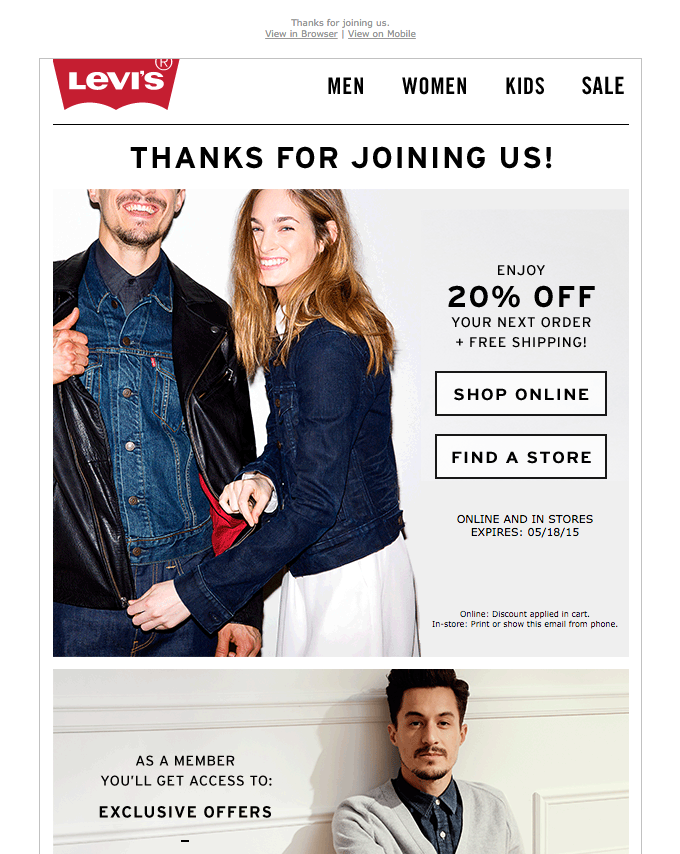 After all, we all like being appreciated – it makes us feel valued, seen, and reinforces a positive sense of worth.
So saying "thanks" is a good way to start your relationship with each new subscriber.
Explain the benefits
Telling people what they gain from subscribing to your newsletter is essential in getting them to sign up in the first place.
But it's also worth reminding them about those benefits once they do. It validates their decision to join. And gets them looking forward to future emails. This is good for safeguarding your deliverability.
If subscribers look forward to receiving your campaigns, they'll be more likely to open them when they're sent. And this engagement tells inboxes that your emails are wanted. Which means avoiding those spam folders.
So think about the benefits your newsletter delivers readers. And spell them out.
Perhaps you'll provide subscribers with exclusive offers. Or access to premium content. Or perhaps they'll hear about new products before anyone else.
Whatever it is, mention it in your welcome email.
Set expectations
People like certainty. They like to know what they're going to get when they sign up for something.
And your welcome email is the best place to set those expectations.
Make it clear how often subscribers will be hearing from you. And tell them what sort of content they'll be receiving.
This is a good way of weeding out any subscribers that might not be all that interested in your emails. And that also helps future-proof your deliverability and campaign performance.
Let's imagine a scenario to help explain.
Say you're an eCommerce brand offering new subscribers 10% off if they sign up to your mailing list. Someone on your website wants to buy a one-off product and signs up. They use the discount and make a purchase.
You plan to email them once a week with info on new products or relevant content.
However, they're not interested in hearing from you again. They have what they want.
As an email marketer, the best course of action here is for that subscriber to unsubscribe. The worst-case scenario would be them staying subscribed but marking your emails as junk.
So use your welcome email as an opportunity for subscribers to decide whether they want to stay subscribed. And provide that opportunity by setting realistic expectations.
Be clear on your goal
A welcome email shouldn't be a dead end. It should be a gate to another step in the customer journey.
Whether that's following your brand on social media. Using an exclusive signup discount on their first purchase. Updating their preferences. Or downloading a piece of content.
Think about what action you want subscribers to take next. And make that clear in your welcome email.
Dress it up in a nice, big call-to-action button. Or get more creative with images and headings.
Here's how skincare brand Fleur & Bee do it: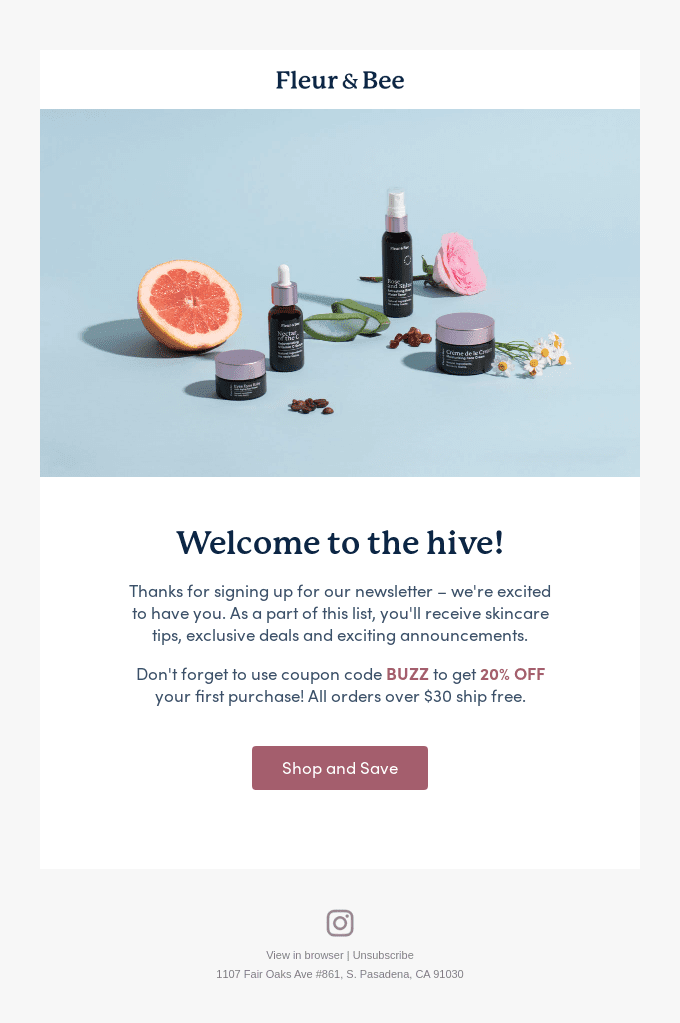 Giving your welcome email a goal will help you measure the success of this email. And give you a baseline for future optimization.
Wrap up
Sign up forms and welcome emails are the power couple you need in your email marketing strategy.
Once the sign up form has done its job of getting new subscribers onto your mailing list, the welcome email picks up with a greeting that should set the tone for the email campaigns that are to follow.
Combining an effective sign up form with a great welcome message sets you well on your way to better campaign engagement and email deliverability in the future.
And who doesn't want that?
About the author:

Hollie Youlden is the marketing manager at EmailOctopus, a platform that makes email marketing cheaper and easier. When she's not busy creating content to help users improve their email campaigns, she's working on improving her skills as an all-round digital marketer.