11.11 Singles' Day is a day to celebrate singletons with incredible discounts. Simply, it is a commercial day that helps single people to show their pride in not being in a relationship.
The event has incredible discounts that rake in huge business revenue. It is also known to boost store conversions. In fact, Alibaba recently made $1 billion in the first five minutes of its Singles' Day campaign.
Brands are using the event to drive revenue in the eCommerce sector. This event is vastly known in East Asia, though it is picking up in the Western world. To boost your sales, there's one thing you can do during the Singles' Day holiday. It's implementing pop ups! Read on to find out.
The Benefits of Website Pop Ups
Highlights your brand: You can use customizable website holiday pop ups to show clients your products and brand. Make sure you hammer home your brand by showing off its best products and selling points.
Grabs the attention of your potential clients: Some popups, like the countdown pop ups, draw people's attention to them. Before that user closes it up, they may have to decide to peep in on what it is all about or not. Ideally, there would be some attention grabbed right there.
May improve the conversion rate: Apart from the usual lightbox pop ups, email pop ups can help you improve conversion rates. Most of these popups advertise specific products, services, and sale offers like discounts. The pull of such offers may lead to increased take-up of your products or services.
Easy to customize: It is refreshing that you can customize your pop up with ease. You, in turn, produce things that fit your business needs since you can work with a lot of ideas around pop ups.
Seasonal promotions succeed due to popup. The secret lies with the popup enticing clients to take action. Most people would want to take part in unique events, but they may forget. Clients get reminded of the events with pop ups, so it becomes a success since more people take part in it. Again, the discounts and sale offers given out by the popups work wonders in making the events successful.
So, let us take to you some pop up ideas that you can create to succeed in your Singles' Day campaigns.
11.11 Singles' Day Pop Up Ideas
Promote your Singles' Day sales page with pop ups
Use Singles' Day popups or embedded forms to drive visitors and participants to your exclusive holiday events, discounted webinars, free downloadable e-books, or sale items during the Singles' Day holiday.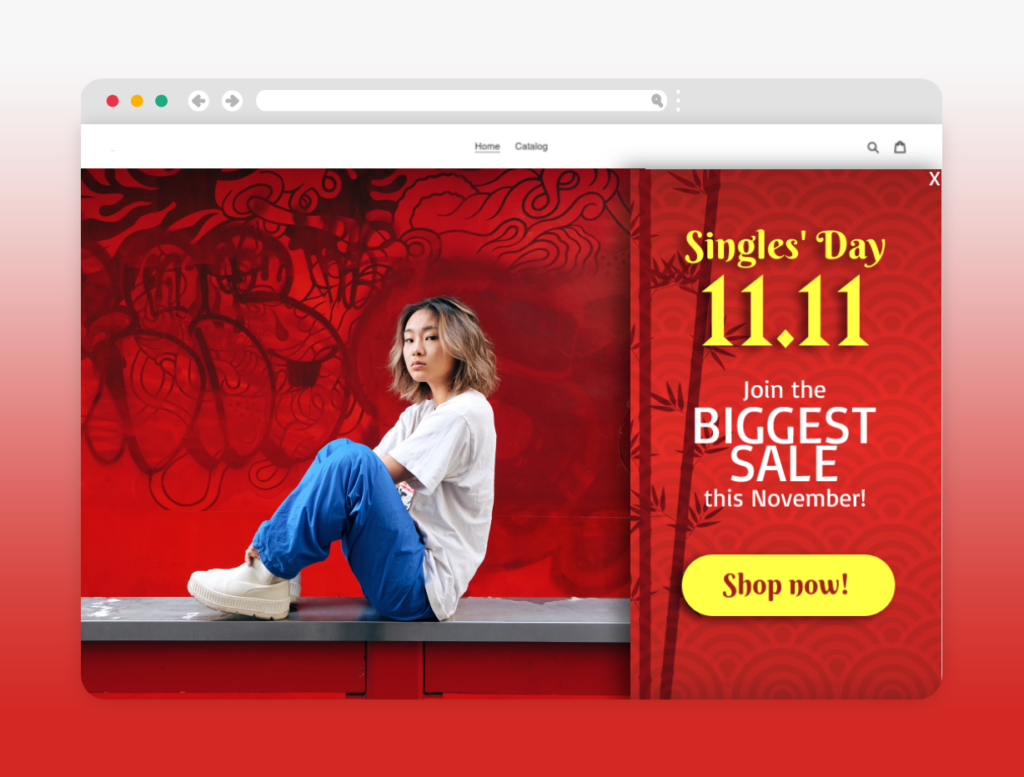 Localized Singles' Day pop ups for your diverse set of audiences
Promote your singles' day promos by using the local language of your target audience or directing them to your local shop. In this way, you can communicate better, and you may establish a connection with them right away.
Don't forget your Singles' Day pop ups for mobile
Almost all online shoppers know how convenient it is to use their mobile phones for shopping. Make sure you create mobile pop ups too, so you don't miss your mobile phone shoppers. You can use opt-ins to generate more leads or drive more email subscribers, apart from converting them into sales.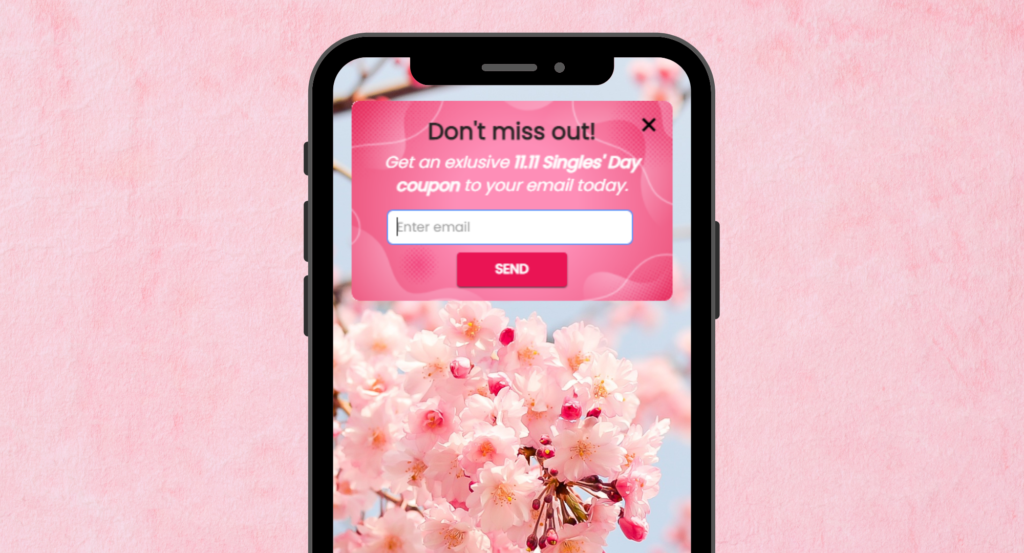 Make singles feel extra special with FREE shipping coupon codes
Show a coupon code to your visitors and make them feel special with free shipping.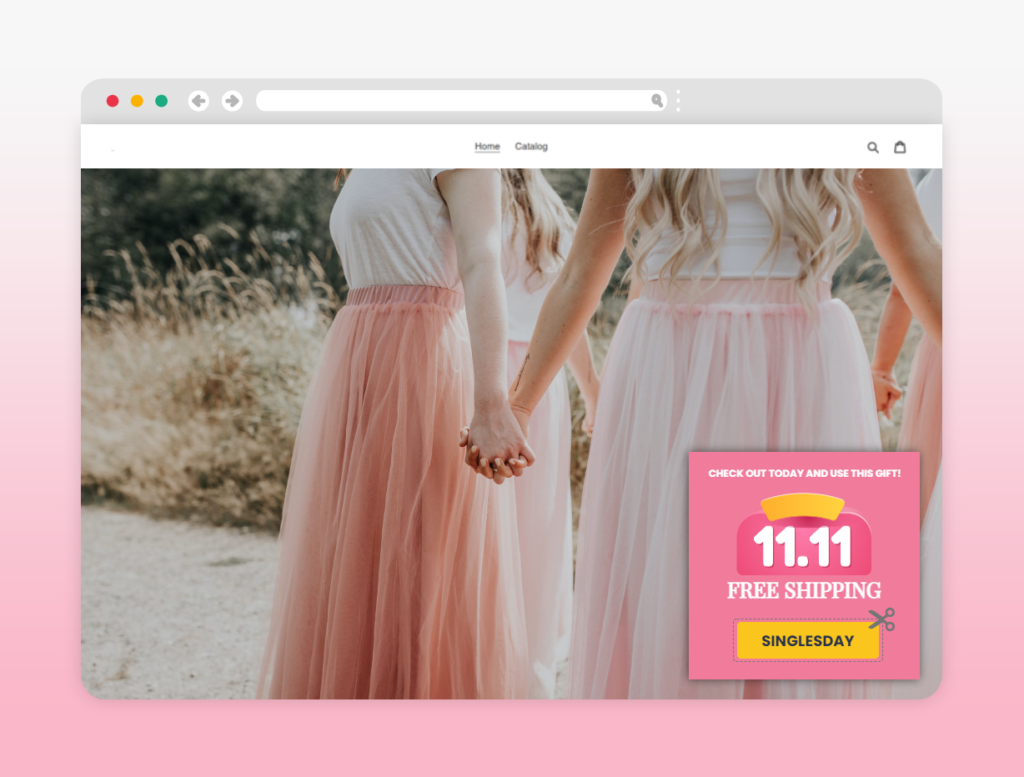 Communicate your Singles' Day promotions early on with countdown pop ups
Make a countdown popup that lets your visitors know that your offer is only available for a limited time. Ask them for their email address so they may get notified once your 11.11 sales are already live. This gives them a sense of urgency.
How to Create Your Singles' Day Pop Ups with Poptin
Poptin is a no-code popup builder that can help you create beautiful Singles' Day pop ups and embedded forms. With its line-up of robust features like exit-intent technology, triggers, analytics, and more, you can maximize conversions without breaking the bank. Here's how you can do it:
Step One: Sign in to your Poptin account and select your goal.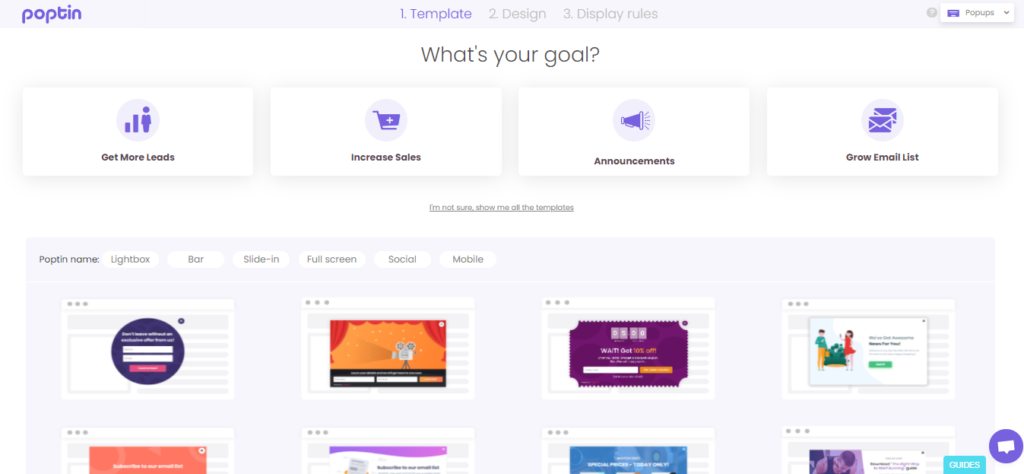 Step Two: Select the customization box and fill it out appropriately.
Step Three: Complete your customization before publishing.
Step Four: Set the display rules, then publish the pop up.
Final Take
Singles' Day pop ups are not the only marketing tools you can use to make your event successful. Other marketing ideas hold their own when it comes to reaching out to clients.
You may use ideas such as homepage designs, newsletters, and social media pages. Other beneficial marketing ideas include event countdowns, email sign-ups, discounts, and holiday hours.
Are you aware that you can create your Singles' Day popups for free? Sign up now with Poptin to make some.
You may also get other pop up ideas and inspiration from these resources we prepared for you: