Planning to create Volusion pop ups to skyrocket your conversions?
The increasing rate of online competition makes it hard for most businessmen to level up and make it on the top of the market. This is why complex and various marketing strategies are highly observed.
Among several online tactics, the remarkable type is the use of Volusion pop ups. Are you familiar with these pop ups?
Pop ups are one of the most effective online strategies if properly used. They are perfect for business product and service marketing. They can also help in boosting your website traffic, allowing you to attract more potential customers.
The content of these pop ups, however, depends on the kind of message you opt to convey to your audience. If you want to use these Volusion pop ups for your business, it is a must to understand its distinct types. 
The most common type of pop up is the exit-intent popups. This trigger when your website visitors will attempt to close the tab. Its main purpose is to encourage visitors to browse your website. These popups only appear when someone is about to leave a website. In most cases, exit-intent pop-ups as for the email address of the visitors. Others may also use these ads to give discount coupons, free stuff, and alike. 
Another type of pop-up is the so-called time-based. You can use this type if your visitor has been inactive for more than a few minutes.
Similar to exit-intent pop up, this type also asks for clients' email address and offer great deals. Now, if your website user clicks an offer link, instead of directing to an offer page, your user sees the offers using the click-activated pop ups. It means that your visitors don't have to see the pop if they don't want to.
Now that you have ideas about pop ups, let's now move on to what Volusion is and how you can create Volusion pop ups to improve your conversion rate.
What is the Volusion eCommerce platform?
The demands of pop-ups are becoming more visible online. Now, if you opt to use these pop-ups, you shouldn't miss to check out Volusion. This is an eCommerce platform that offers a reliable management solution. It can help to convert your visitors into potential customers and thereby generate more sales.
Volusion eCommerce platform allows you to choose from any of their exceptional eCommerce templates. Therefore, this cloud-based online solution is perfect for both newbies and professional online entrepreneurs. Are you interested to know more about Volusion? Then, here are some of its amazing features:
Easy-to-Use Website Builder – Just like other online businessmen, you also want to depend on a certain platform that offers a fast and easy website builder. Volusion may catch your attention as it offers drag and drop, in-page editing, and a lot more.
Varied Custom Themes – If you are quite picky when it comes to website themes, Volusion is perfectly fit for your business. This offers various themes, ranging from simple to exceptional one.




Unlimited 24/7 Support Services – Do you have some questions about this platform? Do you want to get some pieces of advice from the experts? Then, Volusion offers unlimited support services. It means that you can reach their staff any time of the day as they are committed to providing reliable and fast services to their customers.
All-in-One Platform – The best about Volusion is its completely hosted online platform. It means that you don't have to install anything or download some stuff to make your online store visible and operational. All you have to do is to sign up through the Volusion website, and you're done. You are free to work with your store with just a single click of your mouse.
Offers Free Trial – Who doesn't want free trials? Obviously, everyone loves it. Just like you, most businessmen use Volusion to check out how they work without spending any amount of cash. It means that you don't need to invest anything if you just want to explore its features. 
Volusion eCommerce platform is also ideal for your business as it has built-in social media, marketing, and SEO tools. They also offer detailed product listings and deal the day feature. Above all, they sell on Amazon, Facebook, and eBay and give excellent inventory management. 
Why Pop Ups are Effective?
If you are new to e-commerce, you probably want to enrich your ideas about the purpose and usage of pop ups. Volusion pop ups are effective, and here are some of the reasons why: 
Increases Online Branding – Like other entrepreneurs, it is your goal to gain maximum online visibility. You will do everything to be on the top of the search engine and be known by the potential customers. Through Volusion exit-intent pop ups, you can do it in the most effective and efficient way. These pop-ups are set up to grab the attention of your website visitors.
Boost Traffic Conversion – The main purpose of pop up is to increase your sales. This marketing ad can help you achieve your sales goals as long as you use pop ups properly. This is the reason why you have to know how to use pop-ups to ensure huge traffic conversion.
No Abandonment of Shopping Carts – If your website visitors place a free in your shopping cart and then attempt to leave, a Volusion pop up will suddenly appear. According to experts, 69.67% of all online businessmen shopping carts were being abandoned. Therefore, you need to do solve this major concern and the best thing you need to do is to use pop-ups. These pop ups get potential buyers not to leave the checkout page.
Build Email List – Pop ups can be the best marketing strategy to build your email list. These ads also offer gated content that allows your website visitors to access some of the contents through email address submission.
Collect Details from Your Potential Customers using Multi-Field Forms – These multi-field forms consist of personal details and generate quality leads. Say, for instance, if you have an online store, you would ask for the emails of your potential customer and their shoe styles or preferences. Then, your customers will send you emails that contain this information. The main point here is to ask for some valuable information to connect your online campaigns.
The Best Tool to Create Volusion Pop Ups: Poptin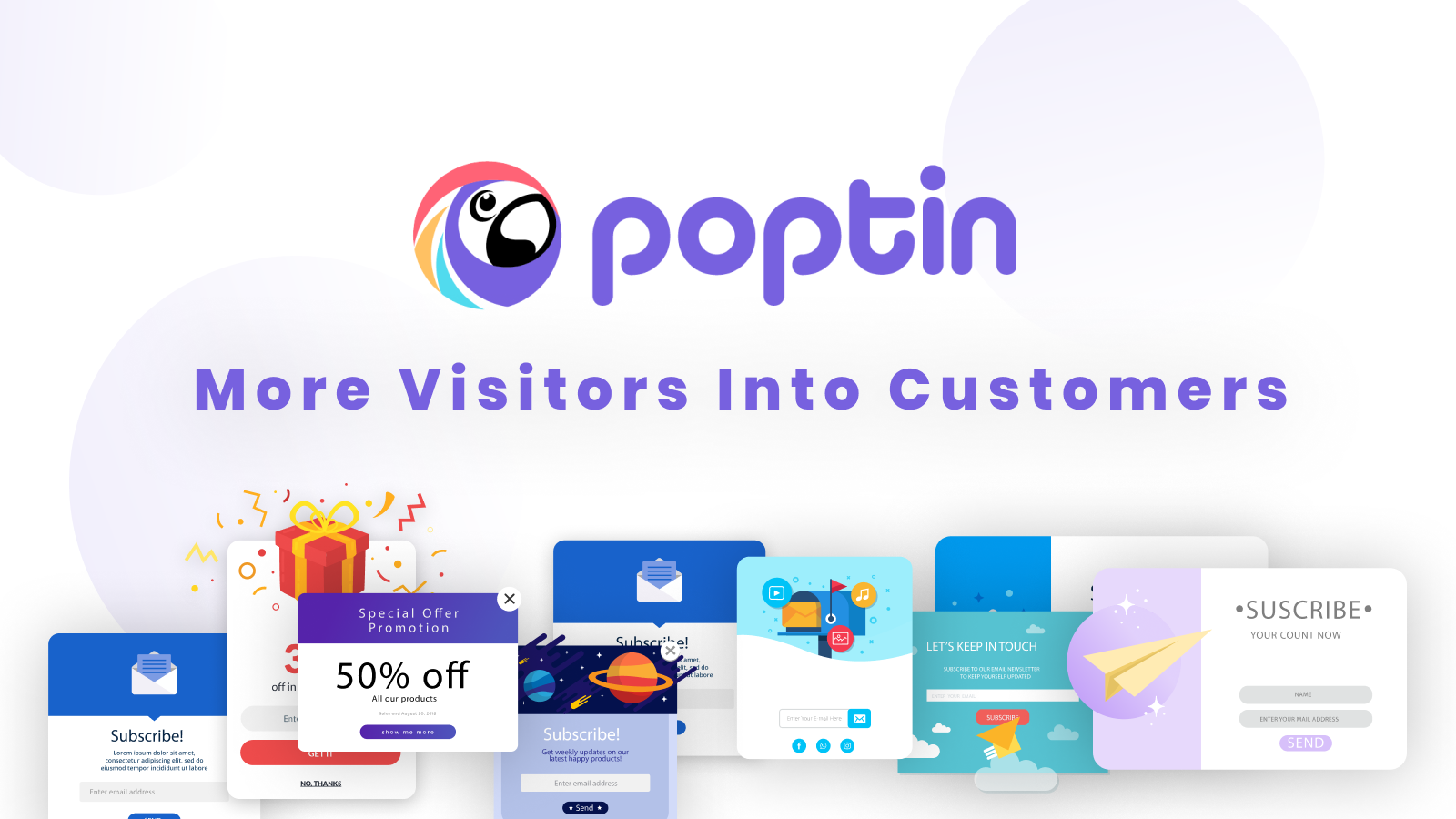 After exploring the purpose and significance of pop up, you probably want to use this as your marketing strategy tool. Now, to make things easier for you, the best thing you need to do is to create Volusion pop ups via Poptin. 
Poptin is renowned as the lead capture platform suitable for all online entrepreneurs. This can help by converting huge numbers of visitors into leads, regular subscribers, and great sales. 
Key features:
Exit-intent technology
40+ premade templates
50+ native integrations
Triggering and targeting rules
A/B testing
Built-in analytics
and more!
To start creating your Volusion pop ups, learn how you can install Poptin on our Volusion website.
How to Install Poptin on your Volusion Website?
Login to your Poptin account. If you don't have one yet,

sign up now with Poptin for FREE

.

Click

Settings

at the top right corner of your Poptin dashboard. Find the

"Code for Installation"

.

A pop-up window appears. Click

"Any website"

and

copy the code

below.

Now that you have the JavaScript snippet go to your Volusion dashboard. Under the

Design

tab, click the

File Editor

.

Under the Theme Files, click the

HTML file

. The actual codes will then appear on your screen.

Above the </head> tag, paste

Poptin's JavaScript code

. Once done, click

Save

.

That's it! Poptin is now installed on your Volusion account. Start converting more visitors into leads, subscribers, and sales through engaging pop-ups and embedded forms.

Benefits of Connecting Poptin with Volusion

Through creating Volusion pop ups with Poptin, you can:

Generate message at the right time

Create stunning pop-ups

Convey the enticing message to your customers

Tracks visitors' website response or behavior

Enhances users' website engagement.

Another best thing about Poptin is its advanced features for triggered and general pop ups. Like other businessmen, you have all the access to create campaigns for the Volusion pop ups to appear. This is often observed after having a specific amount of visits to your website.

If you are searching for unlocking these pop-ups with no restrictions, then you can have it without spending a dime. Volusion pop ups with Poptin offers unlimited contact forms, integrations, leads, and pop ups suitable for your business. 

Conclusion

Running an online business and competing with web entrepreneurs can be a little bit difficult, especially when you have a piece of limited knowledge about marketing ads, strategies, and campaigns. So, if you want to succeed and be on top of the market, start exploring and be familiar with the utmost benefits of Volusion pop ups. 

Creating Volusion pop ups with Poptin doesn't involve a complex process. Simply follow its process, and everything will be in place. So, what are you waiting for? Don't just sit back and watch others, earning a huge amount of money every day.

Be a witty business coach now! Simply start maximizing the use of these pop ups and see how these marketing tools change your online business world.