Are you researching for Sumo Alternatives? If so, this blog is here to save you time and energy in researching. I've tried all Sumo Alternatives to understand how each of them is a better alternative to Sumo.
Sumo is a lead magnet and email capture tool. However, it is not for everyone.
It really depends on your market, industry, persona, goals, and use-cases.
In this blog, I'll be sharing the following:
What are the must-have features of a lead magnet or email capture tool?

Sumo's strengths and limitations  

3 better Sumo alternatives (because I want to save you time)
In the end, you can decide which one suits you more.
What are the must-have features of a lead magnet or email capture tool?
It really depends on your needs if you'd like to build lists and convert leads to what features you need.
In order to use such kind of tools smartly, I'd always recommend you to look at it this must-have checklist.
✔️Getting started: Is it easy to use and set up?
✔️Customization: Is it easy to change colors, fonts, and sizes?
✔️Mobile: Does this look good on a mobile app?
✔️User-behavior technology: Does this lead capture tool have the following technologies such as exit intent, scroll-based & time-based technology, and page triggers?
✔️Targeting: Can you target certain pop-ups by source, time & date, new vs returning users, and how often can you show these pop-ups? 
✔️Templates: Do they have ready map templates?
✔️Email Capture options: How many different types of popups do they have? For example, topbar, popup modal, slider, and fullscreen popup?
✔️A/B Testing: Can you do A/B testing with this tool? Without A/B testing such kinds of tools are not that useful.
✔️Email validation: Does it help you validate the emails?
✔️Auto-responder: Does it have autoresponder?
✔️Analytics: Does it have analytics to evaluate conversions? Specifically, you need to know page based conversions. 
✔️Subtle features: Does it have Inline forms to offer subtle content within your blogs? 
✔️Integrations: Does it have integrations with most of the email marketing tools?
So, if you ever go with any lead capture tools, do check the above features to make sure you have the right features.
However, there is one more thing. Email capture tools have many use-cases such as list building, cart abandonment, generating marketing qualified leads for content, and much more.
You should see which tools are good for one or both cases.
Sumo – The Ecommerce Email Capture Solution (Freemium)
Sumo, which was previously known as SumoMe, is an amazing list-building and email capture tool. 
Sumo has definitely become easier to use tool over time. 
Moreover, it has specifically known more in the e-commerce world more than content.


Sumo's strength
Sumo's strength lies definitely in e-commerce marketing lead capture. 
It does ask me goals to make sure I am targeting the right way.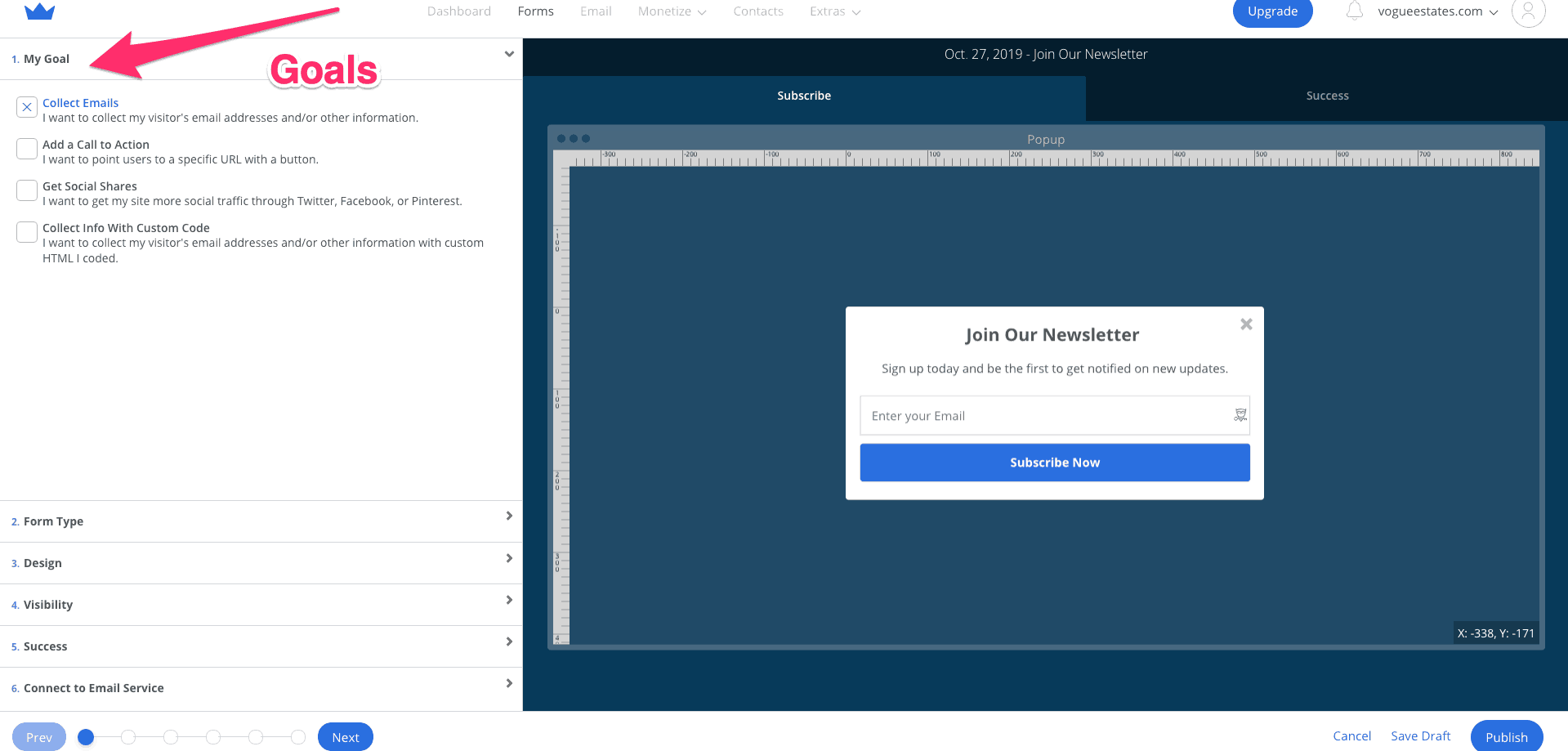 They definitely have good amount of options on several types of forms. It does give a lot more flexibility than other tools out there.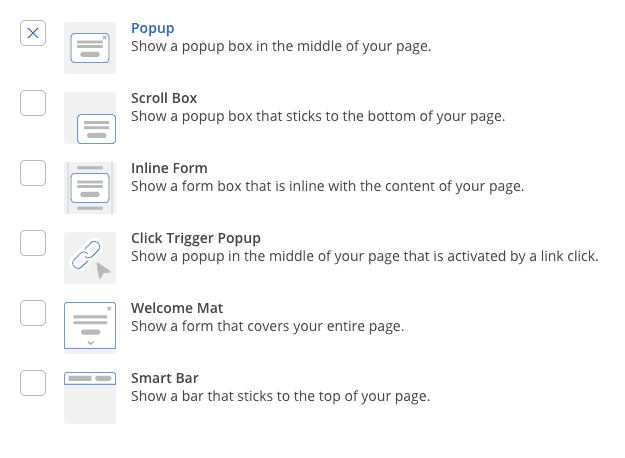 Sumo's probably has one of the best design control editor in the market.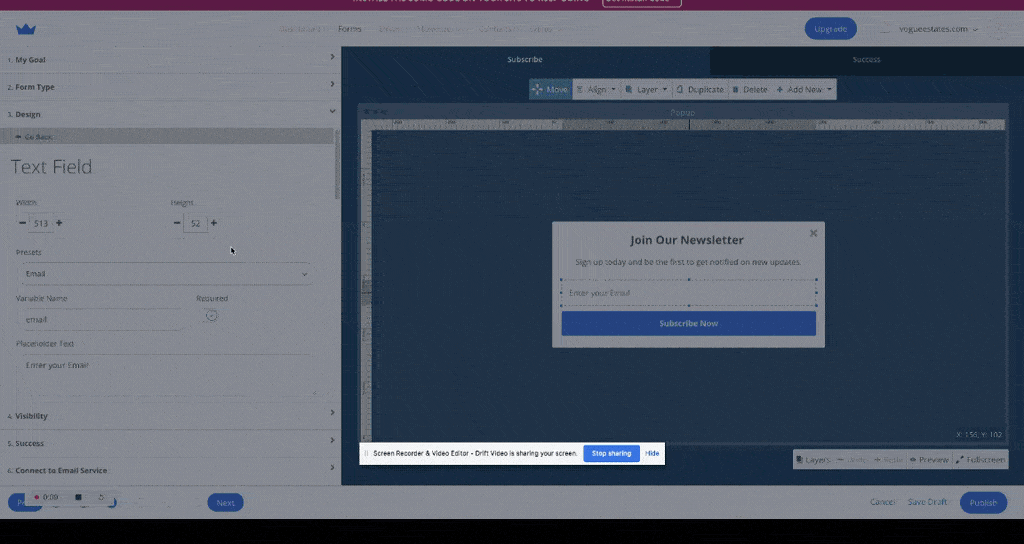 Lastly, it does provide you control over visibility and targeting as well such as URLs, pages, devices, referrer, and visitors. It has a smart and manual mode to decide visibility control too.

For e-commerce companies, Sumo has a lot to offer with a simple pricing model. However, it does fall short in some places.
If you own an eCommerce or Shopify store, perhaps Vitals will help- Lightweight All-in-One that also has Popups feature.
Sumo's limitations
Sumo's branding for free solutions is something very annoying about it. 
As you grow more than 500$ in revenue. It would hit you with the pricing upgrade.
Analytics is very limited to current, to dig deeper you need to pay. Something they claim that is free (which really is not).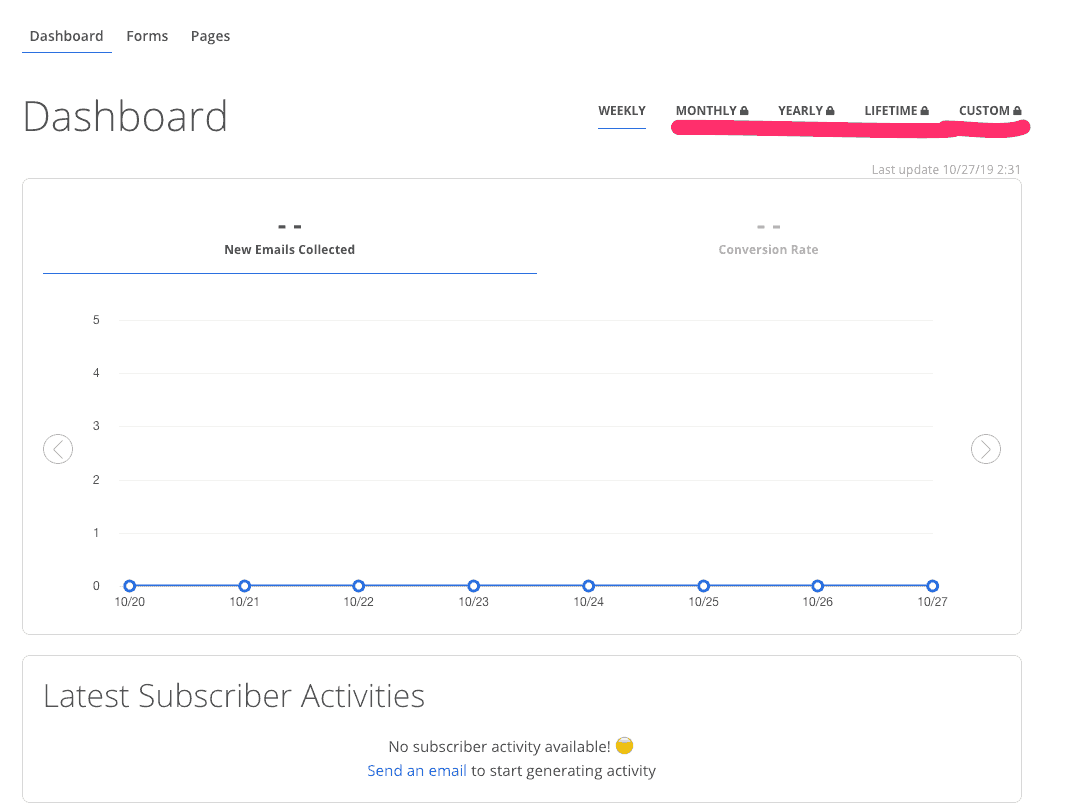 I also believe that A/B testing and advanced feature targeting should be available in the free plan.
Sumo has not mentioned if I have more than 1-website, then how does it work.
Support is not available in the free plan.
Poptin – The Smart Lead Capture for All Kinds of Use-cases (Freemium)
When it comes to free products, Poptin stands side-by-side with Sumo because getting started with Poptin is free. 
You can always 👉 try for free 
I've been using Poptin, and I'm pretty happy with it. Here are some reasons why I love Poptin:
Interface: It's the easiest to use for non-programmers and e-commerce marketers. It doesn't require prior knowledge on coding.
Customer Support: Regardless of the free or paid, they have a live chat, and my problems are resolved immediately. 
One thing I also love about it is that it's not powered by a chatbot. Real people will reply to you and address your concerns right away.
Pricing:  Free for some, then starts at $19/month (the best part). It's 30$ cheaper per month than Sumo. 
They have all the features I need without compromising the basic features such as the following:
40+ fully responsive popups and forms templates
User-friendly and intuitive builder
Exit-intent technology
Targeting rules
Triggering options
Built-in analytics
A/B testing
Autoresponders
and more!
The comprehensive display rules gives you the ability to target the right customer at the right time based on user behavior and specified targeting rules.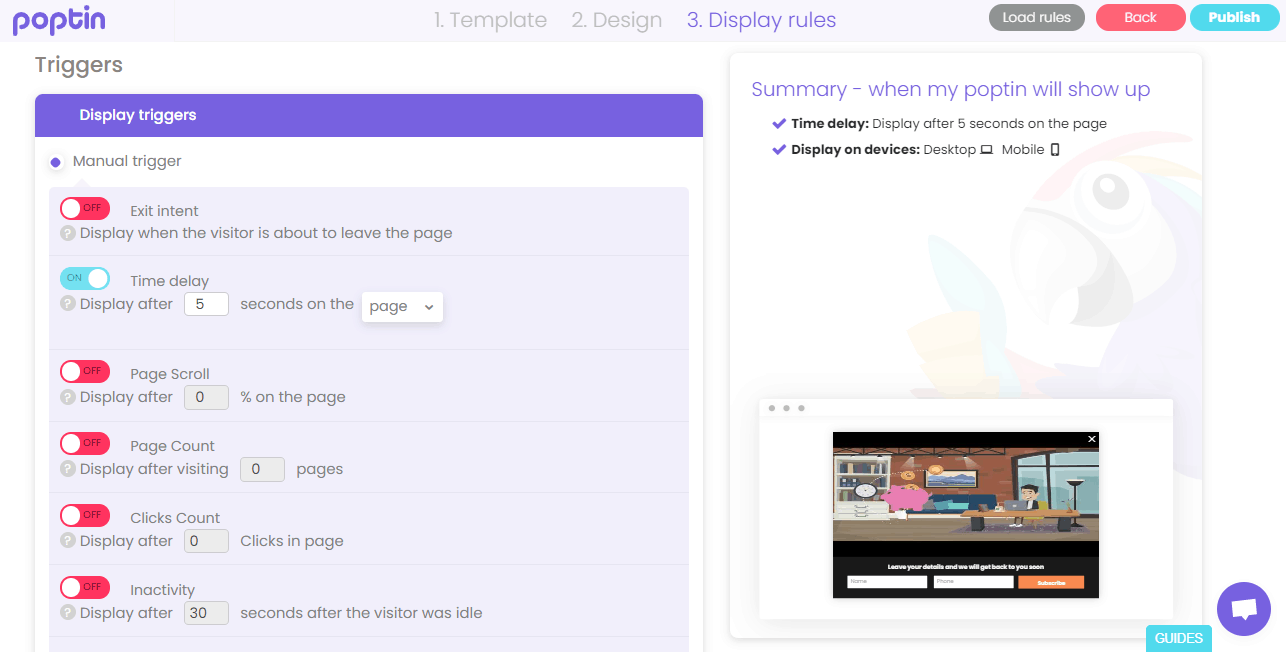 Talking about the features, you can see all the features available in the free plan here.
Poptin has all the Integrations such as:
MailChimp Integration

Constant Contact Integration

iContact Integration

Hubspot Integration

Nutshell Integration

Zapier Integration

Poptin has more than 40+ integrations. More information on it is here 👉

Poptin Integrations
Why Poptin is better than Sumo?
Moreover, Poptin has excellent reviews – You can check here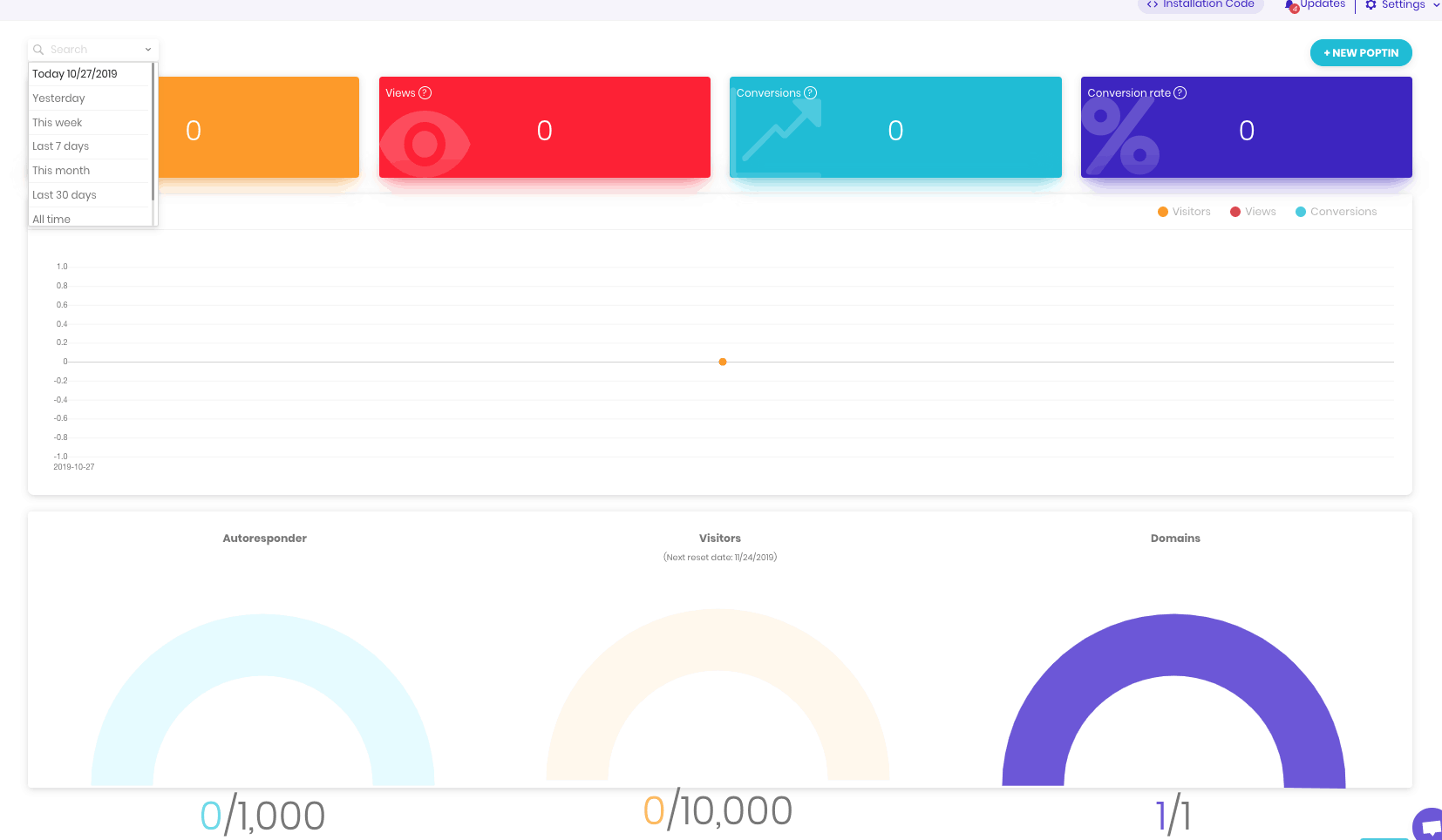 Poptin does not limit you with the analytics with days, months or years.
It has an auto-responder that others don't.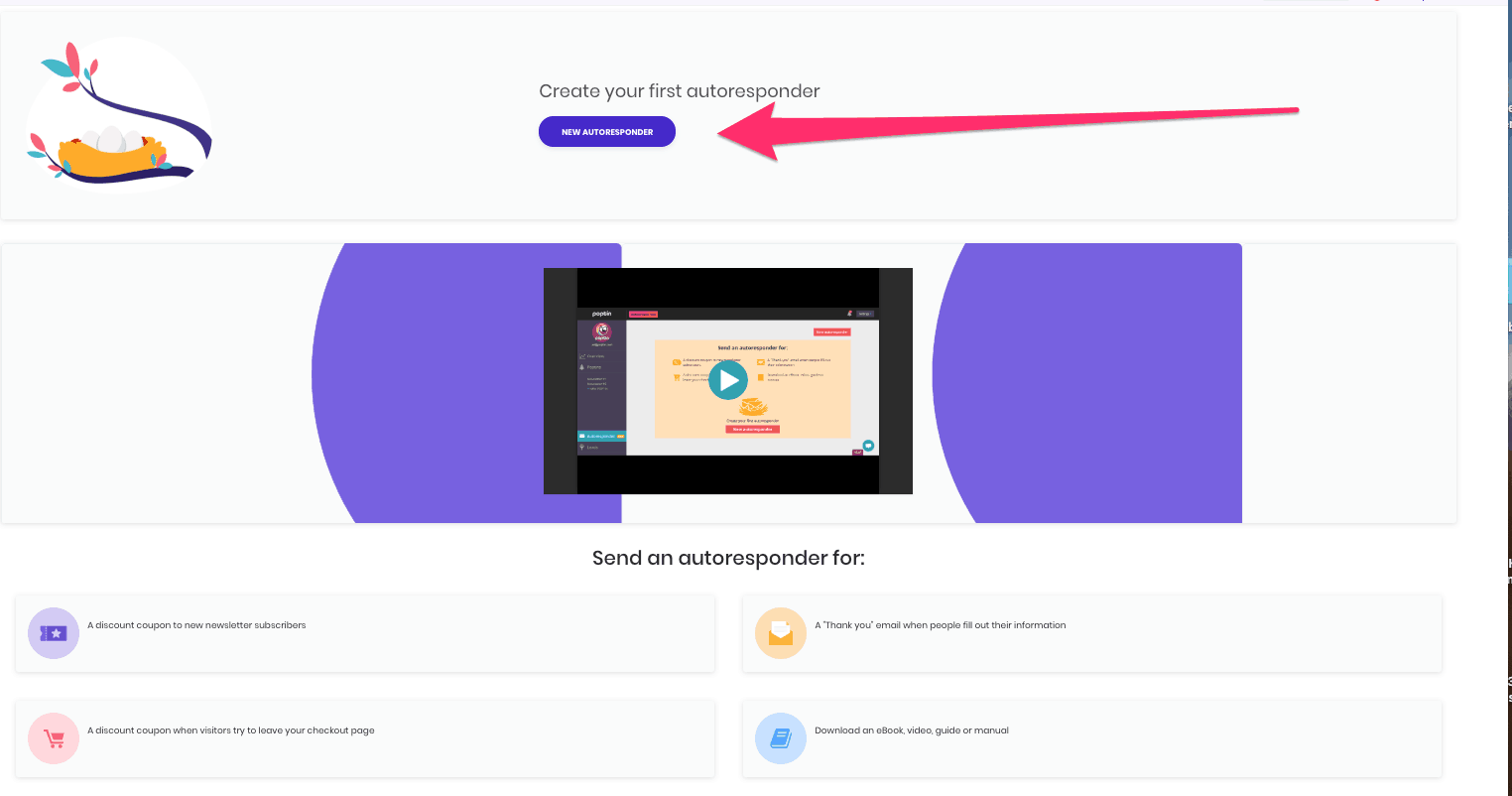 It has more templates and design variety than Sumo and other alternatives. 
You have access to lots of customization options.
And you can add essential elements such as a countdown timer, coupons, media files, and more.
It is more cost-effective for content marketing and e-commerce to invest in a tool that grows with you.
Lastly, it has world-class, and by far the best support among all the tools. They help you set up properly.
So if you're looking for a Sumo alternative, then you can always try Poptin for free. 
Drip – The All-in-one Ecommerce Email Capture and Email Service Provider

If you're looking for an e-commerce solution that helps you capturing emails and sending emails too. Then, look no further than Drip.
Drip has lately become THE SOLUTION for e-commerce marketers to convert leads.
Drip has a lightbox and slider to capture emails from your visitors and offer discounted products.
Although, it is limiting the targeting, scrolling, clicking, and other user behavior tools. Drip will do the job if you want the best of both worlds.
You don't have to worry about integrations as well.
What's limiting with Drip?
Drip does get expensive as you grow more leads. Also, if you have zero leads, after 14 days trial. Drip will charge you $49 regardless.
I have personally tried Drip with trigger functions for content marketing email capture. While it is a solid platform for two big use-cases. I feel having more than scroll, time and exit intent technology would help.
Regardless, if you want both things to grow your store. Do try Drip for your store.
Thrive Leads – The WordPress Email List Building Plugin

Thrive Leads is great for email list building and grow your subscribers.
Thrive Leads does have the following features that entice me to try:
Popup lightbox

Sticky Ribbon

Inline Forms

Slide-In

Optin Widget

Screen Filler

Content Lock

Scroll Matt

Yes & No multiple-choice forms
Scroll Matt and Yes & No forms are something I have no seen in the other tools. It's great for website feedback, and lead capture.
Once you create a form, you'll be able to use:
Triggers to display it at exactly the right time

Targeting to display it to exactly the right people

A/B testing to find out the copy that works the best
They do have enough integrations and targeting features to at least give it a try.
It's very easy to understand that Thrive Leads is targeting content marketers, not e-commerce marketers. So, it might not be the best fit for e-commerce.
What's confusion about Thrive leads?
Out of all the tools, I found Thrive leads pricing confusing. It seems like it's an add-on rather than an individual product.

Moreover, it is specifically meant for WordPress audience. This means other platforms such as Wix, Webflow, Weebly and other websites won't be able to take advantage of this.
Lastly, when you are starting out figure out the difference between Lead Groups, ThriveBoxes and Lead Shortcodes.
Indeed, Thrive Leads is a good contender when it comes to the feature. So, you can always give it a try.
To summarise
Sumo has targeted the e-commerce industry well and knows exactly what works for them. If you are looking for alternatives. You should definitely give others a chance to differentiate. So what's the best Sumo alternative?

The team at Unscrambled Words switched providers and started using Poptin to get more email signs ups to their daily word challenge game. Through their customization features, they were able to improve sign-up rate by over 17%.
Try Poptin if you need the closest tool to Sumo and with more features. It will give you analytics for free.
Try Drip if you need email and popups together and if you are not too strict about functionalities and features.
Try Thrive Leads if you have WordPress website and need more functionalities. 
If this convinces you, do try Poptin for free.