Email marketing software is a necessity for most businesses.
Working smarter means using automation for your online campaign. The Drip ECRM is a popular choice among many, but it isn't suitable for small companies or startups.
You may be wondering what it offers and why you may decide to switch to an alternative (or try something else for those who are just starting).
What Does Drip Provide?
Drip offers many features that most businesses find essential. These can include a top-rated support system, marketing automation, and various integrations. Of course, reporting and analytics are also available.
What people crave most, though, is contact list segmentation and more personalization with customizable content.
Why People Switch from Drip
With all that, you may be wondering if you should choose Drip as your email service provider. Of course, it offers many high-end features, but you also pay more for them. The basic plan starts at $49, and you don't get everything you might want. Most startups and small companies can't afford that and don't use all that is available for them.
Instead, it makes sense to try one of the free or low-cost options below. These Drip alternatives were picked because they're similar to Drip while still keeping things budget-friendly.
Here are the 5 Drip Alternatives:
SendinBlue was created to deal with the issue of automated emails on a tight budget.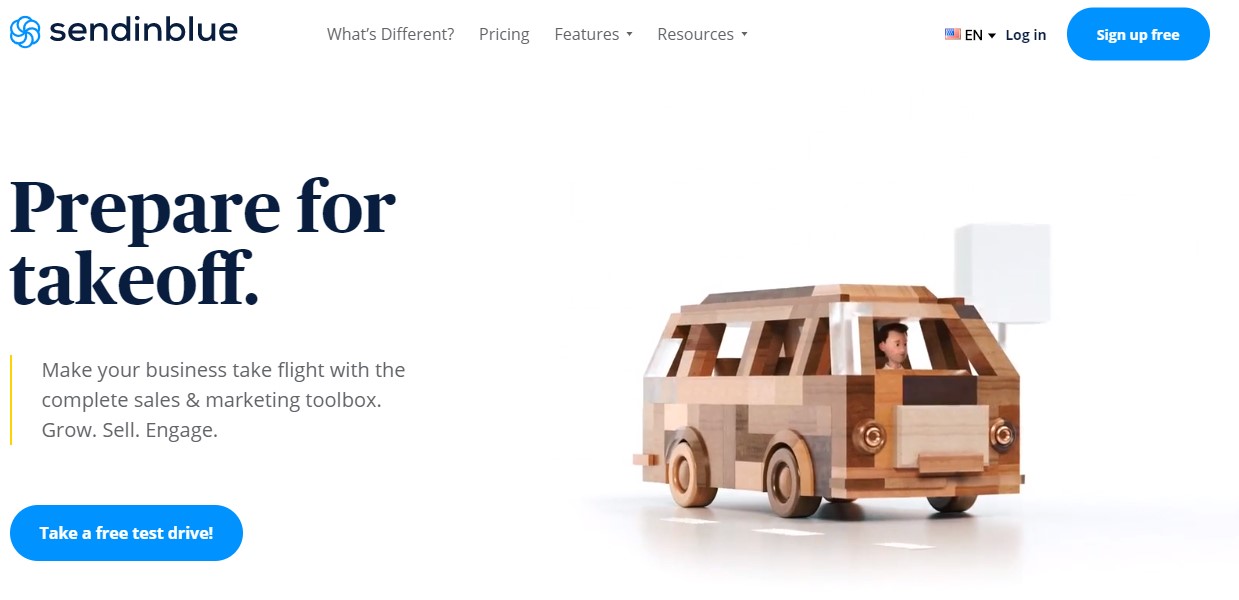 Currently, it has more than 80,000 users and sends out 100 million emails every day. Since it's a newcomer (launched in 2012), this is an excellent feat.
Features
There are numerous features with SendinBlue, though some of them are only available on the higher-tier plans. Of course, email marketing is at the top, and you can choose between many templates and layouts to boost design appeal.

The CRM is available to help you keep track of all the details. It's like a centralized hub that meets all of your needs.
Segmentation is also available through marketing automation, which saves time and can boost your performance. Target your audience to ensure that the message gets through at the right time.
Pros:
Low-cost plans

Landing page editor

Solid email automation

Excellent deliverability

SMS marketing tool
Cons:
Limited integrations

Sending limits on free plans
Pricing
There is a forever-free plan that allows for unlimited contacts and 300 emails a day.
With it, you get mobile-friendly emails, SMS marketing, chat, a template library, and some personalization. Transactional emails are also available.
The Lite version works well for beginners and costs $25 a month for up to 100,000 emails a day. You get everything in the free version, as well as email support, no daily send limits, and send-time optimization.
Premium is the next plan, and it starts at $65 a month for up to 1 million emails. Everything from Lite is available, as well as phone support, marketing automation, landing pages, Facebook/retargeting ads, and more.
Those who have advanced needs can choose Enterprise, which has costs based on what you require. However, you get all the features available, plus access for more than 10 users, custom email volumes, priority support, and others.
Who Is This For?
Those who prefer to send one-on-one campaigns are sure to like SendinBlue. You can send transactional and trigger-based emails with ease.
Of course, this indicates that it is great for e-commerce companies. Anyone on a tight budget may find SendinBlue to be superb. However, it doesn't work well when you require multiple logins.
Sendloop
Sendloop is an email marketing software offering customizable automation.
With this application, you can find integrations, plugins, and advanced tools to automate your campaigns. It's relatively new on the market, but it has taken the world by storm.
Features
With Sendloop, you have many channels to help you target your audience and boost value. There are countless tools available, such as the drag-and-drop editor, email slicer, and 80 free email templates.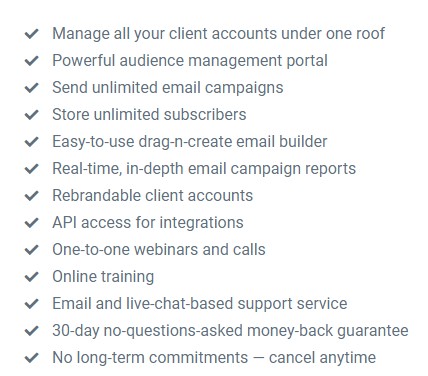 You also have access to Facebook ads, mobile apps, and there's a fast-subscriber import function. Transactional emails and social media sharing are among the top highlights here. 
Many people like the fact that they don't have to be technologically advanced to use the platform.
With the HTML editor, you can customize the numerous email templates, all of which are responsive.
There are also pre-made templates available, allowing you to type in the pertinent information and click send. 
Of course, automation is key here. You send the right messages to the right people at the most appropriate time.
Segmentation is part of this, and it doesn't matter how many subscribers or customers you have. E-commerce companies can target people who leave without buying or those who purchased a specific product. 
Pros:
Easy and simple interface

Reliability

Target your audience

Cost flexibility
Cons:
Basic automation and reports

Still new; adding features all the time

Better integrations needed

Various bugs (involuntary log-outs, etc.)
Pricing
With Sendloop, you have two primary plans. Occasional senders pay about $10 for every thousand emails, while frequent senders can spend $9 for 500 subscribers and unlimited emails. Regardless of the pricing plan you select, you get all the features.
These include third-party integrations, email templates, and various email marketing campaigns.
Who Is This For?
Primarily, Sendloop is designed for e-commerce businesses, various digital services, and SMB owners. It allows for customization and personalization without costing a lot of money.
Moosend is an automation and email marketing tool that allows you to sync your data without wasting time and offers automated workflows.
People like that it is easy to configure and use. It's a newer option because it was only founded in 2011. 
Features
The drag-and-drop editor allows you to add images, text, and social sharing buttons easily.
Marketers can create personalized designs or use the library of templates. It's also possible to present your design on mobile and desktop options.

You may also schedule the messages to be sent at a particular time or day.
Of course, automation is available, which allows you to choose various events that trigger an email response. Pre-built automation is available, but you can create your own.
Segmentation ensures that you can build your email lists with customized opt-in forms. The fields are also customizable to collect various data from the prospects. It's also possible to import existing email lists from different sources.
Pros:
Advanced automation workflows

Access to all features at all price levels

Support available
Cons:
Basic sign-up forms

Little customization available

Lacks native integrations
Pricing
With Moosend, you get a forever-free plan. It comes with the core features and never costs a penny. This means you get reporting, sign-up/subscription forms, analytics, and unlimited emails.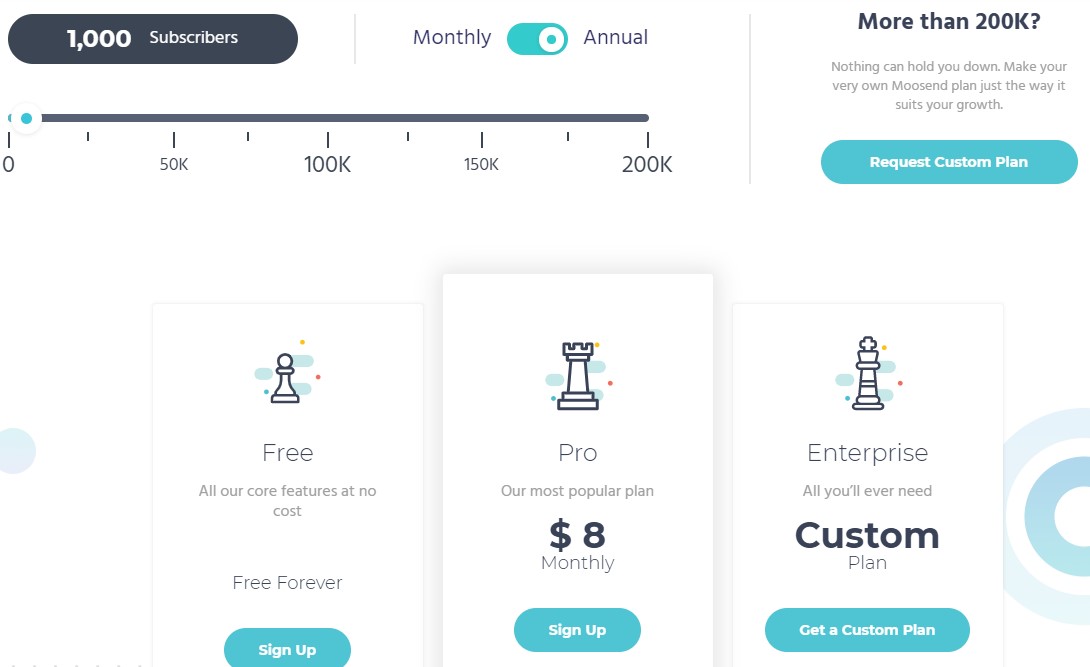 The Pro plan is $10 a month for 1,000 subscribers. With it, you get everything in the free version as well as transactional emails, landing pages, an SMTP server, and phone support.
Those who require even more can choose the Enterprise plan and pay a custom price based on your particular needs. You can select on-boarding, migration services, SAML and SSO, custom reports, a Service-Level agreement, and even get an account manager.
Who Is This For?
Beginners to email marketing are sure to like Moosend.
Moosend is designed for businesses of all sizes and is geared toward e-commerce companies. Also, it doesn't integrate well with third parties, so you may not get a centralized hub where you can do everything from one website.
Smoove
Smoove is considered a SAAS email marketing platform that helps companies maintain, cultivate, and strengthen their connections with current and potential customers. You can find more targeted marketing options to help you become relevant and effective.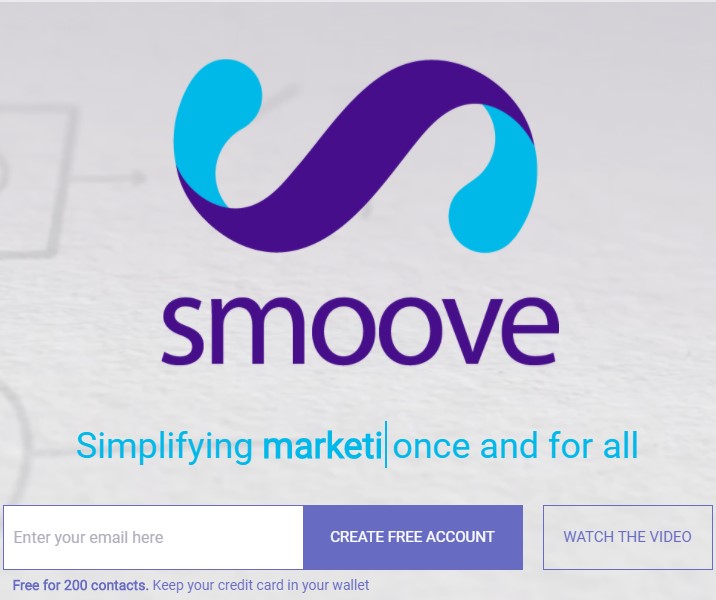 Features
The features available from Smoove are plentiful. Email marketing is provided, and you don't require a lot of experience.
List management is another exciting option, as well as smart designs that you create yourself or pre-designed templates.
You also have access to A/B testing, data metrics, and all emails are mobile responsive.
On the marketing aspect, you can send automatic messages and have access to a drag-and-drop editor. Target the messages to personalize your approach to your email campaign.

The goal is to ensure that you're sending relevant communications. Therefore, when a customer opens the email, it can create a task list of automated responses.
Landing pages are the core of many companies. You can connect your existing tools to Smoove with integrations. It's also easy to capture data quickly with customizable web forms. Create the right design experience with the company's full-screen designs, as well.
Pros:
Drip campaigns available

Easy to use

Segmentation
Cons:
No social marketing

Sales intelligence is lacking

Can't track website visitors
Pricing
Smoove offers a forever-free plan for those with only 200 contacts. You can send 2,000 emails a day and have access to smart segmentation, real-time analytics, A/B testing, and email campaigns.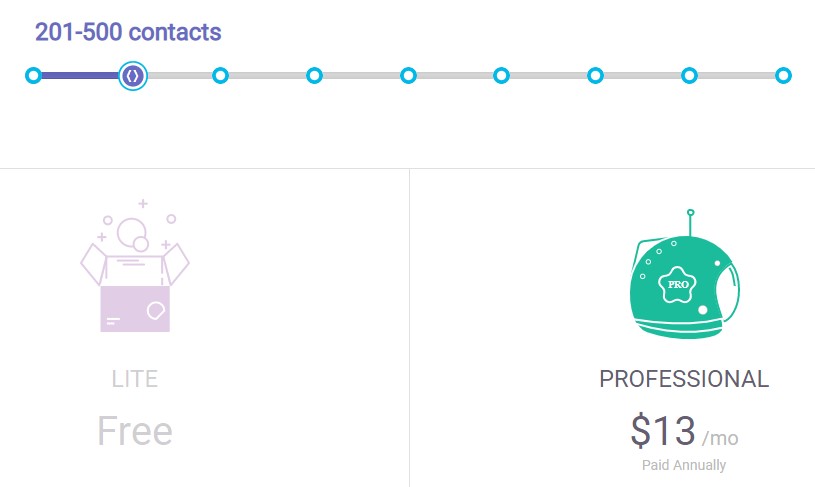 Lead generation features and marketing options are also included for free. This is an excellent way to test the system to determine if it works for you.
If you've got 201 to 500 contacts, you pay $15 a month and can send unlimited emails. You also get everything from the free plan.
This includes mobile wizards, unlimited landing pages, Zapier integration, and much more.
The price raises $15 for every 500 contacts you have.
Who Is This For?
Primarily, Smoove works well for SAAS companies, bloggers, self-employed people, and startup companies. 
AWeber
AWeber is an email marketing company based in Pennsylvania. It's been in the industry for more than 20 years. It claims that it created the autoresponder, which is a huge deal for email. Of course, automation is at the heart of what it does.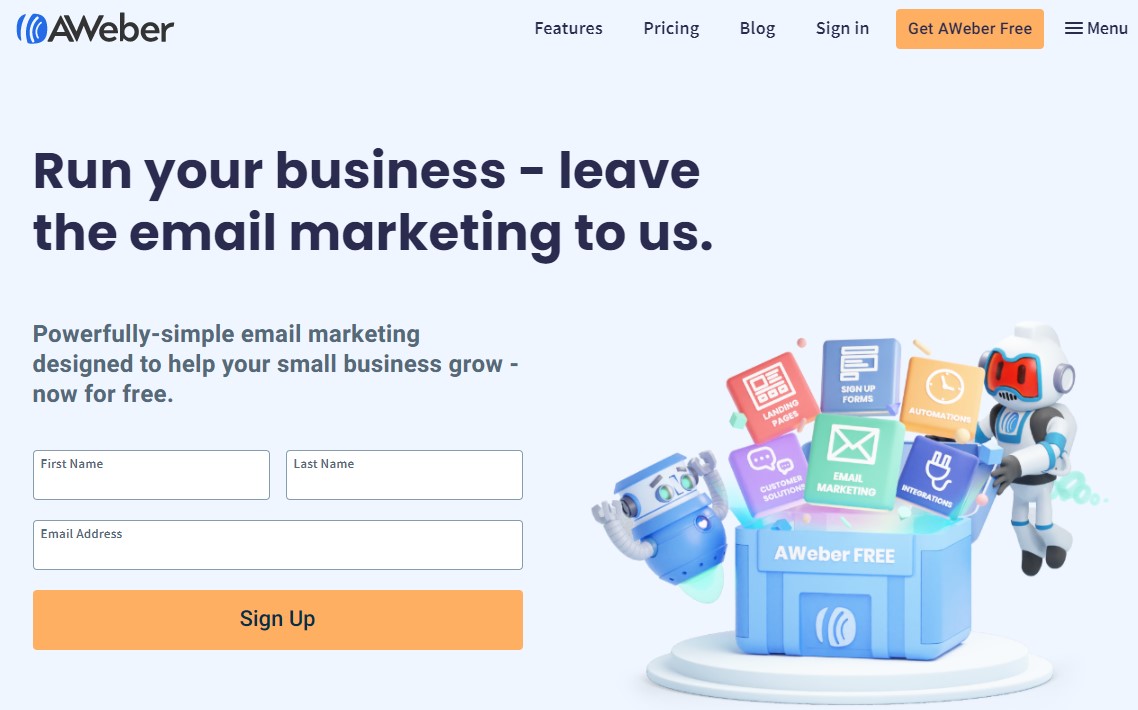 Features
The smart designer is an excellent feature. It uses AI to automatically create the right branded emails in a matter of seconds. You can also create appealing landing pages that can help your business get online – all without having a website!
With the drag-and-drop editor, you can customize emails in a few minutes. You don't require coding skills and can choose from a variety of pre-built templates, as well.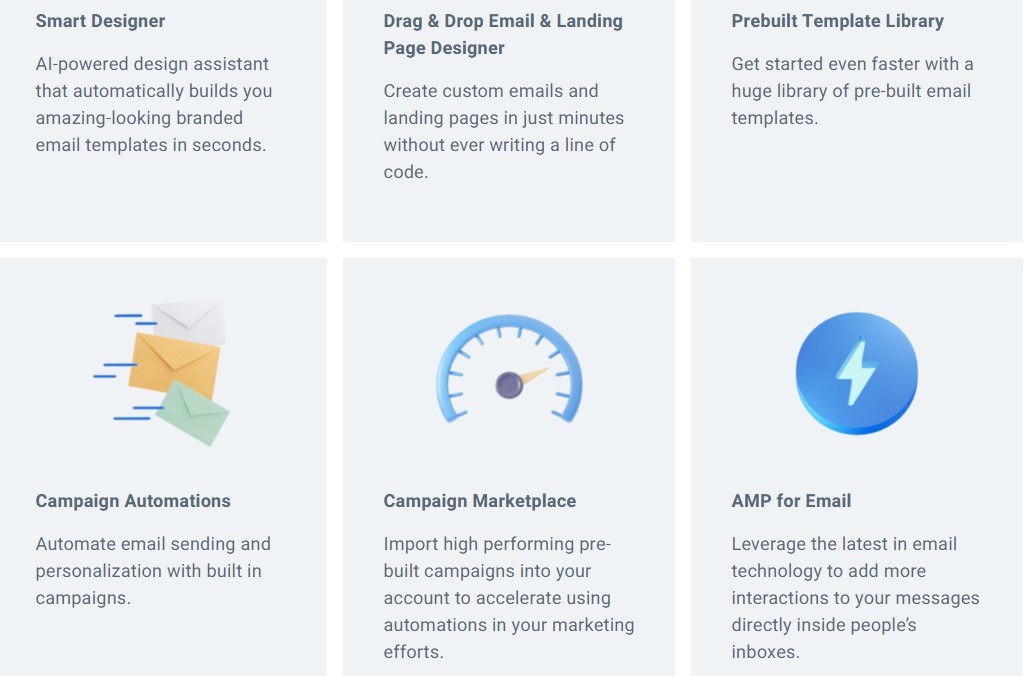 Do you have a blog? If so, you can create newsletters that automatically broadcast your latest content. Boost brand awareness and get your company notice in this excellent way.
Of course, automation is essential like in any other Drip alternatives. You can assign flows and triggers to the emails to provide the right message at the best time possible.
Tagging can also be automated, which is another way to target and identify emails to ensure that they go to the right people.
Pros:
List management tools

Support 

Sales tracking
Cons:
Higher prices

Unsubscribed emails count toward the cost

Not many advanced features
Pricing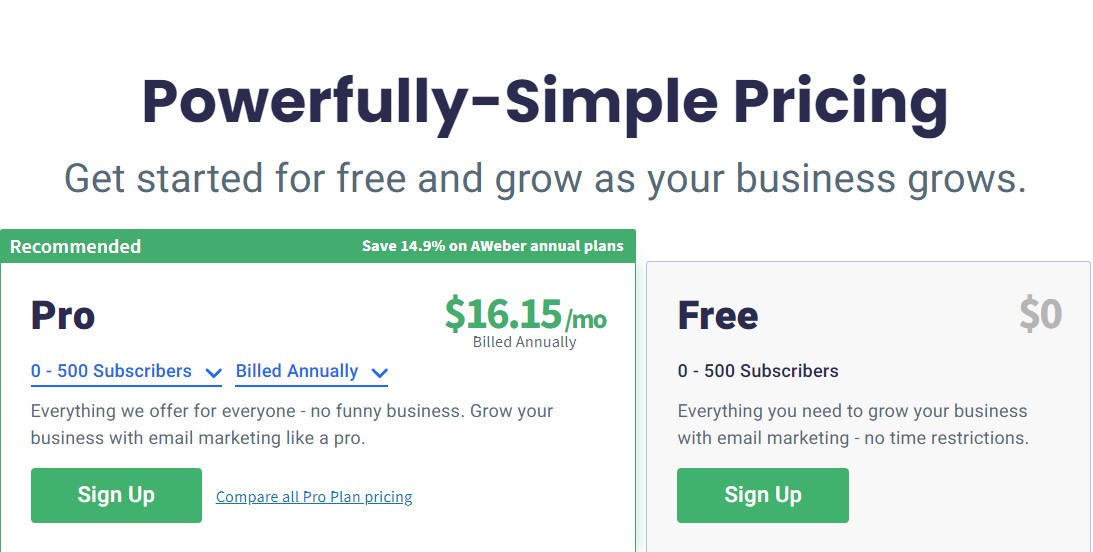 With the forever-free plan, you can have 500 subscribers and send 3,000 emails a month.
Unlike other Drip alternatives, you can only have one list profile. You have the ability to create/send newsletters, use automation, and have access to drag-and-drop and HTML editors. 
At the Pro level, it costs $19 for up to 500 subscribers. From there, it raises to $29 for up to 2,500 and so on.
You are automatically elevated to the next tier level as you gain subscribers. With that price, you get everything in the free version.
The emails aren't branded with AWeber information, either. Plus, you get split testing, click-tracking links, and behavioral automation, as well as others.
Who Is This For?
If you require basic email automation and few advanced features, AWeber could be right for you. However, it appears that this option might be better suited to creatives and startups. Those who plan to require a lot of phone support may find this alternative excellent.
EngageBay is a highly affordable email marketing and sales software designed especially for small and medium businesses, agencies, and startups. Trusted by over 30,000 companies, EngageBay offers a host of marketing automation tools so that you don't waste precious time on mundane and repetitive processes. 
Though it is a newer entrant into the CRM industry, it has won numerous awards for its innovative pricing and comprehensive email marketing automation solutions. EngageBay offers an all-in-one plan for companies looking for complete marketing, sales, and customer support software. 
Features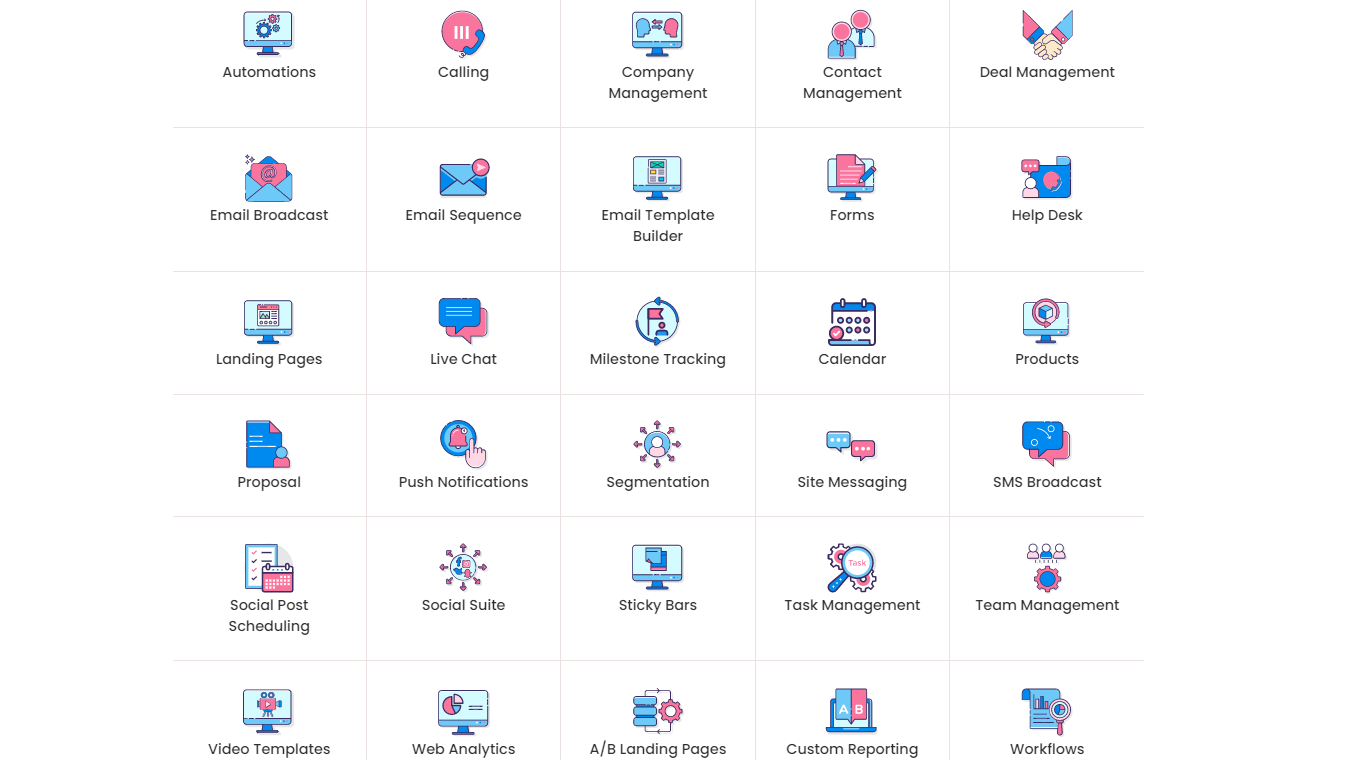 You get advanced segmentation, meaning you can divide your customers into buckets based on various factors, including demographics, purchase history, online behavior, and more. 
After you segment your customers, you can populate your content with the right information tailored for a personalized reach and maximum conversion.
EngageBay's autoresponders automate repetitive messages, such as subscription confirmation emails or cart abandonment emails. 
You can launch promotional campaigns and newsletters using the email broadcast feature. To prevent spamming, you can use the double-opt-in feature. 
EngageBay also lets you A/B test your email broadcasts and landing pages to improve performance. You can test many different elements and modify them, including images, headers, and CTAs.
The drag-and-drop email form builders can help you design stunning forms in a matter of minutes. You can even choose from a robust collection of templates. 
Pros:
Time-zone based email delivery

Forever free plan which includes CRM and many essential features

Paid plans are highly affordable

Super responsive customer service
Cons:
Can have more detailed tutorials for its advanced features

Can use more email templates

No search marketing available yet

Can have more integrations
Pricing
EngageBay offers a four-tiered marketing plan. 
With the forever free plan, you get 1,000 branded emails and 500 contacts. This plan is loaded with features like predictive lead scoring, email broadcasts, autoresponders, email sequences, Live Chat, drag-n-drop builder, and email templates. 
The Basic plan costs $12.99 per month and gives you 1,000 contacts, 2,500 branded emails, a host of third-party integrations, and so much more. 
The popular Growth plan offers 20,000 contacts, 20,000 branded emails, 5 GB of cloud storage, marketing automation, and email broadcast A/B testing for $24.99 a month. 
At the other end, you have the Pro plan, which offers 30,000 contacts, 30,000 branded emails, a dedicated account manager, chat and phone support, and so much more. You only have to pay $49.99 a month. 
EngageBay also offers discounts for its annual and biennial subscriptions.  
Who Is This For?
EngageBay is perfect for marketing agencies, freelancers, fashion designers, travel companies, investment businesses, and startups that need a comprehensive email marketing solution that won't burn through their funds. EngageBay's easy scalability makes it an ideal marketing platform for small but fast-growing establishments. 
7. Omnisend
Omnisend is an all-in-one email and SMS marketing platform designed to provide an intuitive interface for creating, automating, and analyzing campaigns.
Currently, Omnisend is used by more than 100,000 e-commerce stores all around the world, and sends billions of emails and SMS messages each month. It has established itself as a reliable alternative to Drip, especially for e-commerce businesses.
Features
Omnisend offers a wide range of features that allow users to create engaging campaigns that drive conversions. Email marketing is at the forefront, with customizable templates, drag-and-drop editors, and advanced segmentation capabilities.
Omnisend also includes powerful automation tools that can help streamline the entire marketing process. Automation workflows allow users to set up triggers and conditions to send targeted messages at specific times.
Other features include SMS marketing, signup forms, landing pages, push notifications, and integrations with major ecommerce platforms.
Pros:
Powerful automation workflows
SMS marketing included
Intuitive interface
Personalized content
Cons:
Limited reporting features
Free plan limited to 250 contacts
Pricing
Omnisend offers a free plan that includes unlimited email and SMS marketing features, as well as signup forms and reports. It also includes free, 24/7 live chat & email support for all
The Standard plan starts at $16 per month. SMS credits can also be purchased separately.
The Pro plan starts at $59 per month and includes all Standard features, plus priority support.
Who Is This For?
Omnisend is an ideal choice for e-commerce businesses looking to boost their marketing efforts. Its automation workflows and SMS marketing capabilities make it a powerful tool for engaging customers and driving sales. The intuitive interface also makes it a good choice for beginners, while its advanced automation and segmentation, plus multichannel approach, works well with medium and larger stores.
Conclusion
By now, you've seen what Drip can do, as well as these five Drip alternatives. Some of them include more features, or advanced options you didn't know were available.
Most of them offer a forever-free plan. While you may not get everything for free, it's a great way to start the process of automating your email-sending needs.
Make sure that your ESP offers things like:
High deliverability rates

Ease of use

Segmentation

Reporting and analytics
Compare them all based on your particular needs right now, what you might need in the future and prices. That way, you've got something that works and grows with you without going over-budget.