Many merchants have used Klaviyo for their email marketing requirements.
However, most people get put off by the pricing. Of course, online merchants have many options available to them, so Klaviyo isn't the only one. Still, it's important to know what Klaviyo is and why it is popular with some people.
What Does Klaviyo Provide?
Klaivyo is a complete tool that gives you everything you need. The marketing automation features include text, email, automated workflows, advanced segmentation, email capture/pop-ups, and so much more.
You also have the drag-and-drop feature to build your emails fast. Still, there could be some bizarre elements to this. For one, you don't create columns into existing blocks of content. You've got to add pre-splits and edit those. It's still easy to customize and add products.
Why People Switch from Klaviyo
The primary reason people switch to an alternative of Klaviyo for their email marketing requirements is because of its pricing plans. It's the most expensive tool on the list, and the pricing is actually tricky to understand. Some people spend more on things they don't need without realizing it.
Though the free plan is pitiful, it can work if you are beginning. However, scaling higher and doing more is expensive. With 1,001 subscribers, you pay $45 a month, which is quite extensive. Then, prices rise $25 for every extra 500 subscribers. SMS is available, but that costs extra, too.
Omnisend is a multi-channel automation platform that's powerful and built for e-commerce companies. It features advanced workflows and customer segmentation to help you reach your customer in various ways. This all-in-one option is complete and has helped 50,000 merchants become successful.
Features
It's possible to boost the effectiveness of marketing campaigns by adding push notifications, Facebook messages, SMS, and many other aspects. This ensures that you reach the customer at the most appropriate time. Segmentation can help you personalize and improve engagement.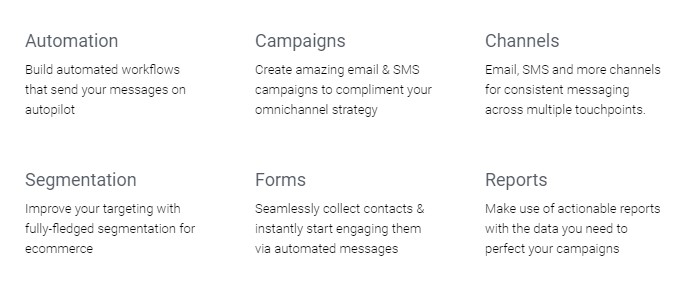 Automated workflows allow you to send relevant and anticipated messages at the most appropriate moment. There are plenty of pre-built templates that save you time by being set up once. You always have access to appropriate follow-up responses when you need them.
Pros:
Variety of signup forms
Mobile-friendly designs
Drag-and-drop feature
Cons:
Previews could be better
No HTML editing options
Could have more templates
Pricing
The prices for Omnisend are quite simple to understand and low-cost. There is a forever-free option, which gives you email campaigns, pop-ups, and signups with some reporting.
From there, the Standard plan adds support, audience segmentation, and SMS campaigns. Then, you move to Pro, which also provides customer matching, push notifications, and advanced reporting features.
Who Is This For?
Omnisend is primarily for e-commerce marketers who want more from their email marketing tools. Typically, they've outgrown other options but still want something that is affordable and works with a variety of platforms.
2. SendLane
Sendlane is considered a cloud-based solution for email marketing. This means you can use any browser and open it to create content for emails. It works with a variety of operating systems, including Windows 10 and macOS.
Features
Of course, email automation is one of the key features here. You can make personalized emails and create targeted segments. Managers can focus on mailing lists that focus on the point of sale, demographics, purchasing behavior, and many others. Re-targeting is also available, which ensures you can send out emails based on user interaction on your website.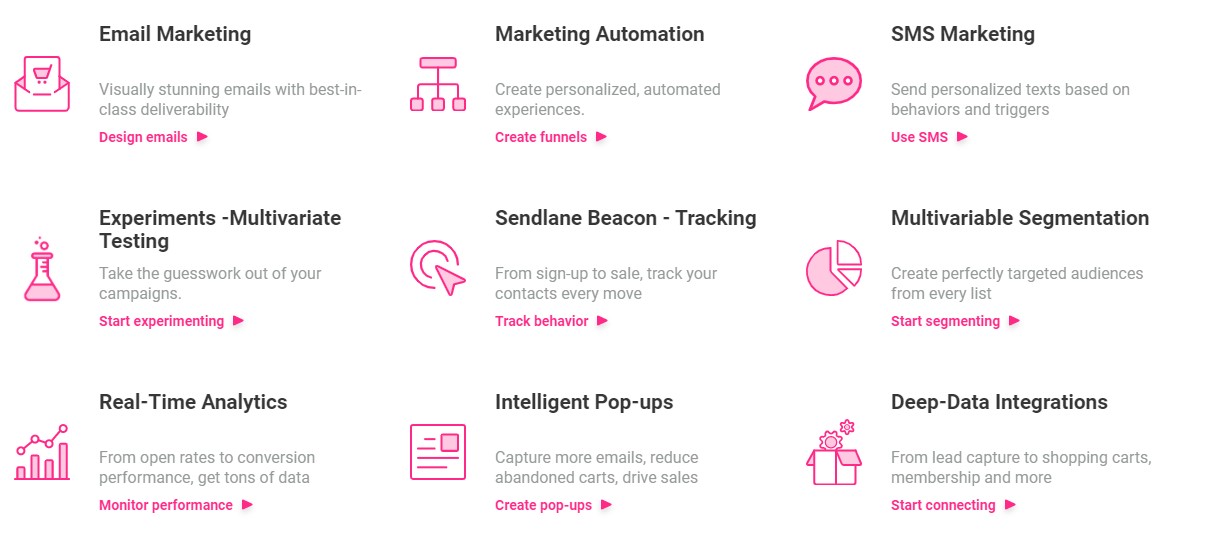 Even tracking is also available to collect information about the audience and clicks while analyzing the revenue generated from the emails. Your dashboard includes website activity and user history information, as well.
Third-party integration is available with many apps, such as Woocommerce, Privy, and Shopify.
Pros:
Full flexibility for lists and creation of emails
Automation
Works with almost any budget
Cons:
Can seem outdated or busy on the dashboard
Landing pages could have more features
Can freeze up and stop working
Pricing
The pricing structure is a little confusing at first, but it's relatively easy to understand. You can get a 14-day free trial with 100 contacts and all the perks of Growth. There's also a Starter package for a one-time payment of $497. You get access to its Growth plan for six months and 5,000 contacts.
Pro starts at $125 and includes multi-user access, onboard support, dedicated account management, and VIP migration services.

Who Is This For?
If you're a content creator, e-commerce business, or digital marketer, Sendlane is right for you. It's got plenty of features that you're going to need, either now or in the future.
3. Mailchimp
Most people think of Mailchimp when focused on a newsletter tool because it's got that great marketing tactic. It claims to send out over 10,000 emails for its customers a second.
Of course, it's easy to use, and you get support when you need it. Consider the features available before deciding which Klaviyo alternative is right for you.
Features
There is clear navigation with a clean interface here. While it can take a lot of time to set everything up, this happens with any new system. You get a fast and easy-to-use editor with a drag-and-drop interface.

While the personalization isn't user-friendly, it is there. Plus, you can find a cheat sheet to help you learn how to use it all.
Many of the templates look very modern, and there are countless options from which to choose. Classic ones aren't responsive, but the drag-and-drop ones are. Of course, automation is at the forefront, and you can create complicated workflows when needed.
Pros:
Thorough reports
Great template set-up
Generous forever-free plan
Cons:
Higher-cost subscription plans
Some limitations with automation
Pricing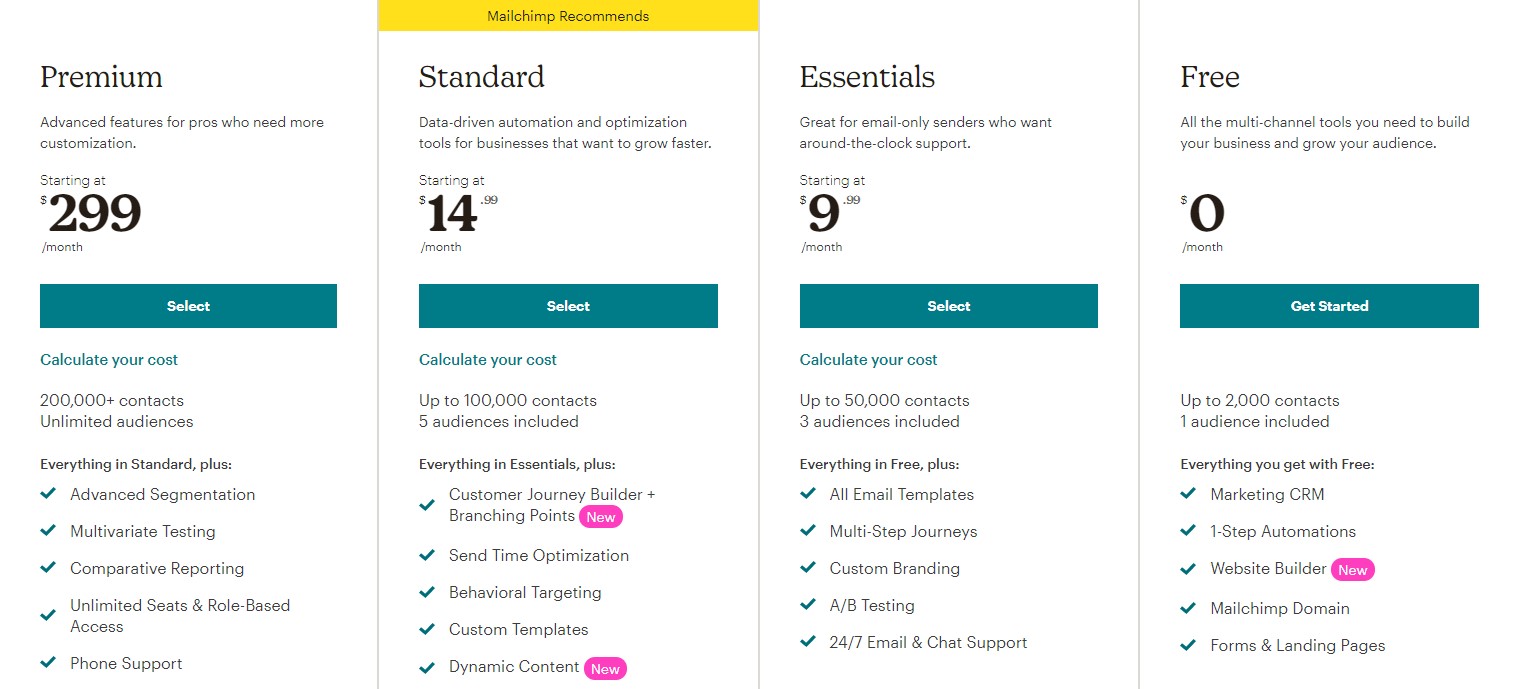 There is a forever-free plan that gives you one audience and 2,000 contacts. With it, you get a CRM, one-step automations, forms/landing pages, the Mailchimp domain, and a website builder.
The Essentials plan starts at $9.99, with up to 50,000 contacts and three audiences. Plus, you get A/B testing, custom branding, and all available email templates. From there, you can step up to the Standard package at $14.99 a month. You get five audiences and 100,000 contacts with everything in the Essentials version plus much more. Lastly, there's a Premium plan at $299 per month with even more contacts and limitless audiences.
Who Is This For?
If integrations are very important and you want an all-in-one option for CRM and inbound campaigns, Mailchimp is suitable for you. Everyone wants one tool that can do many things, and this one has exactly what you need. However, the automation aren't all that easy to manage. Those who want it to be streamlined may have issues. It also doesn't work well for affiliate marketers, and in fact, the company prohibits affiliate marketing in all forms.
4. GetResponse
GetResponse has always claimed to be an easy-to-use newsletter tool and comes with many pro features. With competitive pricing to boot, this Polish company has more than 1 billion subscribers and works in over 182 countries.
Features
There are plenty of features that you might not find with other such email marketing solutions. You can create customized landing pages, perform A/B testing, send video emails, and test various designs.
The Conversion Funnel feature is new and can handle traffic generation. Those who require it can also use it as an online store complete with payment processing. Automation is powerful and allows for more advanced campaigns to be created with specific conditions or triggers. Plus, everything is user-friendly.
Of course, there's a webinar feature, which is only available to higher-tier plans. This is rarely seen on an email marketing platform at any price range. Of course, we were intrigued enough to include it on our list.
Pros:
Landing pages and Conversion Funnels included
Design testing; spam tests
List automation with intelligent features
Cons:
Can have deliverability issues
Can get costly for higher tiers
Pricing
With the Basic plan, you can have 1,000 contacts for $15 a month. This gives you autoresponders, email marketing, and one sales funnel, among other perks.
Next, you've got Plus, which is $49 per month at 1,000 contacts. You also get the Basic features with work together, contact scores/tagging, and other helpful options. Then, Professional is next and starts at $99 per month. You get paid webinars with up to 300 attendees and unlimited sales funnels.
Max is more flexible and personalized, but it is customized based on your specific needs. You should call a representative to discuss options and payments.
Who Is This For?
Those who want to capture more leads are going to find flexible forms, an editor for landing pages, and better automation with segmentation. There is also integration for Google Analytics. Of course, the Conversion Funnel option keeps everything organized and tracks it all, too.
Of course, e-Commerce companies can use the features here to drive sales and utilize integrations with a variety of platforms. Sales tracking is also available. If you require sophisticated automation, this is the tool for you.
However, it can have issues with deliverability and doesn't include a forever-free plan. If those things are important to you, this might not be the right tool.
5. Campaign Monitor
Campaign Monitor is one of those straightforward marketing tools. People can use it to send personalized and beautiful emails without knowing too much about HTML and other necessities.
Features
Primarily, Campaign Monitor is easy to use and offers an email marketing platform with automation that's professional-grade. This is going to help a variety of growing businesses to gain better bottom-line results.
With it, you get beautiful templates that are modern and stylish. Of course, there's the drag-and-drop editor, which makes it so much easier to create whatever email type you prefer.
Engagement-based segmentation is also available to help marketers delivered more targeted content when the time is right. This also ensures that you don't require technical experience to take care of business.
There is also a visual journey designer to help you create emails that your audience wants to see. This can automatically drive revenues in the right direction.
Reporting is available, and it's a full analytical suite giving you a complete view of your email performance. This includes acquisitions, geography, and engagement within each campaign.
Pros:
Excellent reporting options
Integrations are helpful
Easy to use
API available
Cons:
Implementations can be hard to set up
Sometimes, emails aren't sent instantly
Hard to transition between accounts
Pricing
There is no forever-free plan, but you do get a free trial period for any of the plans available. With Basic, you get basic automations, the analytical suite, and the ability to send 2,500 emails a month for $9 per month and 500 contacts.
The Unlimited plan provides all that, plus advanced automations, time-zone sending, inbox previews, and much more for $29 per month.
Premier is the last plan, and it costs $149 a month. You get everything from the Unlimited Plan, as well as optimization for send-times, advanced tracking of links, and pre-build segmentation.
Who Is This For?
Any marketer can use Campaign Monitor, but it is geared toward e-commerce websites. If you're a fast-growing and fast-paced company owner, you need email to help you drive results. Therefore, if you're looking to get more subscribers, promote conversions, and have a loyal fan base of readers, this is the right tool for you.
However, if you're on a tight budget and need pre-built segments, quick send times, and advanced tracking, this might not be the right choice. Higher-tier plans are quite expensive.
Conclusion: Klaviyo Alternatives
As you can see, Klaviyo has many things going for it, but there are other alternatives that could be better and less expensive. Of course, it's hard to pick a single email marketing tool, but learning about each platform is the first step. That way, you've got important information and can make an informed choice. Still, you've got to think about your budget, what you currently need, and what may be necessary for the future. All of these factors play a part in the email marketing tool you choose now.