Not only do pop-up windows make your website more dynamic and highlight the best deals for visitors, but they also help you track the behavior of your leads.
More and more pop-up tools also have Exit-Intent technology which has the role of preventing a visitor from leaving your website by highlighting some information or activity that might be of interest to him. At the same time, it gets you, new subscribers and customers.
OptiMonk is one such tool, but you being here and reading this article means you already know that. If you are looking for an OptiMonk alternative that will help you further in your business, you are in the right place.
Below we present the best alternatives on the market:
Before we jump to introduce these OptiMonk alternatives, we will familiarize you with the biggest advantages and disadvantages of using OptiMonk.
OptiMonk: Overview
OptiMonk is a tool for creating pop-ups, but it also combines marketing and IT skills to bring even more benefits to users.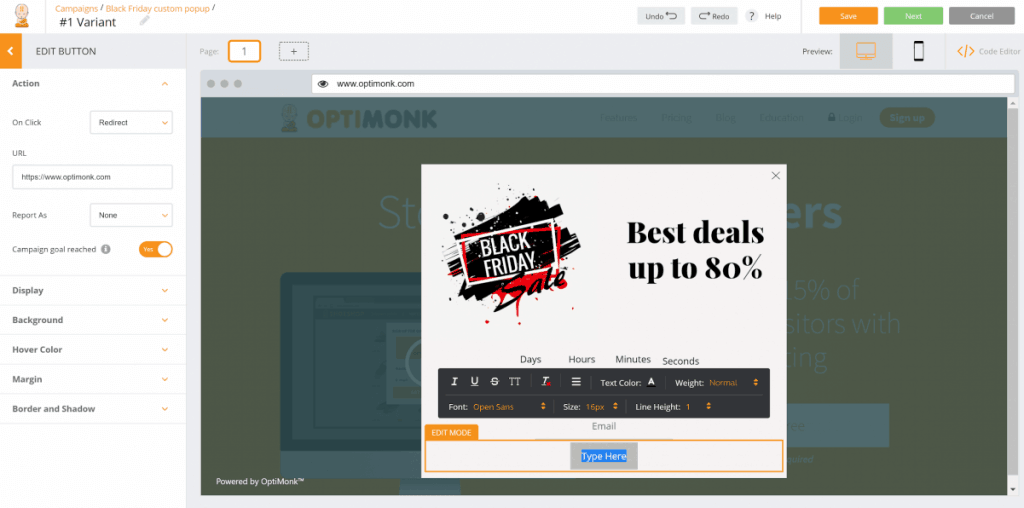 OptiMonk has a user-friendly dashboard and a drag and drop editor that makes it pretty easy to use.
When it comes to pop-up windows, it is extremely important to mention customization possibilities, as well. There are different types of forms, and one especially interesting is the lucky wheel.
You can adjust layouts and sizes of pop-ups, and use more than 15 display effects. 
Offered features:
Triggering options

Targeting options

Customization

Conversion tools

Agency tools

Integrations
OptiMonk: Advantages and disadvantages
In this section, we will cover the main advantages and disadvantages of using OptiMonk.
What are the advantages?
OptiMonk offers a variety of free templates and advanced triggering options.
You can connect OptiMonk with different eCommerce platforms, CRMs, email and website platforms, and Google Analytics and Tag Manager, also.
It is compliant with GDPR and made as a Google-friendly tool.

What are the disadvantages?
There are no embedded forms.
Analytics is an important part of having an insight into the performance of pop-ups, so it should be more detailed.
If you are a beginner, it can be a little tricky to understand this tool completely.
Let's see the ratings for OptiMonk.
Ease of use: 4
Customization level: 4
Visual appeal: 4
Features: 4
Integrations: 5
Customer support: 5
Pricing: 5
Total: 4.4/5
Anyway, OptiMonk is a really great tool, but if it doesn't suit your needs, here are the 3 best OptiMonk alternatives.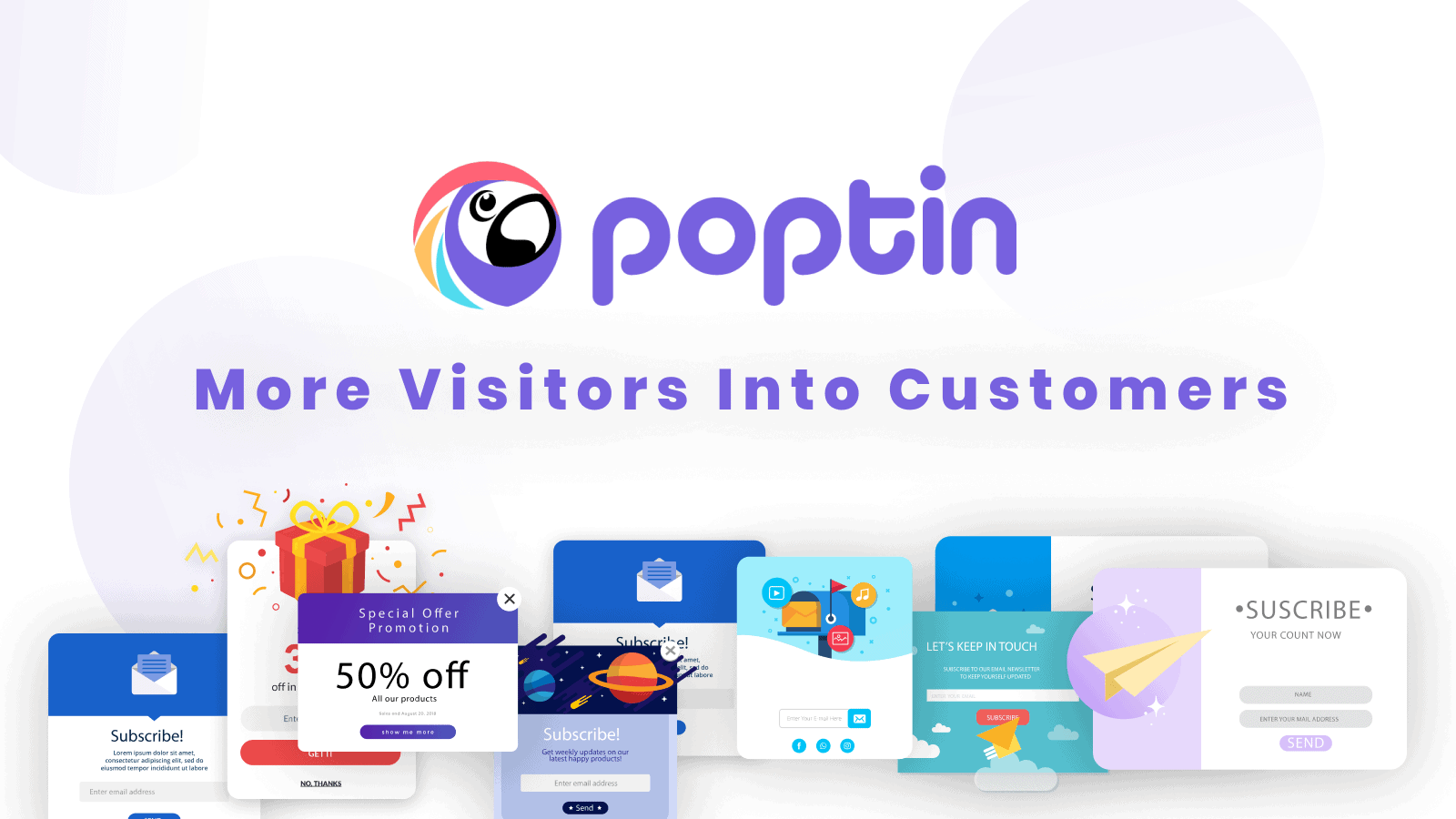 Poptin is one of the most complete pop-up tools on the market and at the same time an even more than worthy OptiMonk alternative.
In just a few minutes, you can create amazing pop-up windows and embedded forms that will engage your visitors and keep their interest.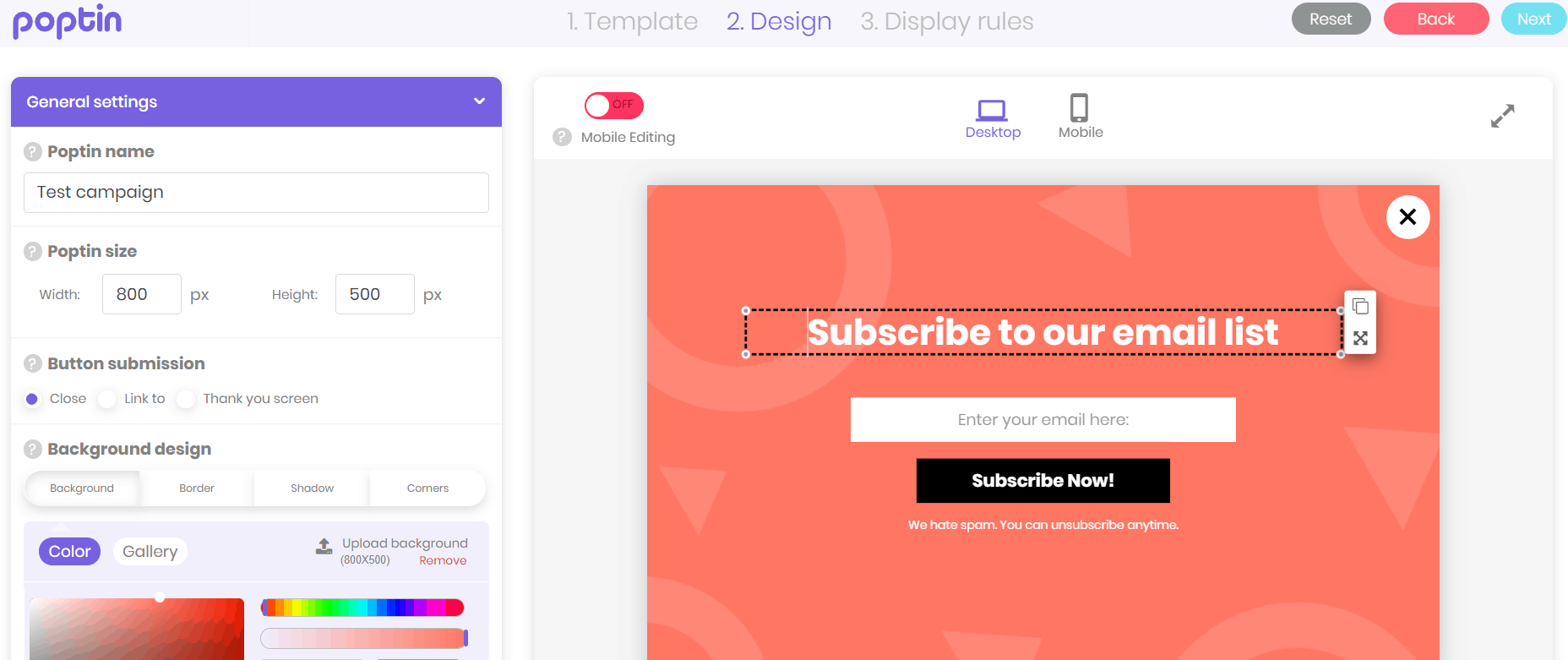 As you can see in the dashboard, there are tools for high-level customization. Thanks to drag and drop editor, you can add or remove any elements or fields with one click.
You can add, edit, or remove special elements on your pop ups such as countdown timer, media files, icons, coupons, and more.
There are also numerous templates that will make designing pop-ups a piece of cake.
Poptin's main features are:
Advanced drag and drop editor

Customization

Library templates

A/B testing

Advanced triggering rules

Advanced targeting options

Automated emails

Embedded forms

Autoresponders

Analytics

Integrations

Reliable customer support and live chat
Pros of Poptin
Poptin is easy to use even if you are at the beginning of growing your business or in need of a complete pop-up solution with many valuable features.
You can create really effective pop-ups whether you want a simple or a complex design. You can check out these examples. Such as this:

Or this one:
Poptin offers full customer care that includes live chat, phone and email support, knowledgebase, and Facebook group.
Advanced targeting and triggering options will help you achieve higher conversion goals.
Cons of Poptin
If you are dealing with analytics for the first time, you may need help to get the most out of it but don't worry. You can contact the support who will give you all the guidance you need.
Also, if you choose a free account, you will be limited to 1000 views per month.

Poptin's pricing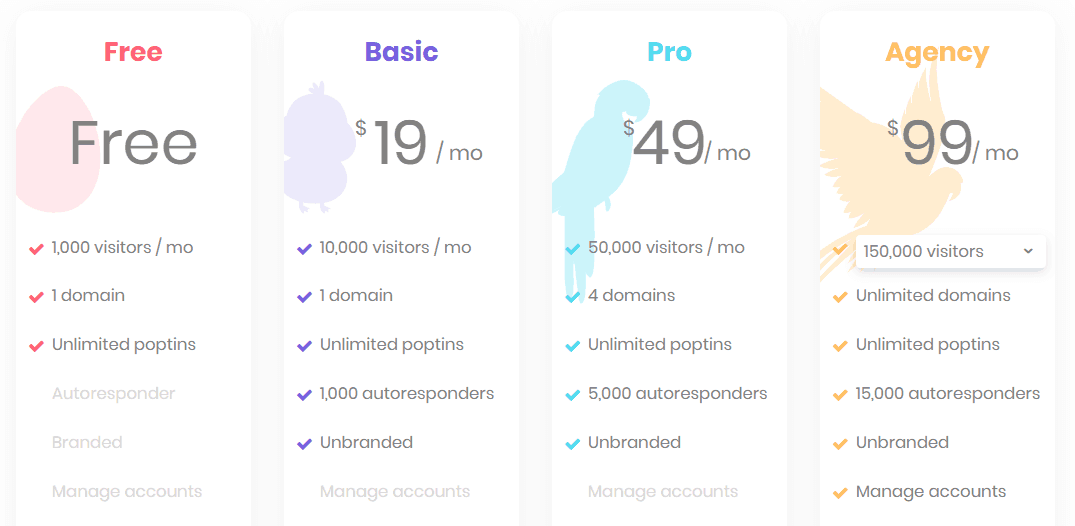 Poptin offers a free package, so you can see how it works and later you can upgrade to some of the paid plans for more advanced options.

Why is Poptin the OptiMonk alternative you have to try?
With Poptin, you are able to create any type of pop-ups you want and also make surveys and collect feedback from your visitors and customers.
By using Autoresponder, you can save time and send automatic emails to your subscribers.
All types of pop-ups are fully mobile optimized. Some of them are:
Lightbox

Floating bar

Top and bottom bars

Fullscreen

Slide-in

Big sidebar

Social widgets
Detailed analytics are available at all times to help you understand your visitors' behaviour and use it to your advantage.
Also, Poptin currently offers more than 40 integrations and there will be more to come in the future.
Poptin's ratings as the OptiMonk alternative
And the last, but surely not the least, here are the Poptin's ratings.
Ease of use: 4
Customization level: 5
Visual appeal: 5
Features: 5
Integrations: 5
Customer support: 5
Pricing: 5
Total: 4.9/5
Wishpond
Wishpond is a marketing platform that, among other things, also deals with creating pop-ups.
You can easily add desired pop-up windows to your website promoting special offers, subscriptions, coupons, and more.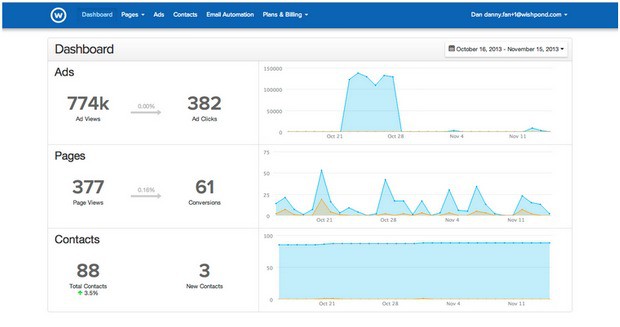 Wishpond has more than 100 templates which makes designing pop-ups much easier.
Offered features:
Drag and drop editor

Customization

Triggering options

Analytics

Integrations
Pros of Wishpond
It gives you overall statistics and information about new leads so you can create personalized email messages. You can choose whether you want to receive that information through emails or into your Slack account.
Wishpond enables you to keep track of how your pop-ups are ranked by visitors.
Wishpond has the option of disabling pop-ups on mobile devices in order to improve your website SEO rankings.
Cons of Wishpond
The main disadvantage of using Wishpond is their customer support which is often not available so if you encounter any issues, you may have to find a solution by yourself.
There are certain bugs that could be improved.
Wishpond's pricing
You can choose whether you want to use the tool yourself or hire a Wishpond marketing team. Here is the Wishpond pricing table if you decide to deal with marketing by yourself.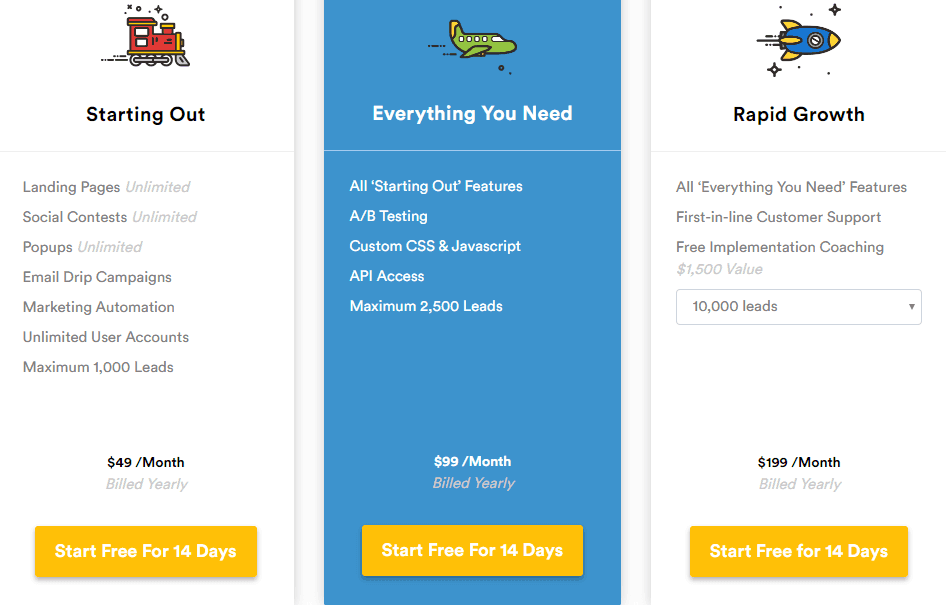 Why is Wishpond an OptiMonk alternative worth your attention?
First of all, Wishpond is an all-in-one marketing tool that, in addition to pop-ups, includes the creation of landing pages, email campaigns, and social contests.
It has many features that can help you improve your business.
Wishpond is easy to use, and it has awesomely designed templates.
A great option is that you can choose to hire a marketing team that will save you a huge amount of time so that you can focus on other tasks.

Wishpond's ratings as the OptiMonk alternative
Let's see the ratings of this OptiMonk alternative.
Ease of use: 5
Customization level: 5
Visual appeal: 5
Features: 5
Integrations: 4
Customer support: 3
Pricing: 5
Total: 4.6/5
Unbounce is another great OptiMonk alternative for creating pop-up windows, sticky bars, and landing pages.
Once you've placed the code on your website, it's even easier to add new pop-ups.
Source: Capterra
Unbounce allows you to personalize offers for every single visitor using Dynamic Text Replacement.
Offered features:
Drag and drop editor

Customization

Targeting options

A/B testing

Dynamic text replacement

Integrations
Pros of Unbounce
Unbounce offers a great number of integrations for all kinds of platforms.
You can create pop-ups and landing pages easily with very useful offered features.
Dynamic headlines are a very interesting option because you can add text that will match the searched terms by your leads.
Cons of Unbounce
If you haven't got the opportunity to use Unbounce so far, it will probably take you a while to understand how each segment of this tool works.
Analytics could be on a higher level in order to maximize its conversion rate.
Also, it should be noted that it definitely belongs to the more expensive tools of this type.
Unbounce's pricing
Unbounce has no free plan, but you can use a 14-day free trial.
Why is Unbounce another great OptiMonk alternative?
Unbounce has important features for using pop-ups so it definitely represents a great OptiMonk alternative.
You can choose who will be able to see your pop-ups and improve your lead generation.
It allows you to schedule campaigns depending on the timing and what offers you promote.
With Unbounce, you are able to set up how often and when your pop-ups would appear to your website visitors while engaging them in the right way.

Unbounce's ratings as the OptiMonk alternative
Here is how Unbounce proved itself by the set criteria.
Ease of use: 3
Customization level: 5
Visual appeal: 5
Features: 5
Integrations: 5
Customer support: 5
Pricing: 4
Total: 4.6/5
The bottom line
No matter what type of niche you are dealing with, you should make the website you use for business as interesting as possible for your visitors.
Creating a user-friendly experience is extremely important for effective lead generation.
Not only do pop-ups encourage people to take action, but they also make the website more interesting and unique.
They give you the opportunity to offer your leads more valuable content, whether it's paid or free. If you don't use them, you may lose a lot of new customers and you certainly don't want that to happen.
If you are looking for a tool that allows you a large selection of templates, customization and triggering options, analytics, and A/B testing, then Poptin is the right choice for you.
Designed to convert visitors to customers, it provides you with an all-in-one pop-up solution.
Start right away with creating pop-ups, and help your business make outstanding progress!