.The many challenges facing the business owner handling and managing an online store are endless. Each advantage available to then might bring the edge, which will make the online store lucrative or more profitable.
Popups have become a powerful marketing tool in growing email lists to boost leads and sales. For every indicator in the field of online commerce, website popups are considered one of the most utilized tools to convert online store visitors into email lists, customers, and leads.
So for those using eCommerce platforms like Ubercart, implementing website popups in their online stores gives a huge advantage.
What is Ubercart?
Ubercart is a reliable open-source eCommerce solution totally integrated with Drupal, a premier open-source content management system.
Ubercart is ideal for anyone planning to build a network or community around a product, offer access to high-quality content, sell paid file downloads, and a whole lot more. These can be done while keeping a flawless connection to your users.
Ubercart controls the perks of the major core as well as contributed systems of Drupal, giving users functionalities like a shopping cart, which includes other parts of the community or company website.
Developers are able to alter or add Ubercart features to accommodate all e-commerce needs. So, meaning you will never need to alter the source code to put in a new feature; thus, you will have an easy upgrade path as Ubercart keeps evolving to meet the needs of a continuously growing community.
Why are Ubercart Pop Ups Effective?
Are Ubercart popups very useful and reliable in increasing conversion rates? Maybe you are asking why? The answer is straightforward; science.
Here is something no one in eCommerce likes to hear; a prospect abandons sites in droves, and nearly everyone will never go back.
There are a lot of reasons why prospects leave and never go back; your offer does not influence them. They are not the best fit, and they are rushed and distracted.
Despite the why's, it does not take an expert to show and indicate that re-engaging discarding visitors could drastically enhance your conversion rates. This is where a new friend called popups comes in.
These Ubercart pop ups offer a second opportunity for the prospects to convert. By concentrating the visitors' attention on only one timely, relevant as well as useful offer, your chance of conversion goes through the roof.
Here is a good example:
Upon seeing the shipping costs related to their order, a prospect might opt to abandon the sale. Putting an exit-intent popup into practice that provides a deal on delivery could avoid cart abandonment and close the sale.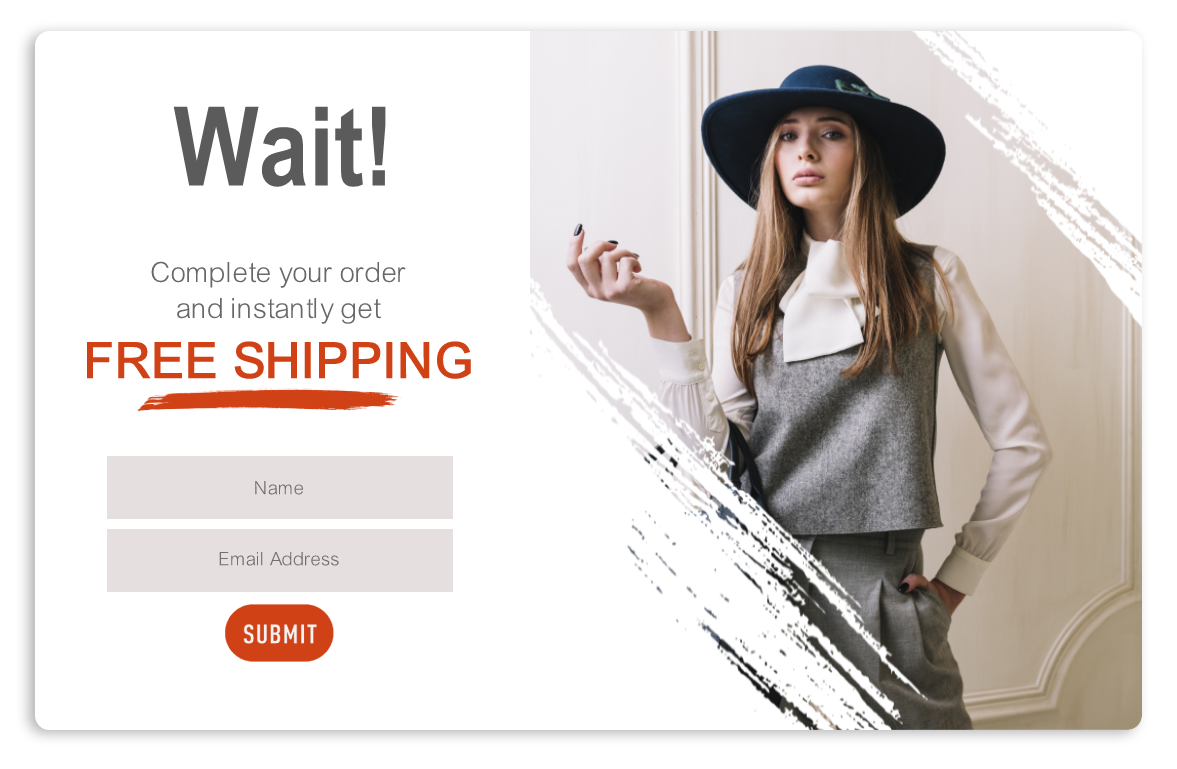 However, why do discarding users change their decisions? Let's go back to the science:
1. Popups offset the inconsistency of choice
Consider the soap section of the grocery store. There are whitening soap, soap for oily skin, soap with specific scents like lemon, lavender etch. With eCommerce, customers encounter the same overload of choices. They come in the type of many links, buttons, and messages calling out for the visitors' attention.
When customers can't decide, they leave. It seems that while human beings are empowered by a bit of options, too many choices can lead to analysis paralysis.
Barry Schwartz, a renowned author, further shows this in his book. He talks about the negative psychological effect a plentiful of an option can have on our wellbeing and how getting rid of options can assists lessen anxiety and stress. Easing anxiety employing getting rid of choices, then, is vital to making a sale.
It's because of this that landing pages are very efficient in converting targeted traffic. By keeping the 1:1 Attention Ratio, landing pages concentrates a visitor's attention on one conversion objective, leading to a high conversion rate than a landing page on your site.
However, what about those web pages- should not they be optimized, too? Absolutely yes!
Ubercart pop ups take on the responsibility of a useful and helpful salesman, tapping the client on the shoulder and asking if he or she can be of help. They break down the visitors' attention on one enticing offer and make the decision-making process easier for potential customers.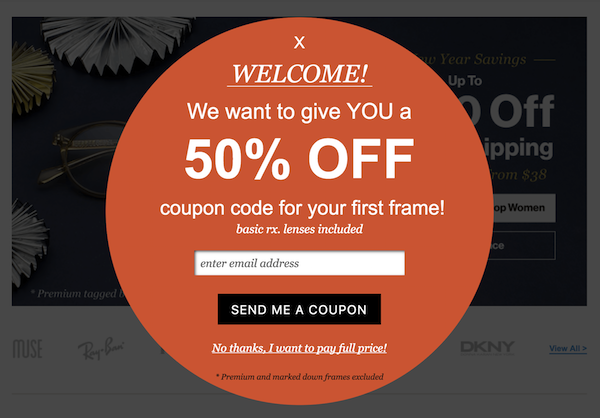 Ubercart pop ups are efficient for the same reason landing pages are efficient; they get rid of distractions, offer the user with last chance, and distill the option down to a simple yes or no reply.
2. Pop ups re-engage potential clients by making use of neuro-linguistic programming methods known as a pattern interrupt.
Pattern interrupt refers to neuro-linguistic programming (NLP) technique that has been utilized by salespeople for many years now. The idea is easy and simple; say or do something unexpected to disrupt an individual from the normal patterns.
Through disrupting patterns, we make moments for change; that is why many people use the method for breaking bad habits. Even something as easy as hitting an elastic band against the wrist can assist interrupt the irregular pattern.
The same logic drives pop-ups. Unexpectedly, they show visitors an offer, which sweetens the pot, inducing them to think twice on their knowable path toward the Back button.
In essence, you are making use of the pop-up much like you would the rubber band to obtain the visitors' attention and then concentrate on something else like an unforeseen deal associated with what they're were looking at initially.
3. Pop ups leverage efficient frequency through repeating as well as fortifying the message:
Efficient frequency is the many time's prospects should be shown a specific message prior to taking the needed action. There are different theories on the highest number of times to display a message; for instance, the law of seven suggests that it is well, seven. No matter what the case is, it is always more than once.
Pop-ups leverage efficient frequency by offering you an extra chance to serve up and, as a result, fortify the message. By utilizing a pop-up with the same messaging to a web page, you are nudging the prospect to become a regular client.
Pop-ups don't work as they are the best new thing; instead, they work as scientific- and specifically psychological, codes and standards are at play.
There are lots of tools that help you make Ubercart Pop-Ups, but the most reliable and dependable one is the Poptin.
What is Poptin, by the way? Well, it is a reliable lead capture platform, which cans assists you convert more prospects into regular clients. With this tool, you can make unlimited popups and widgets to turn more of the visitors into subscribers, leads, calls, and sales.
Why Consider Poptin?
With Poptin, you can make well-made Ubercart pop ups in just a minute. It is equipped with an interface that is easy to comprehend. Even if you don't have experience in the layout, you can develop a remarkable design here.
Once you open the app, all the choices for customization are well-laid out accordingly. You are able to set fonts, colors, sizes, and many others. You can also add and edit elements like videos, images, fields, countdown timer, coupons, and others based on your choice and preference.
Poptin has an apparent call to action, a clean field and image, and a countdown timer to make sense of urgency. You are able to make this in just five minutes. 
Worry no more about targeting the right client for your Ubercart pop ups as it has a long list of targeting choices such as: 
Countries

Specified dates

Time of the day

Search engines

Traffic sources

Social networks
In only a few clicks, you are able to implement the pop-ups and be comfortable that the target audience can view the campaigns. 
If you don't have an account yet, sign up with Poptin now for FREE!
What More to Expect?
With Poptin, you can surveys, get feedback, and provide visitors another content item they'll be fascinated by.
This enhances subscription rates to many times display at the best time and moment. 
Serve visitors pertinent offers based on their exceptional behavior as well as significantly boost conversion rates. 
How to Install Poptin on your Ubercart Website 
It is easy to install Poptin on your Ubercart website. 
Since Poptin is listed in Drupal's marketplace and partner apps, it's a lot easier to install Poptin on your Ubercart website. Click here.
And that's it! Poptin is now installed on your Ubercart account. When you have engaging popups and embedded forms, you can convert additional visitors into leads, subscribers, as well as sales.
Benefits of Connecting Poptin with Ubercart
There are lots of perks of connecting Poptin with Ubercart. Some of these are listed below:
Reduce cart abandonment

Make a lasting impression on first-time visitors (by surprising them with exclusive first-time visitor coupons, discounts, and more)

You can convert the right audience based on targeting rules

Collect more leads and subscribers
Conclusion
Pop-ups have become extensively utilized over the previous years, and e-commerce sites that understood the possibility of making use of Ubercart pop ups rightly managed to boost conversion rates considerably.
Ubercart pop ups are a remarkable way of conveying the message to the visitors. They utilize the popups to provide something relevant in accordance with the type of visitor and their behavior on the site.
Want to start creating Ubercart pop ups? Sign up with Poptin now for FREE!