Bounce rates are bad for business, but there are ways to reduce or prevent them. Generally, people leave your site without viewing anything or buying. An easy way around that is to create website popups that make people want to sign up or buy something.
There are so many options out there for creating pop-ups. You should consider the many Unbounce alternatives if you want a popup builder that's easy to use and offers exit-intent popups, discount popups, or countdown popups.
What Is Unbounce?
With so many landing page builders out there, it's hard to know which one to pick. However, Unbounce is primarily a conversion-driven platform. The goal of landing pages and pop ups is to convert your visitors into leads or customers, and the software is specifically built for that.
However, you may have considered it and found that the form builder lacks features. Others might be unhappy that they can't split-test existing pages outside of the platform. Regardless, there are plenty of Unbounce alternatives to use instead. Here are some of the top ones for pop-ups and other requirements:
Best Unbounce Alternatives
Poptin is an excellent popup builder. This feature-rich plugin offers everything you need to create pop-ups that wow the crowd. This is helpful if you're trying to reduce bounce rates and see more conversions.

You can create more than pop ups here. Widgets, overlays, and forms are all included. Plus, the drag-and-drop interface makes it so much easier for you to organize the message and get it on your website quickly.
The features included with Poptin are plentiful and include:
Templates
Drag-and-drop editor
Trigger logic options (time on site, page-based, click-based, and more)
Various customizable popups (countdown popups, slider, exit-intent popups, full-page options, discount popups, and more)
Tons of integrations (Zapier, Nutshell, Hubspot, iContact, Constant Contact, etc.)
Manage all your accounts
Built-in analytics
Autoresponders
Smart tags
Conversion codes
List segmentation
Many ways to target (date/time, title tag, JavaScript, OS/browsers, geo-location, traffic source, etc.)
Pricing
Poptin prices focus primarily on how many visitors you see on your page each month, so it scales effortlessly.
Free – 1,000 visitors/one domain
Basic – $19 a month for 10,000 visitors/one domain
Pro – $49 a month for 50,000 visitors/four domains
Agency – $99 a month for 150,000 visitors/unlimited domains
Pros:
Quick to respond to questions/issues
Great template designs
Easy to edit
Cons:
Could have a few glitches here and there
The reviews for Poptin are relatively positive, making this one of the best Unbounce alternatives. Most people say it's a go-to for them when they're building their WordPress site. You can create amazing pop-ups with ease, and it's user-friendly with great analytical tools.
Others find it confusing that you configure the tool online instead of within the WordPress platform. Still, with a bit of a learning curve, it's a great solution to help you create website popups and prevent high bounce rates.
Socital
Socital is a SaaS platform offering unique tools for data collection, conversions, reduced bounce rates, and targeted recommendations. Many companies already use it, making it a top choice to create website popups easily.

It offers various features, such as:
A/B testing
Account-based marketing
Abandoned cart reductions
Business card or badge scanning
Behavioral targeting
Customer profiles
Contextual targeting
Segmentation
Analytics
Lead nurturing and distributions
Pricing
The pricing is primarily based on how many page views you have, but there are a few other perks as you pay more.
Accelerate – £19 a month for 10,000 page views
Growth – £39 a month for 20,000 page views
Pro – £79 a month for 100,000 page views
Corporate – Custom pricing based on your needs
Pros:
Great support
Easy to manage everything
Can create different pop ups, such as countdown popups and more
Cons:
Can't manage different campaigns for various clients
Most of the reviews are positive for Socital, claiming that the customer service is great. With that, it's easy to set up.
However, others have said that it could have better features, such as split-testing.
Popconvert
As with other Unbounce alternatives, Popconvert is cloud-based software to help you build pop-ups. Since it offers segmentation, you can put leads into groups and optimize campaigns.

There are plenty of features to enjoy, such as:
Widgets
Third-party integrations
Template management
Search and filter
Lead verification and segmentation
Lead generation/capture/distribution
Gamification popups
Discount popups
Data import/export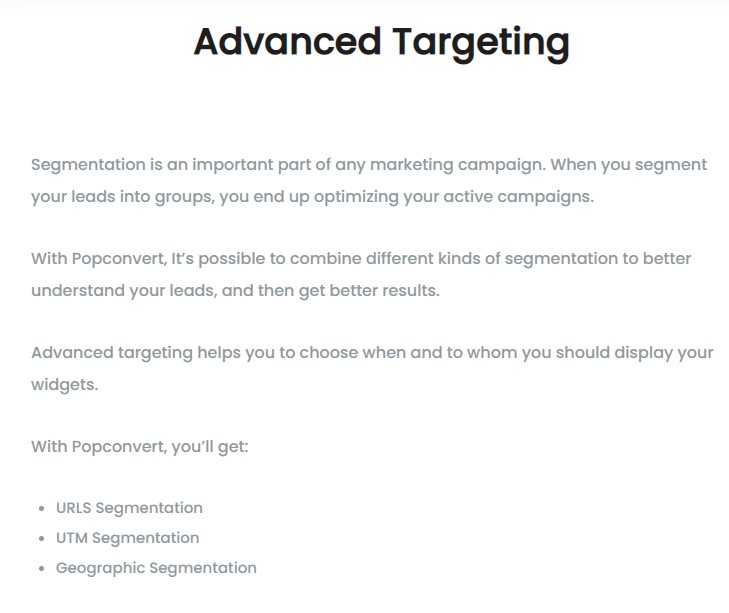 Pricing
Popconvert offers a seven-day trial. There are four plans available, but you can't find prices unless you click "read more" and request a demo.
Pros:
Qualified leads
Can create website popups effortlessly
Cons:
Too similar to other options on the market
Most positive reviews focus on how the app is easy to use for basic pop ups. However, it doesn't offer exit-intent popups because the technology isn't there.
The app looks modern and is easy to use. With that, though, some people have sign-in issues once they pay for the service.
Popupsmart
With Popupsmart, you get a popup builder that helps you generate leads and grow your company. It doesn't mention anything about bounce rates, but it does promote itself as producing more conversions.
You're sure to appreciate the features available, including:
Mobile-friendly
Analytics
Great customer support
Google Analytics
Integrations
Various popups available (exit-intent, countdown, discount, etc.)

Pricing
The prices are solely based on how many page views you have.
Free – 5,000 page views, one website, and one popup
Basic – 100,000 page views, unlimited sites, and pop ups for $29
Pro – 500,000 page views, unlimited sites, and pop-ups for $79
Expert – 1,000,000 page views, unlimited sites, and pop ups for $129
Pros:
Mobile-friendly
Doesn't require Shopify app
No coding necessary
GDPR ready
Uses AI
55 templates for pop-ups
22 targeting options
Cons:
Hard to migrate from another tool
Most of the reviewers claim that this tool is easy to use and works on mobile devices. However, others feel that the dashboard is too simplified.
Growmatik
Growmatik is primarily a marketing automation tool designed for WooCommerce and WordPress. With it, you can segment and analyze customers using pop-ups, emails, and personalized website content.
Its features include:
View web analytics
Create personalized content
Use automations tab to set up rules
Create personalized pages
Display various pop ups (offers exit-intent popups)
Drag and drop editor
Send emails
Plenty of integrations

Pricing
The payment plan is based on how many contacts and visits you have each month. However, it starts at $10 a month.
Pros:
Multi-channel marketing (not just pop-ups)
Great functionality and flexibility
Easy to use
Cons:
Installation issues possible
Could have better features
It was challenging to find reviews about Growmatik. However, one person said it was an excellent centralized solution with tons of flexibility.
One issue was related to installation and onboarding. Another person complained that it needed more features.
Ninja Popups
Ninja Popups is designed specifically for WordPress. It's a list-building plugin that helps you create user-friendly pop-up opt-ins with lightbox overlays.
There are plenty of features to like, such as:
Drag and drop builder
Various integrations and templates
Compatible with WooCommerce and WordPress
Detailed analytics
A/B testing
Conversion metrics
Page-level targeting
Works with social networks
Includes optimized graphics
Animations
Pricing
A regular license for Ninja Popups costs $24, and it comes with future updates. You can also get support or extend it for $7.13.
Pros:
Great support
Includes exit-intent popups
Cons:
Has man bugs
Not user-friendly
Many of the positive reviews focus solely on how nice customer support agents were.
Most people found that Ninja Popups didn't do what it promised. There were many user issues, and some reviewers could never get the plugin to work properly.
Some people even claimed that there wasn't much flexibility for the designs and templates.
Wisepops
With Wisepops, you can easily achieve your marketing goals with a few clicks. Announce new products, capture emails, and use seasonal marketing tactics with well-designed pop ups.
Here are just some of the features to enjoy:
Visitor tracking
Segmentation
Sales analytics
Search marketing
Lead management
Landing page/web forms builder
Email marketing
Dynamic content
Drip campaigns
Customizable calls to action
Conversion tracking
A/B testing
ROI and analytics tracking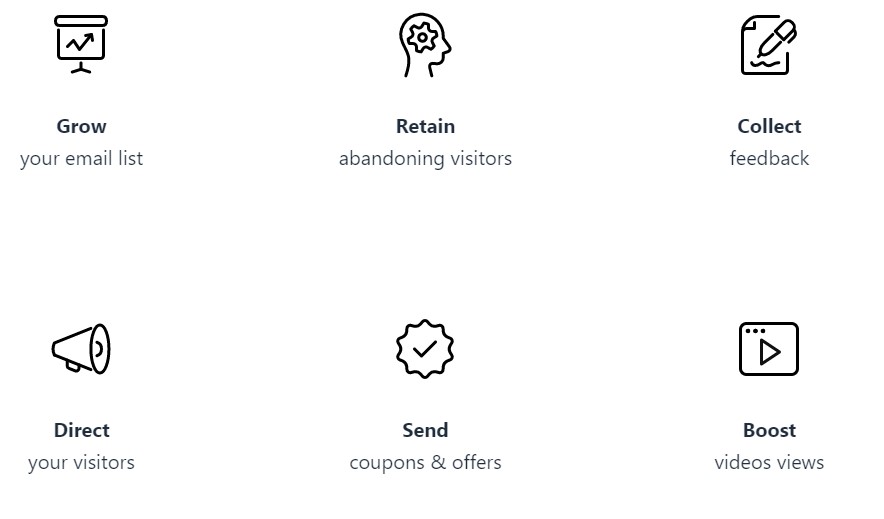 Pricing
The price structure focuses primarily on how many page views you have:
$49 a month for 100,000 page views
$99 a month for 250,000 page views
$149 a month for 500,000 page views
$249 a month for 1,000,000 page views
Enterprise starting at $250 a month
Pros:
Create website popups easily
Various targeting options
Advanced analytics
Cons:
Slightly higher prices than other Unbounce alternatives
With many positive reviews, most people claim that it's easy to use and has many features. You also have access to a great support team.
However, most of the complaints were about the pricing option. It's based on page views instead of how many times the pop-ups appear.
Conclusion
It's important to have a popup builder for your website. Most of them have the same features. Ultimately, you want Unbounce alternatives that do more than just reduce bounce rates.
Poptin has everything you need to convert customers, prevent bounces, and much more. With its exit-intent popups, discount popups, and countdown popups, you can do almost anything.

Are you ready to create website popups? Sign up for free to use Poptin now!