Emails are a great communication method, but they only work effectively when they're boosting conversions. You send them to potential customers with the hope that they buy something from you.
With so many email marketing solutions out there, it's tough to know which one to pick. These nine Vision6 alternatives are the top in the industry. Read about them to decide on the right software for you.
1. Constant Contact
Whenever email marketing is a concern, most people want an all-in-one solution. Vision6 alternatives like Constant Contact helps with advertising and includes more functionality.
Features
It's possible to create emails like a pro, and the features are easy to use. This includes the drag-and-drop editor to customize emails that stand out, regardless of the device.
Automations are also available and include list-building tools, triggered emails, and a welcome series. You can even resend emails that never got open and segment the contact list based on your preferences.
Pros:
Intuitive interface

Community support

Advanced contact management
Cons:
Few segmentation choices

Basic landing pages
Pricing
The Email plan is $20 a month based on your contact list. You get many features, including customized templates, reporting, A/B testing, e-commerce marketing solutions, and many more.
There is also the Email Plus plan at $45 a month based on the contact list. You get the features from the first plan, but you also get popup forms, dynamic content, 10 users, and more.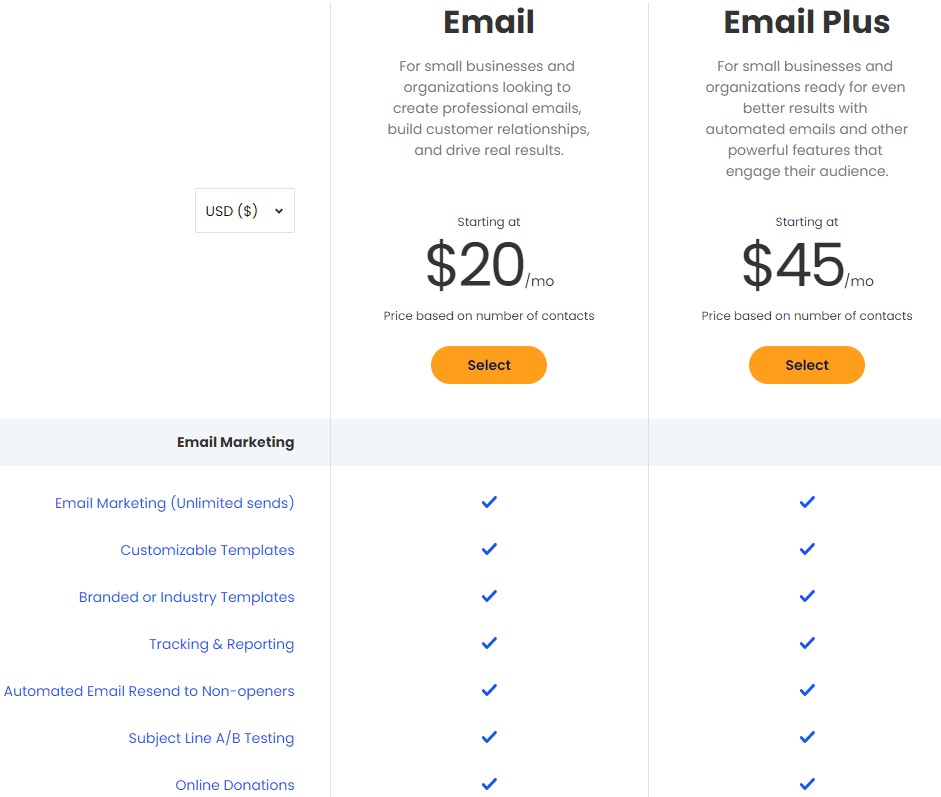 Who Is This For?
Constant Contact is suitable for beginners and advanced marketers because it has the features you crave and is easy to use.
2. Mailjet
When focused on Vision6 alternatives, Mailjet might be the midmarket solution you crave. It's functional enough to be viable, and it doesn't cost all that much.

Features
It's easy to create emails with the many templates available. You also have access to the drag-and-drop editor, a collaboration toolkit, and it's easy to personalize everything.
Management is also easy because you have segmentation functionality, subscription forms, and multiple users (on the higher paid plans). Email automation, A/B testing, and more are also available for the right price.

Pros:
Guide for setup

Transactional templates

Collaborative editing available
Cons:
Limited autoresponders

Lack of segmentation features
Pricing
The forever-free plan is available to everyone, and you can send 200 emails a day and 6,000 a month. You can have unlimited contacts, have advanced statistics, and an email editor, as well as SMTP relay, APIs, and Webhooks.
Basic is next at $9.65 a month for 30,000 emails a month and unlimited sends per day. You get the free plan's features, and the Mailjet logo is removed.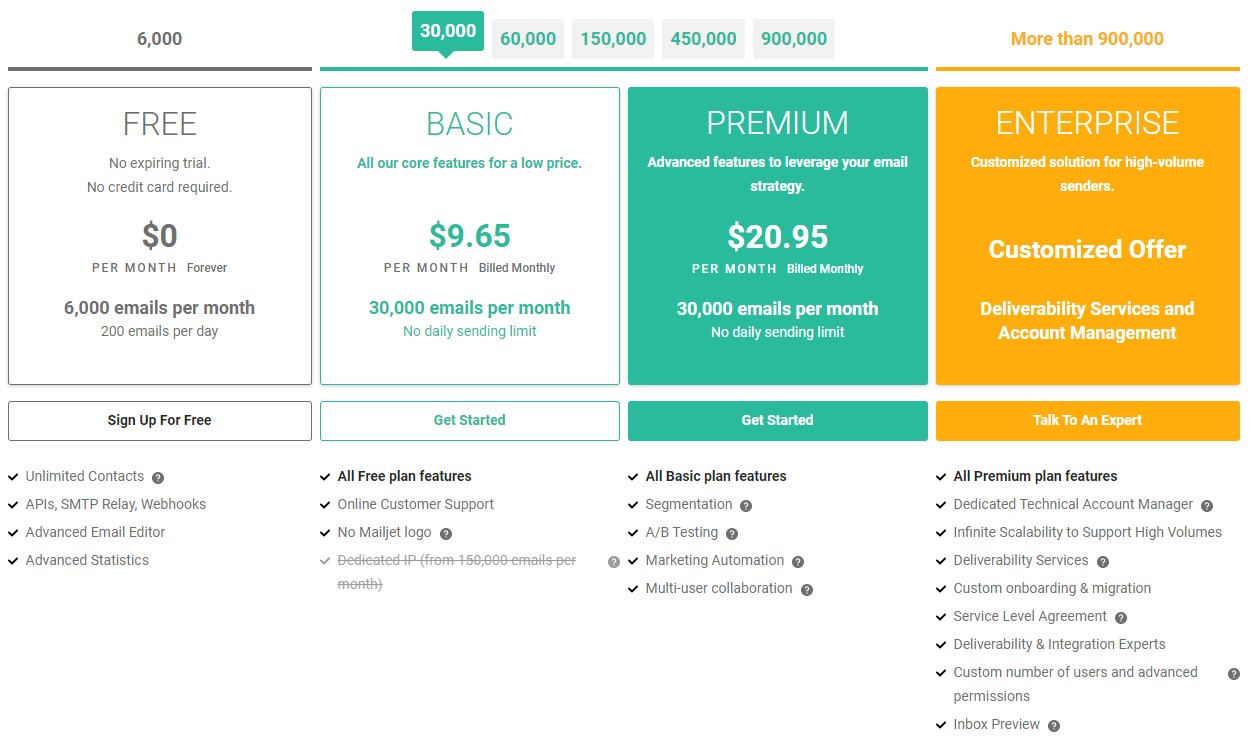 Premium is $20.95 a month for 30,000 emails a month with unlimited sends per day. With it, you get everything from Basic plus A/B testing, segmentation, multi-user collaboration, and marketing automation.
Enterprise is the last option, and it has a custom price based on your needs. You get every feature, including an SLA, deliverability services, migration help, and more.
Who Is This For?
Mailjet is a different type of email marketing software and doesn't fit into a specific niche. It's most suitable for small companies with a large budget, but it can work for experienced marketers who don't need advanced functionality.
Good read: Mailjet Alternatives That Will Take Your Email Marketing to the Next Level
3. Campaign Monitor
Campaign Monitor is a great choice for beginners and more experienced marketers. You have a well-organized interface, amazing functionality, and it's easy to use.
Features
There are hundreds of templates to choose from, but you can always customize the email with the drag-and-drop feature. Depending on the plan you choose, a countdown timer adds FOMO, and you can customize all aspects of the email. 
We like that automations are included, so you can tailor the journey to the customer. Send emails at exactly the right moment for them to buy.
Pros:
Help with autoresponders

Easy to use navigation

Transactional emails
Cons:
No landing page builder

Only basic segmentation
Pricing
With Campaign Monitor, you have Basic, which is $9 a month for 500 contacts and 2,500 emails. You also get link review, marketing automation, insight analytics, and more.
Unlimited is next at $29 a month for 500 contacts and no end to how many emails you send. You get the same benefits as Basic, but you have access to time-zone sending, spam testing, and others.
Premier is only $149 a month for 500 contacts. You get the same features as with Unlimited. Plus, there is also send-time optimization, engagement segments, and a countdown timer.
Who Is This For?
Campaign Monitor is ideal for all types of marketers, though it is focused more on e-commerce companies.
4. Mailerlite
Most people don't care about the software looking pretty, and Mailerlite is a great example. This email marketing tool is solid and does everything it can to make sending electronic mail that much easier.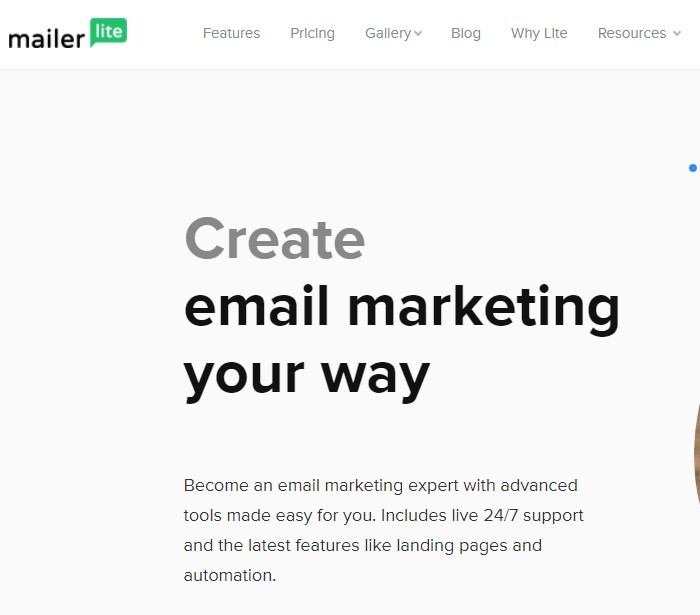 Features
There are countless features on Mailerlite. Most Vision6 alternatives don't have as many. For example, you can create campaigns with the HTML editor, drag-and-drop editor, and through templates. You've also got e-commerce campaigns and mobile-friendly options.
Integrations are included, and you can track your results. Grow subscribers easily with the various forms, and make a great website.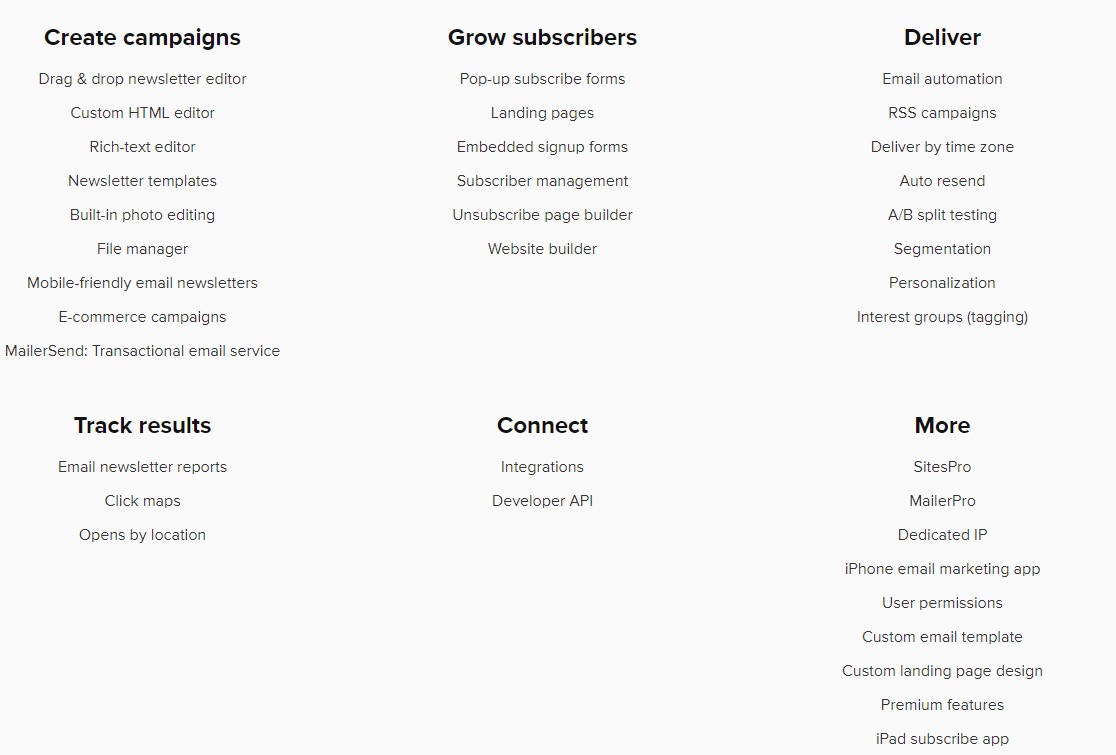 Pros:
Easy explanations of advanced features

Granular segmentation

Easy to use
Cons:
Dated interface

Few email templates
Pricing
The price you pay is based on how many subscribers you have. It is $10 a month for 1,000, $15 a month for 2,500, $30 a month for 5,000, and $50 a month for 10,000 contacts.
There's also a free version that allows for 1,000 subscribers and 12,000 emails a month.
Who Is This For?
Mailerlite features a step-by-step, guided approach to email marketing, making it suitable for beginners. Plus, it has advanced features for bigger companies.
Good read: 5 Best Mailerlite Alternatives That Will Surprise You
5. Drip
Drip is the top CRM with email marketing capabilities, so it outruns most of the other Vision6 alternatives listed here. There's plenty to like about it, but there are also a few downfalls.
Features
It's easy to grow your list of contacts and improve your email marketing endeavors with Drip. There are plenty of forms and lead ads that can attract customers. Plus, you can send emails easily. Create what you want and then increase engagement with A/B testing. This ensures that everyone gets the email they like most.
You can also find out who your top customers are so that you can reward them. Automations are available to guide the potential customer to purchase items and ensure that they remain loyal to you.
Pros:
CRM for e-commerce

Great integrations

Strong automations
Cons:
Needs better templates

Buggy platform
Pricing
If you have 500 contacts, the cost is $19. You can also pay $15 a month to send 1,000 SMS messages. 
Who Is This For?
Drip is for e-commerce store owners and others who want to promote sales online.
Good read: 5 Drip Alternatives (Free and Paid Options)
6. UniSender
UniSender is one of the most unique Vision6 alternatives because it's a basic email sending tool. It can also help you send SMS messages and features great email layouts. However, it's simple to use!
Features
You're going to like the many pre-built templates that help you send mass emails quickly. You can also personalize the experience, send emails to different devices, and proofread everything as you go.
Popup forms are available, so you can create them and put them on your website. Plus, A/B testing is included, so you can determine which email worked best and figure out why.
Pros:
Archived APIs

PHP library

Webhooks updates included
Cons:
Needs improved forms and formats

Flexibility necessary and more customization
Pricing
With UniSender, the pricing structure is straightforward. You get all the features regardless of the plan you choose.
For a list size of 500, Light is $10 a month, and you can send unlimited emails. Standard is $12 and also offers ways to improve deliverability. Premium is $112 a month and features all-in-one campaign management.
Who Is This For?
UniSender isn't a flamboyant email marketing tool, and it's designed primarily for those who want to churn out emails quickly. Bloggers and content creators are sure to appreciate it.
7. TotalSend
TotalSend can help you with web push notifications, transactional emails, and SMS messaging. If you've got high volumes and multiple channels, this is the solution for you.
Features
It's slightly confusing to figure out the features at first. However, TotalSend has an image library and templates so that you can customize the message to your liking.
There is also A/B testing available to find out which email customers like most. You also have subscriber management tools, autoresponders, and more.
Pros:
Payment flexibility and free trial

Personal account manager available

Knowledge base for help
Cons:
Uploading issues

Not as easy to use as other Vision6 alternatives
Pricing
The pricing structure for TotalSend is a bit different than for other email marketing tools. For SMS pricing, you pay 0.27 Rupees for 1,000 texts, and the price goes down slightly when you send more.
There's also a separate charge for shortcodes and keywords. It costs 3500 Rupees to set it all up and 999 Rupees for the line rental.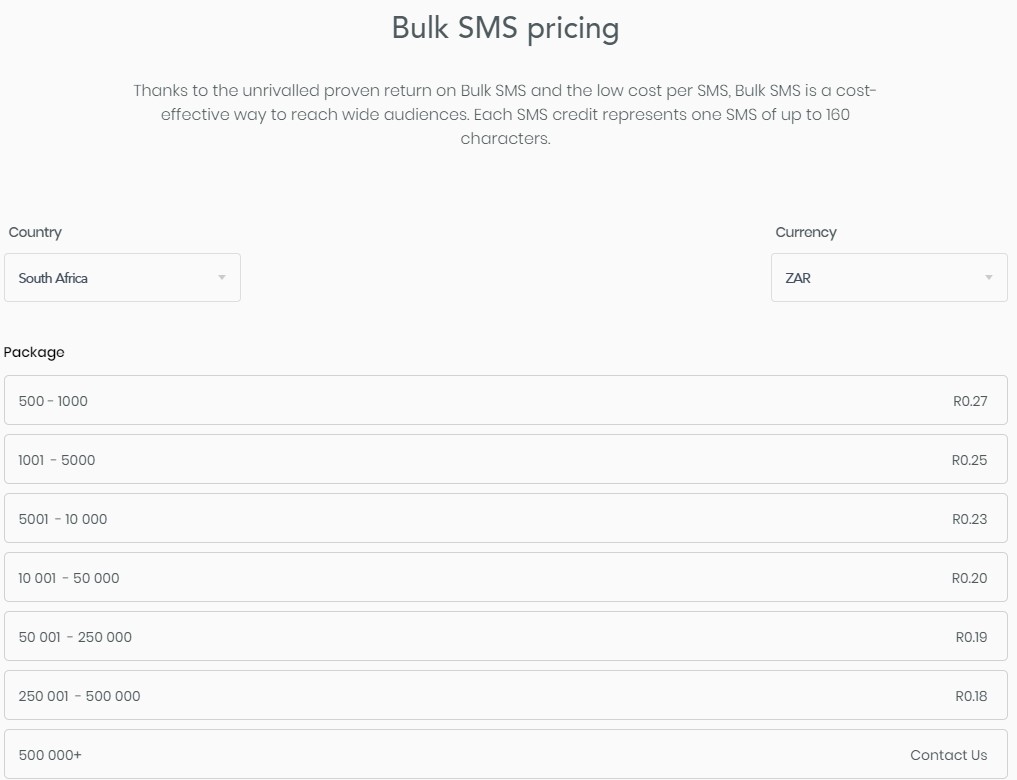 Who Is This For?
TotalSend is designed for marketing products, so it works for startups and established enterprises outside the US.
8. Sendfox
Sendfox is a project from AppSumo. The group wanted to create an affordable and simple email marketing service, and it has achieved its goal!
Features
At first glance, it's hard to tell what features Sendfox offers. However, you quickly learn that it does have some templates, though they're hard to manage. Subscriber management is also available, so you know which people get what email. 
You've also got reporting and analytics to help you assess your campaign to find out how well it did. If that weren't enough, you have access to drip campaigns, event-triggered mail, landing pages, and A/B testing.
Pros:
Clean user interface

Organize it all your way

Affordable
Cons:
No templates library

No direct send button
Pricing
With Sendfox, the prices get a little confusing. There's a Free plan, which allows you to have 1,000 contacts and a throttled (unknown) amount of email sends. You have the Sendfox branding, there's no HTML editor, and you have the normal sending server.
The Lifetime plan is $49 as a single payment forever and has unlimited email sends. You can have 5,000 contacts and get a better sending server. There is less branding but still some.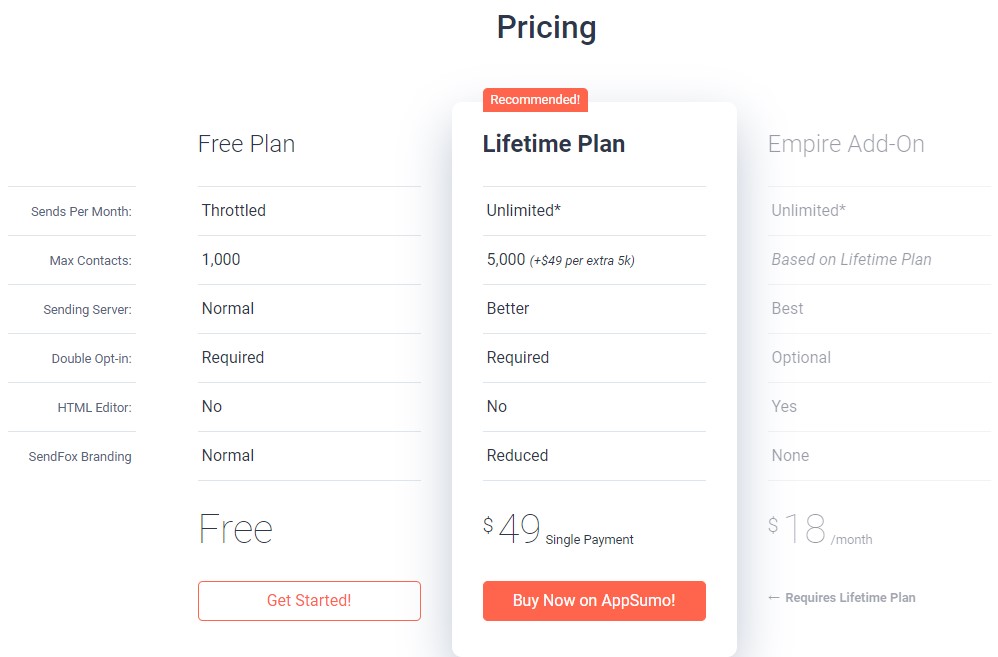 With the Empire Add on and the Lifetime plan, you pay $18 a month to remove the Sendfox branding, have an HTML editor, and the best sending server.
Who Is This For?
Primarily, Sendfox is suitable for content creators and was made especially for this group of marketers.
Good read: 6 Standout Sendfox Alternatives For Your Email Campaigns
9. Sendlane
Sendlane is primarily a data-driven platform for email marketing that's ready for enterprises. It helps you personalize all of your interactions and grows with you.
Features
We like that you can automate your emails and send them based on targeted behaviors. Machine learning is used to do this, so you don't have to try to figure out the right time to approach the contact.
Plus, there is multivariable segmentation included. You can find individual contacts who are interested in the company. It's easier to decide how to approach them with this micro-targeting technique.
Pros:
Landing page editor

Modern design

Advanced automations
Cons:
Few integrations

Can't instantly migrate
Pricing
Growth is the first plan available, and it costs $99 a month for 5,000 contacts. You get most of the features that other Vision6 alternatives have to offer.
Pro is next at $249 a month for 10,000 contacts. With it, you get the same features from Growth, but you also have SMS marketing, multi-user access, and a dedicated account manager.
There's also a special plan that costs $497 as a one-time payment. You get online courses and six months with the Growth plan.
Who Is This For?
Sendlane is ideal for e-commerce companies and digital marketers. However, anyone can use it if they want to create transactional emails that stand apart.
Good read: 4 Sendlane Alternatives and Why You Should Switch
Conclusion
Growing your conversions is much easier when you have the right tools. Email marketing tools are the top choice because it's an effective way to keep everything organized.
You've just read about the top nine Vision6 alternatives. It should now be easy to determine which option is right for you. Try one out with the free trial and learn how effortless it can be to send emails!