If you are serious about putting up your own business, leaving things by chance is never an option.
When people visit your website, logically, it means that they're interested in what you have to offer them. If you neglect to follow their behavior on your website, you can lose more than your patience and hard work.
By monitoring your visitor's behavior, you can make your business grow tremendously.
To do that, here are the items that you need to find out to better analyze your visitors and further improve your business in general.
How much time they spend on the website

What they click on

Where do they come from

What are they doing on the website

Their contact information
Contact information lets you get in touch with your hottest leads and turn them into loyal customers.
Since it is almost impossible to do it manually, there are advanced tools today that play a big role in monitoring your target group's behavior way faster— they're called website visitor tracking software.
In this article, we will present you with the 6 best website visitor tracking software to help you choose the one that would suit your needs best and unleash your website's full potential!
LeadFeeder is another popular tool for B2B marketers, agencies, and sales teams.
After discovering which companies visited your website, this website visitor tracking software sorts them hierarchically by what they were doing on your website.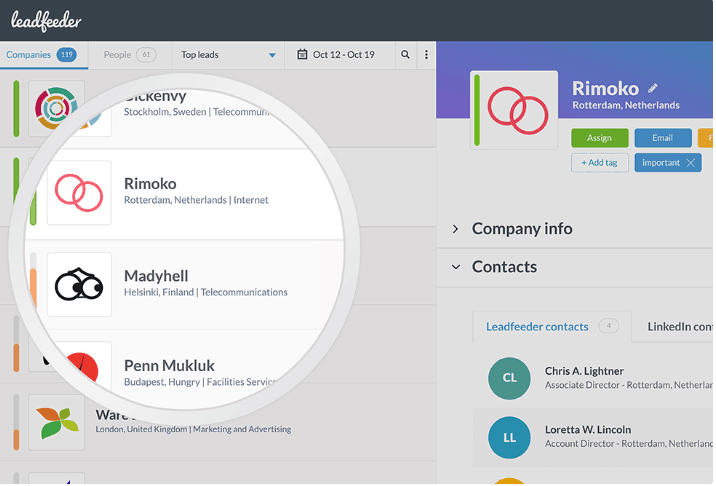 Knowing what interests them and what your leads need, you can make much better sales pitches that will gain their trust.
Like other tools of this type, LeadFeeder also allows you to improve your content using the insights about what visitors best interact with so that it fully meets the desires of your target audience.
Whenever a qualified lead visits your website you will be notified, and thanks to integrations, you can also quickly notify the rest of your team.
The advantage is that you can separate relevant companies from those that do not fit into your most qualified leads so that your focus is always on those who are interested in your business the most.

It also removes bots, ISPs, as well as any irrelevant leads that can only waste your time.
Pricing: LeadFeeder has a very simple payment method. You can choose between a free and paid version.
Leadworx
Leadworx helps you collect the contact information of your website visitors and prevents your leads from losing interest in you.
This website visitor tracking software is primarily intended for B2B website owners who want to find out which companies generally visit their website.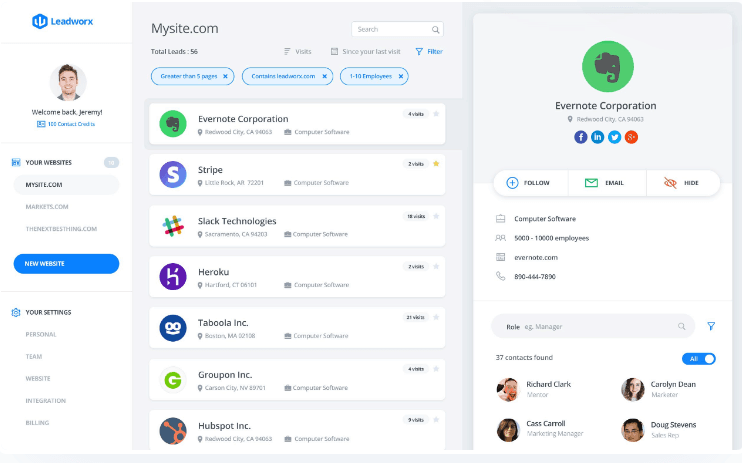 The great thing about Leadworx is that you can find out who your website visitors are even if they search your website anonymously. Therefore, you will know to whom to offer your services in particular.
If you are a sales or marketing major, Leadworx will be a great option for you because of its capabilities.
Some of the things Leadworx allows you to do are:
Add leads to your current CRM

Automate campaigns and send personalized emails

Receive real-time notifications

Automate LinkedIn outreach

Personalize your website according to your visitors

Enrich your Google Analytics data
In doing so, you can search for visitors by category. For example, if you want to see all the visitors with the CEO title, you will get a list of all the people in that position who have visited your website.
You don't need developer engagement to use Leadworx, as it is enough to sign up and copy the simple code you will insert into your website.
Pricing: You can choose between three paid packages, starting from $119 per month. There is also an Enterprise package.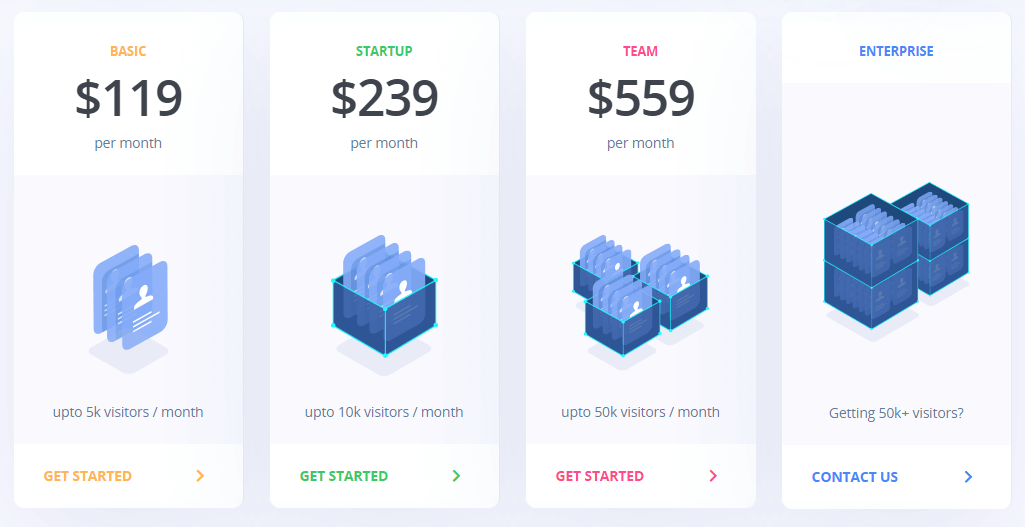 Albacross
Albacross is another website visitor tracking software designed primarily for small and medium businesses.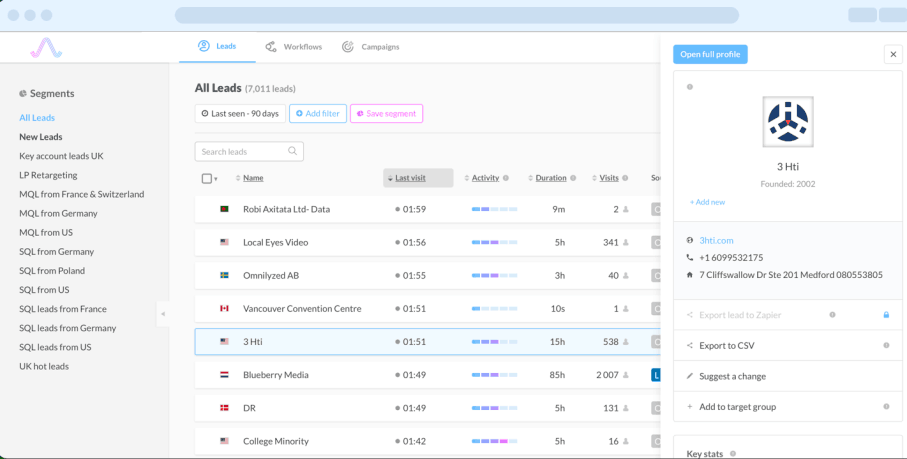 It offers solutions for:
It shows you all of your leads that did not leave their contact information. It then filters the most qualified ones by pushing them further through your sales funnel. Finally, it provides you with their details so you can contact them and turn them into loyal customers.
For each company that visited your website, you can create a unique personalized experience. This way, you can significantly increase your conversion rates.
Account-based marketing is a strategy that aims to increase ROI. With it, you can target specific leads by category, deliver relevant ads, and measure campaign performance.
Pricing: Albacross offers a 14-day free trial, and eventually you can upgrade to some of the three paid plans starting from $40 per month.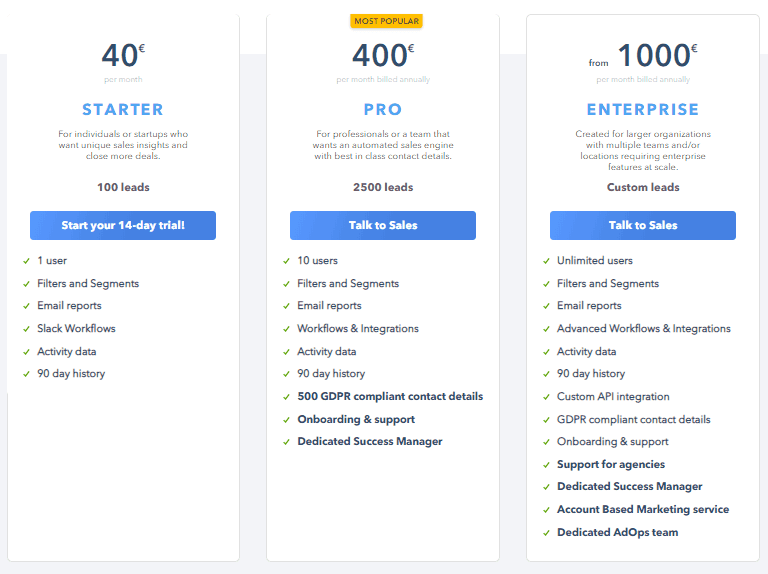 Clearbit
Clearbit helps you understand your visitors and it personalizes every segment of your website to deliver a better user experience.
This tool will even notify you when your visitors change their job positions.
It will show you companies and employees attributes such as:
Location

Website

Employee count

Used technologies

Industry classification

Raise

Job roles

Seniority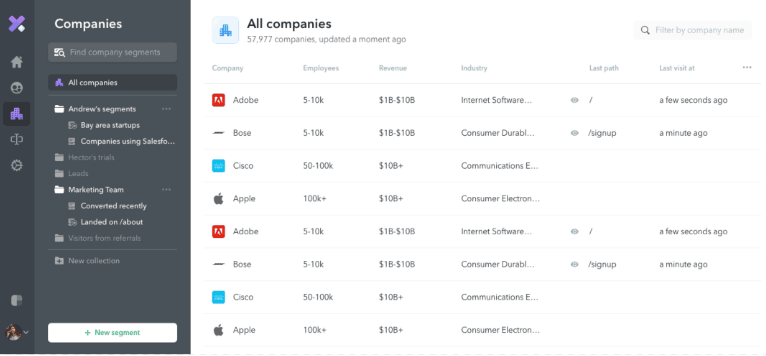 Knowing this information, your future customers are not just a number but real companies and people with real-time data.
It has over 85 unique data fields, so you can select the one you need the most.
Clearbit also makes reports on your leads to make the most effective use of the data it collects for you. With more detailed information, you will be able to target your desired audience more easily.
This tool includes a feature called Clearbit Prospector. It helps you generate the most important accounts and leads for your business.
Pricing: Clearbit doesn't have the usual charge, but it depends on what you want to achieve with this tool. Based on that, their team calculates the price.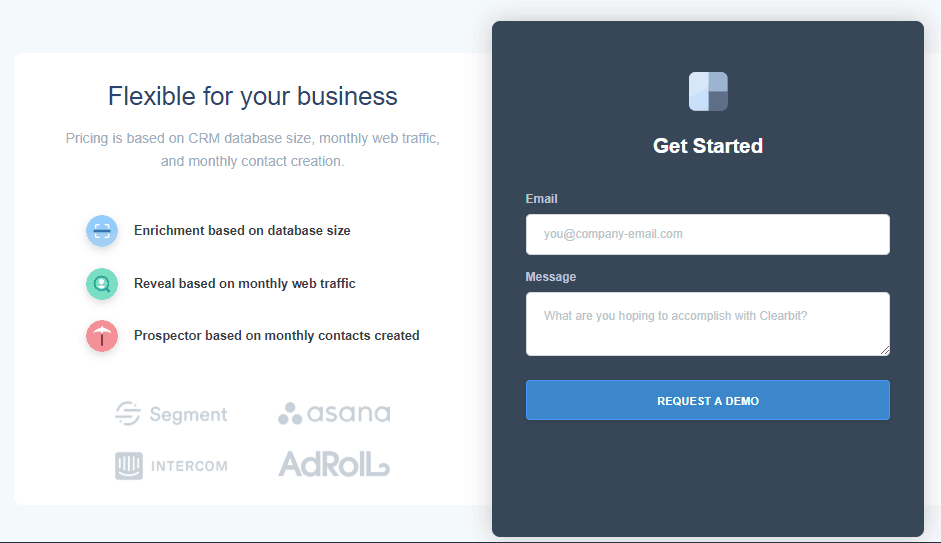 VisitorTrack (NetFactor)
VisitorTrack is also one of the best website visitor tracking software to help you find out who your visitors are and what they usually do when they spend time on your website.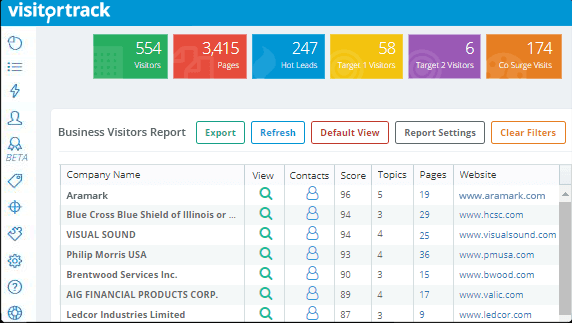 By collecting phone numbers and email addresses, it allows you to get in touch with companies that are interested in your business.
Some of the VisitorTrack features are:
Deep behavioral insights

B2B buyer intent scores

Contact record details

Simplified lead prioritization
This tool also includes Company Surge B2B Intent Data technology. It detects which of your leads have searched for topics that are closely related to your business, connects you with them, and makes it easy for you to convert them into qualified leads.
You can see what they were looking for and for how long.
VisitorTrack collects accurate contact details, so you can get in touch with your visitors and build powerful connections.
You will be notified whenever the interested prospect is on your website, so you can contact them in real-time.
Pricing: VisitorTrack offers a free trial version, and then you can upgrade to paid packages starting from $199 per month.
Salespanel
Salespanel is also intended for B2B companies looking to make the most of their sales and connections with their important website visitors.
As another tool of this type, it deals with:
Website tracking

Lead scoring

Lead generation

Data enrichment
This software collects the most qualified leads to later guide them through your entire sales process. He records source, contact, when was the last visit, bio, social media profiles, and more.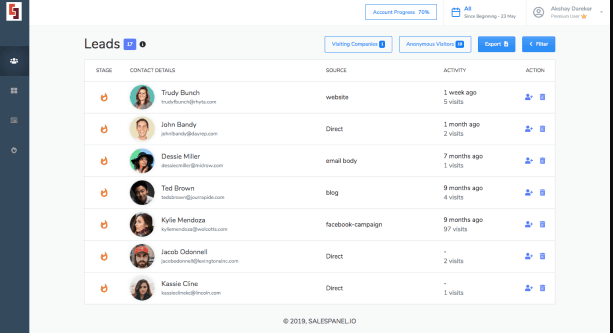 You can choose the criteria to prioritize your leads. Depending on what you have chosen, your leads will be listed in that order.
Salespanel captures leads through web forms, emails, and newsletters. Even those who do not fill out the contact form on your website will not be lost, as they will be recorded by Salespanel.
Each time this tool identifies a visitor and collects his information, it will notify you.
It also separates qualified from unqualified leads to save you time that you can spend on some other tasks. You will be able to see what activities visitors have been involved in before and after they signed up.
It only takes a couple of minutes to get started with Salespanel. After you register, you will receive the code you need to install on your website. You can also choose the package that suits you later.
Pricing: You can try a 14-day free trial, and after that upgrade to some of the paid packages.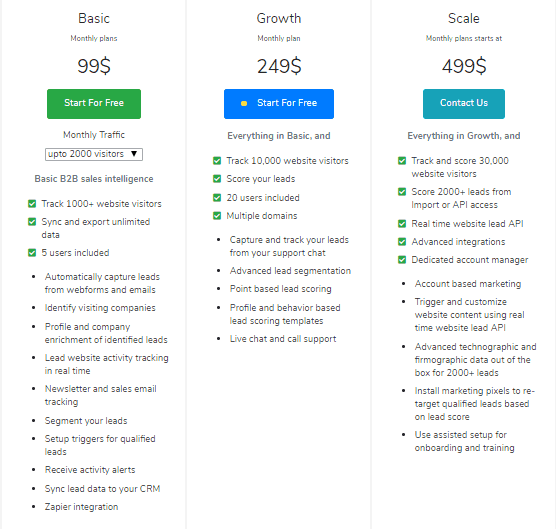 The bottom line
These best website visitor tracking software are important to help you identify, collect, and nurture your most qualified leads.
B2B companies should recognize the potential of these tools and use them to improve their businesses. No matter how big or small your business is, you will be able to reveal who your future buyers might be.
According to insights, optimizing and personalizing your content for the target audience will become much easier than ever before.
One more amazing thing about these tools is that you will receive notifications in real-time, so you will not leave space for hot leads to become cold ones. And, last but not least, you can integrate website visitor tracking software with CRM and other important platforms that will help you a lot in your sales process.
Don't play a game of chance, use the power of these tools and find out who your next customers are!